Bariatric Shower Chairs
Bariatric shower chairs are designed to help people from falling or slipping and with any other difficulty with mobility in the bathroom. Bariatric chairs are specifically made to be wider and have a higher weight capacity to suit more users. These shower chairs are available in multiple styles, including bath benches, commodes, and roll-in shower chairs. Select from a wide range of products to find the bariatric shower chair best suited for the circumstances.
Why Use a Heavy Duty Shower Chair?
Shower chairs are a great way to add some autonomy to the process for the patient while making life easier for caregivers. Bariatric shower chairs are wider and sturdier, allowing a higher maximum weight capacity than standard shower chairs. This additional support gives the peace of mind necessary for caregivers and patients to rest assured that the process is safe. Whether it's in a care facility or at home, the added stability that bariatric bath chairs provide can be a game changer for a wide range of people. Vitality Medical carries all kinds of bariatric shower chairs, including bath benches, commode chairs, and even roll-in shower chairs. If the additional weight capacity and width isn't necessary for the circumstances, feel free to browse our standard shower chairs and benches.
Types of Bariatric Shower Chairs
Bath Bench
Bath benches are available with or without a backrest. These have a few different designs, such as the transfer bench and the cross-frame bariatric bench. Each of them has its own benefit and will detail the uses and benefits. In general, shower benches are ideal for patient transfer and showering. These make the process easy by providing a stable seat that won't slip.The backrest adds additional support while the seat-only options are easier to maneuver around.
Commode
Shower chairs are often combined with commodes, providing two products in one. These commode style shower chairs often sit on locking wheels so they can be used inside and out of the shower. These chairs are ideal for use in clinics or as a cost-effective measure for home care. Commode chairs can either double as roll-in shower chairs or bath benches depending on the style. Some have removable seats with commode pots underneath while others utilize a consistent commode seat that doubles as a shower bench.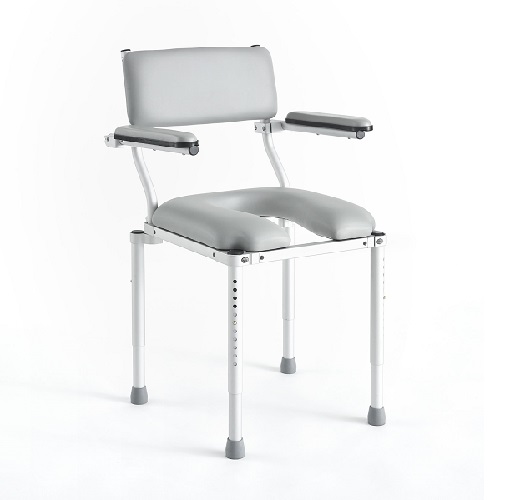 Roll-In
Roll-in shower chairs utilize lockable casters or wheels that make rolling into the shower a simple endeaver. These mobility aids take the pressure off of the patient and the caregiver by enabling smooth transitions. Once in the shower, the casters or wheels can be locked for a sturdy and safe shower. Oftentimes roll-in shower chairs are commode hybrids that can be used inside and out of the shower.
Frequently Asked Questions (FAQ)
Q: What is a bariatric shower chair?
A: Bariatric shower chairs are used to provide stability and seating for bariatric individuals. They are designed with a wider frame and higher overall weight capacity to support a broader range of users.
Q: How much weight can a shower chair hold?
A: Standard shower chairs often have a capacity of up to 300 or 500 pounds. Bariatric shower chairs, on the other hand, are designed for additional weight. These tend to have at least a 500 pound capacity, and often up to 600 or 700 pounds. Each product will state its overall weight capacity.
Q: How are commode shower chairs used?
A: Instructions may vary depending on the product. For most commode chairs, lock the wheels first. Make sure the container is under the seat. Help the person out of bed and into the chair. Stay with the person for safety as they use the commode. Empty as needed and clean accordingly.
Product Videos
How to Use a Shower Chair (2:47 minutes)
How to Use a Commode Chair (1:34 minutes)
You might be interested in...