Wound Dressings
Wound Care Dressings have evolved significantly over the past few decades. Formerly, different variations of products were the staple for wound care. Although they are still widely used and effective, there are many new advanced designs to solve specific issues with wound treatment. These modern developments over the past few decades better address specific wound types and their corresponding care. Five major functions for wounds dressings currently exist. These functions are Debridement, Moisture Management, Wound Protection, Infection Management, and Odor Control. Click on the link "When to Use Wound Dressing" to view different types of dressings and their use. At the bottom of this page is a description summary of the types of wound dressings and a Selection Chart that displays the different versions of each product, types of wounds they are designed to serve, properties and the top selling brands.
Finding the Right Product
The right wound dressing encourages healing and prevents possible infection or harm. They differe from bandages in that they come in direct contact with the wound and are used to absorb exudate, maintain a moist environment, seal out external contaminants and accelerate healing. Bandages are generally used to hold primary dressings in place and are often referred to as a "secondary dressing". They can have a variety of functions for wound management, depending upon the type, severity, and location of the wound. These products serve to stem bleeding, absorb exudate, ease pain, debride, protect and reduce stress.
Debridement
Debridement is the process of removing damaged, dead or infected tissue from the wound. Debridement can be selective or non-selective. Selective debridement removes necrotic tissue without affecting living tissue. Enzymatic debridement uses chemical agents to break down necrotic tissue. This is usually accomplished with an enzymatic wound application. In the United States, collagenase ointment is commonly used for this function. SANTYL is the most popular collagenase topical ointment with the active ingredient collagenase clostridum hystoliticum. SANTL requires a prescription to purchase.
Non-selective debridement removes necrotic tissue and adjoining living tissue. This type of debridement is accomplished through mechanical or autolytic means. Mechanical debridement may be accomplished through surgery, aggressive irrigation or the use of dry or moist dressings that are replaced often. Gauze dressings are the most used for mechanical debridement. Autolytic debridement uses a semi-occlusive or occlusive dressing and is used for light to medium exudate. Best selling product that provide autolytic debridement include foams, hydrogel, hydrocolloids, alginates and transparent film. Below is a chart that displays a continuum of treatments that provide debridement.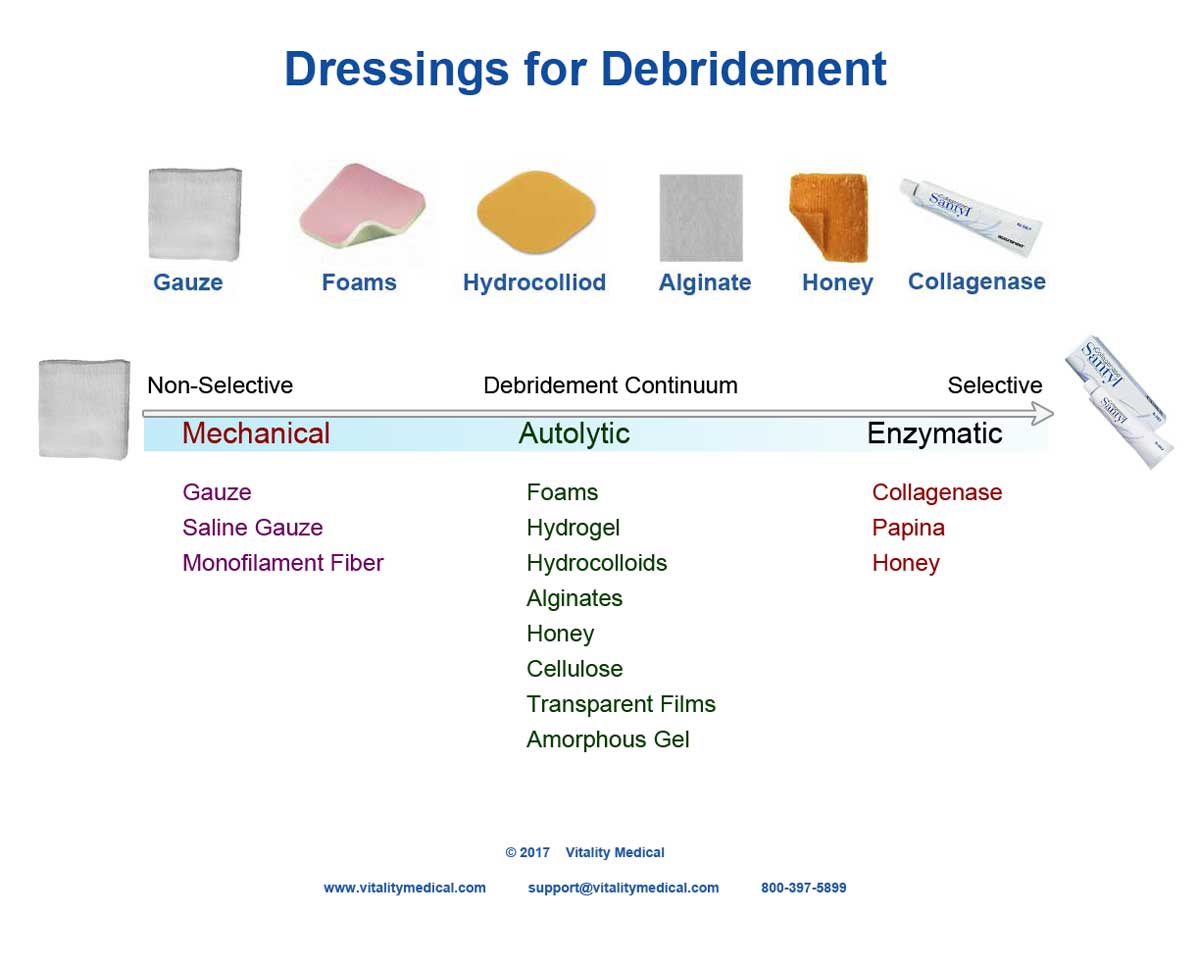 Moisture Management
A certain amount of moisture at the wound site is advantageous to heeling. Too little or too much moisture can increase the heeling time and cause complications and infection. The growth of new cells requires moisture to divide and migrate. Exudate or the moisture that naturally seeps from a wound site, serves as a transport medium for a variety of enzymes, growth factor molecules and hormones. Exudate also provides the immune system with an ideal medium to destroy invading pathogens. However, wounds with heavy exudate that leak to surrounding tissue can disrupt peri-wound skin and cause maceration. Enzymes in chronic exudate may cause skin excoriation. Absorbent types are designed to absorb exudate and keep it from festering upon the wound and skin. Most are multi-layer comprised of either a semi-adherent or a non-adherent layer. These layers are usually made up of fibers that absorb the exudate. Some of these use a substance that converts to a gel on contact with exudate, trapping them within the confines of the dressing.
Below is a chart displaying the different types and how they serve in managing moisture in the wound environment. This continuum of absorption management portrays the high absorption products on one end and the low absorption products on the other. The products in the middle are somewhat balanced between heavy and low absorption properties. Some products span two properties, such as hydrocolloids. They are also divided by the level of occlusion--sealing the wound from the external environment.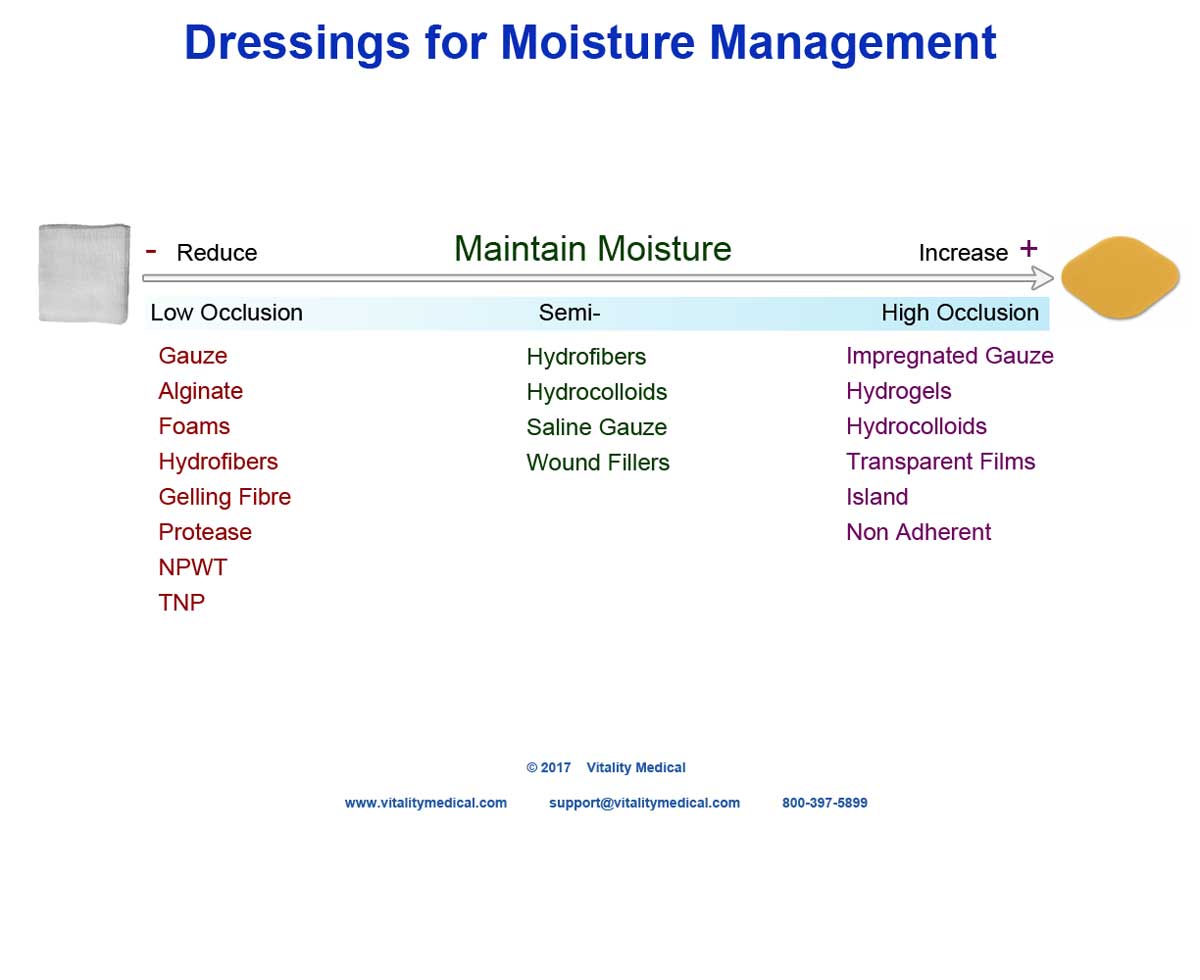 Alginates
Made from seaweed, alginates are contact dressings. When alginate comes into contact with exudate, it turns into a gel. Alginate can absorb up to 20 times its own weight.
Advantages
Promotes a moist environment.
Helps to reduce pain.
Absorbent.
Suitable for bleeding wounds.
Autolytic debridement.
Disadvantages
Not for dry wounds.
Requires secondary dressing.
Sometimes offers stinging or discomfort.
Cellulose Fibers
Made from carboxymethylcellulose, this product absorbs exudate and prevents damage to surrounding skin. It is a good choice for heavy to moderate exuding wounds and may be used for extended periods.
Advantages
Promotes a moist environment.
Provides autolytic debridement of slough and necrotic tissue.
Protects surrounding skin.
Conformable to the body.
Disadvantages
Not for dry wounds.
Can adhere to the wound if not enough moisture.
Requires a secondary dressing.
Foam
Foam dressings are made with many different materials that provide good absorption. These products provide wound protection and help to maintain thermal temperature. They are highly conformable and are available in many shapes and sizes. They are also available in cut-to-fit sheets and wound filling shapes. Some are also available with an adhesive border to anchor in place. They are often combined with other types such as alginate and cellulose fiber.
Advantages
Promotes a moist environment.
Provides autolytic debridement.
Highly absorbent.
Offers wound protection
Offers thermal protection.
Conformable to the body.
Disadvantages
Not for dry wounds.
May cause maceration if allowed to saturate.
Sometimes requires a secondary dressing.
Hydrocolloids
These products are made with gel-forming agents. They offer water repelling and are self-adhesive. They absorb exudate and are available in many different shapes and come in different thicknesses. This product should be changed every 3 to 5 days.
Advantages
Promotes a moist environment.
Provides autolytic debridement.
Highly absorbent.
Waterproof.
Disadvantages
May promote the growth of anaerobic bacteria.
Not the best choice for patients with fragile skin.
May be difficult to stay in position.
Sometimes produces odor.
Hydrogels
These products are made with materials that have high water content. They help hydrate the wound and offer autolytic debridement. They are used on mild to moderate exudating wounds. Hydrogels are available in several different formats, including flexible sheets, impregnated gauze and gel that is applied by a squeeze tube.
Advantages
Promotes a moist environment.
Provides autolytic debridement.
Offers moderate absorbency.
Helps reduce pain.
Some applications provides visual of wound.
Rehydrates necrotic eschar.
Disadvantages
Do not use for heavy exudating wounds.
May cause maceration to surrounding skin.
May require a secondary dressing.
Silicone
These products are made with solid silicone that is soft and tacky. It easily adheres to the skin and to difficult body areas. They are easily removed without producing pain and can be reused. They are available in foams with and without adhesive borders. Silicone also comes in sheets and semi-transparent films.
Advantages
Easy to apply and remove.
Reusable.
Atraumatic to the wound and surrounding skin.
Anti-scarring properties
Disadvantages
Does not manage moisture.
Does not offer debridement.
Expensive.
Some people have allergies to silicone.
May require a secondary dressing.
Use Chart
| | |
| --- | --- |
| Dressing | Use |
| Absorbers | heavy exudate absorption |
| Alginates | autolytic debridement, heavy exudate draining, infection management |
| Antimicrobial | disinfectant, antiseptic, antibiotic, biocide to inhibit or kill microbes |
| Cadexomer Iodine | exuding wounds, sloughy wounds, infection management |
| Cellular Matrix | porous matrix of bovine tendon collagen and glycosaminoglycan, promotes capillary growth |
| Charcoal | odor management |
| Collagen | stimulates new tissue growth |
| Composite | multi-layed with a combination of wound treatments |
| Films | autolytic debridement, light exudate draining |
| Foams | autolytic debridement, heavy exudate draining, infection management |
| Gauze | mechanical debridement, heavy exudate draining |
| Gelling Fibre | absorbs and retains exudate,  |
| Honey | infection management, debrides slough, rehydrates necrosis |
| Hydrocolloids | high moisture vapor transmission, autolytic debridement, light exudate draining |
| Hydrofibers | autolytic debridement, heavy exudate draining, infection management |
| Hydrogels | autolytic debridement, light/moderate exudate draining, infection management |
| Iodine | infection management |
| Island | adhesive border with pad for dry or light exuding wounds |
| Non Adherent | dry wound beds, light draining, will not stick to wound bed |
| NPWT | negative pressure wound therapy, vacuum dressing, removes exudate |
| Occlusive | seals the wound from external contaminants, promotes moist environment |
| Odor Management | charcoal absorption, dry wound bed,  |
| PHMB | polyhexamethylene biguande, infection management, antibacterial, |
| Protease | modulating dressing, aborbs exudate, removes cofactors, releases inhibitors, reduces protease |
| Saline Gauze | autolytic debridement, light/moderate exudate draining, infection management |
| Collagenase | enzymatic debridement |
| Silicone | reduces hypertrophic and keloid scars, less wound trauma from dressing changes |
| Silver | infection management, antibacterial |
| TNP | topical negative pressure, draws wound edges together, removes exudate, promotes granulation |
| Transparent | wound observation, medium to light exudate |
| Wound Filler | maintains moist environment, manages exudate, made with creams, foams, gels, pads, powders.... |
Top Brands for Debridement and Moisture Management
Heavy Absorption and Autolytic Debridement
Foams – Tegaderm, Coflex, Copa, Dermaform, Xtrasorb, Polymem, Respara Restore, Mepilex, and Allevyn.
Gauze – Excilon, Dynarex Surgical Sponge, Dynarex Advantage, Advant, Post-Op, Curity Cover Sponges, Sorb-It, Dumex, and ReliMed Gauze Sponge.
Alginate – Medihoney Calcium Alginate, Biatain, Sorbalong, Maxorb Extra, Restore Calcium Alginate, Curasorb Calcium Alginate, AlgiSite M, Simpurity, CollaSorb, DermaGinate, Allevyn, Melgisorb, Tegaderm Alginate, Sorbsan, Nu Derm, Cutimed Epiona, Kalginate, and Maxsorb Extra.
Gelling Fiber – KerraCel, Durafiber, and Manukamed Manukahd Lite.
Protease – Mextra and Sorbion Sachet.
NPWT – Argentum, Restore Contact Layer Flex, Acticoat Flex, Medela, Genadyne, and Safetac.
Light Absorption and Autolytic Debridement
Impregnated Gauze – Activon Tulle, AquaSite, and Mesalt.
Hydrogels – SoloSite, Skintegrity, Multidex, Triad, DermaGran B, DermaGran Hydrophilic, Hypergel, Tegaderm Hydrogel, TheraGauze, DermaGauze, Regenecare, Aquaflo, B6, AquaDerm, Carrasyn, elta Dry, Hydress, CarraGauze, WoundPal, and DermaGel.
Hydrocolloids – Comfeel, Duoderm, Medihoney, Xtrasorb, Flexicol, Restore, Exuderm, and Nuderm.
Transparent Films – Tegaderm, Polyskin, DermaView, Repara, Hydrofilm, and Opsite.
Island – Telfa Island, DermaView II, McKesson, TheraBond, COPA Island, Rayon Poly, and CompDress.
Non-Adherent – Xeroform, Telfa Ouchless, Telfa AMD, Medi-Pak Performance, Adaptic, Conformant 2, Cuticerin, Curad Non-Stick, Drawtex, Versatel, Advazorb Silfix, Tegaderm Contact, and Allevyn Non-Adhesive.
Wound Protection
The ability of a dressing to seal out external contaminants is offen refered to as its occlusive property. An occlusive dressing seals the external enviroment from the wound. Occlusive products include impermeable films, polymer oils like petrolatum and paraffin and many types with a combination of adhesion and a barrier layer. They provide a moist environment that promotes healing. They are impermeable to water vapor while simi-occlusive allows moisture vapor to escape. Semiocclusive also offer many advantages to healing by permitting vapor evaporation. Air inteface during the final maturation of the stratum corneum offers better healing results. Rather than relying upon a single solution for the entire healing process, beginning with an occlusive dressing during the early healing stages, followed by a semiocclusive dressing for the later healing stages appear to offer the best wound management.
Occlusive
These types of products often incorporate foams that offer a thermal barrier as well as protection against accidental bumps. They provide excellant absorption of exudate but are not condusive to healing in the latter stages when the wound is drier. Adhesive bandages are very useful to seal out contaminants while securing an absorptive dressing against the wound bed. Impregnated dressing create a liquid or gel barrier against the wound with sealing properties and well as creating a moisture environment.
Semiocclusive
Gauze is the most popular in use. The newer transparent films offer greater management and control of the environment to keep out external contaminants while allowing excess moisture vapor to escape. They also provide for observation to allow dressing changes when they are actually needed.
Advantages
Reduces surface necrosis.
Prevents desiccation.
Promotes healing.
Decreases pain.
Wound protection.
Reduces inflammation.
Minimizes Eschar
Disadvantages
In a few cases increases infection rates.
More frequent changes.
Sometimes may delay healing.
The chart below displays a visual breakdown of the permeable and impermeable choices.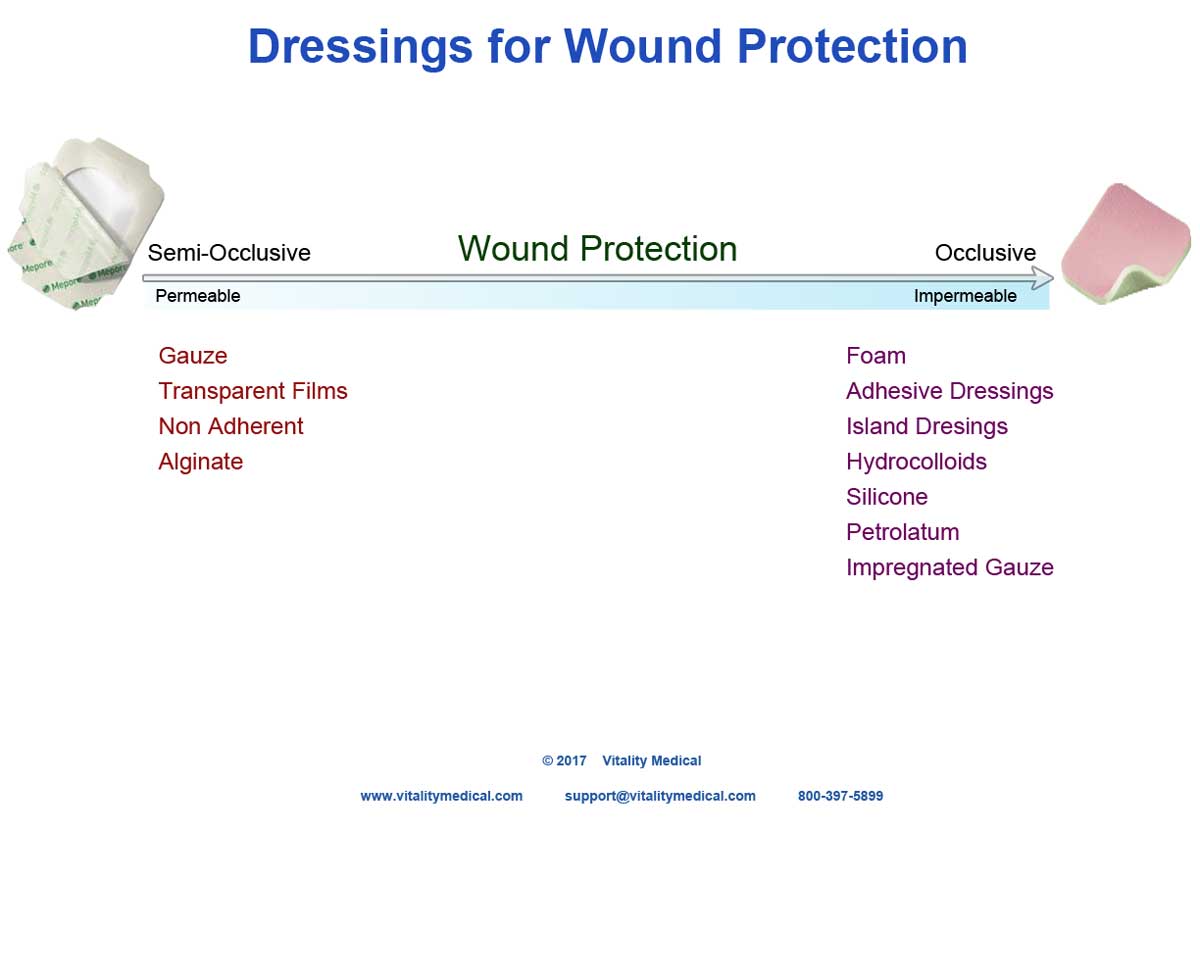 Infection Management
As mentioned in moisture management, healing occurs best in a moist environment. However, amoist environment also supports the growth of bacteria, leading to infection. Antimicrobial types are mostly used when an infection has already occurred. Medical honey is the exception in that it inhibits the growth of pathogens and may be used for at-risk patients to prevent the occurrence of an infection as well as treat. These are impregnated with one of the four common antimicrobial agents. These agents are a derivative of iodine, silver, honey, or polyhexamethylene biguanide (PHMB).
Iodine
Popular iodine treated products include Cadexomer, Providone, Iodophor or Polyvinylpyrrolidone. Cadexomer is particularly noteworthy because of its absorptive properties. As fluid is absorbed, iodine is slowly released to kill bacteria. This allows a gradual release of iodine over a prolonged period of time for increased infection fighting effectiveness.
Advantages
Conforms easily to wound bed.
Absorbs exudate.
Progressive release of antimicrobial agent.
Reduces pH.
Removes slough.
Disadvantages
Contraindicated for pregnancy, lactation, thyroid disease, iodine sensitivities.
Not effective for large wounds.
Transient stinging or burning.
Requires secondary dressing.
Prominent Iodine Products: Idoflex Cadexomer, Betadine Povidone, Iodosorb Caderxomer, and Skincote.
Silver
Silver is an agent for broad spectrum antimicrobial effectiveness. It is applied to many types including foams, films, hydrogels, gelling cellulose fibers and alginates. It has anti-inflammatory properties and may be used to treat wounds for 2 to 3 weeks.
Advantages
Broad spectrum antimicrobial.
Anti-inflammatory.
Disadvantages
Easily dries.
Cannot be used with other antimicrobials or normal saline.
Sometimes masks signs of infection.
Short period use only.
Popular Silver Products: Mepilex AG, Sivercel, PolyMem Silver, Biatain AG, Algicell AG, Acticoat Flex, Aquacel AG, Allevyn AG, and Tegaderm Silver.
Honey
Medical grade honey is comprised of carbohydrates, enzymes, and amino acids that promote healing. Additionally it has acidic pH properties that inhibits many pathogens. It is used in gels, ointments and sheets.
Advantages
Promotes a moist environment.
Provides autolytic debridement.
Antimicrobial.
Disadvantages
Perceived risk of costridium botulism.
Sometimes painful.
Sometimes leads to skin maceration.
Requires secondary dressing.
Should only be used for short periods of time.
Well Known Medical Honey Products: Medihoney, Activon, and TheraHoney.
PHMB
PHMB is effective against a wide variety of pathogens, including HIV. It is used on many types of wounds, including partial- and full-thickness wounds, exudating and dry wounds.
Advantages
Effective against many pathogens.
May be used on both dry and exudating wounds.
Antimicrobial.
Disadvantages
Should not be used to prevent infections.
Restricted to 2 weeks duration.
May lead to resistant bacteria.
Respected PHMB Products: Kendal AMD PHMB and Covidien Telfa Antimicrobial.
The infection management chart below displays a continuum for antimicrobial dressings.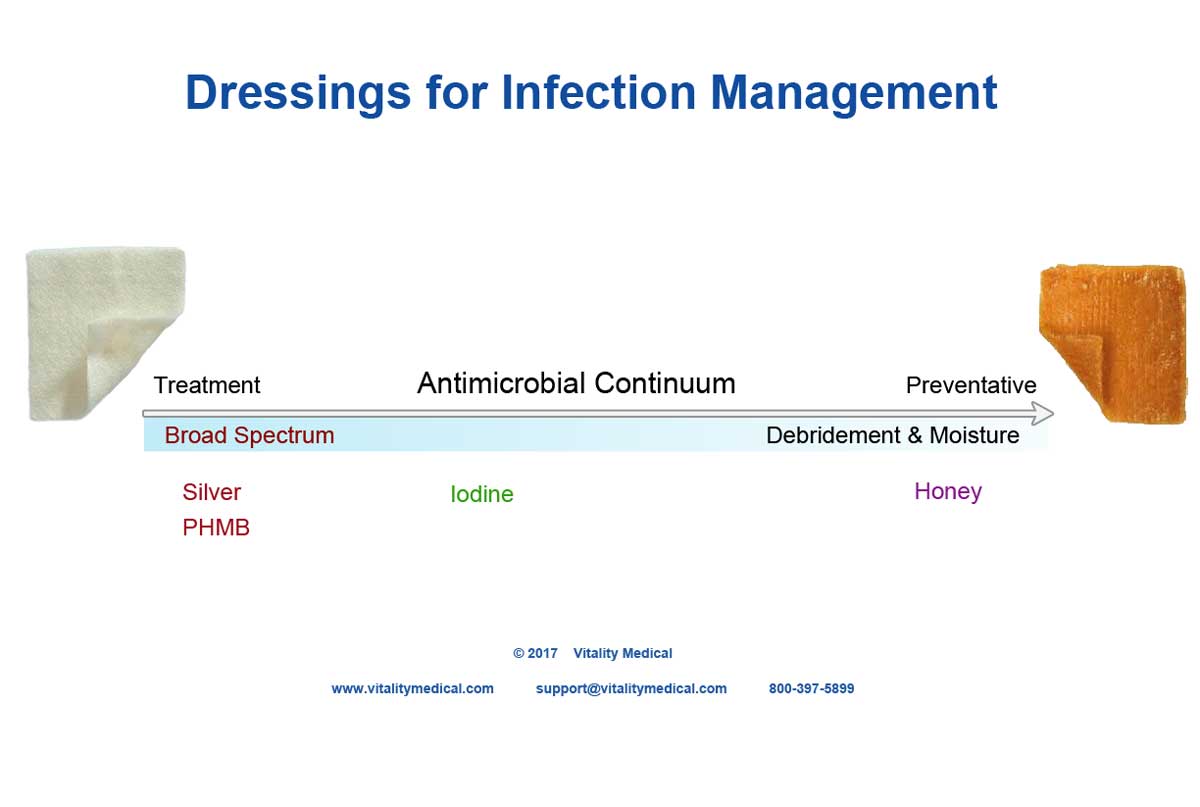 Odor Control
Odor from wounds is created from the release of volatile molecules released. Certain types of wounds are more likely to produce odor. These types include leg ulcers and cancerous lesions. The most effective way of dealing with malodorous wounds is to prevent or eradicate the infection responsible for the odor usually with an antimicrobial. It has been found that bacteria fighting products are not always the best solution. In the mid 1970's the use of a charcoal cloth within a pad or gauze was found to be effective against odor. These wound products are designed to act like filters or traps to absorb odor-causing molecules. Charcoal absorbs unpleasant smells and is a widely used as a deodorizing agent. It works by absorbing odor molecules onto the surface area of the activated charcoal.
Honey has also been found to decrease odor and is effective in treating abscesses, diabetic foot ulcers, leg ulcers and fungating wounds. Honey provides antibacterial action in vivo and in vitro against anaerobic bacteria that causes odor. Honey also provides glucose as an alternative to amino acids created when serum and dead cells are metabolized by bacteria. As a result, lactic acid is produced as compared to the malodorous ammonia, amines and sulfur compounds that contribute to odor.
Cyclodextrin is another method used to neutralize odor. Cyclodextrins work optimally in the presence of wound exudate and requires a moist environment to work effectively. Cyclodextrins intrinsically have a longer active time of odor absorbing function. This compound works well when combined with hydrocolloid.
Advantages
Reduces odor.
Absorbs exudate.
May be used as a primary.
Disadvantages
Cannot be cut to fit.
Often requires a secondary dressing.
Requires frequent bandage changes.
Respected Odor Control Products: Actisorb Plus, Carboflex, Carbonet, Lyofoam C, Release, TheraHoney, Activon, Medihoney, and Exuderm.
The chart below displays a continuum showing how these three odor control products match with treatment protocols.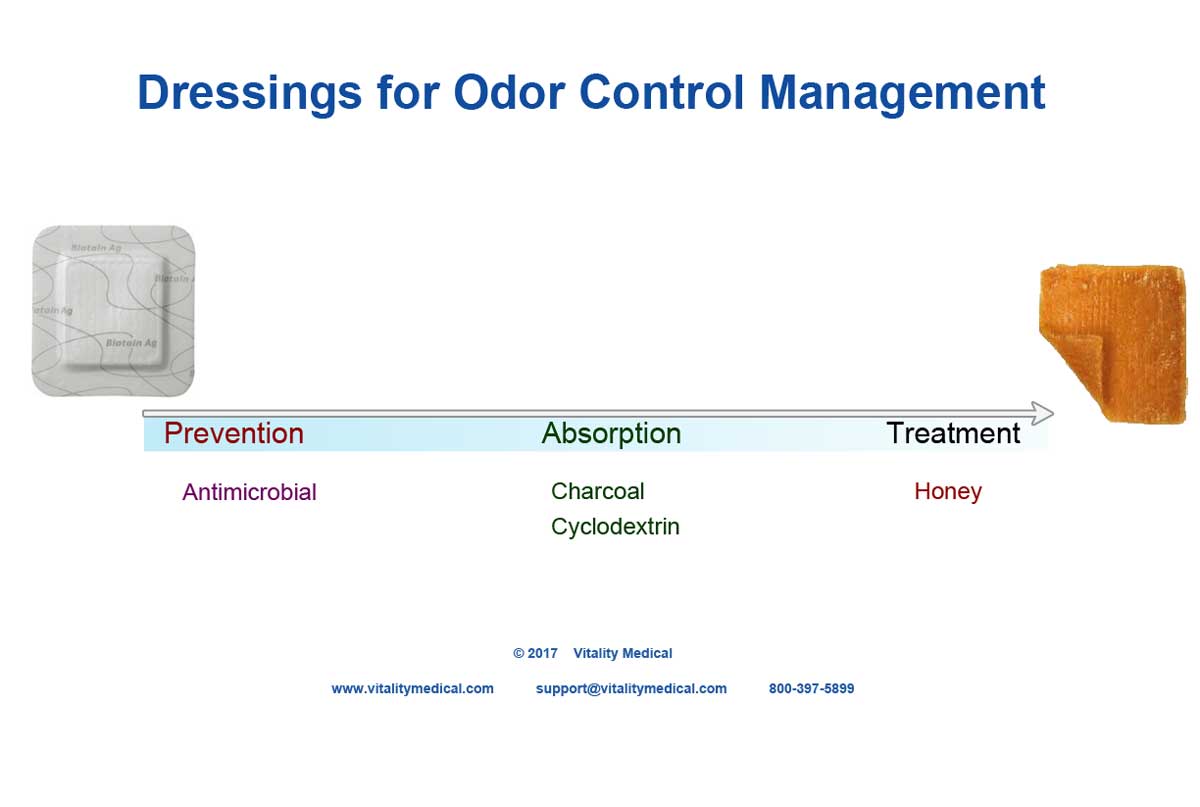 Comparison Chart
Dressings
Image
Versions
Types
Uses
Brands
Gauze
dry woven
non woven sponges
wraps
sterile
non-sterile
border
without border
ribbon
impregnated
any
mechanical debridement
moderate to heavy exudate
Adaptic
Biogard
Curity
Kerlix
Kling
MediPro
Vaseline
Xeroform
Alginates
calcium
honey
antimicrobial
partial thickness
full thickness
filling cavities
undermining
autolytic debridement
heavy exudate
infection management
Algisite
CuraSorb
Kaltostat
Sorbsan Flat
Collagens
freeze dried sheets
pastes
gels
partial thickness
full thickness
burns
skin grafts
promotes tissue granulation and epithelialization
heavy exudate
BioPad
hyCure
Nu Gel
Promogran
Foams
acrylic
polyurethane
sponge
self-adhering
non-adherenthydrogel
alginate
iodine
partial thickness
full thickness
cover with packing
autolytic debridement
heavy to moderate exudate
infection management
maintains moist environment
thermal insulation
accidental bump protection
Allevyn
Aquacel
Avitar Hydrasorb
Biatain
Biopatch
COPA Hydrophilic
Curafoam
Comfeel Ulcer
Flexzan
Hudrasorb
Lyofoam
Medilex
Mepilex
Mitraflex
Opti Foam
Polymem
Reston
Tegaderm Foam
Versiva
Hydrofibers
non-woven
ribbon
pads
sodium carboxymethyl cellulose
stichbonding
chronic
acute
risk of infection
infections
autolytic debridement
moderate to heavy exudate
infection management
ActivHeal
AquaFiber
Aquacel AG
Versiva XC
Hypertonic
impregnated gauze
gel
necrotic tissue
tunnel
undermining
autolytic debridement
eschar
necrotic tissue
all exudate levels
maintains moisture
Curasalt
Mesalt
Hypergel
Saline Gauze
sinus tracts
tunneling
undermining
deep wounds
types 2 and 4 pressure wounds
mechancial debridement (wet-to-dry)
light to moderate exudate
Normlgel
Hydrogels
amorphous gel
sheets
filler
fiber
gauze
diabetic ulcers
pressure sores
surgical wounds
burns
skin tears
skin grafts
autolytic debridement
light to moderate exudate
infection management
maintains moisture
Actiform Cool
Aquaflo
Carrington Carrasyn V
Curafil
DermaGran B
Intrasite Gel
MULTIDEX Gel
Nu-Gel
Restore Hydrogel
SafeGel
Skintegrity
Spenco
SoloSite
Tegaderm Hydrogel
Vigilon
Hydrocolloids
gelatin
pectin
film backing
foam backing
partial thickness
full thickness

autolytic debridement
light to moderate exudate
maintains moistness
thermal insulation
impermeable to water and bacteria
reduces infection rates
Comfell
DuraDerm
DuoDerm
Exuderm
NuDerm
RepliCare
Restore
Tegasorb
Transparent Films
grid
transparent
partial thickness
stage II ulcers
dry, necrotic
autolytic debridement
light exudate
maintains moistures
Bioclusive
Cara Film
OpSite
Polyskin
Pro-Clude
SureSite
Tegaderm
Collagenase
ointment
infections
enzymatic deridement
SANTYL Ointment
Silver
foams
hydrogels
alginates
hydrofiber
films
risk of infection
infections
infection management
Acticoat
Actisorb Silver
Algidex Ag
Allevyn Ag
Aquacel Silver
Biatain Ag
Elta Silvergel
DermaGinate Ag
Dermanet Ag+
Gentell Hydrogel Silver
InterDry AG
Mepilex Ag
PolyMem Silver
Restore Silver
SilvaKollagen Silver
SilverDerm7
Silverseal
Silvasorb
Tegaderm Silver
Honey
sheets
gel
dressings
combinations
infections
debriding necrotic tissue
infection management
MediHoney
TheraHONEY
ManukaMed
Iodine
pads
infections
infection management
Idosorb
Steri-Strip
PHMB
pads
infections
infection management
Kendall AMD
Charcoal
layered
odorous
heavy exudating
infections
odor management
Actisorb Plus
Lyofoam C
Contact Layers
thin non-adherent sheets
partial thickness
full thickness
infections
donor sites
split-thickness skin grafts
protect from contact with other agents
exuation
can be used with topical medications
Adaptic
Cuticerin
Covrsie
Curity Nonadherent
Dermanet
Mepitel
Petrolem Gauze
Profore
Testore
Tegapore
Telpha Clear
Vaseline Impregnated Gauze
Wound Fillers
ropes
gel

full thickness
cavities
infections
exuating
cavities
Flexigel
Gold Dust
Iodoflex
Multidex
Product Videos
Review Video

(58:54 minutes)



Inspired by your history...