Negative Pressure Wound Vac Devices
A Negative Pressure Wound Vac Machine applies subatmospheric pressure to effectively remove exudate and bacterial burden in complicated wounds. The use of Negative Pressure Wound Therapy (NPWT) in hospitals, extended care facilities, and home care occurs when wound management is critical for difficult wound types such as diabetic ulcers and chronic wounds. The negative wound pressure requires a wound vac device and specialized dressings to create negative pressure for the management of infection and irrigation fluids. With a touch of a button, an NPWT device draws out wound exudate and infectious fluids, promoting better wound repair and healing. Vitality Medical offers a wide variety of wound vac machines for sale. Browse today!
Wound Types Indicated for NPWT Wound Vac
Partial-Thickness Burns
Diabetic and Pressure Ulcers
Acute and Chronic Wounds
Infectious Wounds
Wounds With Exposed Bone
Skin Grafts
Contraindications
Untreated Osteomyelitis
Unexplored Fistulas
Wounds With Exposed Blood Vessels or Organs
Full Thickness Wound With Eschar Tissue
Wounds With Exposed Bone
Skin Grafts
Negative Pressure Wound Vac Machine and Consumables
Additional Wound Vac Therapy Device Information
The NPWT vacuum device is very minimalistic and lightweight with battery power to allow the patient to be mobile as needed; therefore, the wound vac machine cost is relatively low. The vacuum pump will seal the dressing and maintain the pressure. Built-in alarms will sound if pressure is lost, leakage, or blockage is detected, or the canister is at full capacity.
Example:
SVED NPWT System has AC power and up to 18 hours of battery power with three pressure settings.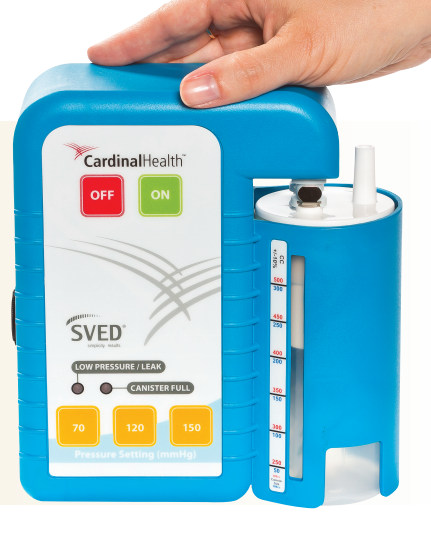 Important NWPT Dressing Information
When purchasing consumables, it is vital to buy compatible dressings for the pump device. This ensures they will connect to the pump and maintain the negative pressure.
Example:
extraCARE 2400 Negative Pressure Dressings are foam material with a gentle adhesive film to seal around the wound. The dressings come with drainage tubing to remove the fluids as exudate is drawn out from the wound.
NWPT Device Components
Complete kits are available with dressings, tubing, and canisters to make Negative Pressure Wound Therapy accessible for homecare use.
Example:
Pro to Go NPWT Kits bundle all of the consumables into a kit to be ready for ongoing therapy at home. It includes the NPWT unit and all consumables for the Go to Pro device.
Product Information Video
SVED NPWT Device Basic Operations Video (3:12 minutes)
You might be interested in...