Motorized Wheelchairs and Electric Power Chairs
What Are Electric Wheelchairs?
Motorized Wheelchairs are often referred to as power wheelchairs or simply as electric wheelchairs. Basically, they are battery-powered motorized chairs on wheels. These transports are constructed with a motor, battery, chair, controlling device, and wheels. They are designed to enhance the life of mobility patients by allowing them to traverse where ever they need to go. Click the following links for specific details about the Types of Electric Power Chairs and How To Select a Power Wheelchair
Motorized Wheelchairs are especially useful for individuals who can not use a self-propelled or standard wheelchair. They may be used for individuals with a need to travel long distances without becoming excessively fatigued. They may also aid oxygen patients who use heavy oxygen tanks and prefer to drive with the oxygen secured to the chair or frame. These devices provide greater independence and self-reliance for the user.
What Are the Types of Electric Power Wheelchairs
Many different types of wheelchairs are available to meet patient needs. Electric wheelchairs are designed differently for children, adults, elderly, and bariatric riders. Pediatric power chairs are designed specifically to meet the needs of smaller riders. Adult and elderly chairs vary in the amount of power, seat size, drive wheel position, construction materials, adjustability of the seat, arms, and footplate as well as many other features. Bariatric riders use a heavy duty version that is equipped with a stronger frame and motor. Below is a chart of the major types and their purpose.
Type
Pediatric/Youth
Standard
Portable


Heavy-duty


Reclining


Tilt-In-Space


Outdoor


Power Assist


Elevating


Purpose
Pediatric chairs accommodate smaller individuals and children.
Meets the needs of the majority of mobility patients.
Provides for folding and/or easy disassembly for placement in a car trunk to offer easier transport.
Heavy-duty chairs are constructed with stronger materials, a more powerful motor, and a more powerful battery to support bariatric patients.
Reclining chairs accommodate patients with hip issues, orthostatic hypotension, prevention or treatment of pressure ulcers and to improve blood circulation.
Offers therapeutic positions for neuromuscular disease, edema, pressure ulcers, postural hypotension, back pain, and fatigue.
Designed with suspension, extra-large tires, gripping tires, and better drive wheel placement for rough terrain.
Power Assist Wheelchairs are easy to disassemble, are lightweight, highly portable, and accommodate patients that have some self-mobility functions. Adaptive kits are available to convert standard wheelchairs to power assist chairs.
An elevating chair raises the patient to a standing height for easier socializing and to conduct business.
How to Select an Electric Wheelchair
Chair Selection Factors

comfortable seat size--width & depth
swivel for easy ingress/egress
swing-away armrest for easy ingress/egress
adjustable armrest-height
adjustable seat-height
adjustable footplate-height
reclining back
headrest

Key Performance Factors

top speed
max distance
turning radius
max climbing angle

Drive Wheel Factors

weight distribution
center of gravity
stability
truning radius
negotiating obstacles
negotiating slopes
rough road handling
With so many different powerchair options on today's market, some might feel overwhelmed with the selection process. In reality, having a wide range of options and choices is better for the patient. These options allow mobility patients to choose the best automatic wheelchair for their specific needs. In addition to the factors briefly mentioned in the chart above, there are eight key factors to consider when choosing the best electric wheelchair for your needs. These factors are listed below:
Selection Criteria
Weight Capacity
Dimensions
Drive Wheel Position
Battery Range


Speed


Distance


Turning Radius


Portability


Adjustments
Adaptations
Reason
Ensure it meets your weight requirements
Measure doorways and compare figures to ensure the power chair will fit
There are 3 different drive wheel position options—each offering pros & cons
Individuals with long outdoor traveling needs will require larger battery output for longer range travel
Some of us do not like to go slow. If you are one of those, do not purchase a slow chair that you will not be happy with
Determine how far you need to travel and match that figure to the power chair your plan to purchase
Important for those who need to negotiate tight spaces. Tight kitchens and similar spaces require a short turning radius
Size, disassembled weight, ease of disassembly/reassembly, and folding are critical factors for transportability
Modifying the seat, footplate and controller is important for proper fit and comfort
Specialty power chairs like reclining or tilt-in-space can help get the best fit
Drive Wheel Configurations
Drive wheels are placed on electric wheelchairs in three different locations that significantly impact the chair's mobility performance. The locations are respective of the chair. There are front-drive, rear-drive and mid-drive wheelchairs. Each position offers certain advantages, but also incurs some disadvantages. This will be explained separately below.
Front-Drive
This setup has the drive wheels forward of the seat. This positioning offers the advantage of greater stability over uneven or rough terrain. Front drive chairs are less prone to tipping. Unfortunately, front wheel drives have the tendency to fishtail at higher speeds.
Rear-Drive
A rear-drive chair positions the drive wheels behind the seat, offering more stability at higher speeds. However, the turning radius increases on the rear wheel drive motorized chairs. Steep hills often cause the chair to tip backwards, therefore requiring anti-tippers to prevent accidents.
Mid-Drive
Mid-drive wheelchairs position the drive wheels under the seat. This setup offers the best center of gravity to prevent tipping. It also offers the shortest turning radius. However, mid-drive chairs perform poorly on rough terrain and can sometimes become stuck with the drive wheels spinning due to inadequate contact with the ground.
Portability
Portable electric wheelchairs are a difficult challenge for manufacturers because of two separate issues. First, power wheelchairs are heavy. They require four to six wheels, a battery pack or two, a motor, frame, chair, a control system, brakes, anti-tippers, accessories, etc. All of these items add weight. Second, motorized chairs are bulky, requiring a significant amount of space.
Attempts to decrease the weight and bulkiness of electric wheelchairs often results in less stability. To conquer this hurdle, some manufactures have divided the chair into sections that can disassemble and reassemble. This method provides for easier lifting and storage in a car trunk. However, often these sections still weigh over 50 pounds each. Another solution is adding a folding function. This method decreases the amount of space required for storage and transport. Another solution falls outside of the motorized chair itself and involves attaching a carrier to the vehicle that will be transporting the chair externally. Below are linked to additional details for these portable power wheelchairs.
How to Get the Best Power Wheelchair Fit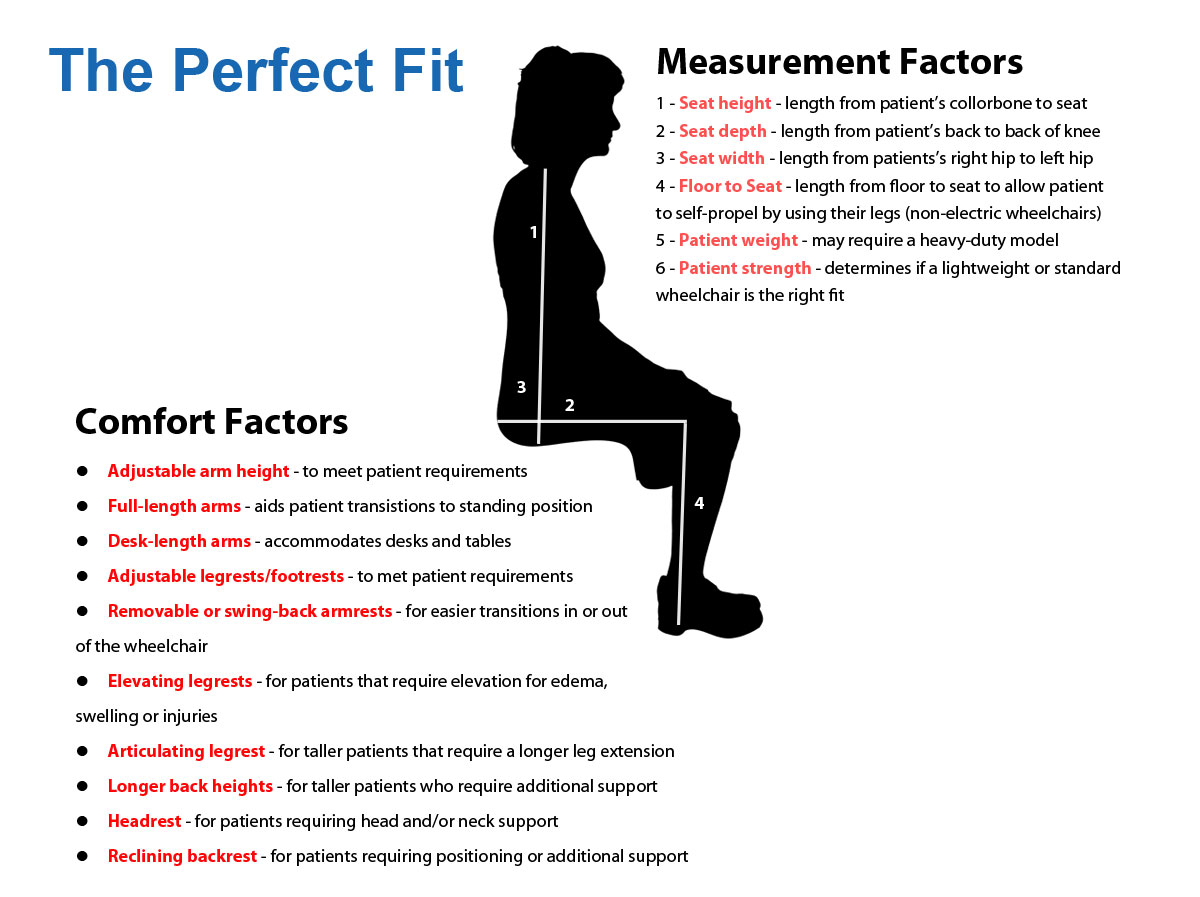 Selecting Accessories
Once you have a good idea what are the user needs, selecting wheelchair accessories is the next step. Will the patient need a safety seatbelt to keep them from falling out of the chair? If the patient will be eating from their chair often you may want to consider purchasing a wheelchair table. Patients that have difficulty transferring to or from a bed or toilet to a wheelchair may need a transfer board. There are wheelchair accessory products, cushions, anti-tippers, oxygen tank holders, umbrellas, safety seatbelts, cup holders, and a host of other products to select in order to make the wheelchair experience more comfortable. If you are looking for an accessory or replacement part that you do not see on this website, call 800-397-5899 for assistance.
You might be interested in...