Reclining Wheelchairs & Tilt-in-Space
Reclining Wheelchairs are manual wheelchairs with a high backrest and head support to bolster the head, neck, and trunk when in a reclining position. The independent reclining feature allows users to reposition from a 90-degree seated position to a reclined 180-degree position.
Why is a reclining position helpful? Prolonged usage of a wheelchair can lead to muscle fatigue, discomfort, and pressure sores. An advantage of a full reclining wheelchair system is the angle redistributes the user's weight, taking pressure away from the back and tailbone. A Tilt and Recline Wheelchair, like the Invacare Spree, is a pediatric reclining wheelchair applying a tilt-in-space mechanism to achieve up to a 60-degree angle without changing the patient's seated position. The tilt maintains the body's posture so that individuals aren't at risk of slipping. Reclining wheelchairs for the elderly or disabled are also a safety measure when there is limited muscular control and the user is at risk of falling out.
The Benefits of Wheelchair with Reclining Back
Reclining Provides Pressure Relief - The angle redistributes the user's weight and promotes blood flow to prevent pressure ulcers at bony prominences due to long-term seating. The Silver Sport Reclining Wheelchair by Drive Medical, features a hydraulic reclining mechanism to create many angles up to 180 degrees with anti-tippers for safety in any position.
Facilitates Easy Incontinence Management - Reclining when seated puts less pressure on the bladder, making it easier on patients with a catheter or ostomy appliance. Many reclining systems will allow the user to lie flat when a caregiver changes a catheter or an incontinence brief.
Encourages Edema Management - A high back reclining wheelchair includes elevated legrests for maximum head-to-toe comfort and blood circulation. An example available for purchase is the ProBasics Full Reclining Wheelchair with padded elevated legrests that support and prop up the legs and feet to manage fluid.
Provides Head and Trunk Support - Prolonged seating fatigues the upper body, and therefore reclining wheelchairs with headrest increases comfort and are essential when patients have limited or no muscular control.
Aids With Safe Patient Transfer - As a lightweight reclining wheelchair, it is easy to position. The removable arms aid with side transfers to and from a chair.
The Benefits of a Tilt-In-Space Wheelchair
Provides Pressure Relief - The angled back adequately redistributes pressure to prevent pressure ulcers.
Maintains Proper Seating Position - The user receives trunk support while in a seated position. The seated position preserves the alignment of the hips, knees, and ankles and prevents slipping.
Preserves Skin - Shearing can occur when the body shifts. The tilting mechanism does not move the body and therefore prevents shearing entirely.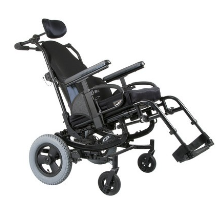 Frequently Asked Questions (FAQs)
How does a Tilt-In-Space wheelchair differ from a reclining wheelchair for sale?
A reclining wheelchair angles the upper body only whereas a Tilt-In-Space system tilts the entire base to the desired angle without changing the user's seated position.
Who needs a tilt-in-space wheelchair?
This type of wheelchair is ideal for patients who have no muscular control and need seated assistance. Users with delicate or at-risk skin may choose this version over a reclining wheelchair because it prevents shearing.
Who can benefit from the tilting feature?
Any patient who has prolonged usage of a wheelchair will benefit from a tilting feature since it redistributes pressure.
Inspired by your history...