Patient Lifts
Vitality Medical carries a wide variety of top of the line patient lifts for home use or medical use manufactured by Graham-Field, Invacare, Medline, Drive Medical, and Hoyer. Also, known as medical lifts, these patient lifting devices for home use are designed to lift non-ambulatory patients to make them mobile and to protect them from fall injuries. Some individuals may be ambulatory but unable to assume a standing position from a sitting or lying down. Therefore, having effective medical equipment to move patients such as a patient lifting device is ideal when needing to transfer a patient from one place to the next.
Types of Patient Lifts
Mechanical Lifts
This type of patient lift uses a crank to lift and lower patients safely. Manual lifts do not require batteries or power. These hoists do not require much energy due to the gearing mechanisms they employ but do require cranking.
Examples:
Electric Lifts
Powered lifts are also referred to as electric or battery lifts. They use an electric motor that is either DC/ battery operated or AC operated. Battery-powered lifts are rechargeable from an AC outlet. These are larger, but there are also smaller ones, offering easy portability from room to room.
Examples:
Sit-to-Stand Lifts
This patient lift serves as an aid in transitioning the patient from a sitting to a standing position. Sometimes referred to as "Stand-Up lifts" these devices use straps or belts. The individual uses their own strength to pull themselves up into position. Most have minimal width to allow passage through narrow doorways. Most of these are smaller and weigh less than a standard lift.
Examples:
Heavy Duty Lifts
Also know as bariatric lifts, they are designed to accommodate individuals weighing more than 500 pounds. They are constructed with heavy gauge steel and built extra wide. The casters are larger and stronger to support heavier loads, too. Some fold for easy storage and come equipped with a 6-point cradle for increased stability.
Examples:
Patient Floor Lifts
When a patient falls on the floor and doesn't have the physical strength to get up, a portable lifting cushion is there for these emergency situations. These floor lifts use a battery-powered compressor to inflate the individual compartments that gradually lift the patient to a seated position without straining the caregiver. Caregivers are vulnerable to back, neck, and shoulder injuries from repeated lifting. Mangar created these emergency floor lifts to prevent injuries to the caregiver and prevent patient injury when the patient is left on the floor for too long. The cushions also support a large weight capacity to use on bariatric patients.
Examples:
Bath Lifts
Waterproof bath lifts assist mobility-impaired individuals to get in and out of a bathtub. They are often placed into the tub with suction cups on the bottom to keep the lift in place. The patient sits on the bath lift and is easily lowered into or out of the tub. Many of these bath hoists are portable and disassemble/assemble without tools. Upon dis-assembly, they are easily stored out of the way until needed.
Examples:
Wheelchair Lifts
These are mini elevators that allow a wheelchair patient to go from one level to the next. They are used to traverse difficult pathways, platforms, or porches. These hoisting devices use electrical power to operate and require regular maintenance. They are usually controlled by an electrical control box or a remote. Another type of wheelchair lift is a wheelchair transfer device that lifts the individual off or on a wheelchair seat. Wheelchair lifts provide for a smoother and easier transition from or to a wheelchair. This type of lift requires very little maintenance.
Examples:
Pool Lifts
Disabled or handicapped individuals who want to get in and out of a swimming pool can use a waterproof, pool side lift. The Americans With Disabilities Act (ADA) specify the requirements for these lifts.
Examples:
Lift Slings
Lift slings to hold and stabilize the individual during the lifting process. Slings connect to the cradle to directly support the patient. Selecting the right sling depends upon the type of hoist your are using and the size of the patient. More detailed information can be viewed at Patient Lift Slings.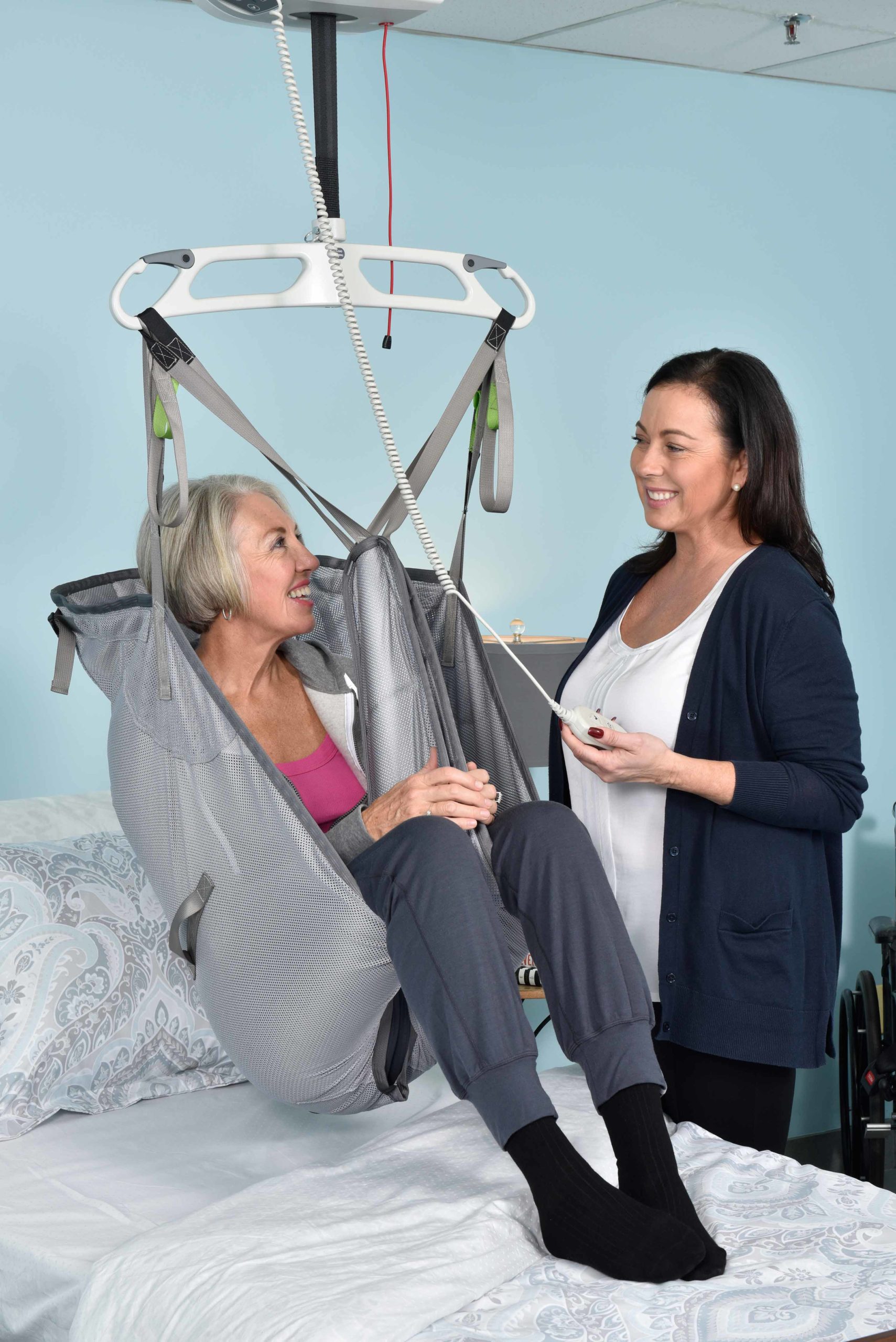 Hospital Lift Key Benefits
Less Strain on Caregiver
Taking care of a loved one or patient can take a toll on the body. Caregivers for disabled or physically impaired patients may be repeatedly lifting the patient throughout the day, while hospital workers and professionals could be lifting even more frequently. This can take a severe toll on the body, especially without the right form. Patient lifts, like inflatable floor lifts or people lifts, can help take the load off and make life easier.
More Patient Autonomy
On top of causing extensive strain for the caregiver, the lifting process can be a negative experience for the patients or loved ones. Being equipped with a patient lift device can give the patient a sense of working together, making the experience much more positive and in turn giving the patient more autonomy.
Saves Time for Everyone
This process can be as difficult or easy as can be. Without a patient lift, there may be a lot of adjusting and tussling to often achieve imperfect sitting, laying, or resting positions. Hospital lifts are designed to optimize the experience, providing better positioning for utmost comfort while greatly reducing the time spent with each lift.
Patient Lifts Safety Guide
Use Lifts with These Activities
It is important to avoid lifting when off-balance or leaning forward, twisting and/or reaching, or entrapped in a confined space.
Lifting from the floor
Bed-chair transfer
Lateral transfer
Lifting limbs
Toileting/bathing
Repositioning
Patient Lifts at Home
Get training from a qualified medical professional before operating a patient lift at home.
Keep the manufacturer's instructions close to the lift and always follow them.
Have a back-up plan in case the lift stops working properly.
When selecting a lift for home use, be sure to have the right amount of caregivers needed to operate the lift.
Always keep children and pets away from the lift.
Be sure to recognize and understand the alarms and error messages. Always follow through when an alarm is sounded.
Call the supplier or manufacturer if help is needed or there is a problem with the device.
How to Prepare the Equipment
Make sure the battery is charged for the transfer.
Test the lift controls before bringing the lift to the patient. Make sure the emergency release feature works.
Ensure the receiving surface is stable and locked.
Ensure the slings, hooks, chains, straps, and supports are available, appropriate, and correctly sized.
Check the lift and sling weight limits. Ensure the patient's weight does not exceed the limits.
Examine the sling and attachment areas for tears, holes, and frayed seams. Do not use a sling with any signs of wear.
Frequently Asked Questions (FAQ)
Q: What is a patient lift used for?
A: Patient lifts are designed to lift and transfer patients from one place to another. These should not be confused with stairway chair lifts or elevators. Patient lifts can be manually operated or battery powered. Some are designed specifically for pools or baths, while others are designed for moving patients from the bed or wheelchair.
Q: What are the standard components of patient lifts?
A: Typically, patient lift devices feature a support base, wheels, upper frame, hoisting mechanism, and a sling. Some patient lifts don't come with a sling but can be paired with a wide range of compatible slings that can be found across our site.
Q: Can patient lifts help individuals get up when they are alone?
A: No. Patient lifts are designed to accommodate the caregiver and the patient together. Some patient lifts may even require an extra set of hands, on top of the caregiver. These make the lifting experience much safer and easier for the caregiver and the patient.
Pages and Resources
Handicap Lifts Videos
Training for Vounteers in Disaster Shelters: How to Use a Patient Lift
You might be interested in...