Power Lift Chairs & Recliners
Lift Chair Recliners are a mobility aid that play an essential role in helping those with weak hips and knee joints who require assistance to stand up from a seated position. There are different types of lifting recliner chairs, along with several options that are functional and designed with the individual's safety in mind. Technology has come a long way with lifting chairs; they are helpful and can accommodate all body types and sizes. From heavy-duty, leather to electric lift chairs with massage and heat, there are many different options to help someone safely get up and stand from any sitting position.
Electric Recliner Lift Chairs are of particular importance to seniors and to the mobility impaired. These adaptive seating devices offer greater independence and reduce the risk of self-injury. Numerous medical studies depict the benefits of using these sit-to-stand position (STS) devices to aid in daily living. Excepts from some of these studies are below.
Standing and sitting are the necessary motions in activities of daily living. However, people with disabilities whose muscular systems are weakened by degenerative joint disease have difficulty with everyday actions such as sitting down and getting back up to a standing position. Some require caregiver assistance to do daily functions. Often this assistance puts the caregiver at risk from assisting with weight-bearing while in awkward positions. Caregiver injuries while assisting seniors is a growing concern. Devices and equipment to aid in lifting and to compensate for elderly impairments help to promote senior activity and independence.1
Lift Chair & Recliner Profile

Standing up from a seated position is an everyday activity performed by people daily. Senior citizens, however, often encounter significant difficulty with standing up as arthritis and weakened joints take their toll. Sometimes these difficulties may lead seniors with mobility constraints to less active participation and sedentary demeanor. Being less active increases "the risk of chronic diseases that may cause premature death. Therefore, assisting older people to overcome these difficulties has significance for their independent living and active aging."2
Caregiver injuries while assisting patients with weight-bearing activities is an increasingly risky operation as more people age. "The U.S. Department of Labor's Occupational Safety and Health Administration (OSHA) has estimated that nearly one-half of all healthcare workers will sustain at least one work-related MSD injury in their career and most will be related to a back injury (Converso & Murphy, 2004). The cost of these types of injuries is staggering, "the direct and indirect costs associated with back injuries in the healthcare industry are estimated to be $20 billion annually" (CDC, 2008)3
Positions
"The independence of elderly and arthritic patients, as well as persons with disabilities, is influenced considerably by their ability to stand from a chair. The presence of pain, reduced joint range of motion, stiffness, and muscle weakness often limit the ability to achieve a sit-to-stand position (STS). Realizing the enormous implications of STS performance, physicians, scientists, and industry have joined together to design and manufacture a wide variety of adaptive seating systems that facilitate the rising process."4
"A major factor governing independence for the elderly and persons with disabilities is the ability to stand from a chair. Factors such as pain, reduced joint range of motion, stiffness, and muscle weakness frequently limit the ability to stand. Sit-to-stand functions are further reduced in patients whose hands and shoulders are afflicted with rheumatoid arthritis. When achieving a sit-to-stand position in the elderly and persons with disabilities, there is considerable risk of the individual falling and sustaining a bone fracture. "5
"The beneficial effects of standing have been documented by comprehensive scientific studies. These benefits include reduction of seating pressure, decreased bone demineralization, increased bladder pressure, enhanced circulatory regulation, reduction in muscular tone, decrease in upper extremity muscle stress, and participation in activities of daily living."6
Power lifting chairs reduce the risk of pain and harm to individuals attempting to transition from sitting to standing on their own or even with the assistance of a caregiver. The medical benefits of these devices are unquestioned.
Advantages of a Power Lift Chair Recliner
Easier transitions from sitting to standing
Additional comfort
Adjustable positioning
Some offer varying sleep positions
Reduces risk of back strain
Promotes user self-reliance and independence
Supports users with mobility issues
Strengthens users with balance problems
Some provide therapeutic benefits of heat and massage
Provides leg elevation
Sustains users with circulation problems
Supports diabetic neuropathy
Chair Styles
Chair Recliners provide a backrest that reclines while the footrest rises to support the legs. Often this recliner style has a footrest that stops at the lower ankle to reduce the chance of pressure sores or discomfort to the heel of the foot.
Sleeper Recliners have a backrest that reclines to a flat position and a footrest that also rises to form a 140 to 180 degree angle with the backrest. This bed-like surface is comfortable and negates the need for a bed. People who have difficulty entering or exiting a bed find recliner sleepers as the next best option.
Speciality Chairs assit users with therapuetic functions to treat certain conditions. They can help increase blood flow, reduce indigestion, decrease pain, curb snoring, and offer several other benefits. These benefits come by placing the user into specific positions to provide therapy to the body.
Selecting the Best Lift Chairs On Sale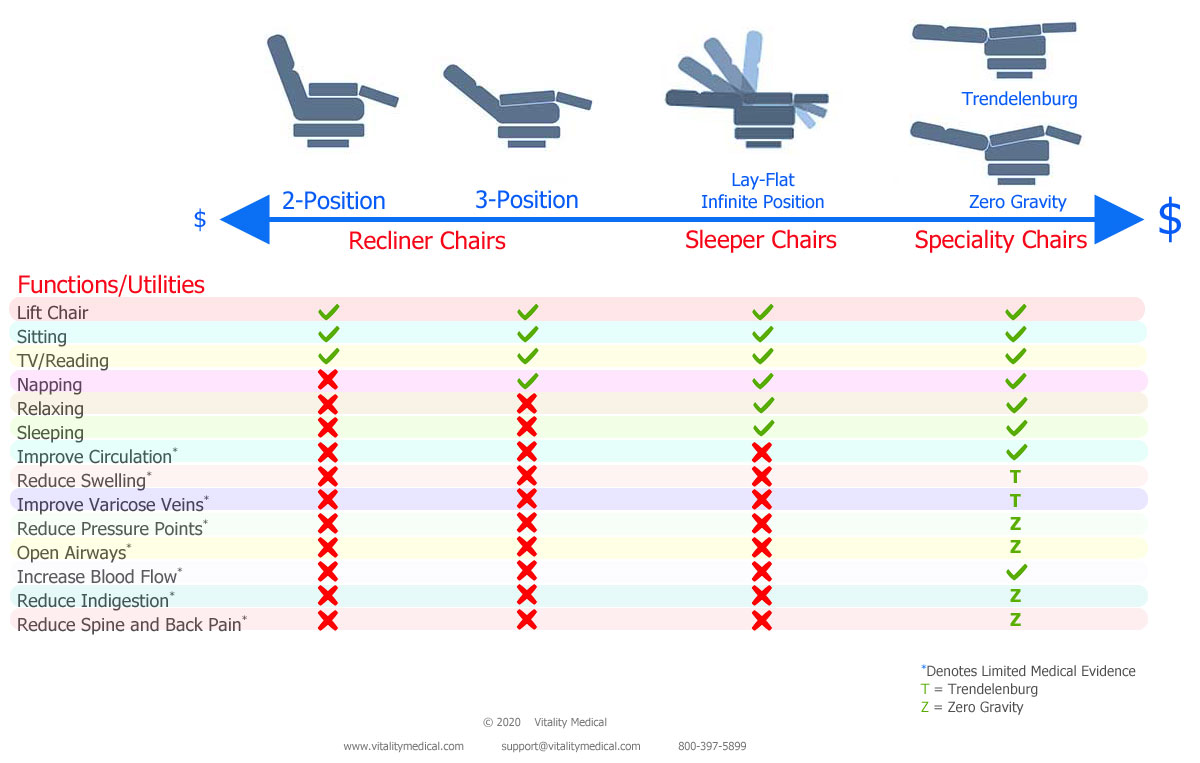 In the continuum above, the lower priced options are on the left side of the continuum and the higher priced selections are on the right. Advancing from a 2-position chair to an infinite-position chair brings more functions and a higher price. Added features such as Trendelenburg, Zero Gravity, adjustable headrest, heat, massage, etc., will improve the utility of the chair and increase the price. It is important to determine the needs of the user and match those needs with the charateristics of the chair. Also keep in mind what the long-term needs of the user will be. Selecting a lift chair for short-term needs may not be the best economical selection.
Selection by Types of Lift Chairs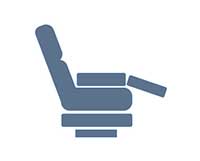 2-Position
This type has a single motor that reclines the backrest and lifts the leg rest at the same time. The angle of recline is about 15-degrees, which is comfortable for reading or watching TV. When not in the reclined position, the chair is in a sitting position. The motor also lifts the seat up and to an angle that allows the user to slip off to a standing position. Also known as a wall-saver lift chair, since it does not recline fully to a rest position, it is not likely to collide with a wall and cause damage.
Example: Heritage LC-358XXL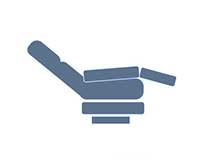 3-Position
The 3-Position electric rising recliners offer a third position at a 45-degree incline from the sitting position. The leg rest also comes up to support the lower limbs. This added function allows the user to rest or sleep if desired in a nearly full-recline. The design is available in 1-motor or 2-motors options. The two motor options provides more user control to adjust the backrest and leg rest separately to obtain more customized positioning.
Example: Heritage LC-358L

Lay-Flat Position
This type of lift recliner supports sleeping. It adjusts from the lifting position to sitting and all the way to a flat sleeping position. These elderly lift chairs also adjust to a 2-position or 3-position recliner.
Example: VivaLift Metro
Infinite Position
The infinite position option is the best version for spending extended periods sitting, resting, or sleeping. It starts with an upright seating position and adjusts from that spot to completely laying down and anywhere in between. This multi-positional chair offers the user an infinite number of positions to find that perfect sweet spot for ultimate relaxation.
Example: Oasis LC-580iL

Trendelenburg
Many of the infinite lift chairs add the additional function of Trendelenburg positioning. This design is also known as an inclined dorsal posture. This variant raises the legs and feet above the heart and head. This function supports users that experience problems with circulation, swelling, and varicose veins. "Hypotensive patients can benefit from this position because it promotes venous return."7 For reverse Trendelenburg positioning, one study found that obese individuals benefited from minimal arterial blood pressure changes and improved oxygenation.8
Example: Infinity LC-525iM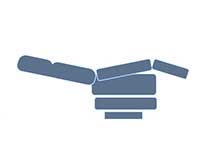 Zero Gravity
Lifting chairs with zero gravity function places the thighs and lower legs higher than the torso. This position reduces the effects of gravity on the body. This zero gravity alignment helps to align the spine, improve circulation, expand lung capacity, and relaxes muscle tension. Sleep studies conducted by Alain Gonfalone find that much of sleep is necessary to compensate for the constant effects of gravity upon the body.8 Studies demonstrate that gravity plays an important role for the need and duration of sleep. "On Earth, Rapid Eye Movement (REM) sleep is conditioned by gravity; in space, astronauts have a shorter sleep duration and this is even more striking when a test subject is immersed in water for a week. In conclusion, sleep is partly due to gravity, which acts on our body and brain during the wake period."9
Example: Oasis LC-580iL
Some feel that sleep in zero gravity positions aids in the following ten ways:
Reduces pressure points and stress upon the body.
Helps to open restricted airways
Aids in silent restorative sleep
Reduces the incidence of snoring for some people
Promotes entry into rapid eye movement (REM) more often throughout the night
Aids to remove pressure from the heart
Increases blood flow
Reduces the pressure on leg vein valves
Reduces indigestion
Reduces pressure on the spine and lower back
Heavy-Duty
Wider lift recliners offer more comfort and support to make them desirable not only to accommodate bariatric patients, but to take advantage of the extra room and the plush cushioning. The construction of bariatric lift recliners is with strong materials, usually steel. Its durable construction supports additional user weight. Most manufacturers do not make the heavy-duty models with Lay-Flat or speciality applications like Zero Gravity.
Example: Heritage - LC-358
Upholstery Selection
Upholstery material for power lift recliners is of two basic versions—synthetic or natural. Both have advantages over the other. Some modern fabrics combine the benefits of both types of material into a blended fabric to offer more benefits to the user.
Natural Fibers
Most of the natural fabric versions are actually blended-fibers rather than strictly a single composition of a textile made of wool, cotton, or flax fibers. Natural fibers offer a more extensive color selection and are known for their breathable nature. Moisture and heat easily transfer away from the body. However, staining and discoloring are weak points with these fabrics. Selecting a natural fabric that resists wrinkling and stains is essential. Durability is another crucial factor. Users with incontinence may want to choose a synthetic material to avoid the absorbency nature of natural fibers.
Leather comes from animal hides. It is highly durable and comfortable. It comes in many different grades, so it is vital to select high-grade leather for better comfort and durability. Leather is highly durable, requires cleaning and conditioning, reflects heat, and it shows scratches. High-grade leather is expensive.
Linen comes from flax fibers. It is strong, durable, and resists stains. This fabric takes color well and therefore offers some of the richest color options. It also wrinkles easily and is difficult to clean. Manufacturers often blend linen with cotton or polyester for a softer feel. Linen is a higher cost fabric.
Tweed is a wool fiber that hides stains and offers a textured appearance. It is very durable but is also known for its scratchy nature. Many find tweed fabric to be uncomfortable. Because of its outstanding strength, textile producers often blend this fabric with other materials.
Cotton fibers are soft, breathable, and comfortable. Colors added to cotton tend to fade easily. Cotton material is also prone to wrinkle. This fabric is also budget-friendly.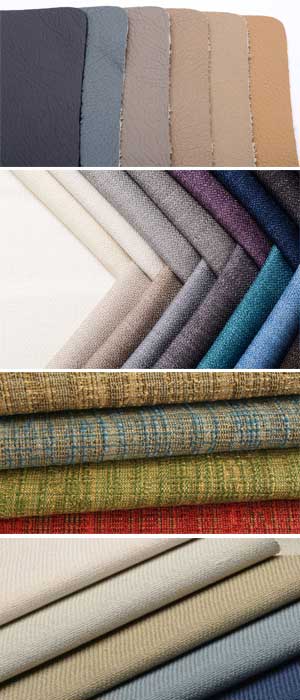 Synthetic Fibers
Synthetic materials tend to be more durable than natural fibers. Breathability is an important factor when selecting a synthetic material since the majority of lift chair users spend considerable time in their chairs relaxing and sleeping. Non-breathable materials reflect heat and can keep moisture against the body.
Faux Leather is easy to clean and is very durable. It is water-resistant and can stay resistant with regular treatments and conditioning. Many prefer the texture and appearance of Faux leather; however, it requires regular maintenance of cleaning and conditioning. It is also prone to surface cracking and peeling after only a few years of service.
Microfiber is a blend of synthetic fibers that offers velvet-like texture and high durability. It also resists stains quite well and is easily cleaned.
Polyester is a very durable fiber that is easy to clean. However, it offers low abrasion resistance. Manufacturers of polyester recliners most often blend the polyester fiber with other fibers to add more benefits to the material.
Velvet is a dense material that is luxuriously soft. It is noticeable for its sheen. This comfortable fabric tends to stain easily and is difficult to clean.
Vinyl has the appearance of leather and is easy to clean. It is very durable and resistant to spills. Many find that vinyl reflects heat and keeps moisture next to the body, which can lead to discomfort and pressure sores for those who spend a lot of time using their recliner. Vinyl is very budget-friendly.
Olefin is a polypropylene fiber that resists abrasions and stains. It stands up well against sunlight and is very durable. It is also water-resistant.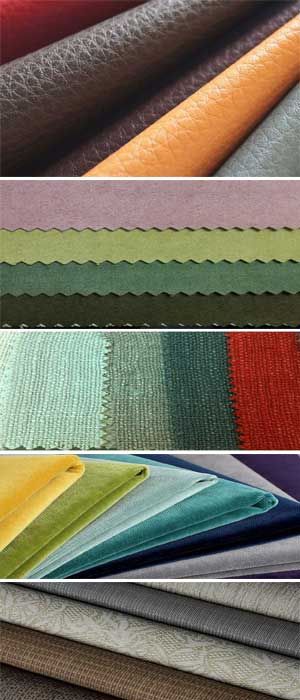 Other Selection Criteria
Color options
Thick cushions, overstuffed cushions
Weight limit
Easy to clean fabric
Overstuffed cushions
Storage pockets
Durable construction
Emergency power backup for power outages
Warranty Length
Accessory Selections
Built-in Accessory Options
Heat – a therapeutic add-on to relieve pain and add comfort to aching backs, hips and legs. The more heat nodes provided the better but it also increases the cost.
Massage – this therapeutic add-on can offer additional comfort and pain relief with many models offering a number of massage nodes throughout the chair and adjustable modes and intensities.
Remote – there are a lot of options with remotes, from a basic up/down switch to programmed positions, heat and massage functions, separate controls for the backrest and leg rest, adjustable headrest, adjustable lumbar support, etc.
Power headrest – a few manufacturers make an optional powered headrest for their lift chairs that provide adjustable support for the head and neck (Ballister, Flexsteel, Lazboy, Boone Brown)
Power lumbar – some manufacturers make an optional powered lumbar to adjust the support for individual needs (Ballister,Flexsteel, Lazboy)
USB port – a must-have accessory to keep smartphones and laptops charged and ready
Dual motors – provides for custom positioning of the backrest and footrest to adjust independently of each other. This allows the footrest to raise without the backrest reclining, offering more customized positioning options. There are also triple and quad motor versions with even more adjustability.
Cup holders – always an added convenience to reduce spills and to keep drinks at the ready.
Independent Accessory Options
Tray Table – offer added convenience to allow the user more activities they are able to perform while sitting on the lift recliner.
Assist Handle Table Tray – provides a small table with drink holder and a grab handles to aid in transitions.
Armrest Caddy Pocket Organizer – hangs on the arm and provides additional storage.
Neck Pillow – offers support for the neck and head.
FAQ's
Does Medicare pay for a reclining lift chair?
Yes, Medicare Part B covers the expenses for durable medical equipment (DME). It must be prescribed by a physician and meet the medically necessary guidelines for reimbursement. See Medicare Part B Coverage.
Will VA pay for a lift chair?
Seat lift mechanisms are authorized under the following conditions.
"Seat Lift Mechanisms. Seat lift mechanisms need to be considered for patients who are unable to achieve the standing position when seated in a conventional height seat, when the patients have the ability to ambulate independently in a safe manner once in the standing position (refer to PCMP Clinical Practice Recommendations for Seat Lift Mechanisms
NOTE: Lift chairs may not be provided. (VHA Seat Lift Prescription Recommendations)"
The process involves a referral from a primary care provider to Prosthetics. An exam by a doctor and a prescription.
What is the best power lift recliner?
Listed below is a rank order of the top 10 lift relciners and the top 10 features.
Top Ten Brands

Pride Mobility — one of the largest designers and manufacturers of mobility devices.
Golden Technologies — is a DME oriented manufacturer of mobility devices.
Ashley — is a consumer oriented distributor of funiture, manufacturing the Ballister and Yandel brands.
Jackson — is the manufacturer of the Catnapper lift recliners.
Ballister — manufactured by Ashley.
Serta — a consumer oriented manufacturer of bedding and furniture.
ProLounger — distributed by Amazon, Costco, Home Depot, Walmart and other retailers.
Merax — distributed by Amazon, Costco, Home Depot, Walmart and other retailers.
Coaster — manufactures a wide assortment of furniture products.
Pallister — Canadian manufacturer of furniture products.
Top Ten Lift Chair Features
Massage — offers soothing and relaxing comfort
Heate — help relieve back and joint pain.
Zero gravity — helps to improve circulation and a host of other items.
Rocker — adds soothing motion to the lift chair functions.
Wall hugger — to protect walls from reclining accidents.
Swivel — helps with easier ingress and egress.
Leather — for luxurious appearance and feel.
Trendelenburg — improves circulation.
Cup holder — provides convenience and reduces the risk of accidential spills.
Programmable remote — to allow one button to get quickly to the right position.
How do I choose a lift chair?
There are numerous factors to consider when purchasing a reclining lift chair. The needs of the user is the most important consideration in making the best purchase decision. There are numberous options and accessory add-ons to provide more functions and utility to the reclining lift chair. Select the chair that best meets all of the needs of the user. Some considerations include the size of a chair, weight capacity, and space available for the chair to fully recline. Cost is another important consideration. The more functions and utility the chair offers, the higher the price. In many instances it is wise to plan ahead of current needs to prevent from buying a limited functioning chair for the short term when a higher functioning chair is a better option for the long-term. See the section above entitled "Selecting the Best Power Lift Chair" for more detailed information. Another important factor to consider is the motor speed. A slow functioning motor to transition from one position to another can be very annoying, especially when you what the chair to lift you up to the standing position. Pride Mobility manufactures chairs that rise in less than 20 seconds.
For those who love to relax in a recliner, watch their favorite TV show, read a book, or enjoy a conversation in a comfortable chair with their favorite friends and family, but who have trouble standing from the sitting position, recliner lifting chairs are the perfect solution. They are soft, comfortable, and provide assistance for those who have difficulty getting up from a sitting position.
Product Videos
Advantages of a Lift Chair Video (1:00 minutes)
Lift Motor Speed Video (1:01 minutes)
VivaLift Video (1:04 minutes)
Independent Senior Living Video (1:59 minutes)
Choosing a Lift Chair Video (4:27 minutes)
Footnotes
1 Bae, Ju-Hwan, and Inhyuk Moon. "Biomechanical assessment of electric lifting chair for persons with disability." 2011 IEEE International Conference on Rehabilitation Robotics. IEEE, 2011. (Last Accessed August-10-2020)
2 Lu, Hang, et al. "A survey on assistive chair and related integrated sensing techniques." 2013 International Conference on Manipulation, Manufacturing and Measurement on the Nanoscale. IEEE, 2013. (Last Accessed August-10-2020)
3 Steenrod, Heidi. "Safe Patient Handling Beyond the Lift." (Last Accessed August-10-2020)
4 Edlich, Richard, Cynthia L. Heather, and Michael H. Galumbeck. "Revolutionary advances in adaptive seating systems for the elderly and persons with disabilities that assist sit-to-stand transfers." Journal of long-term effects of medical implants 13.1 (2003). (Last Accessed August-10-2020)
5 Galumbeck, Michael H., et al. "The Sit & Stand™ chair. A revolutionary advance in adaptive seating systems." Journal of long-term effects of medical implants 14.6 (2004) Page 81. (Last Accessed August-10-2020)
6 Galumbeck, Page 82. (Last Accessed August-10-2020)
7 Alexander, Neil B., Daniel J. Koester, and Julie A. Grunawalt. "Chair design affects how older adults rise from a chair." Journal of the American Geriatrics Society 44.4 (1996): 356-362. (Last Accessed August-10-2020)
8 Matt Vera, BSN, R.N. Patient Positioning: Complete Guide for Nurses List of common patient positioning nurses must know. Updated on August 11, 2020. (Last Accessed August-12-2020)
9 Perilli, Valter, et al. "The effects of the reverse trendelenburg position on respiratory mechanics and blood gases in morbidly obese patients during bariatric surgery." Anesthesia & Analgesia 91.6 (2000): 1520-1525. (Last Accessed August-10-2020)
10 Gonfalone, Alain. "Sleep on manned space flights: zero gravity reduces sleep duration." Pathophysiology 23.4 (2016): 259-263. (Last Accessed August-10-2020)
11 Gonfalone, Alain A. "Sleep and gravity." Medical hypotheses 113 (2018): 81-84. (Last Accessed August-10-2020)
Medical Studies
You might be interested in...