Floor Lifts
What Is a Patient Floor Lift Used For?
Patient Floor Lifts are patient safety devices used for helping a person who has fallen get back on their feet. Depending on the patient's abilities and physical state post-fall, they are either assisted onto the lift by being rolled or lifted onto it or the patient can scoot themselves into it themselves. Common floor lift types include independent-use, patient-assist, electric, and inflatable lifts.
How to Choose the Best Patient Floor Lift
Patient Floor Lift Types
Independent vs. Patient-Assist Lifts
Whether or not extra assistance is needed, these devices are a huge help to their users, caregivers, and patient families. Floor lifts that can be used without the extra help of a caregiver grant the person with the fall risk extra self-reliance and dignity. This is because these lifts make calls for emergency assistance unnecessary in cases where the patient remains uninjured post-fall and can rise from a sitting to a standing position without additional caregiver assistance. Independent lifts are great for patients who just need an extra lift to get them back on their feet. These items make the most sense in homes in which fall risk patients may at times be left alone. The Camel Inflatable Lifting Cushion and Indeelift systems can be used both alone or with caregiver assistance.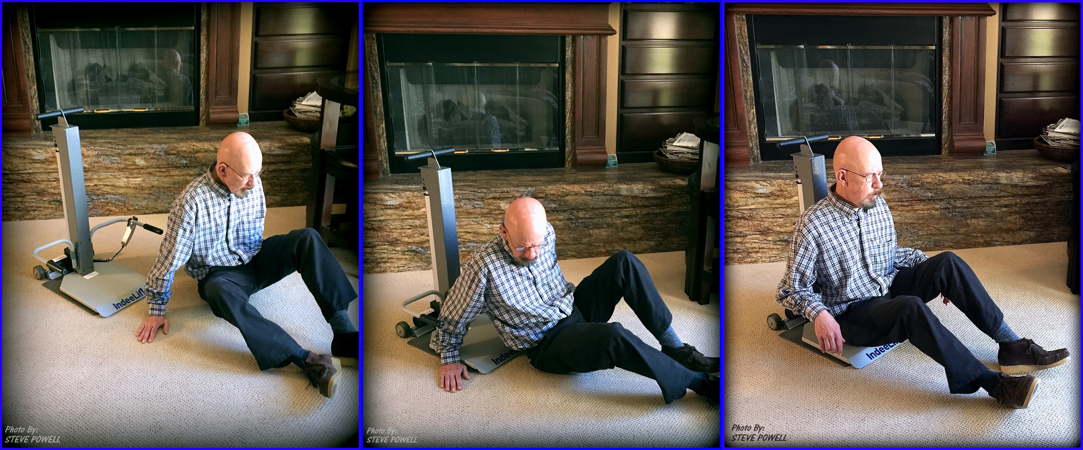 It is no easy task to raise someone from the ground to a sitting or standing position, especially when there is no assistive equipment or extra people around to help. Patient-assist lifts are lifesavers for caregivers who have fall-risk family members or patients. If you or a loved one are at risk of falling, it is highly recommended to keep a floor lift on hand for the safety of both the patient and the caregiver and to simply keep everyone's minds at ease. This makes them great for home use. They are also wonderful options for places like nursing homes, rehabilitation facilities, EMT units, long-term care facilities, and anywhere else caregivers are around to assist patients back into a standing position.
Inflatable Floor Lifts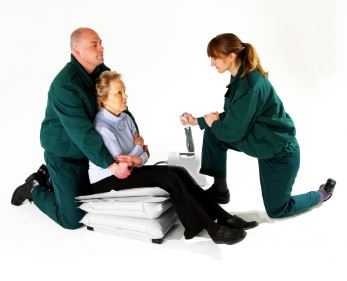 Inflatable lifts, such as the Elk Inflatable Lifting Cushion or Mangar Camel Lifting Cushion, are rubber- or plastic-based seats that start out flat and deflated. Once the patient is comfortably and safely settled onto the seat, the seat can be inflated by a caregiver or the fallen person (depending on whether it is an independent or patient-assist lift) so that the seat rises and lifts the patient. They often include electric air pumps to make a manual pump process unnecessary. These extra-portable lifts can easily be transported from one room, facility, or home to another, so it is great for fall risk patients who plan to visit family and friends or go on outings. In addition to these perks, inflatable stand-assist lifts are an affordable floor lift option.
Electric Floor Lifts
Electric lifts, such as the IndeeLift, are the easiest of all lifts to use. They are seat lifts that sit flat on the ground during initiation of use. Those who are capable can scoot themselves into the seat on their own while others may need to have the seat brought to them so they can be lifted into it. These seats commonly have arms so the person being lifted has something to grip as they are lifted for increased safety. Lifting occurs electrically, so no manual inflation or any other manual work is necessary. They are often controlled via remote control. Standing up couldn't be any simpler!
Electric lifts are often transportable, but they are much heavier than inflatable lifts, so they may be a little more difficult to transport from place to place. Users of these items will likely need assistance if they plan to travel with one of these lifts.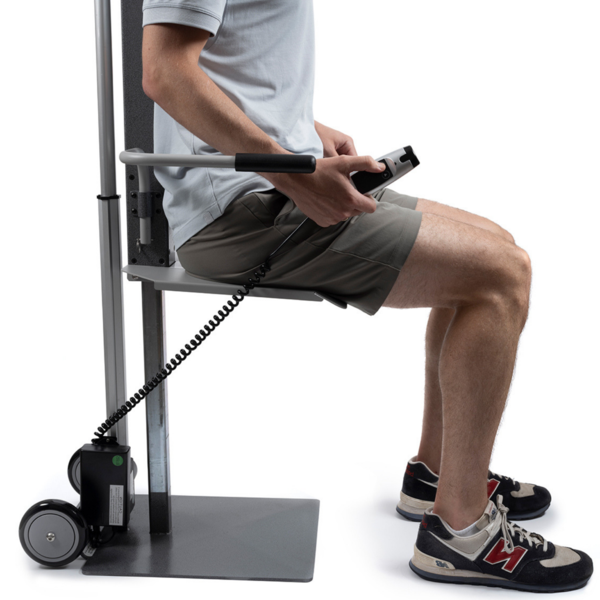 Keep in Mind: Fall risk patients should always be assessed for their ability to go from a sitting to standing position before a decision is made about which type of floor lift best suits their individual medical needs to prevent additional fall risks. Caregivers and patients should also always be trained on how to use these devices and patients should always be assessed for injury after a fall.
Weight Capacity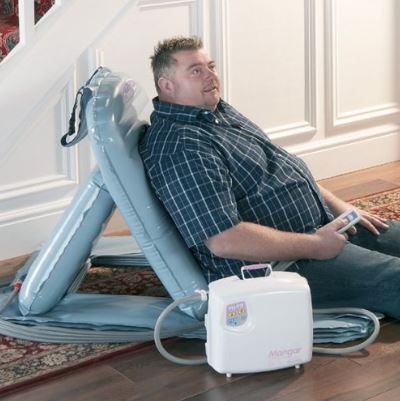 Just like with any other Patient Lift or mobility aid products, the weight capacity of each floor lift should be compared to the weight of the person who will be using the product. The capacity of these machines tends to lie anywhere between 250 and 1,000 pounds, so there is a floor lift for every patient.
Dimensions and Height Range
Buyers of these items will also want to take into account the height of the lift. Lift heights tend to range between 21 and 60 inches. Users who may need more assistance may want a higher height range. Typically, these devices can be held at a lower height than their maximum height if the maximum height is not necessary.
Bariatric patients may also want to consider the width of the seat. The wider the seat, the more stability tends to be provided for bariatric patients. Seat widths tend to range between 15 and 30 inches, depending on the lift design and type.
Who Needs a Patient Floor Lift?
Any person who is at risk of falling and who would be unable to raise themselves back into a sitting or standing position without external assistance should have one of these mobility aids on hand for both their safety and the safety of their caregivers.
Patient Transfer Aid Indications
Patients with the following conditions may be at risk of falling and may need the help of transfer aids:
Age-related reduced mobility
Alzheimer's disease
Arthritis
Bariatric weight
Dementia
Dizziness or lightheadedness from medications
Multiple sclerosis (MS)
Muscular dystrophy
Parkinson's disease
Stroke recovery
And many more
Those dealing with the following safety concerns will likely find these products useful:
Patient issues with balance
Patient sit-to-stand support and stability needs
A present fall risk
Past fall occurrences
Potential back pain and injury during a patient lift for the patient and for the caregiver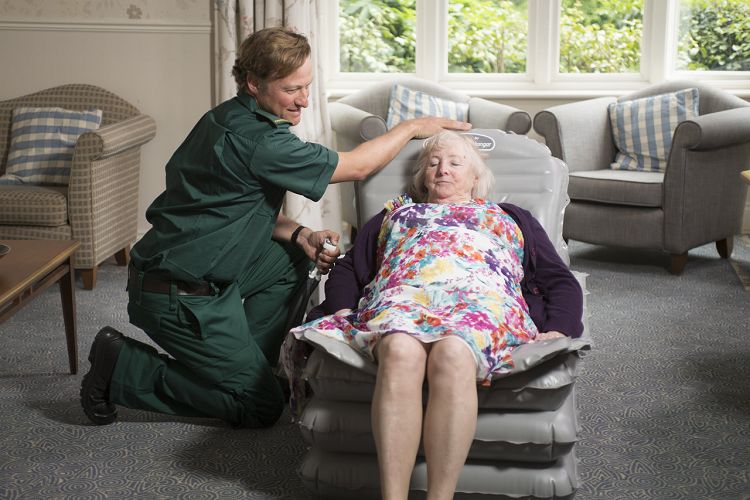 Other Patient Transfer Devices
There are many situations in which a person may need assistance with mobility and transfers, such as those in which the patient may need assistance to move from a sitting to a standing position or getting out of a bathtub. If a fall risk is present, safety devices should be placed anywhere the person may need a little extra help to move from one position to another. Those interested in these Mobility Aids may also be interested in other patient lift and transfer devices, such as electric or manual hydraulic patient lifts and patient slings (commonly known by the name brand name 'Hoyer' lift), grab bars, bath lifts, pool lifts, sit-to-stand aids, pillow lifts, and gait belts. A few complementary items for safe transfers are listed below for reader convenience. These items can be used in both healthcare facilities and home settings.
Here are some safety tips provided by the Mayo Clinic and Harvard Medical School for more information on how to keep yourself and your loved ones safe when a fall risk is present.
Complementary Products
You might be interested in...