Oxygen Concentrators & Accessories
Choose from a wide selection of new and used oxygen concentrators to fit any lifestyle. For users who are active and on-the-go, we offer small, portable oxygen concentrators. Alternatively, for users who need high levels of continuous oxygen or oxygen to sleep, we offer home oxygen concentrators. Also, find a large variety of oxygen concentrator accessories to suit every situation, such as adapters, humidifiers, and tubing. For help deciding which option is the best choice, just give us a call. Oxygen concentrator specialists are available to answer any questions.
Overview: What is an Oxygen Concentrator?
Oxygen Concentrators pull in natural room air to produce concentrated, medical-grade oxygen. Natural air, known as ambient air, is compressed and filtered to introduce higher oxygen levels to patients with low blood oxygenation. An O2 concentrator is classified as a medical device requiring a prescription by a doctor to ensure the home or portable unit provides adequate liters per minute of supplemental oxygen.
An oxygen concentrator machine is easy to operate and connects with a cannula tubing port for the patient to wear a nasal cannula or oxygen face mask. With increased oxygen getting to the organs, patients report increased energy and mental alertness for a better way of life. Operating an oxygen concentrator is a cost-effective therapy choice as it produces a continuous stream of supplemental oxygen in comparison to using a refillable oxygen tank.
What Health Conditions May Require Supplemental Oxygen
Supplemental oxygen may be prescripbed long-term for patients with lung disease or temporarily as patient is recovering from a lung condition. Here is a list of common conditions that may require oxygen therapy.
COPD
Weak Lungs
Congestive Heart Failure
Pneumonia
Lung Cancer
Reduced Lung Function Due to Illness, Including COVID-19
Cystic Fibrosis
What are the Different Types of Concentrator Machines: Portable vs. Home
A Portable Oxgyen Concentrator is lightweight, compact, and battery-operated to provide users with independence while receiving oxygen therapy when away from home. It's the go-to travel oxygen concentrator and has an DC power adapter to conserve battery power when traveling in a vehicle. The unit comes with a carry bag with a shoulder strap or a cart for portability ease.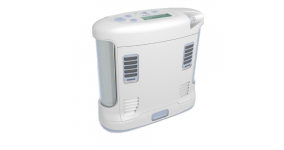 A Stationary Oxygen Concentrator is a larger device to be used at home. Its casters make it easy to move from room to room and plugs into a wall outlet. It operates continuously when the patient requires 24/7 therapy at higher liter-per-minute flows than its portable counterparts.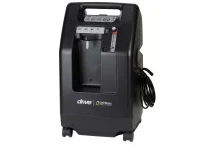 What's the Difference Between Continuous Flow vs. Pulse Flow Machines
A Continuous Flow Oxygen Concentrator is just that, it continually delivers oxygen indiscriminate of the patient's breathing. Continuous flow is measured in liters-per-minute (LPM). This flow is standard with stationary units. Only a few portable machines provide continuous flow and are easy to detect since its slightly larger like the SimplyGo. The SimplgyGo POC is carried in a bag. Eclipse 5 is another example with continuous flow and its larger frame uses a cart with handle.
A Pulse Dose Oxygen Concentrator is associated with the "carry type" portable units. A pulse burst of oxgyen is dispended every time the patient inhales. The pulse doses are measured in bolus output. Th O2 machine technology will sense when a patient's breath rate has increased and match the dose accordingly.
Challenges with Continuous and Pulse Flow Technology
There is always a demand for lighter, smaller, quieter oxygen machines. The problem is that the quieter the machine, the bigger it usually is. The smaller devices typically aren't capable of continuous flow and are louder than home concentrators. The reason is that the compressor has to work harder if it is smaller.
If the patient needs a continuous flow stationary unit with an output of more than 5 LPM, there are only a few 10-liter machines capable of this and will be bigger and louder than 5-liter concentrators. Another consideration is the aesthetics of the unit. Since a stationary unit is designed for the home, many customers have come to regard it as a piece of furniture, rather than just a tool for providing oxygen.
Quick links to comparison charts and studies.
Inspired by your history...