CPAP Supplies & Equipment
CPAP supplies are parts of a CPAP system. This system includes the CPAP machine, humidifier, air tubing, mask, filters, and replacement mask parts. When the entire system is functioning properly, sleep apnea patients avoid numerous negative outcomes associated with obstructive sleep apnea (OSA). OSA occurs when the upper airway is obstructed, preventing normal breathing during sleep. The harmful results of untreated OSA include increased risk of cardiovascular disease, hypertension, intellectual decline, fatigue, and increased risk of motor vehicle accidents. Some medical studies have shown that it is less expensive to treat sleep apnea with CPAP therapy than to treat the resulting diseases and detrimental health conditions caused by OSA.1
Quick Links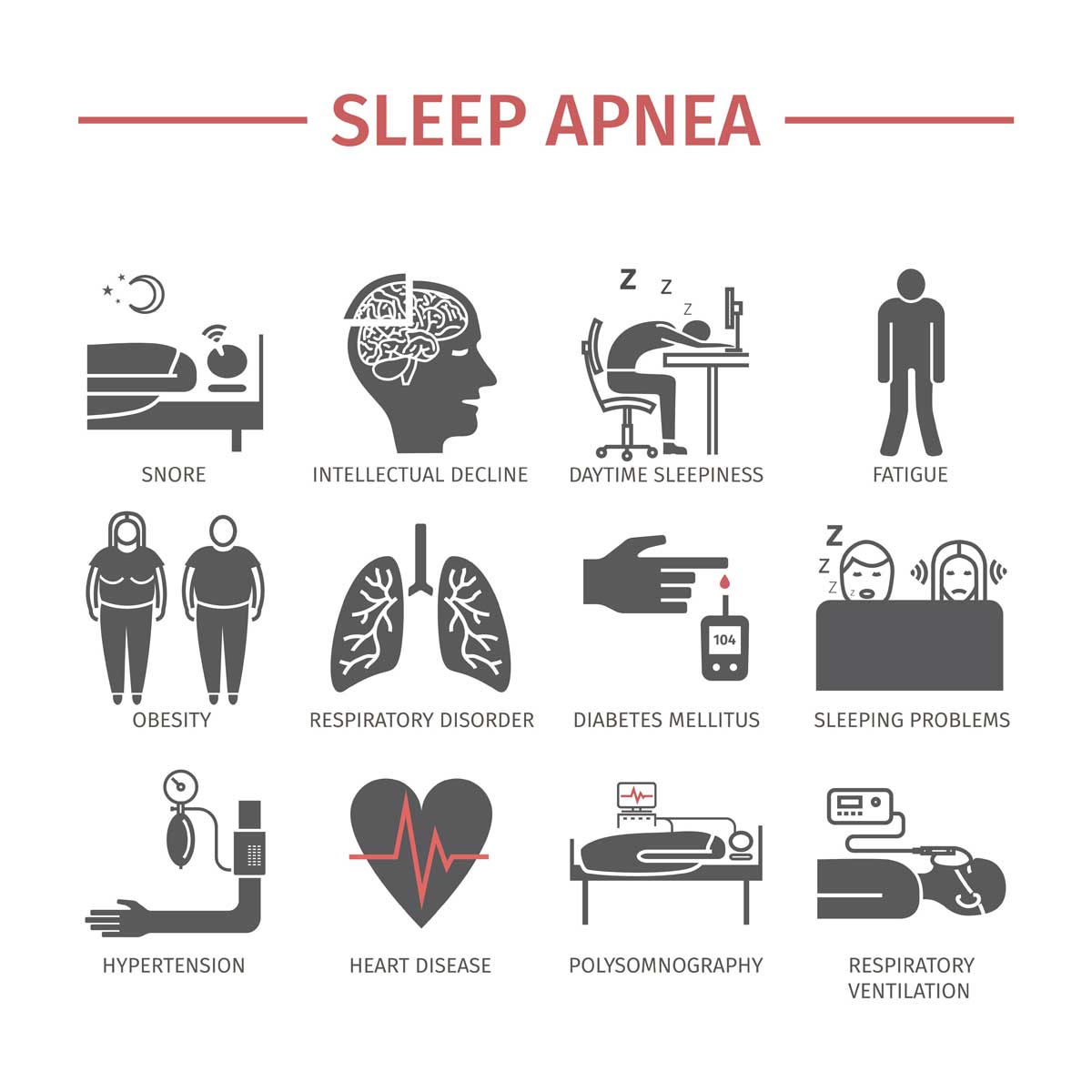 CPAP Therapy Impact Successful Sleep Therapy
Medical studies show that CPAP therapy is essential to the quality of life of sleep apnea patients and is vital to reduce mortality rates. Patient compliance with sleep apnea therapy is difficult to gain and maintain. Around 46 to 83 percent of patients with sleep apnea self-report non-compliance with their prescribed therapy. This therapy requires a minimum of 4-hours of CPAP therapy for each sleep cycle.2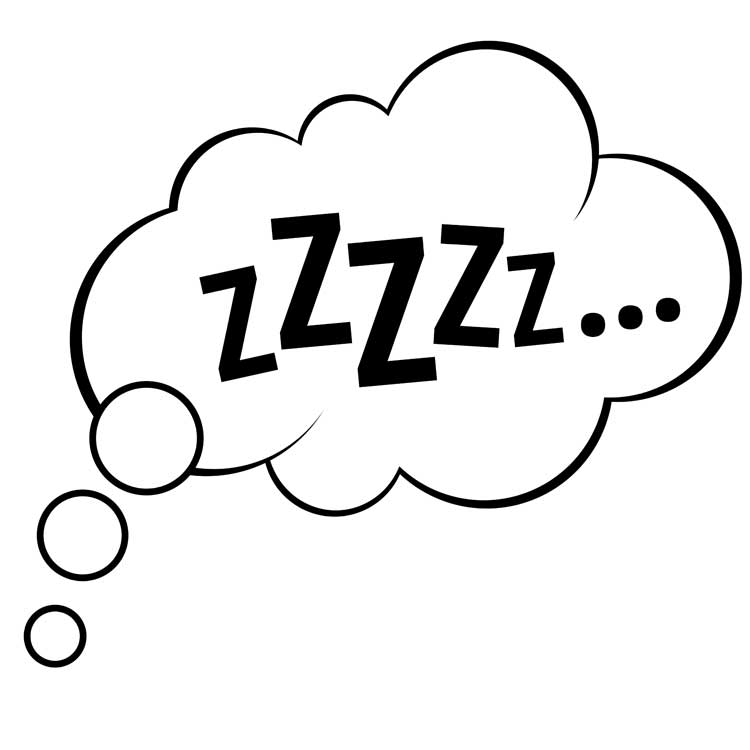 Converting Non-Compliance Into Compliance
When patients experience difficulty with CPAP mask comfort, leaks, rashes, dry airways, and a host of other issues, they tend to avoid therapy. However, patients given the opportunity to try different styles of masks to determine which is most comfortable have greater adherence rates. Also, patients frequently resupplied with CPAP cushions, headgear, tubing, humidifier chambers, etc. have a much higher compliance rate.
Patient Complaints About CPAP Therapy
Below is a list of common complaints shared with doctors who treat OSA. Below this list are some easy ways to resolve these complaints and make CPAP therapy more successful.
Uncomfortable mask
Noise
Feeling claustrophobic
Adapting to pressurized air
Congestion
Dry airway passages
Difficulty falling asleep or staying asleep during therapy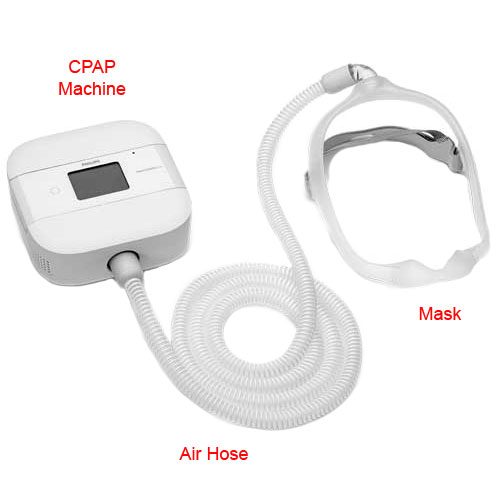 Solving CPAP Complaints with the Right Equipment
Uncomfortable Mask
Patients should try a variety of masks to find which mask best meets their individual needs. The CPAP mask should be matched to the patient's individual characteristics. These characteristics include positioning during sleep, patient sensitivities, and breathing preferences. Forcing patients to adapt to a mask that does not meet their personal characteristics is likely to fail. See the CPAP Mask Selection Guide and the Mask Continuum
Noise
The noise of a CPAP system mostly comes from the transition of the forced air through the tube and the mask. Many CPAP manufacturers make masks and tubing that significantly reduce sound. The vents on masks offer less disturbance to reduce noise. Tubing is now smooth on the inside where forced air travels to reduce noise. Often the noise results from using a mask or hose that should be replaced. Leaking masks and hoses produce a significant amount of noise. Using outdated equipment that does not employ these improvements will likely result in annoying noise. See the chart below for Recommended Replacement Schedule for CPAP Products.
Feeling claustrophobic
Patients should experiment with a variety of masks that are less intrusive. For instance, nasal masks offer less contact to the face. These masks have zero contact with the nose bridge and forehead. They also have minimal headgear. By less contact to the face and around the head, many patients avoid the feeling of confinement.
Adapting to pressurized air
Many of the new CPAP machines offer a ramp feature in which the air pressure increases gradually, allowing the patient to fall asleep before the prescribed pressure is fully active. Auto-adjusting pressure CPAP machines provide variable pressures throughout the night sensing the patient's needs at any given moment. BiPAP machines provide two pressure settings. One for inhaling and one for exhaling that many patients find more adaptive to their needs. Patients that travel often may want to consider a portable CPAP machine that they can easily take with them and that operates for multiple power sources.
Congestion
Most new CPAP Machines offer humidification that is adjustable by the patient. A setting to high can often lead to congestion. The patient can simply adjust the humidification level lower to solve this issue. Patients with chronic congestion may want to select from the masks that offer both nasal and mouth breathing.
Dry airway passages
Humidification is the best solution to problems with dry airway passages. Many devices come with CPAP Humidification already installed. Several CPAP manufacturers provide optional humidification features in their devices. For those living in very cold climates, there are optional heated-hoses that can also help.
Difficulty falling asleep or staying asleep during therapy
New CPAP patients may find it difficult to adapt to sleep therapy. Resolving the issues already discussed should fix the difficulty in falling asleep. Using a low profile mask, the ramp feature, auto adjusting pressure, and humidification helps most CPAP patients to fall asleep and stay asleep throughout the night.
Fresh CPAP Supplies
Replacing CPAP supplies can alleviate many CPAP patient complaints. Old mask cushions can result in noisy air leaks. A worn mask may be uncomfortable to wear throughout the night. A leaking air hose may make it difficult to get to sleep. A dirty humidifier chamber can make you sick. Replacing CPAP supplies on a regular schedule helps prevent poor CPAP results and improves patient comfort.
Studies confirm that sleep apnea patients with a frequent rate of resupply or a regular replacement schedule have the best adherence rates. Improved patient compliance through frequent replacement of CPAP equipment saves in healthcare expenditures in the long-term and provides healthier patients.4
How often should CPAP product be replaced?
Displayed below are replaceable products along with their expected product life span and their corresponding HCPCS code for Medicare and insurance reimbursement.
Equipment Replacement Schedule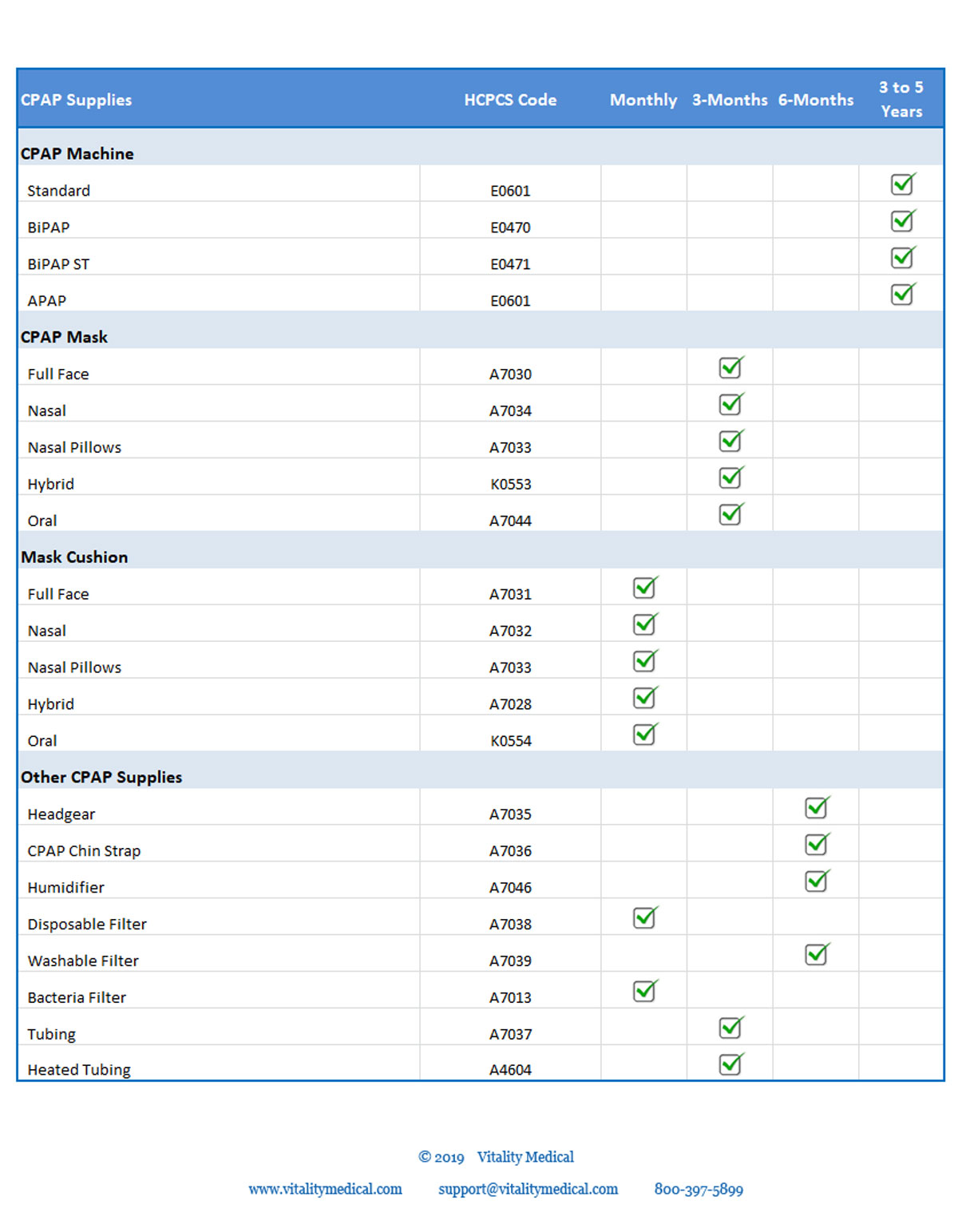 The chart above is a guideline for CPAP parts replacement. A study in 2012 involving the Veterans Health Administration (VHA) found that compliant CPAP patients have a higher replacement rate than non-compliant patients. Researchers found that during the first year many CPAP patients try several different CPAP masks in order to determine the most comfortable CPAP mask and the best fit. They also found that the replacement rates were a good predictor of long-term compliance to CPAP therapy.5 Vitality Medical carries a wide assortment of discount CPAP equipment to save you money from the most respected manufacturers in the industry.
Footnotes
1Hubble, Michael W., Michael E. Richards, and Denise A. Wilfong. "Estimates of cost-effectiveness of prehospital continuous positive airway pressure in the management of acute pulmonary edema." Prehospital Emergency Care 12.3 (2008): 277-285.
2Antonescu-Turcu, Andreea, and Sairam Parthasarathy. "CPAP and bi-level PAP therapy: new and established roles." Respiratory care 55.9 (2010): 1216-1229.
3Levinson, Daniel R. "Replacement Schedules for Medicare Continuous Positive Airway Pressure ." Department of Health and Human Services June (2013): OEI-07-12-00250.
4Patel, Nimesh, et al. "Refill rates of accessories for positive airway pressure therapy as a surrogate measure of long-term adherence." Journal of Clinical Sleep Medicine 8.02 (2012): 169-175.
5Billings, Martha E., and Vishesh K. Kapur. "Medicare long-term CPAP coverage policy: a cost-utility analysis." Journal of Clinical Sleep Medicine 9.10 (2013): 1023-1029.
Medical Studies
Inspired by your history...