Transport Chairs
Transport chairs are seats with four attached wheels. These wheeled seats convey mobility patients from one location to another. Often referred to as transport wheelchairs or companion chairs, these devices can help reduce the risk of patient falls. These devices move mobility patients around the home or care facility. Hospitals often use them to carry a patient from one clinic to the other. Hospital transfer chairs can often be seen taking patients to the front door for discharge and release. Senior care facilities use them to carry patients to dining, crafts, and the recreation room.
Best Selling
Best Features
Caregivers propel these wheeled chairs for patients who are unable to move on their own. The patients transported in these chairs usually lack the upper body strength or have an injury or illness that prevents them from moving themselves and so requires the aid of someone else to push the chair for them. All of these devices are a folding transport chair that reduces to less than half of its extended size for easy storage and portability. Medicare and the VA often cover a portion or all of the expenses for these conveyance devices when prescribed by a physician.
Transport Chairs Profile (Hybrid)

"Patients with limited mobility rely on caregivers or clinicians for assistance with their transportation needs. Patient transfer chairs are one option that is used to enable persons with injury, illness, or disability to access various areas of their respective hospital or care facility. Patient transport personnel must be well trained and qualified to anticipate and manage any complications that may arise during the transport process."1
A medical study conducted in Japan evaluated medical wheeled-transportation devices for use in emergency evacuations. This study concluded with several important findings summarized below:
The average evacuation speed was 0.77 ;m/s for a rollator, 0.85 ;m/s for a transport chair, and 0.92 ;m/s for a wheelchair on a steep slope (longitudinal slope 12.99%); 0.91 ;m/s for a rollator, 1.14 ;m/s for a transport chair, and 1.28 ;m/s for a wheelchair on a gentle slope (longitudinal slope 6.77%); and 1.18 ;m/s for a rollator, 1.58 ;m/s for a transport chair, and 1.87 ;m/s for a wheelchair on a flat road. Tests of statistical significance indicated that the speeds were significantly greater for the wheelchair, followed by the transport chair and then the rollator on the gently sloped and flat road courses, but no significant speed difference by the model was found on the steeply sloped course.
On all the courses studied, assisted transport by rollator was faster than an elderly individual's self‐walking speed using the rollators, that is, 0.718;m/s. Thus, for a tsunami evacuation, having caregivers assist the elderly with rollators can increase the overall feasibility and speed of the evacuation.
The maximum speeds achieved on each course were 1.83;m/s with a wheelchair on the steep slope, 1.96;m/s with a transport chair on the gentle slope, and 3.75;m/s with a wheelchair on the flat road.
Caregivers who were members of sports clubs were able to evacuate at higher speeds.
The heart rate of the caregiver was found to be high for the wheelchair on the steep slope, the rollator on the gentle slope, and the transport chair on the flat road.
The physical exertion, according to the questionnaire, of the caregivers was small for the wheelchair on the flat road and gentle slope, increasing in the order of transport chair and rollator, whereas there was no significant difference in the degree of physical exertion for the three models of the rollator, transport chair, and wheelchair on the steep slope.2
In the study cited above, researchers tested three different versions of conveyance devices—wheelchair, transfer chair, and a rollator. All three of these devices are current options for the home or healthcare facility. Currently, there are six different types of chairs. A summary of each of these versions is below.
Product Types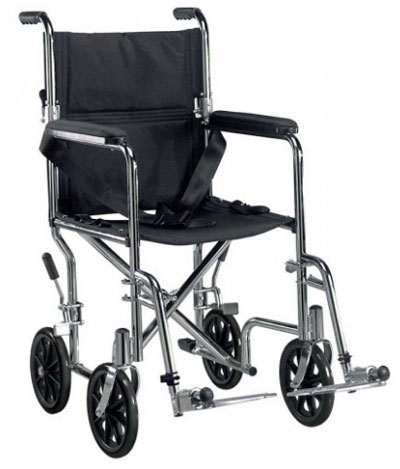 Steel Transport Chairs
Steel is strong and makes a durable and sturdy frame. It also provides extraordinary strength to support larger patients. Steel devices are usually less expensive and offer many years of service. The frame often comes with a powder-coat to protect against rust and corrosion. Many manufacturers offer steel transport chairs for sale in attractive colors.
Example: Go Kart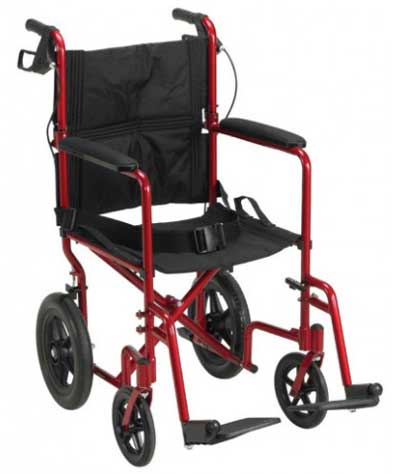 Aluminum Transport Chair
These lightweight transport chairs offer easier exertion for caregivers to propel. Advances in aluminum construction have made these devices nearly as strong as steel. Some manufacturers use aluminum now to make heavy-duty versions to reduce the weight of the chair for easier handling. Many of these versions feature handbrakes and desk-length arms to accommodate sitting at a table or desk. It is easy to also find this type of transport chair with removable arms.
Example: Expedition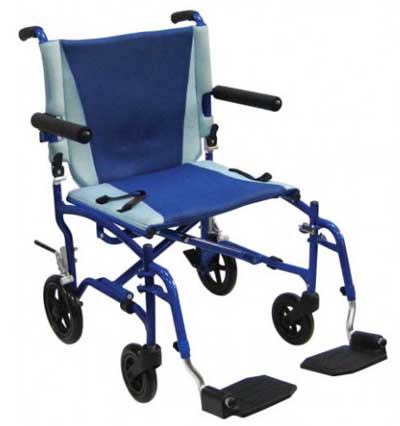 Sport Transport Chairs
Few in number, these devices tend to be lightweight, agile, and user-friendly. In fact, they are one of the most lightweight options. Their design is "sporty" and attractive. The armrests flip-up for easy entry and exit. They are easy to push and navigate.
Example: Drive TranSport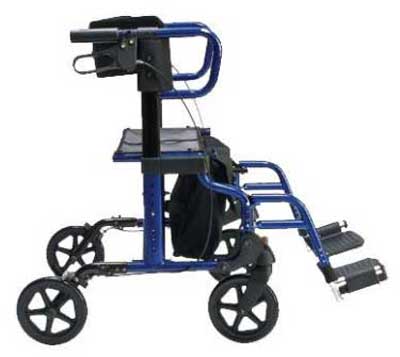 Rollator Transport Chairs
The rollator models are also fewer in number but tend to be lighter and highly maneuverable. This device, like the hybrid version, can be a good tool to help surgery patients recover. A caregiver can assist the patient initially by pushing the patient seated on the rollator. Later, as the patient gains strength, the patient can use the rollator themselves to use as a walker. The Japanese mobility study found that users were able to transit faster using the rollator than by walking on their own.
Example: Lumex HybridLX Rollator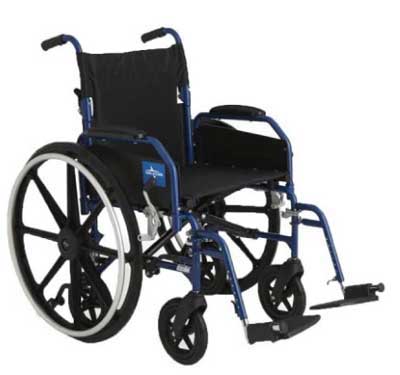 Hybrid Transport Chairs
Hybrid models are essentially a wheelchair transport chair. These dual-purpose devices come with six wheels, two large wheels to allow the user to propel themselves. The large wheels are removable to transit with only four smaller wheels for the ease of the caregiver. As the patient regains strength from surgery, the larger wheels are added to allow the user greater freedom and independence to propel themselves. These features also aids in the rehabilitation and recovery process to help strengthen the patient faster. The larger wheels may be left on if desired even when a caregiver is propelling the device to take advantage of the greater speed and less physical exertion as indicated in the comparison test results from the Japanese study cited above.
Example: Medline Hybrid 2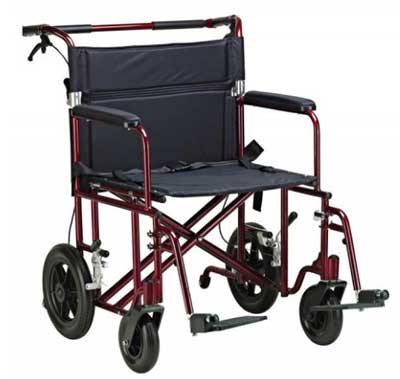 Heavy-Duty Transport Chairs
These devices are a bariatric transport chair built to support patients weighing over 400 pounds. Their construction is most often with steel for strength but some models use aluminum as well. They often have larger wheels, particularly in the rear, and additional support. The wheels often sport flat-free tires for a more comfortable ride. Many of these models come with attached handbrakes for the caregiver to operate. Armrests often flip-up or are removable for easier entry and exit.
Example: Drive Bariatric
Product Selection Continuum
In the continuum above, the types of devices display on the top along the continuum line. Less expensive models show on the left, while more robust and expensive options are on the right. A chart located below the continuum displays the most sought-after features and which models typically have those features. Manufacturers tend to provide feature-rich options with the higher-priced models. The models that support increased weight capacity are on the right of the continuum. Wider, more comfortable seating is also towards the right.
Product Anatomy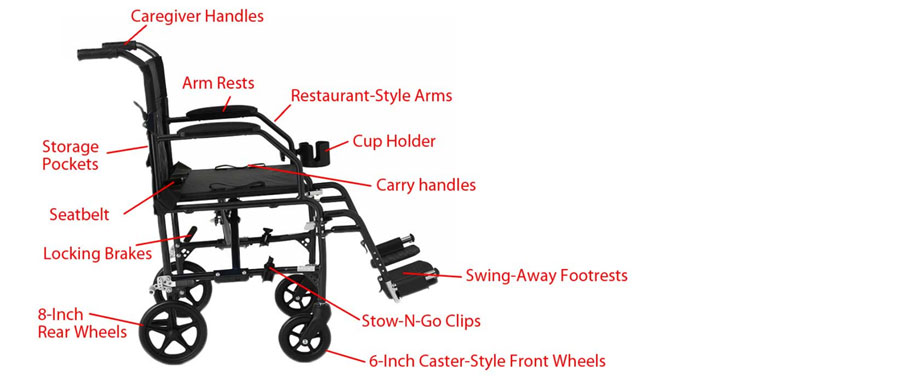 Product Features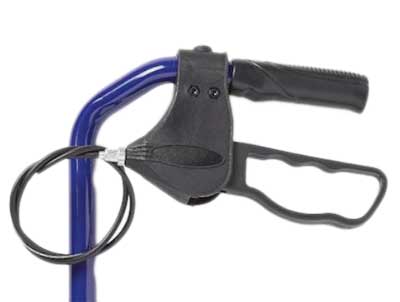 Handbrakes
This feature, located on the handgrips, allows the caregiver to lock the wheels and then assist the patient into or out of the chair. This safety feature is a must when there is only one caregiver to assist the patient.
Example:  Medline Ultralight Plus
Removable Wheels
An exclusive feature on hybrid models, removable wheels allow you to take off the large drive wheels when the transfer device moves solely by the efforts of the caregiver. When the patient is ready to start propelling themselves, attach the drive wheels.
Example: Drive Poly-Fly
Flat-free Tires
This feature is almost exclusively found only on bariatric models. Instead of wheels, they often have tires. No one wants to get a flat, especially while you are a patient. Flat-free offers an important convenience and safety for passengers.
Example: Merits Bari
Larger Back Wheels
Larger wheels are common on heavy-duty models. They are wider and have a larger diameter to support the additional weight. Many of the wheels are tires that offer a more comfortable ride for the patient. On hybrid modes, an additional set of large wheels are actually driving wheels that allow the patient to propel themselves. This feature offers an added benefit to patients to speed their recovery and provide more independence.
Example: Drive Bariatric Transfer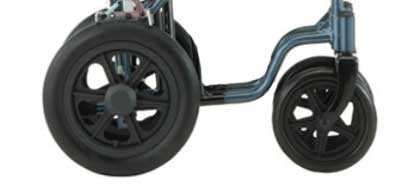 Armrests
Armrests provide a comfortable location for the patient to place and rest their arms. However, when it is time for the patient to transfer to a bed, furniture, or vehicle, the armrests can be in the way. To assist with entry and exiting the transporting device, many models come with armrests that flip-up out of the way or can be removed entirely to facilitate transfers.
When the patient is using a table or desk while seated in the chair, armrests can prevent the patient from full access to the table. Desk-length armrests or restaurant-style arms are shorter and better able to accommodate tables and desks.
Example: Everest & Jennings with Desk-Length Arms from Graham-Field.
Reclining or Tilt Function
The reclining or tilt function is more common on wheelchair designs. This feature allows the patient to have a backward leaning posture while sitting. This posture may be necessary for an injured patient or for those who may have difficulty remaining upright while seated.
Example: Invacare Spree 3G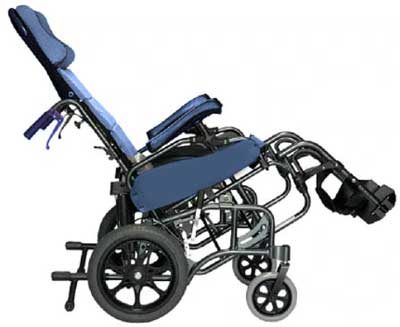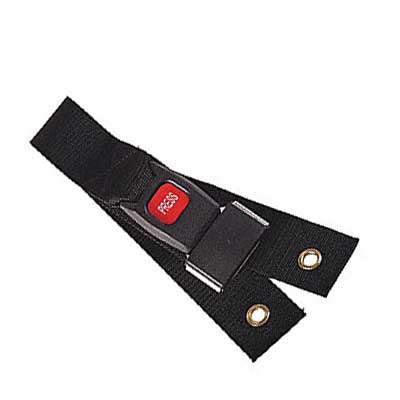 Safety Restraints
These seat belts or safety belts keep weak or highly disabled patients snug in the chair so that they cannot fall out while traversing. A patient with the inability to sit straight or is prone to slumping may require and additional chest restraint to assist them.
Footplate Design
Some footplates flip-up to facilitate easier transitions into and out of the chair. Others swing out of the way totally so that it is less likely to trip on the extension that holds the footrest. There are some models in which the footrest assembly removes for transitions and then replaced after the patient sits down.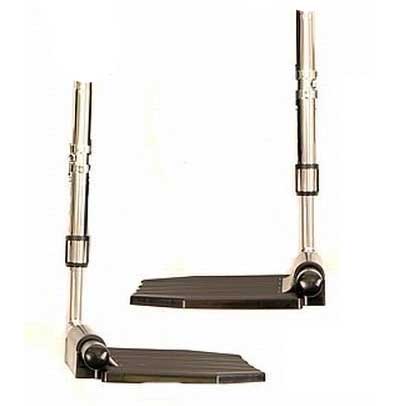 Weight
The weight of transfer chairs is a big concern for most people. It is harder to move heavy chairs; thereby, requiring more effort on the part of the caregiver to push. Uphill climbs can be particularly challenging. Below is a list of the different versions of products and their typical weights.
Steel: 23 to 26 lbs.
Aluminum: 14.5 to 29 lbs.
Fly-Weight: 19 lbs.
Ultra-Lightweight: 15 lbs.
Fly-Lite: 14.5 lbs.
Sport: 14.5 lbs.
Rollator: 19 to 22 lbs.
Hybrid: 19 to 33 lbs.
Bariatric: 19 to 44 lbs.
Ranking the Top Ten Brands

Drive
Medline
Carex
Probasics
Invacare
Merits
Graham-Field
FAQ's
What is the best transport chair?
There are many of these devices to select from. Wide seats, weight capacity, handbrakes, accommodating armrests for easy ingress and egress, and most importantly lightweight for easy pushing and navigating are the top concerns for many. A unique device that offers patient lifting, transfers to vehicles, furniture, or bed, commode chair, shower chair, and of course a transport chair is the Body Up. /body-up-evolution-transfer-lift-chair.htm This device does all these tasks and weighs only 42 pounds.
Does Medicare cover a transport chair?
Yes, under Part B a doctor can prescribe durable medical equipment for a mobility-impaired individual that meets all of the following conditions:
You have a health condition that causes significant difficulty moving around in your home.
You're unable to do activities of daily living (like bathing, dressing, getting in or out of a bed or chair, or using the bathroom) even with the help of a cane, crutch, or walker.
You're able to safely operate and get on and off the wheelchair or scooter, or have someone with you who is always available to help you safely use the device.
Your doctor who is treating you for the condition that requires a wheelchair or scooter and your supplier are both enrolled in Medicare.
You can use the equipment within your home (for example, it's not too big to fit through doorways in your home or blocked by floor surfaces or things in its path).

You pay 20% of the Medicare-approved amount after you pay your Part B
deductible for the year. Medicare pays the other 80%.3
Does the VA cover a transport chair?
Yes, they may provide a permanently issued or a loaned mobility aid that meets the needs of the patient and under the prescription of a doctor. The decision to provide "is based on the nature of the veteran's disability, the cost of the wheelchair and the length of time the wheelchair will be required."4
What is the difference between a transport chair and a wheelchair?
The transport version does not have self-propel wheels like wheelchairs. The rear wheels of a wheelchair are large and have a ring for the user's hands to roll the wheel forward. On the transport models, a second person or caregiver propels the chair forward by pushing on the handles located on the upper back of the chair.

What is a transport chair used for?
They provide transportation for mobility patients who do not have the strength or ability to use their arms to propel a wheelchair. The patient sits on the chair while a second individual pushes the chair from behind.
What is the lightest transport chair?
Weight is a significant consideration when purchasing a conveyance device. The higher the weight, the more effort and strain required on the part of the person pushing the chair. The TranSport and the Fly-Lite offer the best solution for lightweight at 14.5 pounds each.
Footnotes
Medical Studies
Product Videos
Lightweight Aluminum Chair Review Video (1:52 minutes)
Travelite Review Video (2:37 minutes)
Fly-Light Review Video (1:52 minutes)
Duet Review Video (2:10 minutes)
Hybrid LX Review Video (1:47 minutes)
Out of the Box Video (1:57 minutes)
Video Transcript

Hi! I'm Shannon with Active Living Now. Today we're going to talk about what you can expect when you receive your transport wheelchair.
Your wheelchair will arrive in three parts. You'll have the chair itself and then a right and left footrest.
The first step to open your chair is to grab the armrest and pull it apart. Make sure you press down on the seat just to make sure it's fully opened.
You actually want to grab onto the handles and simply push out until you hear it click. Now, you're going to add the footrest. You also want to make sure those are click in and they're nice and secured.
Go ahead and assemble the other footrest until you hear that click. Now, your chair assembled.
To get it ready again for transport, first you want to remove the leg rest. There's a black lever, just go ahead and pull that. Remove the leg rest and do the same to the other side.
You want to pull down the back of the seat so we're going to grab onto the black levers in the back. Pull those down.
Notice there are two handles in the seat. Pull up and the chair will fold. Now, your chair is ready to be transported.
I'm Shannon with Active Living Now and remember to visit activelivingnow.com for all your health, wellness, fitness, bathroom safety and mobility needs.
Inspired by your history...