Sand and Beach Wheelchairs SALE
Beach Wheelchairs are all-terrain wheelchairs or transport chairs that are able to navigate through difficult ares such as sand or the beach that would not be accessible by a standard wheelchair. These mobility devices typically have large balloon size tires that disperse weight over a much larger area. Mobility patients that enjoy the beach use these non-motorized vehicles for access bordering outdoor water activities. Several different versions of beach wheelchairs have been designed including pool wheelchairs, sand wheelchairs, and aquatic wheelchairs. Vitality Medical has a wide variety of beach wheelchairs for sale to suit most individual needs.
Beach Wheelchair Overview
Beach Wheelchairs solve the problems that standard wheelchairs have difficulty with including sand and other loose surfaces. Now there is no more getting stuck because the front wheels sank into the sand. Gone are the worries about those tiny grains gumming up moving parts. Rusting is not an issue.
Wheelchairs for beach use have large tires that roll over soft, loose sand, compacted sand, or even over the bumpy terrain of uneven sand, debris, or other small common obstacles found at the beach. Plus, unlike standard wheelchairs, fine grains cannot get into moving parts. PVC is often the material of choice for construction - they can get wet without damaging their frames.
Like standard wheelchairs, a wheelchair for sandy beach has a variety of available options and styles. Some chairs disassemble and reassemble with ease. Others float, allowing the user to enjoy playing in the water.
The top manufacturers for these beach access chairs include Aqua Creek Products, Deming Designs, Vipamat, and MJM. There is a new floating beach wheelchair for those who not only want to enjoy the beach but want to get into the water as well. Heavy-duty bariatric and pediatric beach wheelchairs are also available. Custom accessories accent the beach chair like umbrellas, cup holder, fishing rod holder, and conversion kits that allow you to use on a beach one day and at the pool the next.
Why Use an All-Terrain Wheelchair?
It makes what was once inaccessible accessible. Those who use wheelchairs no longer need to be confined to parking lots, boardwalks, or sidewalks. Instead, they can enjoy the freedom to explore, play, and have fun anywhere along the water's edge.
Using a chair built for the sand keeps a standard wheelchair safe from the hazards at the beach. Hard, gritty grains can damage the finish of a non-beach chair. They can also get into moving parts and cause wheels to bind or seize. Not only that, but the caster wheels sink, resulting in becoming stuck. And the large back wheels on a standard wheelchair are not wide enough to get traction.
Features and Benefits
Made from PVC or other lightweight water-friendly materials
Large balloon-style wheels that don't sink into the sand
Ample rear-facing handles for easy assistance
Easy to clean
Types of Wheelchairs
All-Terrain
All-Terrain Wheelchairs come with large, wide hard-plastic or hard-rubber wheels that can roll over almost any surface. They come in both push-from-behind models that require assistance to self-propelled to accommodate needs and preferences.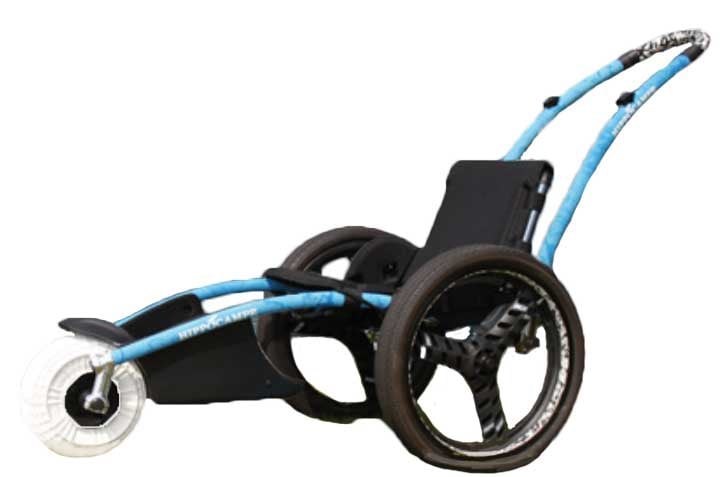 Beach and Sand
Beach Wheelchairs feature large, thick wheels made to glide over soft sand. These chairs require an assistant to push the chair from behind. They often include an umbrella stand or a cup holder.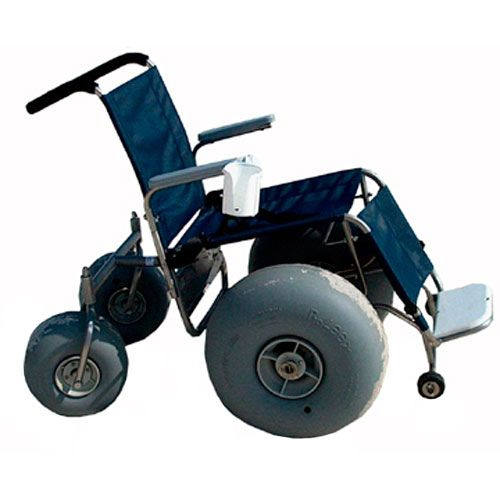 The
DeBug Beach Wheelchair
helps users enjoy a day at the beach. Its large front wheels can handle any sandy environment - from soft sand to hard-packed. Converting this chair into a pool wheelchair is simple and requires no tools.
Beach Walkers
While not technically a wheelchair, beach walkers solve the same issues. Large wheels attached to the base of the frame keep the walker from sinking into the sand. Users can enjoy a stroll down the beach through patches of soft, loose grains, or they can move along the shore over moist, hard-packed sand.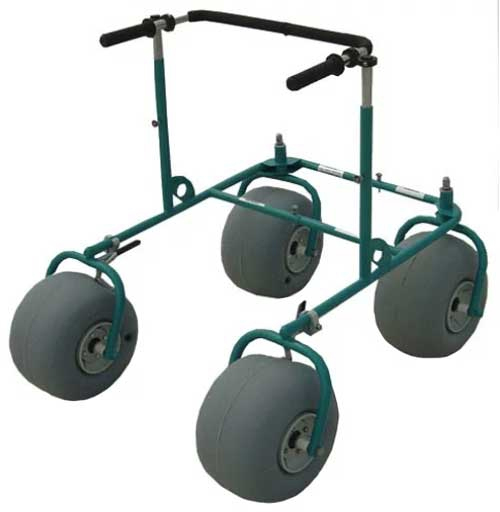 The
DeBug Stainless Steel Beach Walker
allows users to wade out into the shallow water at the beach and enjoy all the activities associated with a day in the sun on the sand.
Beach Strollers
Jogging along the beach while pushing a baby has never been practical - until now. Baby Beach Strollers have large wheels that glide over the sand. They come complete with a hood to keep the sun off from the baby.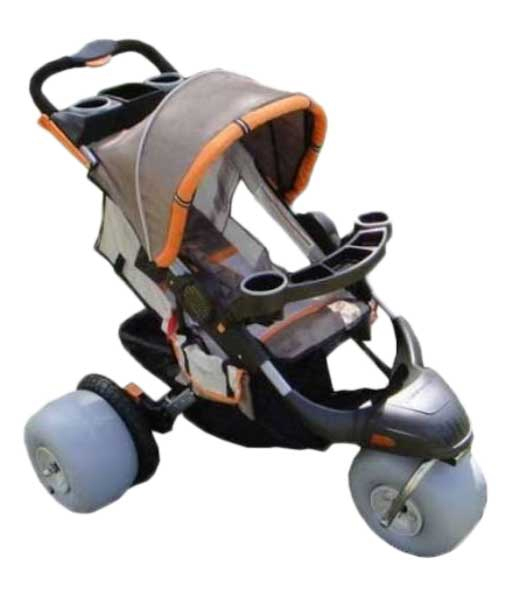 What are Aquatic Wheelchairs?
These wheelchairs are for use in and around water. They are also known as a pool wheelchair. They help users transport to a pool and aid them with transferring into and out of the water.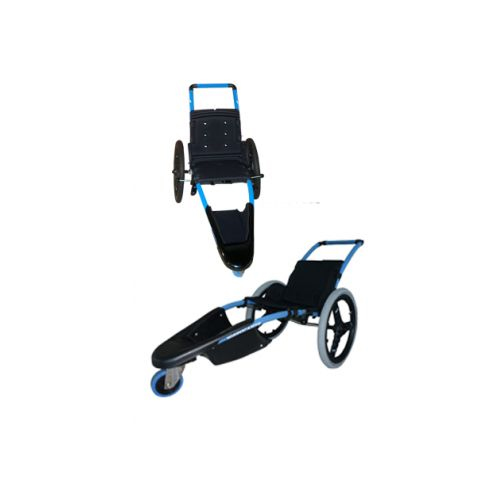 How to Choose The Best Wheelchair
A portable beach wheelchair needs to solve specific problems and help overcome the unique challenges presented by differing activities. An excellent place to start then is by deciding which endeavors are most important to the user. After those activities are apparent, then finding the chair to match becomes easy.
Does the user want to self-propel (keeping in mind that doing so across sand requires a lot of upper body strength)?
Will the user be taking their chair into the water?
Is travel across other surfaces, such as dirt on a trail or snow, required?
Does the user need a wheelchair or walker?
FAQ
Q: How much weight can a handicap beach chair hold?
A: Up to 300 to 350 pounds, depending on the make and model.
Q: How much do wheelchairs for beach use weigh?
A: They range in weight from 31 pounds to 160 pounds.
Q: Can a pvc beach wheelchair go into the water?
A: It depends on how far into the water. All chairs can get wet with water lapping around their wheels.
A: A few can float and go into deeper water.
A: Caution - some chairs (those with balloon tires) will tip if they lose contact with the ground.
Q: Can a beach chair for disabled go over grass, etc.?
A: Yes - they can function as a standard wheelchair, but they may be harder to use because they are bulkier than standard chairs.