Rollators with Seats
Rollators are Mobility Aids for walking patients. These rollators with seats are designed to provide stability and safety. A rollator is significantly different from a walker that has four legs or a rolling walker that has 2-legs and 2 wheels. The 4-wheel rollator allows patients to quickly cover more ground than walkers allow. These mobility aids offer braking safety as well as a "parking-brake" function. Most are equipped with padded seats to allow resting at intervals. Many also have privacy storage bags that allow you to bring items along with you that are hidden from the view of others. You may select from less expensive small wheel rollators that work well indoors or from large wheel rollators that are better able to negotiate uneven terrain or bumpy sidewalks. These added features increase the velocity and distance mobility patients are able to traverse. At the bottom of this page is useful information on How to Choose the Best Rollator, Fitting Instructions, Rollator Advantages/Disadvantages, Comparison Chart and 3 vs 4-Wheel info.
Best Selling
Best Features
3-Wheel vs 4-Wheel
Three-wheel versions offer a shorter turning radius and afford easier traversing of tight spaces often encountered while indoors. 4-wheel versions, on the other hand, offer more stability and provide better support for both indoor and outdoor walking. Most 3-wheelers do not have a seat for resting while almost all the 4-wheelers have either a cushioned seat or a canvass seat. A 4-wheel rollator with seat usually has storage space located under the seat. This storage space can be a canvass bag or a basket. Most people prefer the canvass bag to maintain their privacy.
How To Choose the Best Rollator
The best rollator can be elusive unless you know what to look for and how to match the rollator to best meet your specific needs. Rollators are often available with different size wheels. Smaller wheels cost less and are adequate for indoor use while larger wheels allow easier traversing over uneven or bumpy terrain. Mobility aids with large wheels are useful for walking outside. Three-wheel rollators offer tighter turns for easier indoor navigation while four-wheelers provide better support. Heavy-duty versions are made with stronger materials and are larger in size to support more weight. Specialty rollators offer additional functions and ease of use. These types offer sleek designs, premium materials, and additional storage. Below is a simple comparison chart that displays the four basic types of rollators and their advantages and disadvantages.
Types of Rollators
Advantages

low cost
lightweight
easily maneuverable
tight turning radius
indoor traversing

Disadvantages

little to no storage
less stability
less support
no resting seat

Advantages

greater stability
increased support
storage space
resting seat

Disadvantages

greater stability
increased support
increased storage
resting seat

Advantages

steel frames
larger wheels
wider frames
increased support
high weight capacity
best support
resting seat

Disadvantages

heavier weight
larger size
cost

Advantages

additional functions
ease of use
greater convenience
additional storage
premium materials
Fitting Your New Rollator
Rollator Comparison Chart
Typical Components of Rollators with Seats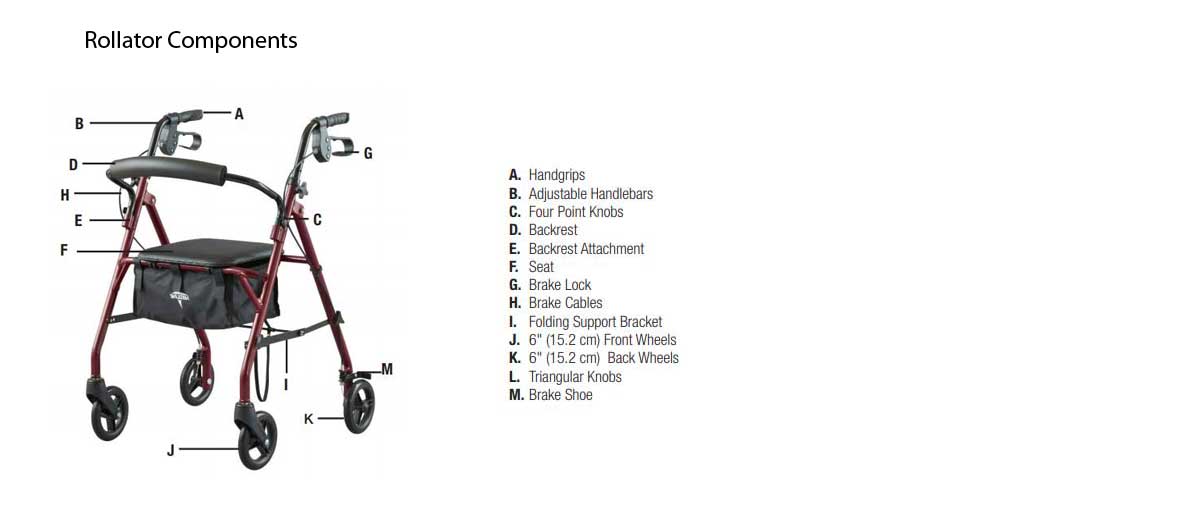 Inspired by your history...