5-Liter Oxygen Concentrator Review
Updated: October 23, 2019
Home Oxygen Concentrator Review
5 Liter Oxygen Concentrators offer medium oxygen flow and are the staple for home oxygen therapy, delivering adequate oxygen flow for over 90% of oxygen patients. Normal oxygen saturation of the hemoglobin (SpO2) is at 95 to 98%. Acceptable oxygen saturation is at 90%. When a patient is below 90%, doctors prescribe oxygen therapy.1
While too little oxygen can be life-threatening, too much oxygen can also be harmful. Too much oxygen saturation may suppress the respiratory drive. Symptoms of too much oxygen include headaches, sleepiness, and confusion. Maintenance of a SpO2 of 90% or higher is the best patient outcome. The majority of oxygen patients require 2 liters per minute (LPM) or less to achieve an acceptable oxygen saturation. A physician should determine what adequate oxygen therapy for patients is. Therefore, a prescription is necessary for oxygen therapy in the United States.2
This oxygen concentrator review examines the top-selling devices that offer at least 5-liters of oxygen per minute. These 5-liter concentrators, listed in alphabetical order, are the At Home 5 from Inogen One, Companion 5 from Caire, DeVilbiss 5 Liter, Easy Flow 5 from Precision Medical, EverFlo and EverFlo Q from Respironics, NewLife Elite from AirSep, Nidek Nuvo Lite Mark 5, and the Invacare Perfecto 2.
A side-by-side comparison chart of the Best Home Oxygen Concentrators is below this review.
Additional oxygen concentrator reviews, rankings and comparison charts can be viewed by clicking on the links below:
Ranking Determination Factors
To rank order the best oxygen concentrators compared in this review, we will use twelve comparative factors. These factors involve performance, size, and dependability. The performance evaluation examines concentration levels, outlet pressure, maximum altitude operation, power consumption, and noise. The size evaluation compares the total cubic inches for each machine as well as the weight. For dependability, we will review the country of manufacture, product warranty, best-selling concentrators, most searched O2 machines, and recall history.
Best Home Oxygen Concentrator (5-Liter) Performance
Performance is a critical factor when deciding to purchase an O2 device. Unless the concentrator accomplishes the needs of the patient, it should not be purchased. Concentrator performance will examine five separate measurements.
1. Oxygen Concentration Level
The first factor for comparison is the oxygen concentration level. This measurement depicts the amount of concentrated oxygen the machine delivers to the patient. These measurements, as reported by the manufacturer, ranged from a low of 87% to a high of 96%. The best concentration levels achieved are from three machines-- the DeVilbiss 5, and both of the EverFlo models. These three machines have a concentration range with a low of 90% and a high of 96%.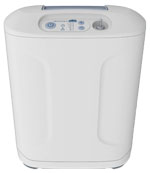 2. Oxygen Outlet Pressure
The second measurement is the outlet pressure. The higher the outlet pressure, the longer the oxygen tubing can be from the machine to the patient. Many home oxygen concentrator patients like the freedom to move about their home from their bedroom to the kitchen and living room without having to move their O2 device. Longer tubing allows patients to have an extended range from their machine. The At Home offers the highest maximum outlet pressure at 28.9 psi. The DeVilbiss 5 provides the second highest at 8.5 psi.
3. Maximum Operating Altitude
The third measurement is the ability of the machine to provide sufficient oxygen concentration at altitude. Some oxygen patients live at higher elevations, requiring a concentrator with better performance. The DeVilbiss 5 offers the best altitude performance with 0 to 13,123 feet above sea level. The At Home and NewLife Elite come in second offering service of 0 to 10,000 feet above sea level.
The chart below compares the maximum operational altitude for the concentrators. The best performing concentrators exceed the average operating height, as indicated by the red horizontal line. This red line indicates the average maximum altitude the concentrator can operate at and still perform its design functions. Four concentrators offer above-average performance while the other four offer less than average performance.
Comparison Chart for Operating Altitude
4. Power Consumption
With rising utility rates, finding an oxygen concentrator that is budget-friendly to operate becomes increasingly significant. The average cost for a kilowatt-hour of electricity in the USA is just over 13 cents. Some states are less than 10 cents, while others are as high as 31.42 cents per hour. How much energy your oxygen concentrator requires to operate my impact on your budget. This cost is particularly notable for those who run their oxygen machines 24/7. (Source: U.S. Energy Information Administration, July 2019, Electric Power Monthly)1
The oxygen concentrators in this review use an average of 291 watts per hour to operate. The At Home 5 ranks #1 for the lowest watt usage at 110, followed by the Companion 5 at 250. Note that the Inogen At Home watt usage is less than half of the second-ranking machine. Three of the concentrators tie for the highest watt usage at 350 each.
The comparison chart below displays the eight concentrators and their average power consumption. The red horizontal life designates the average power consumption of 291 watts. Three O2 devices have better than average power consumption, as shown in the column graph below the red line. The other five devices have more than average watt usage of 310 watts or more.
The chart below displays the projected average cost for operating the compared concentrators on a 24/7 basis. The At Home concentrator will save you more than $162 annually over the second-best machine. The annual savings of the At Home over the three O2 devices that use 350 watts an hour is nearly $279.
5-Liter
Concentrators
Average Power
Consumption
(watts)
Average Daily
Watt Usage
(operating 24 hours)
Cost Per Day
24/7 Operation
Cost Per Year
24/7 Operation
At Home 5
110
2640
$0.35
$127.87
Companion 5
250
6000
$0.80
$290.61
Perfecto 2
280
6720
$0.89
$325.49
DeVilbiss
310
7440
$0.99
$360.36
Nuvo Lite
330
7920
$1.05
$383.61
NewLife Elite
350
8400
$1.11
$406.86
EverFlo
350
8400
$1.11
$406.86
EverFlo Q
350
8400
$1.11
$406.86
Average
291.25
6990
$0.93
$338.56
Comparison Chart for Lowest Power Consumption
5. Lowest Noise
Noise is a significant factor for many oxygen patients. Even if the oxygen patient is OK with the noise, often, their spouse is not. Oxygen concentrator engineers have been making progress on decreasing the amount of noise emitted from an oxygen concentrator while operating. Currently, there is a four-way tie for first place at 40 decibels (dBA). The engineers at Caire/AirSep, Nidek, Inogen One, and Respironics have made the most headway in decreasing the noise that oxygen compressors make while running. The honors go to the Companion 5, EverFlo Q, Nuvo Lite Mark 5 and the At Home 5. The chart below displays the safe region of noise between 1 and 50 decibels marked in green and the non-hazardous noise level marked in yellow. All eight of the concentrators are in the safe "green" zone at 50 or fewer decibels.
Comparison Chart for Lowest Noise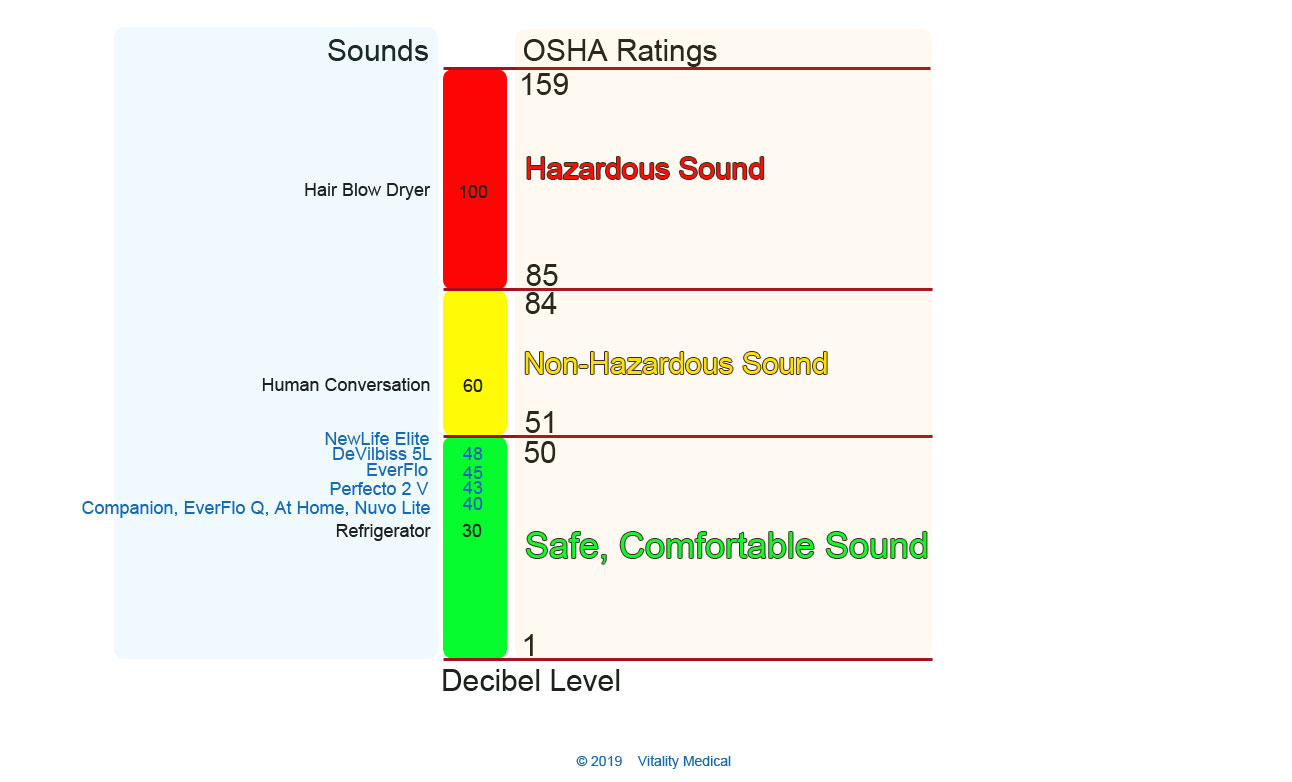 In the chart below, each performance measurement displays along-side the concentrator. The concentrators rank by their total performance. The highlighted measurements indicate first-place rankings.
Comparison Chart for Concentrator Performance
Rank
Model
Oxygen
Concentration
(percentage)
Oxygen Outlet
Pressure
(max psi)
Operating Altitude
(max feet above sea level)
Power Consumption
(average watts)
Noise
(decibels operating at setting 2)
1
At Home 5
87 to 96%
28.9
10,000
110
40
2
DeVilbiss 5L
90 to 96%
8.5
13,123
310
48
3
EverFlo Q
90 to 96%
5.5
7,500
350
40
4
EverFlo
90 to 96%
5.5
7,500
350
45
5
NewLife Elite
90 to 95.5%
7 to 9
10,000
350
50
6
Companion 5
87 to 95.5%
5
9,878
250
40
7
Perfecto2 V
87 to 95.6%
5
8,000
280
43
8
Nuvo Lite Mark 5
87 to 96.5%
7
7,500
330
40
Size Comparison
Size matters! Large, heavy concentrators are challenging to move from room to room and take up too much space in your home. Large concentrators tend to bump into furniture, door jams, and walls. Small, lightweight concentrators are easier to move and require less space. Some oxygen patients are too weak to move a heavy, bulky concentrator from room to room. Smaller, lightweight oxygen concentrators require less shipping fees; and, therefore, less expenditure when purchasing online. However, buying a new oxygen concentrator from Vitality Medical gives you FREE SHIPPING regardless of the device you select.
Machine Size and Weight Comparison
The smallest concentrator in this division is the At Home 5. This O2 generator weighs 18-pounds and has a cubic inch size of 1501.5. The other machines in this oxygen concentrator review seem colossal in comparison. The Nuvo Lite is the second smallest size with 2898 cubic inches and weighing 37 pounds. Note that the second-ranking machine weighs more than twice the first place device. The Inogen At Home device is much easier to move from room-to-room than any of the other O2 generators in this review.
The EverFlo concentrators have the second-lowest weight at only 31 pounds but have a significantly larger size than the At Home with over 3277 cubic inches. The "heavy beast" award goes to the AirSep NewLife Elite at 54 pounds and with nearly 6500 cubic inches. That is triple the weight of the At Home and over four times the size.
The chart below compares the top oxygen concentrators and ranks them by size. The smallest size devices are at the bottom of the chart and the largest to the top. The highest weight is to the right, and the lowest weight is to the left. The red horizontal line indicates the average size of 3643 cubic inches. Five concentrators are smaller in size than the average and display below the horizontal red line. Three concentrators are bigger than average and show above the horizontal red line--the DeVilbiss 5L, Perfecto 2 V, and NewLife Elite. The red verticle line indicates an average weight of 35.3 pounds. The horizontal red line reflects an average size of 3634 cubic inches.
The At Home concentrator ranks #1 for the lowest weight and smallest size. The Nuvo Lite Mark 5 ranks second at 32 pounds and 2898 cubic inches. Both of the Respironics EverFlo models are below average in weight at 31 pounds and are below average in size at 3277.5 cubic inches. The area marked in red designates the better than average size and weight.
Size Comparison Chart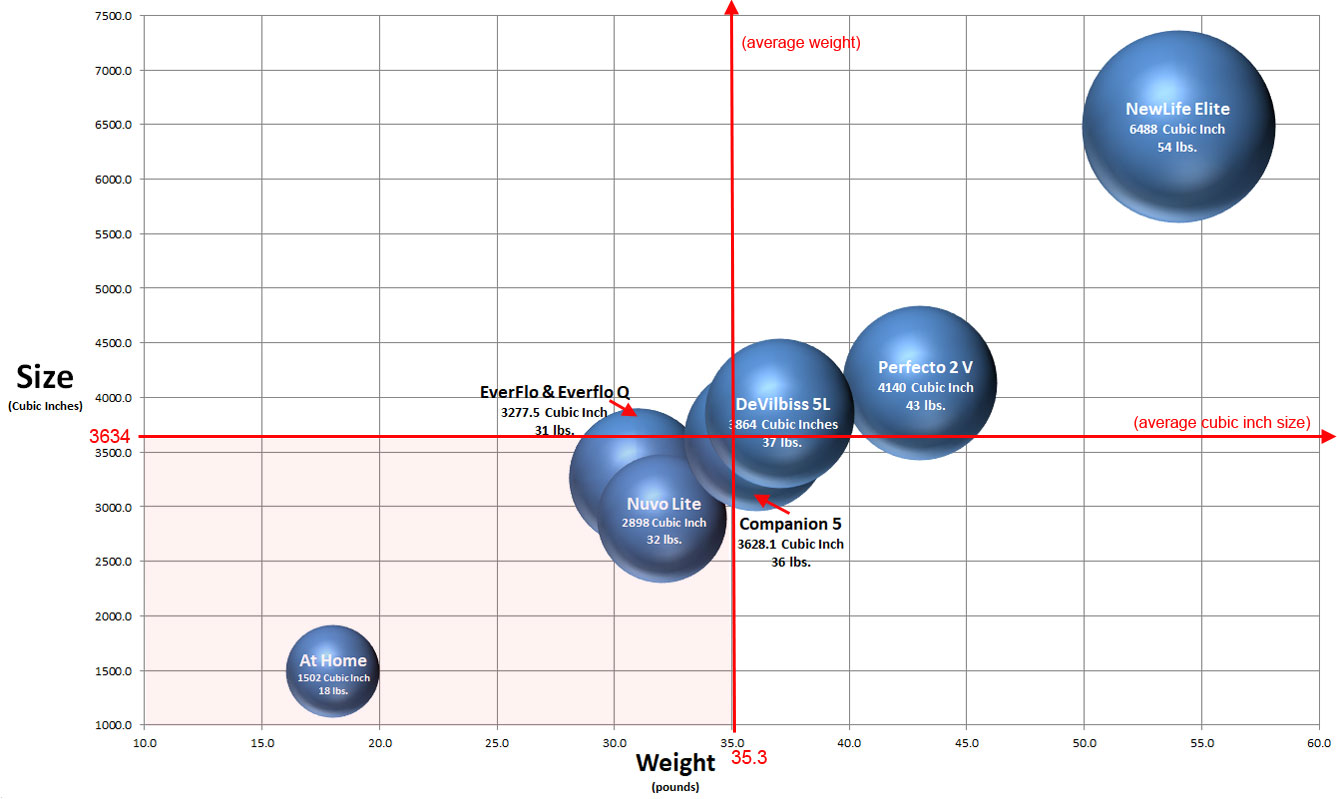 Concentrator Dependability
1. Made in the USA
Some countries have a reputation for quality construction, and others do not. The USA has an excellent reputation for producing quality products. Each manufacturer of these oxygen machines indicates that they make their products in the USA.
2. Product Warranty
The length of the warranty is another important consideration. Products with short warranty periods may indicate that the manufacturer does not trust the machine to operate correctly but within a short time frame. A lengthy warranty likely indicates extensive testing of the device and the manufacturer's trust and willingness to back-up their product to the consumer. Again, all three manufacturers are at par for this factor, extending a 3-year warranty on each of their concentrators.
3. Recall History
Many people like to consider the recall history of a particular product to determine the likelihood that the product is of top quality. An extensive history of recalls may indicate that a product may not be of the best engineering, design, or functionality. In our research, we found that only one of the products has a recall history--Nidek Nuvo Lite Mark 5. In 2012, the FDA issued a Class I recall for several models, totaling 7,889 units that presented a potential fire hazard.4 "The recall affects devices manufactured and distributed from January 2004 to May 2010 and includes serial numbers 042-10000 to 102-09335. ... A capacitor failure in the Nidek Medical Mark5 Nuvo and Nuvo Lite may cause fire and loss of supplemental oxygen." The manufacturer took corrective action and replaced the faulty capacitor. There were no injuries sustained to patients from this defect.5
4. Best Selling 5 Liter Oxygen Concentrators
The DeVilbiss 5 Liter oxygen device continues to be the top-selling oxygen concentrator at Vitality Medical. Its low price and feature-rich benefits are challenging to beat. The second best selling is the Invacare Perfecto2 V, which shows increased sales volume over the past few years with its low price offer. The DeVilbiss Concentrator will likely continue to lead in sales until the other manufacturers can bring their costs down. Invacare has brought their pricing down significantly, resulting in rivaling DeVilbiss sales. Oxygen patients usually have many medical expenses that disrupt their bank accounts. Getting significant cost savings on their medical oxygen is a huge break that is difficult to ignore.
5. Best Searched Concentrator
The Respironics EverFlo is the most searched home oxygen concentrator on the Internet, followed by the Invacare Perfecto2 and the DeVilbiss. The newest model, the Inogen At Home, ranks #4.
Overall Best 5 Liter Oxygen Concentrator
This year the Inogen At Home takes the #1 ranking away from the DeVilbiss 5 Liter Oxygen Concentrator. Of the 12 comparison factors, the At Home takes the #1 rank for 5 of the 12. Three of the five first-place rankings are about the concentrator's performance--the most critical factors to evaluate. The At Home is first for outlet pressure, first for low power consumption, and tied for first for low noise. For size factors, the At Home ranks first for the smallest profile and first for lowest weight. Regarding the durability factor, each manufacturer reports that they make their concentrator within the USA. Each concentrator comes with a 3-year warranty.
The DeVilbiss ranks second with the best oxygen concentration level (90 to 96%) (tied with two others), the highest operational altitude of 13,123 feet above sea level, and the second-best oxygen outlet pressure at 8.5 psi. Other noteworthy mentions are the Companion 5 with the second-best low power consumption and ties for the lowest noise level and the EverFlo models for their oxygen concentration levels and low noise.
Best 5-Liter Oxygen Concentrator
#1 Ranking for Best Oxygen Outlet Pressure
#1 Ranking for Lowest Noise (tied with three others)
#1 Ranking for Lowest Power Consumption
#1 Ranking for Smallest Size
#1 Ranking for Lowest Weight

#2 Ranking for Highest Operating Altitude (tied with one other)

24/7 Operation
Made in the USA

Inogen One At Home
5 Liter Concentrators
At Home 5
Companion 5
DeVilbiss
EverFlo
EverFlo Q
NewLife Elite
Nuvo Lite
Perfecto 2
Manufacturer
Inogen One
Caire
DeVilbiss
Respironics
Respironics
AirSep
Nidex
Invacare
Model #
GS-100
15067013
525
1020000
1020015
AS005
520
IRC5P
Performance
Continuous Oxygen Flow
(max LPM)
5
5
5
5
5
5
5
5
Oxygen Concentration
(percentage)
87 to 96%
87 to 95.5%
90 to 96%
90 to 96%
90 to 96%
90 to 95.5%
87 to 96.5%
87 to 95.6%
Oxygen Outlet Pressure
(max psi)
55.3
5
8.5
5.5
5.5
 7-9
7
5
Operating Altitude
(feet above sea level)
0 to 8,000
 -1,253 to 9,878
0 to 13,123
0 to 7,500
0 to 7,500
0 to10,000
0 to 7,500
0 to 8,000
Noise
(dBA)
40
40
48
45
40
48-50
40
43
Average
Power Consumption
(watts)
110
250
310
350
350
350
330
280
Size
Cubic Size
(inches)
1501.5
3628.13
2016.00
3277.50
3277.50
6488.03
2898.00
4140.00
Width
(inches)
13
12.5
14
15
15
15.7
9
15
Height
(inches)
16.5
21.5
12
23
23
28.5
23
23
Depth
(inches)
7
13.5
12
9.5
9.5
14.5
14
12
Weight
(pounds)
18
36
37
31
31
54
32.00
43
Dependability
Made in the USA
Yes
Yes
Yes
Yes
Yes
Yes
Yes
Yes
Warranty
3 yrs
3 yrs
3 yrs
3 yrs
3 yrs
3 yrs
3 yrs
3 yrs
Footnotes
Medical Studies and Additional Information

Burt Cancaster, Author
Vitality Medical
7910 South 3500 East, Suite C
Salt Lake City, UT 84121
(801) 733-4449
[email protected]
VitalityMedical
You might be interested in...