Low Flow Oxygen Concentrator Comparison and Review
Updated: September 15, 2021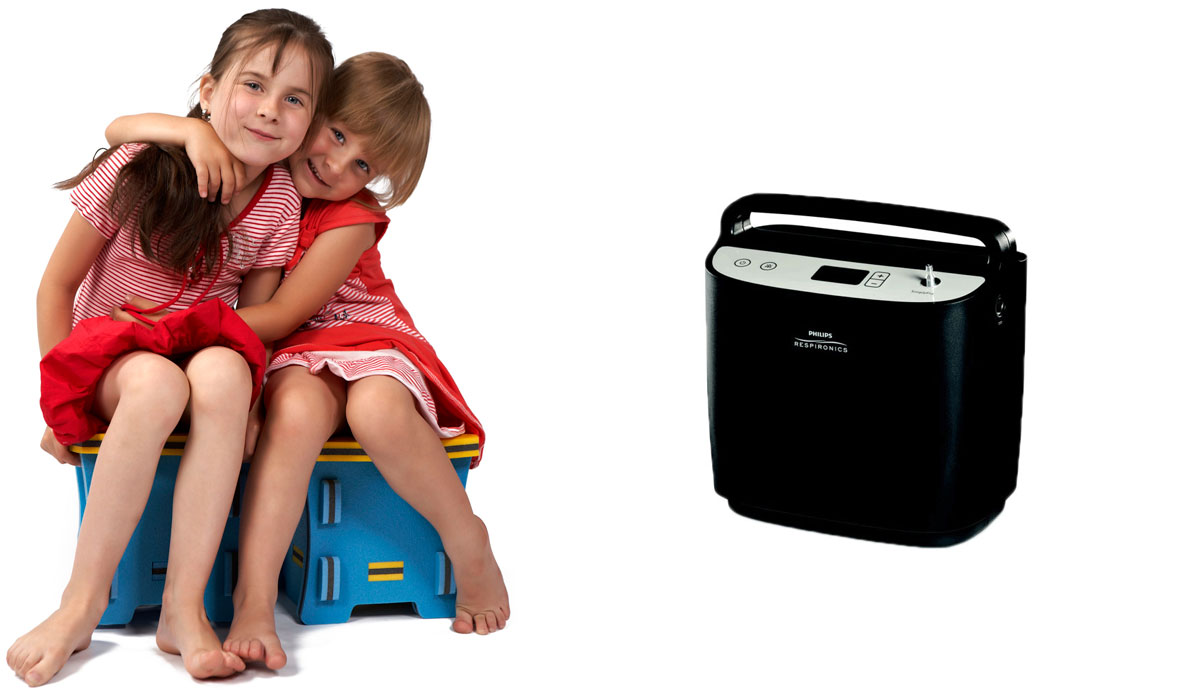 Low Flow Oxygen Concentrator Review Update 2021
Low Flow Oxygen Concentrators provide continuous oxygen flow of fewer than 5 liters per minute (LPM). These oxygen machines are designed to accommodate both adults and pediatrics. Since most oxygen patients require only 2 liters of oxygen or less per minute, these low-flow concentrators have an extensive application. Some of the low-flow oxygen concentrators for sale target the pediatric market since children have a smaller lung capacity. Unfortunately, "low flow" in the mind of many consumers is not an adult oxygen concentrator. However, low-flow oxygen concentrators are capable of serving both children and adults and offer many advantages that bigger higher-flow concentrators are unable to provide.
This oxygen concentrator comparison update for 2021 examines the top low-flow home oxygen concentrators on the market, offering 2 to 3 liters of oxygen therapy per minute. This update, however, finds only one of these pediatric concentrators still in production-the Respironics SimplyFlo 2 Liter Oxygen Concentrator. Caire discontinued the VisionAire 2 and the VisionAire 3 Liter Oxygen Concentrator. At the time of this update, there are still a few VisionAire 3's left in inventory to purchase; however, there are no more VisionAire 2 models available. Since only two models are currently available to buy, the SimplyFlo 2 and the VisionAire 3, a review follows below. A side-by-side comparison of these two low flow home oxygen concentrators displays below the review. At the bottom of this page are links to research studies regarding Low-Flow Oxygen Therapy.
Additional oxygen concentrator rankings, reviews, and comparison charts can be viewed by clicking on the links below:
Best Performing Low Flow Oxygen Concentrator
Determining which concentrator offers the best performance is measured from four separate factors--continuous oxygen flow, oxygen concentration, outlet pressure and maximum operating altitude. The VisionAire 3 is the best performing low flow oxygen concentrator. It offers 3 liters of continuous oxygen therapy per minute with a maximum outlet pressure of 25 psi. The VisionAire 2 matches the performance of the VisionAire 3 in every aspect except maximum oxygen flow, offering 2 liters instead of 3. The SimplyFlo ranks first for oxygen concentration levels with a slightly higher concentration range of 87 to 96%. All three concentrators can operate up to an altitude of 10,000 feet above sea level.
Model
Continuous
Oxygen
Flow
(max LPM)
Oxygen
Concentration
Oxygen
Outlet
Pressure
(max psi)
Operating
Altitude
(feet above
sea level)
VisionAire 3
3
87 to 95.5%
25
10,000
SimplyFlo
2
87 to 96%
6.4
10,000
Lowest Power Consumption
Usually, the smallest oxygen concentrator provides the lowest power consumption. Such is the case with the low-flow concentrators. The SimplyGo 2 concentrator consumes an average of 120 watts while operating. This power consumption is the second-best power usage for all home oxygen concentrators. Only the At Home concentrator with an average power usage of only 110 watts is better. VisionAire 3 uses 175 watts of power. The national average for the cost of a kilowatt per hour (KWH) is 0.1327 cents. (Source: Choose Energy, October 1, 2019, Electricity rates by state – the U.S. average is 13.27 cents per kilowatt hour, Last Accessed November 25, 2019)
The chart below displays the average watts per hour for each low-flow oxygen concentrator with the average daily cost and the average annual cost to operate. The average watts and costs displays for operating a 5-liter, 8-liter, and 10-liter concentrator as a comparison. The figures for the VisionAire 3, highlighted in gray, and the numbers for the SimplyFlo, highlighted in yellow, are significantly lower than the 5- through 10-liter machines. Oxygen patients that need 2 to 3 liters of oxygen can save from around $135 to $199 annually on their electric bill by purchasing a low-flow concentrator instead of a 5-liter concentrator. These same patients can save between $499 to $563 annually with a low-flow concentrator over a 10-liter concentrator. In other words, oxygen patients could buy a new low-flow concentrator every 2 to 5 years from just the savings on their electric bill.
Power Usage Comparison
10 Liter
Average
8 Liter
Average
5 Liter
Average
VisionAire 3
SimplyFlo
Average Watts
(Per Hour)
604
455
291
175
120
Daily Watt Usage
(operating 24 hours)
14,496
102,920
6,984
4,200
2,880
Average Daily Cost
(0.1256 cents per KWH National Ave)
$1.92
$1.45
$0.93
$0.56
$0.38
Annual Watt Usage
(24/7 Operation)
5,294,664
3,988,530
2,550,906
1,534,050
1,051,920
Average Annual Cost
(0.1256 cents per KWH National Ave)
$720.60
$529.28
$338.51
$203.57
$139.59
Lowest Noise
Noise measures sound pressure in decibel units. The OSHA Hearing Protection Guidelines consider decibel levels below 50 as safe and comfortable. Sound levels with decibels between 51 and 84 decibels are non-hazardous. Sound above 85 decibels is harmful.
Noise emissions of oxygen concentrators are generally lower than the sound of human conversation averaging 60 decibels. Oxygen patients do not want to be exposed to more noise than they have to. Both low-flow oxygen concentrators in this comparison have a decibel level at or below 50--the safe, comfortable zone. The VisionAire 3 concentrator takes the 1st place ranking with 40 decibels. The lightweight SimplyFlo generates 50 decibels of noise while operating. See the chart below for the noise level comparison of each low flow concentrator.
Noise Decibel Level Comparison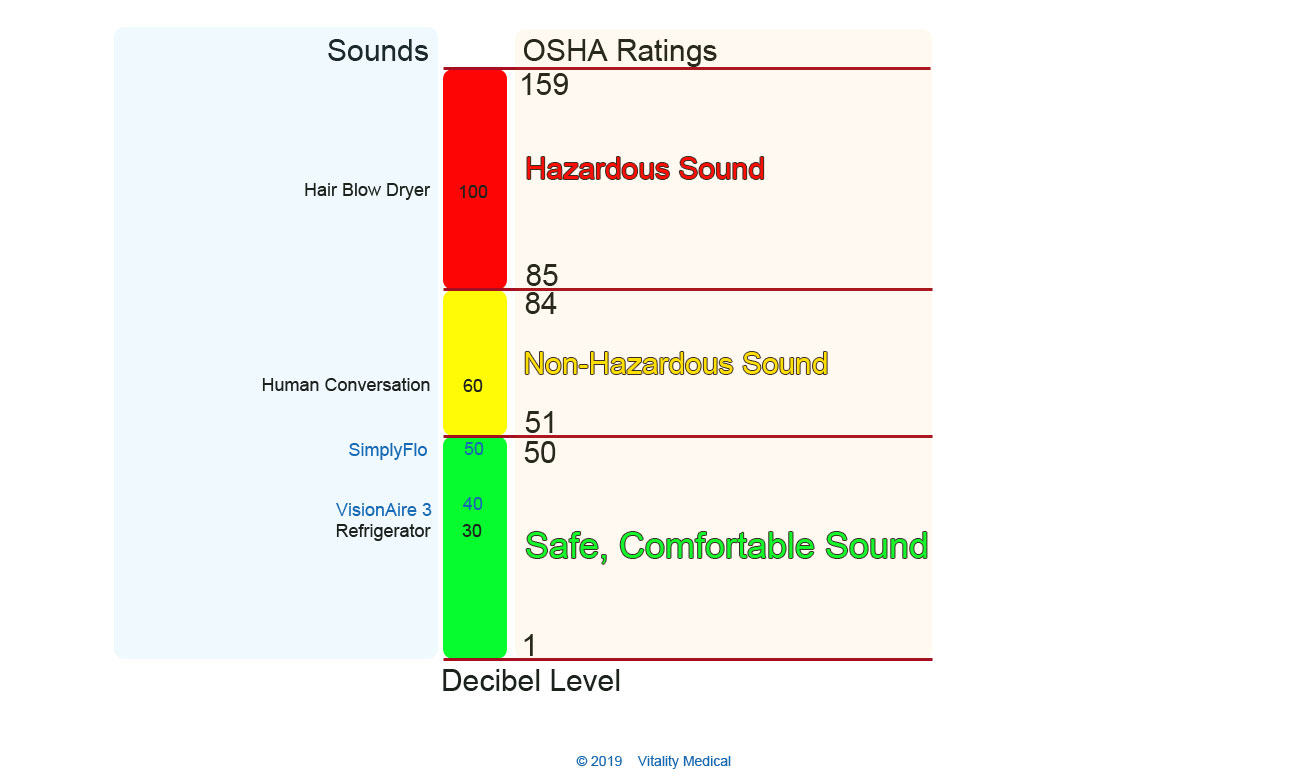 Smallest Size
For oxygen delivery systems, smaller is better. Smaller sized oxygen concentrators take up less space and are easier to move from room to room. Weight is another critical factor. Pushing a heavy oxygen concentrator down a narrow hallway to another room can be less cumbersome with a more lightweight machine. Room-to-room mobility of an oxygen concentrator significantly increases with a smaller and lightweight concentrator. Since low-flow oxygen concentrators have smaller oxygen generators, they are more likely to have a smaller size and lower weight than the 5-liter concentrators or high-flow concentrators. The average profile for a 5-liter concentrator is 3,634 cubic inches, and the average weight is 35 pounds. Low-flow concentrators have an average size of 2,031 cubic inches and an average weight of 19.5 pounds. These figures represent a 56% reduction in size and weight. The SimplyFlo ranks number one for the smallest size and lowest weight low-flow home oxygen concentrator. The comparison chart below displays size and weight graphically for the two concentrators compared.
Bonus Features
The no maintenance feature of VisionAire 3 is a nice feature that is significant for many oxygen therapy patients. The VisionAire model comes with a flowmeter to view oxygen delivery. They also come with oxygen flow locking and overdraw protection. An optional oxygen sensor is available for the VisionAire 3 and is standard on the VisionAire 2 concentrator. The VisionAire 2 serves well as a pediatric oxygen concentrator and can dial down to a flow setting as low as 1/8 liter per minute for pediatric applications.
Best Low-Flow Oxygen Concentrator
The overall best home oxygen concentrator with low-flow oxygen delivery is the AirSep VisionAire 3. The VisionAire 3 ranks number one for maximum oxygen flow of 3 liters, number one for maximum outlet pressure, and number one for the lowest noise level. The VisionAire 3 comes with a standard 3-year warranty.
The Respironics SimplyFlo ranks first for oxygen concentration level, smallest size, most lightweight, and lowest power consumption. Its standard 2-year warranty can upgrade to 3 years for an additional fee, but only at the time of purchase. If size and weight are a significant concern, we would recommend the SimplyFlo over the VisionAire. If performance is a considerable concern, VisionAire 3 is the best choice.
Best Low-Flow Oxygen Concentrator
#1 Ranking for Best Oxygen Outlet Pressure - 25 psi
#1 Ranking for Highest Oxygen Flow - 3 LPM
#1 Ranking for Lowest Noise - 40 dBA
#1 Ranking for Longest Warranty
Operating Altitude Up To 10,000 (feet above sea level)
24/7 Operation
Made in the USA

Caire AirSep VisionAire 3
Low-Flow
Oxygen
Concentrators
Model
VisionAire 3
SimplyFlo
Manufacturer
AS096-6
1076773
Model #
AirSep
Respironics
Performance
Continuous Oxygen Flow
(max LPM)
3
2
Oxygen Concentration
87% to 95.5%
87 to 96%
Oxygen Outlet Pressure
(max psig)
25
6.4
Operating Altitude
(feet above sea level)
10,000
10,000
Size
Cubic Size
(inches)
3372.72
690
Width
(inches)
14.1
10
Height
(inches)
20.8
11.5
Depth
(inches)
11.5
6
Weight
(pounds)
30
9
Operating Factors
Noise
(dBA)
40
50
Average Power Consumption
(watts)
175
120
Dependability
Made in the USA
Yes
Yes
Warranty
3 Yrs
2 Yrs

Burt Cancaster, Author
Vitality Medical
7910 South 3500 East, Suite C
Salt Lake City, UT 84121
(801) 733-4449
[email protected]
VitalityMedical
You might be interested in...