Body Up Evolution Transfer Lift Chair
PRODUCT HIGHLIGHTS
4-in-1 transfer lift
Use in the shower
Use as a wheelchair
For outdoor and indoor use
High quality stainless steel
MPN :
Grouped product items
Item#
Description
Size
Price

BU1000

Capacity 220 lbs. -

Ships Free!

Each

List Price:

$2254.82

Price:

You Save:

$293.13 (13%)

BU2000

Capacity 308 lbs. (heavy duty) -

Ships Free!

Each

List Price:

$2905.16

Price:

You Save:

$377.67 (13%)

BU-03

Accessory: Stabilization Straps -

Ships Free!

Each

List Price:

$160.10

Price:

You Save:

$20.81 (13%)

BU-09

Accessory: Comfort Cushion -

Ships Free!

Each

List Price:

$272.78

Price:

You Save:

$35.46 (13%)

BU-05

Accessory: Commode Cushion -

Ships Free!

Each

List Price:

$304.55

Price:

You Save:

$39.59 (13%)

BU06

Accessory: Swivel Cushion (Use with Comfort Cushion or Transfer Sling) -

Ships Free!

Each

List Price:

$71.01

Price:

You Save:

$9.23 (13%)

Out of Stock

Sign up for stock alerts

BU-04

Accessory: Adjustable Table Tray

Each

List Price:

$63.93

Price:

You Save:

$8.31 (13%)
Description
Body Up Evolution Patient Lift Chair offers a safe means to transfer patients. Designed as a 4-in-1 medical transfer device, the Body Up Evolution Heavy Duty Lift is constructed of stainless steel to serve as an all-purpose bath chair, commode chair, indoor wheelchair, or car transfer chair. The Body Up Evolution transfer lift chair can be used with the Commode Cushion (BU-05) to use as a commode chair. A soft Comfort Cushion (BU-09) can be used to convert the chair to a transport wheelchair for indoor use. Another accessory is the Body Up Transfer System Stabilization Straps (BU-03) used for patient safety. The stabilization straps keep the sling cushion attached to the body of the sitting patient.
Body Up Patient Lift can be used to transfer patients by a manually lifting mechanism that employs a simple hand crank to hoist the patient from the surface they are sitting on into the lift chair. The chair requires no electricity or batteries. The transfer chair limits the after-sales service calls and associated fees common to most lift chairs. Its waterproof construction makes it a perfect commode or bath transfer chair for patients. Listed below are some key uses for the Body Up Evolution Mobile Patient Lift Transfer device.
The Body Up frame cover is removable and machine washable. The transfer sling is hand-washable and is made of waterproof polyester. This multi-functional aid provides a safe lift and painless descent to help prevent injuries to the patient as well as the caregiver.
Body Up Evolution Mobile Lift Transfer Chair Features & Benefits
Multi-functional patient lift and transport wheelchair
Constructed with high quality stainless steel.
Offers safe patient lifting.
Provides safe patient transfers.
Requires no electricity or batteries.
Lightweight.
Add the tray table accessory to allow desktop/tabletop use.
Disassembles into 3 separate pieces for easy storage and transport.
Requires no muscular strength to operate.
Reduces stress to patient and caregivers.
Limits "after sales service" calls.
Provides safe descent and painless lift.
Special gears and levers make the lifting and descending procedure simple and easy.
Physical strength is not a requirement for using the Body Up Evolution Patient Lift/Transport.
Requires low maintenance and it is easy to clean.
No need for a battery.
Its light construction allows you to carry it with you in the car.
Raises patients from the bed with ease and dignity.
Designed to lift patients from the bed while their body maintains its natural sitting posture.
Easy to fold into two pieces to transport.
Transfer Chair Specifications
Product Numbers: BU1000, BU2000.
Length: 34.7 Inch.
Width (outer): Adjustable 27 to 31.7 Inch.
Seat Width (inner): Adjustable 18.5 to 22.5 Inch.
Base Width Adjustments: 24 to 28.7 Inch.
Height, Floor to Arm: 40 Inch.
Weight: 42 lbs.
Weight Capacity

BU1000: 220 lbs.
BU2000: 308 lbs.

Wheel Size: 4 Inch Casters.
Construction: Stainless Steel.
Color: Blue.
Transfer Sling: Waterproof and hand-washable.
Base and Back Support: Detachable.
Latex free.
Non-returnable hygiene item.
Manufacturer: Veziris Healthcare.
Brand: Body Up Evolution.
Accessories
Stabilization Straps (BU-03) - provide additional stability to patients who require additional support. With a design similar to automobile seat belts, these straps have a quick release button. Patients stay safely centered in the sling when these stability straps are properly used.
Comfort Cushion (BU-09) - designed for patients who use the lift as a wheelchair or for long transfer periods. This cushion is made with a polyurethane gel layer and additional foam for a more comfortable experience.
Commode Cushion (BU-05) - offers patients easy access to toileting, bathing or showering. Manufactured with silicon gel, the seat is comfortable and allows patients to use the toilet without leaving the lift.
Table Tray, Adjustable (BU-04) - adds the convenience of a desktop/tabletop to the chair lift.
Swivel Cushion (BU-06) - attaches to transfer sling or comfort cushion. Allows Patient to Easily Turn.
Wheelchair Tray Table Accessory
Manuals and Documents
4 In 1 Utility--Patient Lift, Bath & Commode Chair, Transfer Chair or Car Lift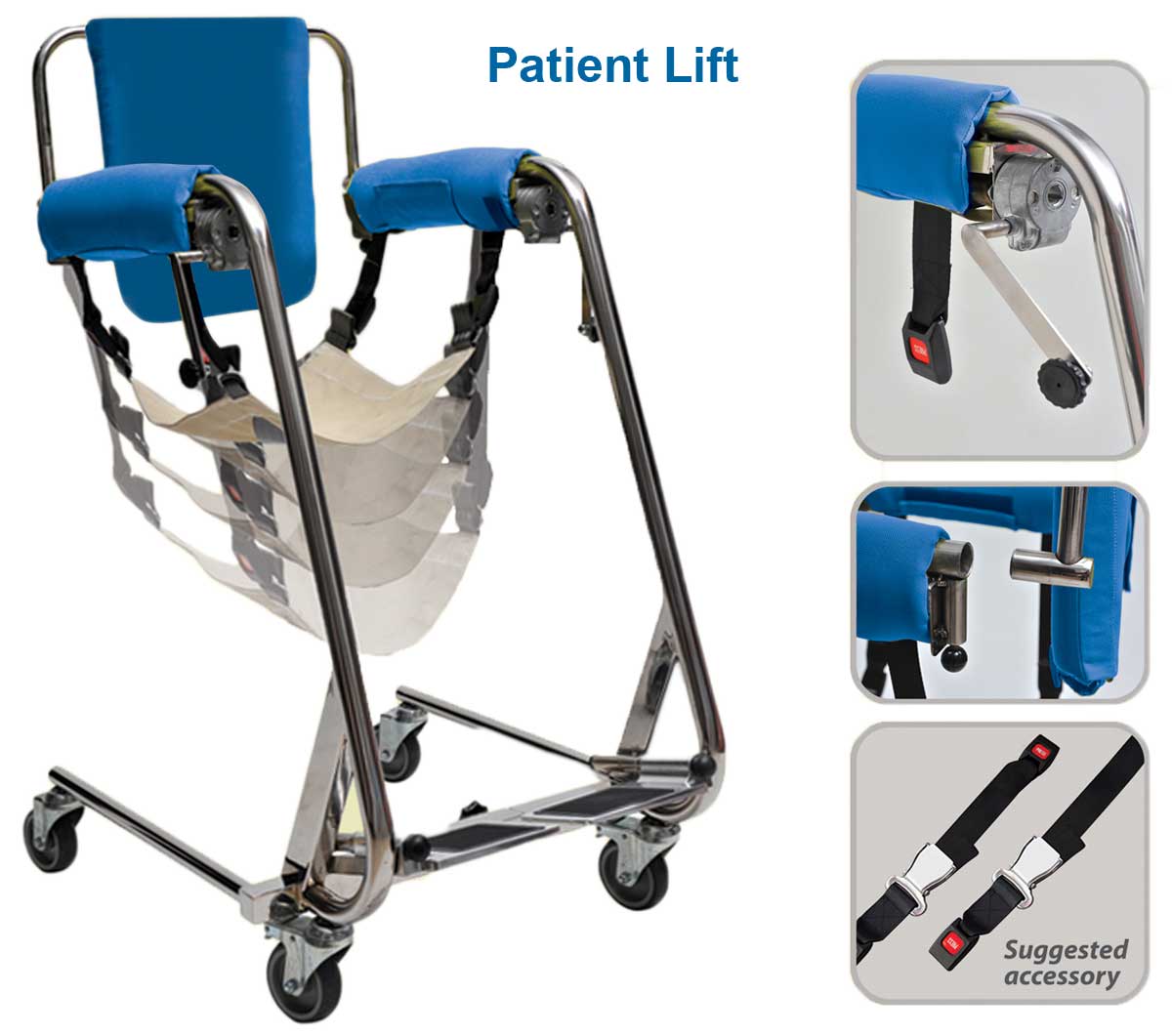 Patient Lift Chair
Easily lift or lower patients.
Dual cranks to adjust patient height.
Transfer patients from and to beds.
Transfer to and from wheelchairs.
Select from three different types of seats.
Stability straps available to keep patients from slumping or slipping from the lift.
Bath and Commode Chair
Constructed with high quality stainless steel that makes it water-resistant.
Safely lift and descend patients to and from the bath tub.
The Body Up Bath Chair makes bathing easier and safer.
No more "bed baths".
Bathing works best with either the standard sling (included) or with the Commode Cushion accessory
Using the toilet is made easy.
Easily install the accessory commode chair cushion to convert to a commode chair.
Toileting works best with the Commode Cushion accessory.
Transfer Chair
Use as an indoor wheelchair.
Use as a sofa on wheels!
The external width can be extended for a comfortable transport chair.
Serves as a backyard transfer chair.
Car Transfers
Makes vehicle accessibility more feasible.
Compatible with most medium and large size vehicles.
Vehicle transfers work best with the Comfort Cushion accessory.
Check the specification charts in the image carousel above to ensure that your car will match the specifications of the lift you plan to select.
Warranty and Product Liability
This transfer lift chair is guaranteed by Veziris HealthCare and becomes effective on the date of purchase
1) Frame and wheels - 5 years.
2) Gear - 1 year.
3) Transfer (canvas) seat - 1 year.
4) Straps-1 year (with proper usage, explained in the user's manual).
5) Pads - 1 year (with proper/regular cleaning).
Only original equipment and accessories should be used. When neglect and/or repairs through non-authorized persons occur, any guarantee of the lift and its components are rendered invalid.
Product liability on the part of the manufacturer (Veziris HealthCare - M E Veziris OE, Iraklitou 119-121, Halandri, Athens) is excluded in these cases.
Measurements for Vehicle Transfers
The Body Up Lift will not work with every vehicle. To determine if this lift will work with your car you will need to take some measurements of the height and width of the car entrance.
First, measure the distance from the ground to the top of the seat.
Second, measure from the top of the seat to the top of the door frame.
Third, measure the distance from the console to the door frame or in some cases the back of the seat, whichever distance is shorter.
Fourth, measure the distance from the ground to the bottom of the door frame.
Then, compare your measurements with the charts below to ensure there is sufficient space between the opened car door and the door frame or seat to ensure that there is enough space to maneuver the lift and patient.
The chart below shows the measurement differences between the standard sling and the Comfort Cushion sling (purchased separately). The Comfort Cushion reduces the height by several inches giving you more clearance room for the patient.
Things to Consider Before you Purchase
Measure the Door frames: BU1000 needs 24 inches to move through door frames easily and the BU2000 needs 27 inches.
Measure the Gap Under the Bed: BU1000 needs 6.20 inches of clearance under the bed. The BU2000 needs 6.70 inches.
Consider Back Support: patients who have back support will require one caregiver when using the Body Up Evolution. Patients with limited back support will require two caregivers for safety. This product is not ideal for patients with no back support.
Additional Information
More Information

| | |
| --- | --- |
| Manufacturer | Veziris Healthcare |