Date: November 22, 2019
By Jessica Smith

Being short of breath keeps you from the most important things in life. It can limit your ability to do activities required for work, improving relationships or hobbies we love doing. Finding the right nebulizer can help alleviate symptoms for asthma, COPD or other breathing disorders.
How does a Nebulizer help?
Liquid medication is pressurized into an easy to inhale gas form. As the medicine is brought into the lungs, it is able to get into the bloodstream faster and more efficiently. This allows it to provide relief for symptoms faster.
Nebulizer Machines can vary to help meet needs that can be as diverse as the people who use them. The sooner you find the nebulizer that works best for you, the sooner you get back to doing what you love. Below are the best compressor nebulizer machines to help you breathe easier in 2020 and a few pros and cons for each. This can help determine which is the best fit for you.
Here are the Best Nebulizers for 2020 (decending order)
The PulmoNeb is a great nebulizer for those who are still deciding what is best. As the most affordable on the list, it gives the most bang for your buck. The budget-friendly nebulizer is especially helpful for those still determining what they are looking for in a nebulizer.
The small size allows it to take up less table space during treatment and is a lighter weight than most stay at home nebulizers for adults. However, it does require being hooked up to a power source, making it difficult for travel.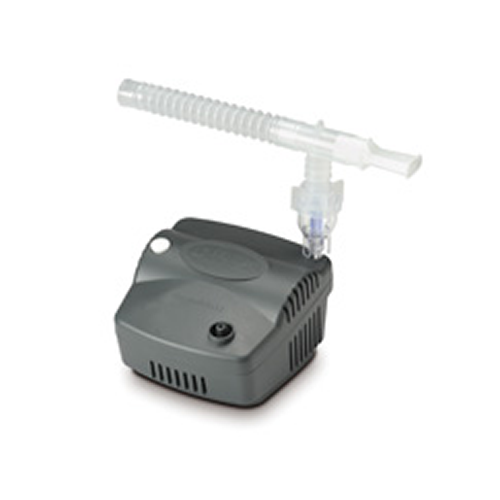 Pros: Budget-Friendly, High Medication Delivery, Compact
Cons: Requires Power Source, Loud
The main benefit of this nebulizer is more subtle. This device is able to increase medication delivery. With less medication waste, each treatment is more effective, decreasing symptoms and providing much needed relief.
This device may not be the smallest, quietest or most affordable option, but the overall quality of the device is second-to-none.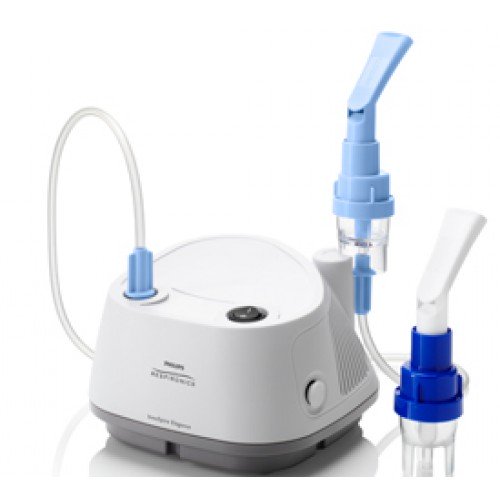 Pros: Less Medication Waste, High Delivery, Compact
Cons: Requires Power Source
This nebulizer is one our favorites for those who love getting out and having adventures. The compact size and light weight (less than 1 lb!) make it easy to carry so you can have treatment anytime, anywhere.
While the treatments may be quick and easy, taking only 5-6 minutes, it only has the capacity for 4 lpm. So this device is certainly better for those with mild symptoms who want to maintain an active lifestyle.
Pros: Compact, Lightweight, Short Treatment Time, Battery, AC or DC Power Source, Quiet
Cons: Low Delivery, More Expensive
Slightly larger than the Pari Trek S, the Omron CompAIR is still compact and lightweight. It is perfect for packing in a suitcase for traveling and extended vacations. It is one of the quietest nebulizers, causing less disturbance during other activities. At 37 db, it is quieter than a library.
Treatments tend to take longer, up to 20 minutes. This means treatment should be done in one place rather than on the go. The flow rate is also low, with a max of 2.8 lpm.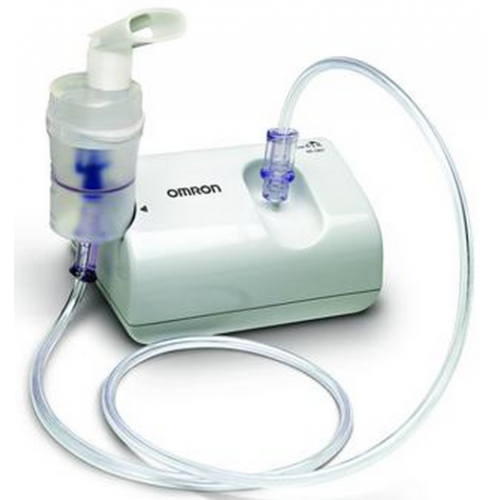 Pros: Quiet, Compact, Lightweight, Easy to Use
Cons: Longer Treatment Time, Requires Power Connection
The Medneb is often purchased from Vitality Medical to be used on pets and in animal shelters. When used with a facemask, it is able to provide medication for humans and pets alike.* The nebulizer does not have a battery system and requires a power source in order to administer treatment.
*Please use different nebulizer kits for each individual. Do not administer treatments for more than one individual at once.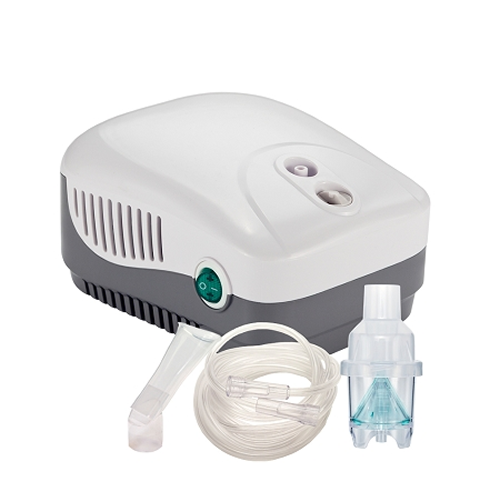 Pros: Quiet, Efficient Treatment, Lightweight
Cons: Requires Power Source, Slow Treatment Time
As one of the largest compressors on the list, this is meant for stay at home treatments. For those who struggle more with symptoms, this system can go up to 12 lpm, providing more relief. It is also meant to last longer with a 5 year warranty and an average product life of 10 years.
The Pulmo-Aide is slightly louder than other compressors, yet still quieter than most environments such as a restaurant or office.
Pros: Sturdy, Long-Lasting, Efficient Treatment, Easy to Use, Built-In Storage, Only Compressor Approved for TOBI Use
Cons: Large, Noisy
Smaller and lighter than the Pari Trek S, it has a higher capacity for treatment, able to deliver 6 lpm. This makes it the ultimate travel nebulizer for active users. It is louder than the Pari Trek, though still the same number of decibels as the Pulmo-Aide.
The Traveler is also the easiest of the nebulizers to use with a simple one-touch operation, easily making it a favorite and top seller.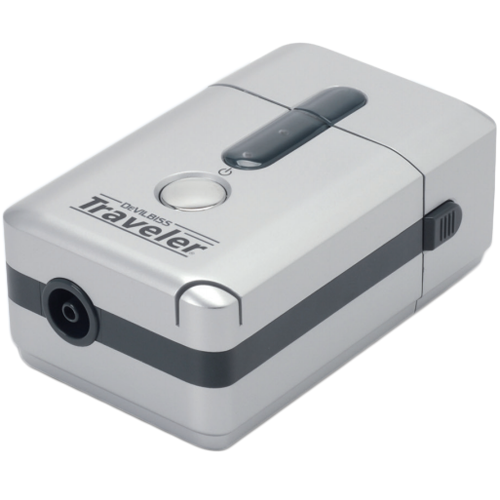 Pros: Easy to Use, Compact, Lightweight, Effective Treatment, Durable
Cons: Loud
Summary
Every nebulizer compressor is going to be different. Before purchasing, be sure to look at the factors most important for your life. Be sure to consider the noise level, portability, ease of operation, size, weight, treatment time and medication volume before purchase.
While the above list contains our best sellers, if you have different needs to consider, check out the other nebulizer compressors offered by Vitality Medical, including our pediatric nebulizers, making treatment more fun for children.
No matter which device you choose, you are sure to be breathing easier, relieving symptoms, and able to live life more fully.