Updated: February 6, 2023

Getting kids to complete their respiratory treatment can be difficult. Especially with loud machines that can be intimidating, having to sit still until it is complete, etc. To make it easier on parents and children alike, many brands have designed a device that administers nebulizer medicine for kids. Made to not only be quieter but also more fun and enticing, the child nebulizer machine can come in the shape of animals, vehicles, or can even be interactive. This allows treatment to be more enjoyable, while treating symptoms for respiratory diseases such as asthma, bronchitis, COPD, etc.
However, just because the nebulizer machine for kids is more enticing, doesn't make them all equal. Each still has pros and cons, making them a better fit for you and your child. Below are the top-selling children's nebulizer compressors. These focus specifically on pediatric nebulizers unlike the previous post on the 7 Best Nebulizers for Breathing Relief, which focuses on devices for adults. Be sure to focus on the individual needs of your child, and if they are old enough, include them in the process. This will help them find a device that they will be excited to use.
This adorable penguin comes with an optional carry bag that looks like an igloo. Despite the fact that penguins are known for living in colder temperatures, this compressor nebulizer is able to run in warmer temperatures. It can work in temperatures up to 104 degrees and be stored in up to 158 degrees. Running quieter than most adult nebulizers, the penguin is also simple to use, meaning older children can help get it ready to use, under supervision. Highly durable, it comes with a lifetime warranty through the manufacturer.
The penguin is a tabletop nebulizer, needing a source of power in order to run. It is also heavier than other pediatric compressor nebulizers, weighing in at just over 4 lbs.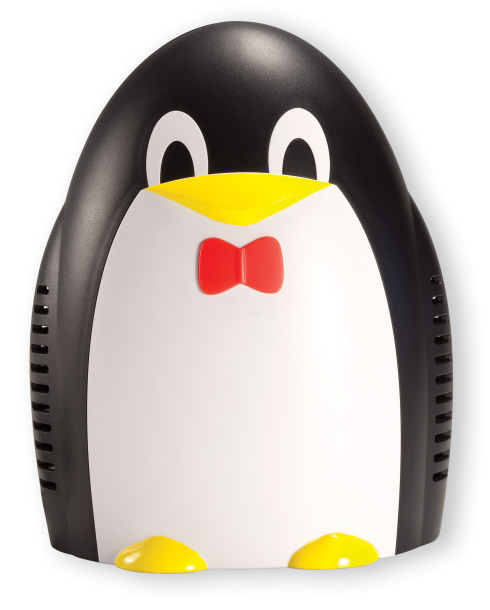 Pros: Fun design, Igloo carry case, Works in high temperatures, Quiet, Simple to use, Durable
Cons: Heavy, Non-portable
---
Sami is always a favorite with its fun design and the full compressor kit included. In fact, the SideStream nebulizer that is included is among the most efficient available. However, if your child prefers a mask, it comes with a Tucker the Turtle pediatric mask. Sami is also highly rated for its durability, especially with continuous use. It is highly stable with most of the weight centered on the base, keeping it upright during treatment.
Sami the Seal is not quiet, but is far from the loudest of machine options. It is also one of the larger sized options. So while this may not be the most convenient option, it still manages to keep the attention of children and help them complete treatment.
Pros: Fun design, Full kit included, Includes with pediatric nebulizer mask, Durable, Continuous use, Stable
Cons: Loud, Large size, Bulky
---
The fun clown fish nebulizer is smaller than Sami the Seal but is still a larger option as far as pediatric nebulizers go. It is just over 3 lbs, which is average, but so far, is the lightest on the list. The fish compressor is simple to use and even the filter is easy to change. It has the capability to run and operate in higher than average temperatures and can be stored in extreme temperatures. The efficient system is able to provide efficient treatment, lasting anywhere between 5 and 20 minutes, depending on the amount of medication.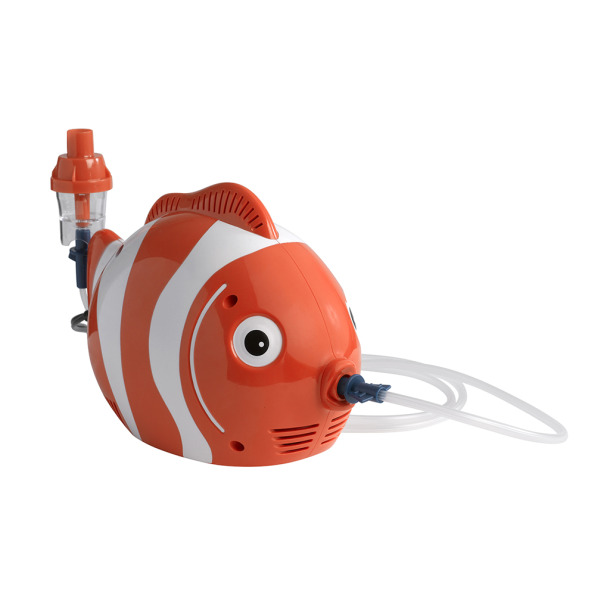 Pros: Fun design, Lightweight, Simple to use, Easy change filter, High Temperature Resiliency, Efficient treatment times
Cons: Large size, Less durable
---
Pandas are charming creatures, even in nebulizer form. Designed to be robust and durable for children, it is also lightweight and compact for easy transport. Certain models even come with a carrying case that make it easy to carry the nebulizer and its supplies. However, be sure that is the option being selected at checkout as some options do not include the carry case. It distributes medication quietly and efficiently. Best of all, for each purchase of a Penelope nebulizer, the manufacturer donates a portion of the proceeds towards research for breast cancer.
Due to the small size, Penelope Panda is only able to hold 5 mL of medication. If your child requires more than this, you should look at other nebulizers that are able to contain more liquid medication.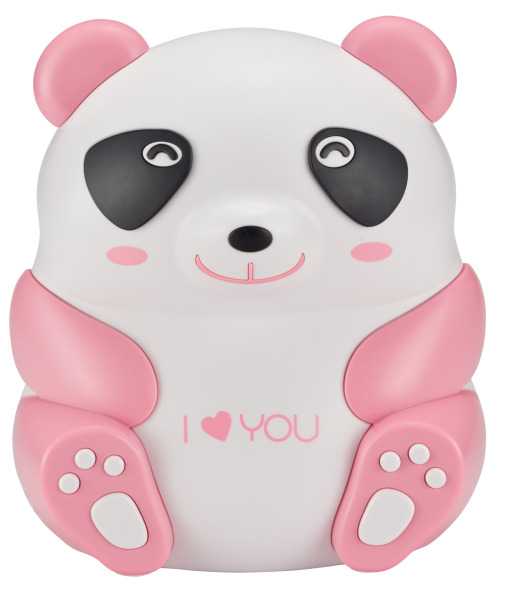 Pros: Highly durable, Fun design, Quiet use, Efficient treatment, Donations to breast cancer research
Cons: Doesn't hold much medication, Heavy
---
This model is the exact same nebulizer compressor as the Penelope Panda, however, it comes in black and white like a traditional panda. The traditional panda design does not have a portion donated towards breast cancer research. However, the more traditional and generic color is still widely loved and is one of Vitality Medical's bestselling pediatric nebulizers.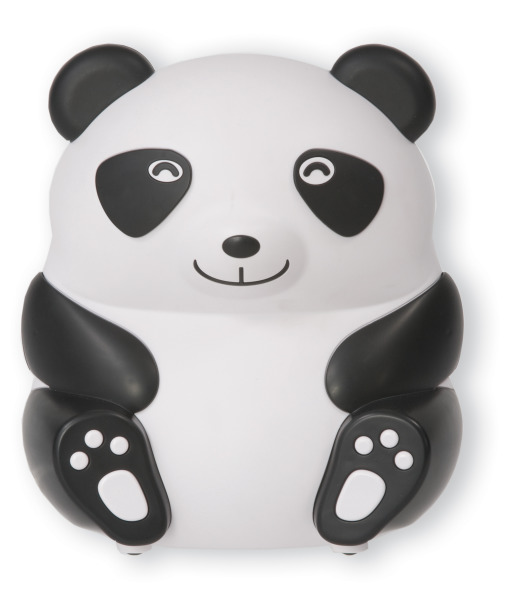 Pros: Highly durable, Fun design, Quiet use, Efficient treatment
Cons: Doesn't hold much medication, Heavy
---
The delightful Beagle Puppy Pediatric Nebulizer comes with so many adorable extras for puppy lovers that it's hard to say no to. The carrying case has a window for a puppy to see out of and also comes with adorable puppy stickers, sure to make any dog fanatic happy. Although slightly larger, it is one of the lighter-weight nebulizers. It is also noisier than most, though it is still about as loud as a restaurant environment and quieter than full-size nebulizers.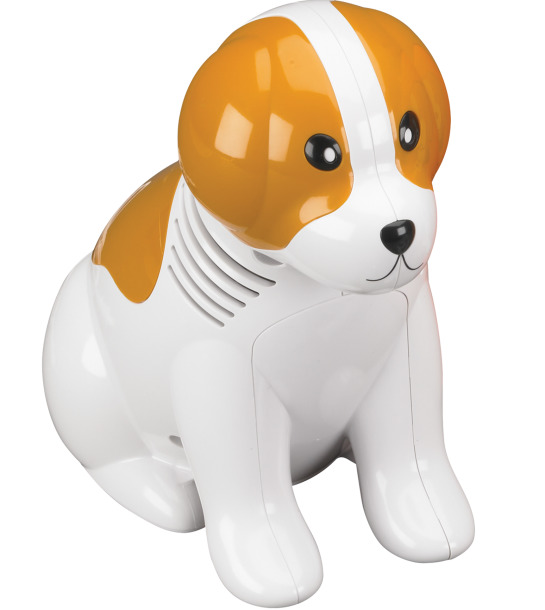 Pros: Fun design, Includes stickers, Lightweight
Cons: Noisy, Large size
---
For train and engine lovers, the Airial Express Train System is sure to excite children for treatment time. The system even has flashing lights and a working ladder to play with while sitting for treatment. The train is able to store and function with high temperatures and is highly durable to take on the activity of children. Slightly larger than most of the units, it is still only 3.5 lbs, making it lightweight to carry if the transport is needed.
Aside from the bulkiness, the Airial Train Nebulizer is also a little noisy, measuring about 60 db. However, the system makes up for this in effective distribution of medication and playfulness, helping to entertain your child while they receive medication.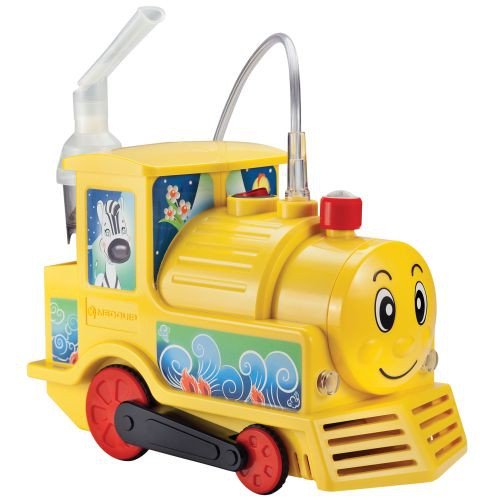 Pros: Fun and interactive design, High temperature resiliency, Durable, Lightweight
Cons: Bulky, Noisy
---
Summary
No matter which compressor nebulizer for kids you chose, the important thing is to choose a nebulizer your child will be excited to use. The playful and interactive the experience, the more they are likely to enjoy it. Spark their imagination even more with a kids nebulizer mask. This allows them not only to take treatment by merely breathing as normal, while allowing them to become one of many characters such as Nic the dragon, Sami the seal, and more. Shake it up by using a different character each time for variation and a new exciting experience each time. For especially young children, you can also choose the option of a pacifier nebulizer.
Stop fighting your child to sit still and take treatment with fun and enjoyable diversions and their own imagination. Most importantly, make sure your child is able to breathe well enough to explore their potential for a full, healthy life.