Updated: January 5, 2022

Discover How a Pill Organizer Can Help with Taking Your Meds, Vitamins, or Supplements
Do you or someone you know have a hard time remembering to take your pills on time, or even at all? If so, you are not alone. Studies estimate that 50 percent of people are non-adherent. In other words, only one in two takes their medicine like they are supposed to. Perhaps not so surprising with some of the dosing schedules that are out there.
The World Health Organization defines non-adherence as taking medication less than 80 percent of the time.
This problem of non-adherence is also known as America's other drug problem. It carries a high price tag, both in terms of dollars spent and in impact on the quality of life. Not taking scheduled medicine at the appointed time sometimes leads to re-hospitalization, or worse.
Medical researchers spend considerable time trying to get to the reasons why people fail to take their meds. These reasons range from economics to trust, but the single largest one is forgetfulness. People are creatures of habit. Making changes to their pill routine often causes difficulties.
These schedules can become complicated - five tablets in the morning every other day, switching off with two on the other days. Different pills for each day of the week at lunch and dinner, for example. This type of routine can lead to missed dosages or double dosing. Both can be dangerous.
Fortunately, there is help. Pill organizers can keep you (or your loved ones) on track - eliminating or reducing many of the problems associated with pill management. Now, a pill organizer is not a cure-all. Someone needs to load the right pills into their appropriate boxes or containers on a set schedule while monitoring the organizer to verify adherence.
Pill organizers range from simple (with a single strip divided into seven compartments, each with a separate lid) to complex (with multiple compartments, alarms, and communications technology).
How to Choose a Pill Organizer
Start by determining your needs. The following questions can help you find which organizer works best for your situation.
How often do the pills get taken? (Weekly, daily, more than once per day, etc.?)
How many pills for each setting?
Are there the same number each time, or does the quantity vary?
Are reminders needed?
Do you need to guard the pills under lock and key?
How many medications schedules do you manage?
How active is your lifestyle?
Do ever need to cut pills in half?
Automatic Pill Dispensers
With an automatic pill dispenser, such as the Med-E-Lert TM, you get the best of both worlds. You can organize your medications, vitamins, and supplements according to your dosing schedule. Just load it up and set the alarm or alarms. When each pre-set time arrives, an alarm sounds, and the dispenser automatically advances the carousel. The contents of the tray are easy to retrieve.
The Med-E-LertTM comes with a locking mechanism to keep pills safe until it is time to dispense them. Twenty-eight trays give you flexibility in setting your dosing schedule. You can choose from once a day for twenty-eight days to six times per day for four days, and anything in between. Six dosing rings serve as guides to simplify pill management. Each tray holds up to fifteen aspirin-sized pills.
The unit operates on batteries and is highly portable. Six built-in alarms allow you to set precise dosing routines. When an alarm goes off, it continues to sound until the Med-E-Lert gets turned upside-down, or until 30 minutes pass by. Turning the unit upside-down allows the contents of the tray to fall through the dispensing window.
Strengths: Lockable, set up to six alarms, automatically dispenses pre-loaded pills, battery-operated, light-weight,
Weaknesses: No phone connectivity, scheduling time to pre-load.
This unit is a fantastic solution for those who desire independence but may forget their medications.
Once-a-Day Organizers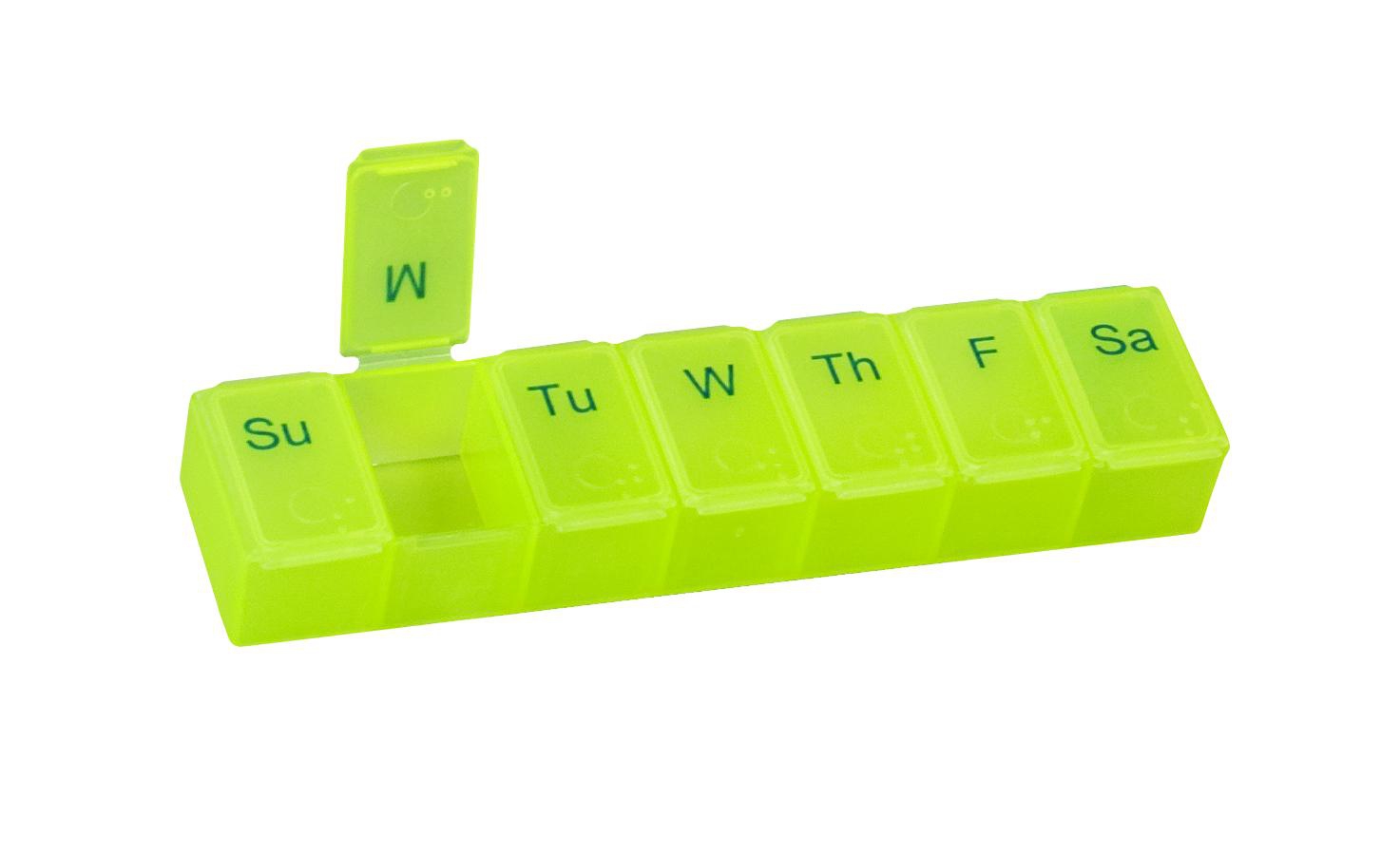 This Acu-Life 7-Day Pillbox Organizer from Apothecary Products is easy to use, with one compartment for each day of the week. Permanent labels clearly show each day of the week. Built from see-through plastic, this organizer lets you see which doses are still available. With it, you can check if anything is missing from future days.
Strengths: Easy to use, quick verification, highly transportable,
Weaknesses: Can be difficult to open, no security, easy to lose, easy to forget, all medications or pills for the day need to fit into a single box.
This organizer is ideal for simple schedules where only one or a few pills get taken at the same time, once per day.
If you are always on the go, this 7-Day Detach N' Go Pill Organizer might come in handy. Each contoured compartment holds up to 25 aspirin-sized pills. The contour makes removing pills easy. Every container snaps out from the piece, making it easy to take your pills everywhere you go.
Strengths: Detachable pill compartments, only take what you need with you, remove pills with ease,
Weaknesses: Easy to lose, no reminders, weekly reloading.
This product is ideal for those on the go who need a simple way to keep their once-a-day pills organized.
Twice-a-Day Organizers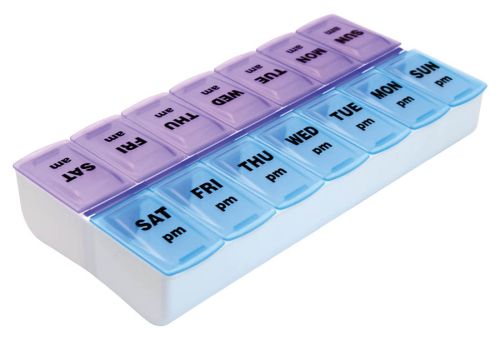 When you need to take medicine both before and afternoon (or evening), the Weekly Twice-a-Day Pill Organizer by Carex might be what you need. Fourteen large compartments accommodate multiple pills and have a contoured shape to aid in easy content removal. You will get two different colors of lids to distinguish between am and pm. Each top is semi-transparent so you can see your pills.
Strengths: Holds dosage for both morning and afternoon, each lid is clearly labeled, easy to open, fast retrieval of contents,
Weaknesses: Need to reload once per week, no locking mechanism, no reminder system.
This organizer is ideal for those who take a few pills both morning and night and who do not need reminders to do so.
If you frequently need to take your medications with you, the 7-Day AM/PM XL Detach N' Go Pill Organizer might be ideal for you.
Built with removable compartments, this organizer allows you to only take what you need for the day. The lids are color-coded - one for the morning and a second for the afternoon. Contoured compartments make pill retrieval a breeze.
Strengths: Easy to transport, discreet, keep morning and afternoon medications separated, easy to verify adherence with see-through lids,
Weaknesses: easy to misplace daily compartment, not secure, no reminders.
This organizer is great for those who take their medications just twice each day while leading an active life.
4-Times-a-Day Organizers
These organizers can handle complex medication regimens. Seven, four-compartment trays give you control over daily dosing times - morning, noon, evening, and bed. Typically, these trays slide out of an underlying base for easier access to all compartments.
When you need a weekly medication planner, you may wish to look at this MediChest Large Pill Organizer by Carex. Each compartment has the day of the week, along with the times of the day, clearly imprinted on it. Each tray slides out of the base and fits inside of a purse or briefcase, etc., so you can take it with you wherever you go.
Strengths: Large compartments to hold plenty of pills, removable trays, lids open with a small bit of pressure from the thumb, lids stay locked during travel,
Weaknesses: 28 smaller openings to fill each week, no locking mechanism, cannot open interior compartments without removing the trays.
This product is ideal for those who take medication or pills throughout the day.
Pill Cutting and Crushing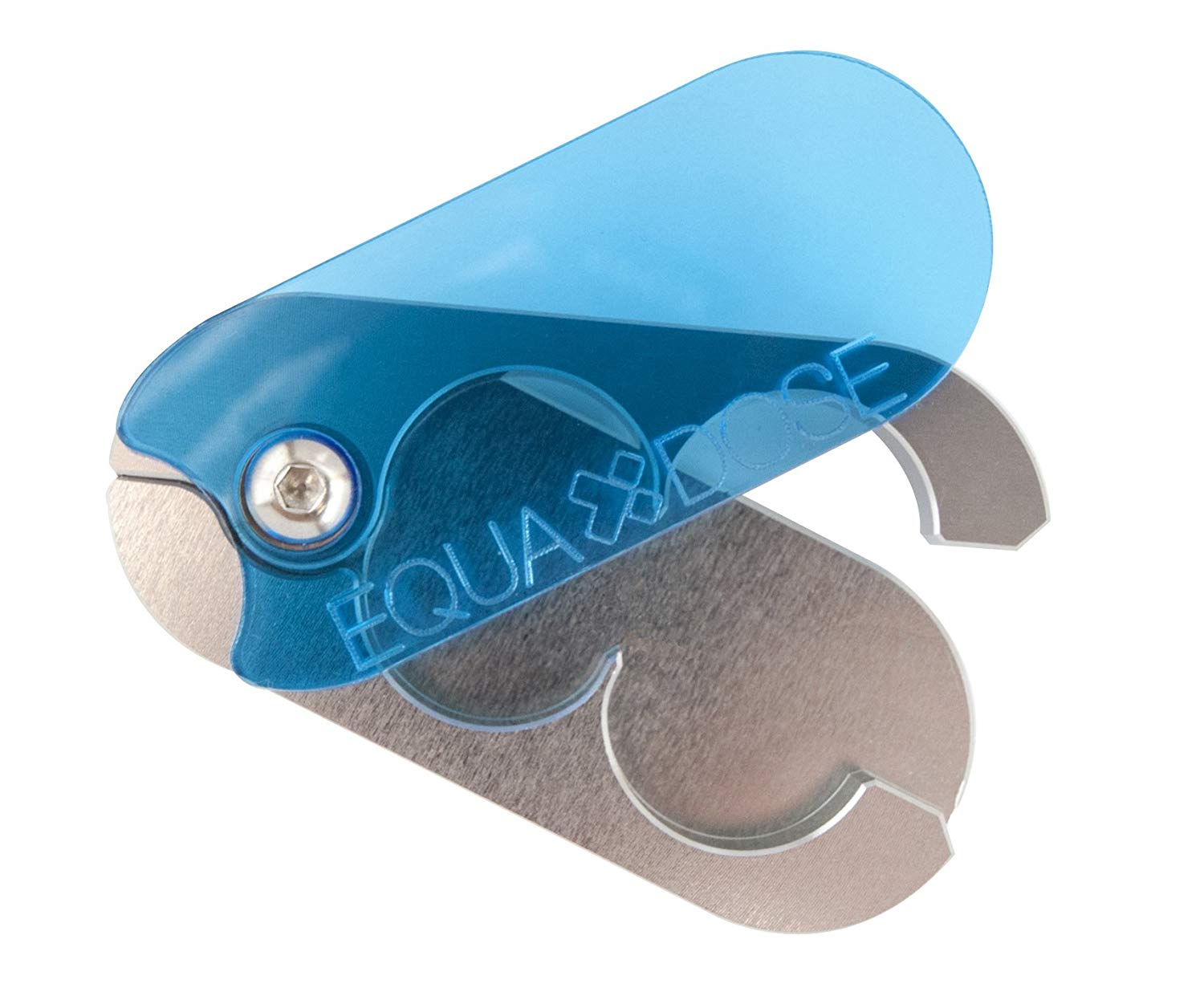 Sometimes you need to cut or crush a pill. When that happens, having the right tool makes the job easier. With far too many cutters, however, the pill ends up crumbling, with the halves unequal.
The Equadose Pill Cutter Splitter divides your pill into equal halves, without the powdery residue. The shape of your medication or vitamin remains intact.
When you need to grind your pills or tables into powder, consider using the Equadose Medication Grinder.
Choosing the right pill organizer might seem to be something easy, a matter of just grabbing the first one you see. But choosing one that does not suit the needs of the user can lead to frustration. It may result in no change in behavior, especially if it is a matter of memory.
Medical Studies