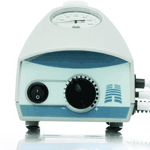 Choosing which style of compression therapy is right for you should be easy. You can choose between either compression stockings and compression pumps and at Vitality Medical, we have the widest selection of compression therapy products on the web.
Compression Stockings provide graduated compression therapy to help eliminate swelling and discomfort in the leg. As they are often worn throughout the day, they are designed with the look of traditional stockings; however, they use stronger elastics than the average stocking to create more pressure on the legs, ankles, and feet, with the graduated pressure being greatest at the ankles and decreasing up the leg towards the top of the stockings. When choosing a pair of stockings, it is very important to get the right fit to ensure proper compression therapy, so we strongly recommend getting a measurement of your legs before purchasing compression stockings.
Compression Pumps are a great choice for those who may require a more concentrated, home-based therapy option. In utilizing a specially-designed sequential compression technique that mimics the lymphatic system by moving lymphatic fluid through the body, these 4- and 8-chamber pumps help many patients live a much more comfortable life. When choosing a compression pump, some important factors to consider are pressure, cycle, and garment. Some patients, like those with excess edema or brawny tissue, for instance, may require a pump with an alternating pressure feature, and it's important to note that not all pumps offer this flexibility. Certain pumps also offer rapid cycle times, which have been proven to accelerate wound healing. Likewise, the type of sleeves you choose can make a huge difference in the success of your treatment as well. Some newer devices may offer the choice of bilateral compression, such as the ability to decongest certain vital areas, such as the arm or pelvic areas.
Compression Therapy Patient Applications
Use Compression Pumps for: preventing deep vein thrombosis (DVT) , applying gradient pressure to circulate the blood flow, and reducing the swelling of legs or arms through active pump pressure.
Use Compression Stockings for: wearing on the legs and arms to stimulate circulation, prevent foot and leg swelling, and to protect sensitive skin.
Inspired by your history...