Farrow Compression Wraps for Arms, Thighs, Legs, & Feet
JOBST FarrowWraps are adjustable compression garments designed to provide relief for varying levels of edema and lymphedema, help reduce limb swelling, and promote healing of venous leg ulcers. Farrow compression wraps offer several levels of compression. They are made with a sturdy, multilayer material so users can easily and independently apply without the assistance of a healthcare provider. These compression garments achieve consistent, gradient compression through smart elastic short-stretch bands that overlap from the bottom to the top. The garment is applied at or near end-stretch to ensure graduated compression.
Farrow Compression Wraps: Enhanced Confidence and Comfort
These wraps are available in a variety of styles and sizes to meet a wide range of needs. The garments are adjustable, which can accommodate fluctuating edema levels and enable those with lymphedema and other conditions to manage their own care. The hook-and-loop system makes for easy donning and doffing, giving users the independence to apply the garment without assistance.
The wraps utilize short-stretch technology, which delivers a low resting pressure and a high working pressure. This creates a massaging effect when the person wearing it is active, producing an increase in lymphatic return.
How to Choose the Right Wrap
These wrapping compression garments are available in varying compression levels, sizes, and styles. See the guide below to determine the best garment for various compression needs.
Class II Compression: 30-40 mmHg
Class I Firm Compression: 20-30 mmHg
Conditions
Moderate to severe edema and lymphedema: With Class II 30-40 mmHg compression, the STRONG, BASIC, and CLASSIC wraps are indicated for moderate to severe edema and lymphedema.
Mild to moderate edema and lymphedema: The LITE version features Class I compression, making it ideal for mild to moderate edema and lymphedema.
Neuropathy: The LITE wrap offers light, gradient compression that keeps blood flowing in the right direction, helping soothe the "pins and needles" feeling from neuropathy.
Peripheral vascular disease (PVD): The LITE wrap can work well with mild cases of PVD, increasing blood flow in the affected limb. Please consult a doctor before beginning compression therapy for PVD.
Lipedema: The STRONG version can help with managing lipedema by reducing swelling and the pain that usually comes with it.
Chronic venous insufficiency: The STRONG, LITE, CLASSIC, and BASIC wraps all work well with chronic venous insufficiency, helping to reduce swelling and uncomfortable symptoms.
Heavy and swollen legs: The STRONG, LITE, CLASSIC, and BASIC can all provide relief for heavy and swollen legs, helping promote a more active lifestyle.
Venous leg ulcers: The STRONG, LITE, CLASSIC, and BASIC aid venous return to provide relief for venous leg ulcers.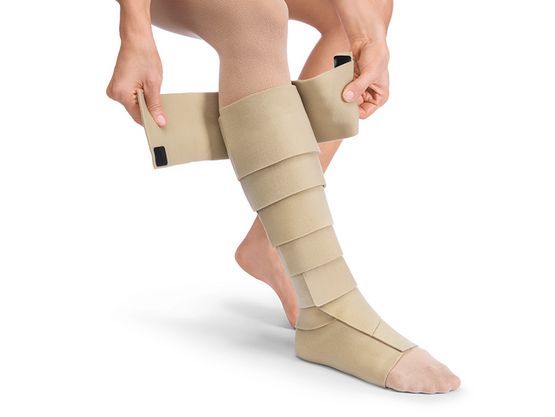 Irregularly Shaped Limbs
The durable, rigid fabric of the CLASSIC design works well with irregularly shaped limbs, and it is designed to sit flat against skin folds without digging into the skin. The STRONG wrap is ideal for minor skin distortions and folds.
Pediatric Users and Sensitive Skin
Made with a double-laminated fabric that is resilient and soft, the LITE is recommended for pediatric users and those with sensitive skin.
You might be interested in...