Suction Tubing
Suction Tubing connects to aspirators and other medical instruments used for extracting or evacuating body fluids and debris. The suction connecting tube comes with universal female connectors for a secure fit to be compatible with multiple medical units and a Yankauer Suction Tip. Suction machine tubing is clear for visibility during the procedure. Choose from a variety of diameter and length options. Some of the bulk suction tubings are marked to allow for cutting to the desired length.
Suction Machine Tubing Uses
Suction Tracheostomy Tube - clears the secretions in the airway for patients with a stoma and trach tube.

Suction Aspirator Tubing

- is used for respiratory care and connects to an aspirator compressor with a collection canister like the

Schuco-Vac S330A

. This aspirator creates controlled suctioning and is versatile for respiratory, dental, and general drainage medical procedures.

General Medical Suction Tubing

- allows for proper drainage during surgical procedures, including liposuction, thoracic, and gastric drainage.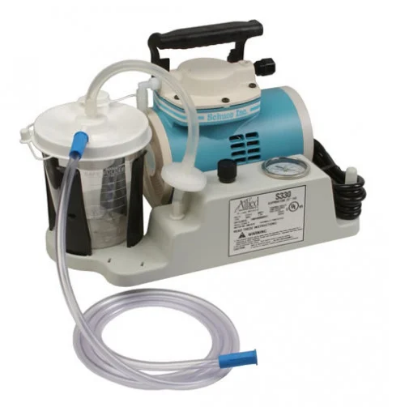 Frequently Asked Questions FAQs
How often should suction tubing be changed?
The tubing and suction catheter is recommended to be replaced every 24 hours.
How often does a patient require tracheostomy suctioning?
Suctioning is performed whenever the patient is unable to clear a secretion or is having difficulty breathing.
Is tracheostomy suctioning a sterile procedure?
Tracheostomy suctioning doesn't require sterile techniques but it requires clean practices. There are sterile suction tubing for patients with a compromised immune system.
Complementary Supplies for Suctioning:
Suction Connection Tubing
Yankauer
Medical Gloves
Mask
Suction Machine
Protective Procedure Gown
You might be interested in...