Suction Canisters
Suction Canister Uses
Suction Canisters are fluid collection and tracheostomy accessories that work in tandem with an Aspirator Machine and tubing to hygienically collect aspirated body fluids, such as mucus, from a patient. They are typically made of plastic and are a safe way to lock collected fluids away in a closed system. They also often include measurement lines so caretakers can track the amount of fluid suctioned. These items come in both disposable and reusable varieties. These items are used by attaching one end of the tubing, such as the Cardinal Health Argyle Rigid Yankauer Suction Tubing to the patient and the other end to the suction machine. Negative pressure draws fluid away from the patient's body and into the canister.
Types of Suction Machine Canisters
Hydrophobic Filter Canisters
These canisters filter microorganisms and debris out of the fluid. This helps prevent the entrance of bacteria and debris into the pump and machine, which in turn can help prevent damage. One such example is the Universal Suction Tubing and Filter Kit, an item that also comes with a unique shut-off lid to prevent fluid from entering the aspirator.
Disposable Suction Canister vs. Reusable Suction Canisters
These items are typically made out of a hard or semi-rigid disposable plastic so caregivers can easily remove the entire object and dispose of it in just one step. However, reusable options are also available. These canisters come with soft, disposable liners that are removed from the inside of the hard canister. Both of these options allow caregivers to get rid of the collection canister without coming into contact with the removed bodily fluids.
Rigid, Semi-Rigid, and Soft Canisters
Disposable rigid canisters require minimal additional hardware, while reusable canisters require liners. The rigid containers are the sturdiest of the canister options. Semi-rigid liners are more economical and are made with less plastic than rigid canisters. They are sturdy, yet lightweight. Some brands, like the Medi-Vac Guardian Suction Canister System, are stackable for easy storage that takes up less space. Finally, flexible liners are the most cost-effective, but least sturdy of the canister for suction machine options.
Suction Canister Setup
Set up of these products is easy. Click the lid over the canister body and ensure it is secured tightly. Place it inside of a holding bracket to stabilize it and prevent spills. Attach the machine tubing and then the patient tubing. Ensure that all tubing is secure. Turn the suction on and then suction the fluids that need to be suctioned.
These are general guidelines and may not apply to every machine. Always follow the specific installation instructions that come with the purchase of the suction machine in question.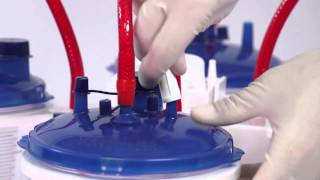 Frequently Asked Questions
How often can a patient be suctioned?
Suctioning a tracheostomy patient too frequently can lead to increased mucus build-up. Regular suction times include in the morning right after the patient wakes up, at night right before bed, before meals, and before going outdoors. In addition, be responsive to the patient and their condition. Suction anytime the patient has to work to breathe or when the patient hears or feels mucus rattling in their airway or the tubing. Suctioning more often than under these circumstances is likely superfluous.
How often should suction canisters be changed or emptied?
These items should be changed out at least once every twenty-four hours or whenever it becomes visibly soiled. If the canister is reusable it should also be thoroughly washed along with the tubing according to the manufacturer's instructions.
How is a suction canister installed onto a wall?
Wall mount brackets for suction canisters can be purchased online. Instructions specific to the mounting device purchased (such as this Suction Canister Holder by Allied Healthcare) should be included with the product. Refer to these. If instructions are misplaced, they likely can be found online as well.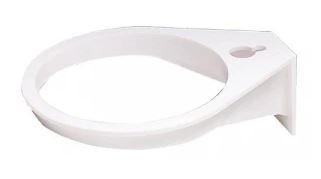 Sources
You might be interested in...