3 Wheel Electric Scooters
3 Wheel Electric Scooters for adults are know for their swiftness thanks to its narrower front-end. The single-wheel found in the front of three wheel electric scooters helps the scooter move through tight spaces, making it a better option for adults who are on-the-go.
Visit the Important Factors Section
Best Selling
Lowest Price
Best Features
Important Factors to Consider When Purchasing A 3 Wheel Electric Scooter
Choosing the right 3 wheel scooter depends on these three factors:
Usage: Consider whether you are using these for indoor, outdoor, or ATV-style terrain. How you drive matters too. Consider travel speed, turn radius, ground clearance.
Comfort: choose the seat size that is right for you from petite to bariatric.
Style: brand is a factor for some too. Each brand has its own unique style and flair. Choose the one that is right for you.
Whether some or all of these factors measure into the final decision, 3 wheel electric mobility scooters that are available today will cover every possible need.
Usage: These 3 wheel electric scooters for adults have the ability to be used for distance travel; many can go to 40 miles or more. 3 wheel scooters can be used indoors or outdoors thanks to their thick tires and wide base at the back of the vehicle, essentially turning it into an All-Terrain Vehicle. The EW-36 has the ability to travel up to 45 miles on a full charge, making it a perfect indoor/outdoor vehicle for active people.
Travel Speed: There are several speed options to mull over when choosing which three wheel mobility scooters is best for a person's needs. Many available scooters, such as the Ventura, are able to go as slow as 5 miles per hour. Others, like the Mobility Scooter EW-38 can go as fast as 15 miles per hour. Many of the other electric 3 wheel scooters for sale can vary in speed control, being able to travel anywhere between 5-14 miles per hour. The various speed options available will help you make a solid decision on which scooter to purchase.
Turn Radius: One of the main reasons a three-wheel scooter is a more popular choice is because of its tighter turn radius. A good mid-range scooter option is the Prowler 3-Wheel Mobility Scooter. With a turn radius of 50 inches, the scooter can get around relatively tight areas for a quick turnaround when needed. One popular scooter with a tight turn radius is the Mobility Scooter Stand n Ride EW-18. With a turn radius of a mere 22 inches, this tight-turning scooter is able to quickly and safely turn around without feeling like the rider is being tossed around. Most other scooters have a turn radius ranging between the two extremes. Finding what works for the rider will go far in determining which three-wheel scooter is right for them.
Ground Clearance: Having the right ground clearance on an electric three wheel scooter is important, especially if you have some obstacles in your path. Selecting the right scooter with the ground clearance needed is just as important as choosing from any other feature. The Xtra Scooter has a ground clearance of only 2.5 inches, which is perfect for smooth surfaces and thresholds. By comparison, the Prowler 3-Wheel Mobility Scooter has a ground clearance of 5 inches. Other 3-Wheel scooters have different ground clearances. Knowing or preferring a ground clearance can go a long way in determining which three-wheel scooter to choose.
Seat Size: Scooter seats come in all sizes. No matter the width, length or depth, many three wheel scooters for adults will have the right seat size for a comfortable fit. A smaller seat size is available on the Spitfire EX have a 17-inch width and a 16-inch depth, giving smaller people a more comfortable ride.
Brand Name: Sometimes the only thing that matters for the user is the brand. Drive Medical, a trusted medical product manufacturer, also has a series of three-wheel scooters that are stylish, practical and useful. Another popular brand is eWheels, makers of several scooter styles that can be customized based on the model purchased. For a slimmer-modeled scooter, look for Zipr Mobility. They offer a sleek array of power scooters.
The options are limitless when narrowing down the right scooter for you. To help you make the best choice for your needs, we have supplied a comparison chart below.
Comparison Chart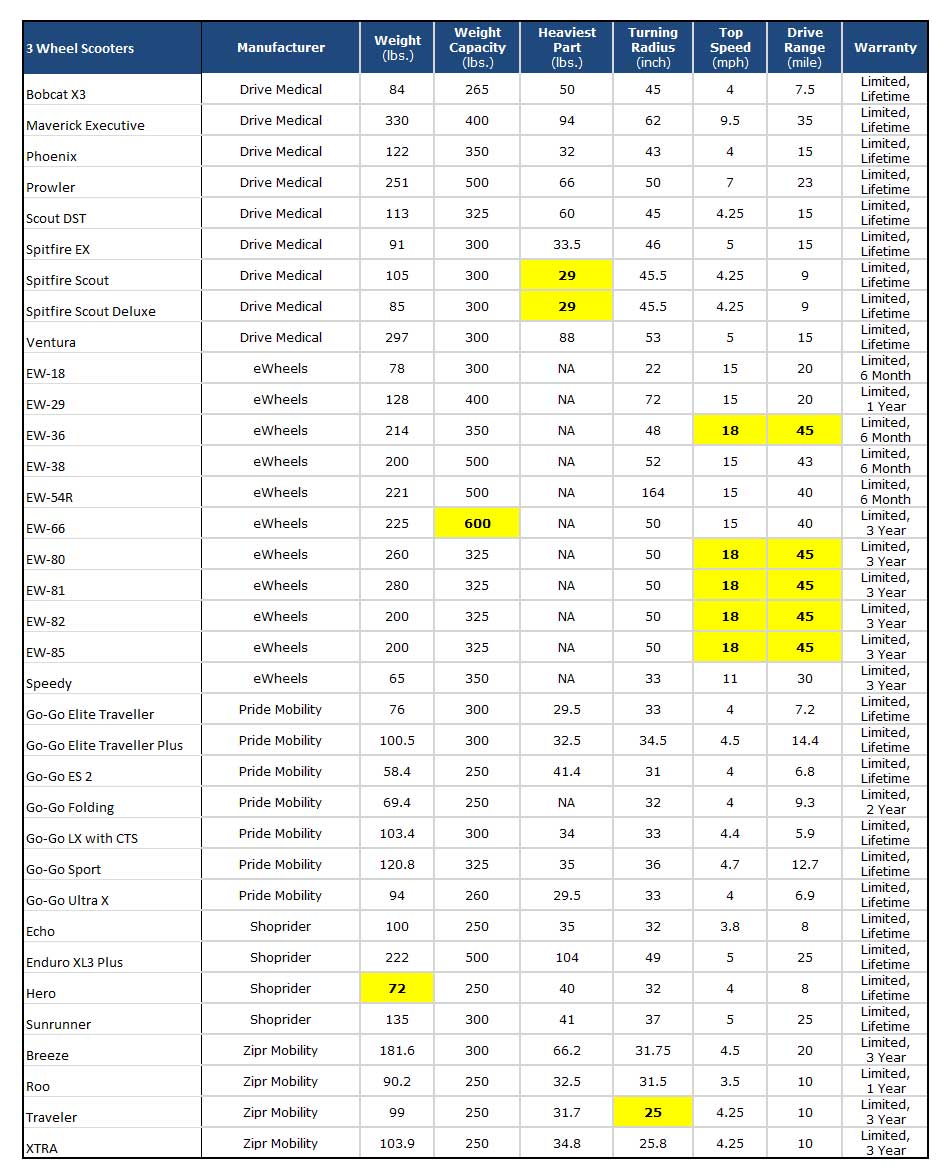 You might be interested in...