Upright Walkers
Upright walkers are designed to address the problems with conventional walkers, such as slouching, user confidence, and the risk of falling. Unlike conventional walkers and rollators taht cause the user to hunch over and put pressure on the wrists, upright walkers support the user in a secure upright position that ensures better posture. Additionally, upright walkers place the users forearms on ergonomic armrests with handles that exponentially reduce pressure on the wrists and back. Standing upright helps with user activity, engagement, and overall confidence. Select from a range of upright walkers for sale.

Benefits of the Upright Method
Mobility aids are necessary for a wide range of individuals. What isn't necessary is the side effects of slouching and putting pressure on the wrists and back. Upright rollator walkers enable users to stand upright with improved posture while providing additional support, stability, and safety through stable armrests and handgrips. The upright position of the walker and dispersed stability that the armrests provide work together to allow users to be more active and walk farther with less effort. On top of a more natural and ergonomic walking experience, upright walkers support confidence by enabling the user to stand tall and face the world.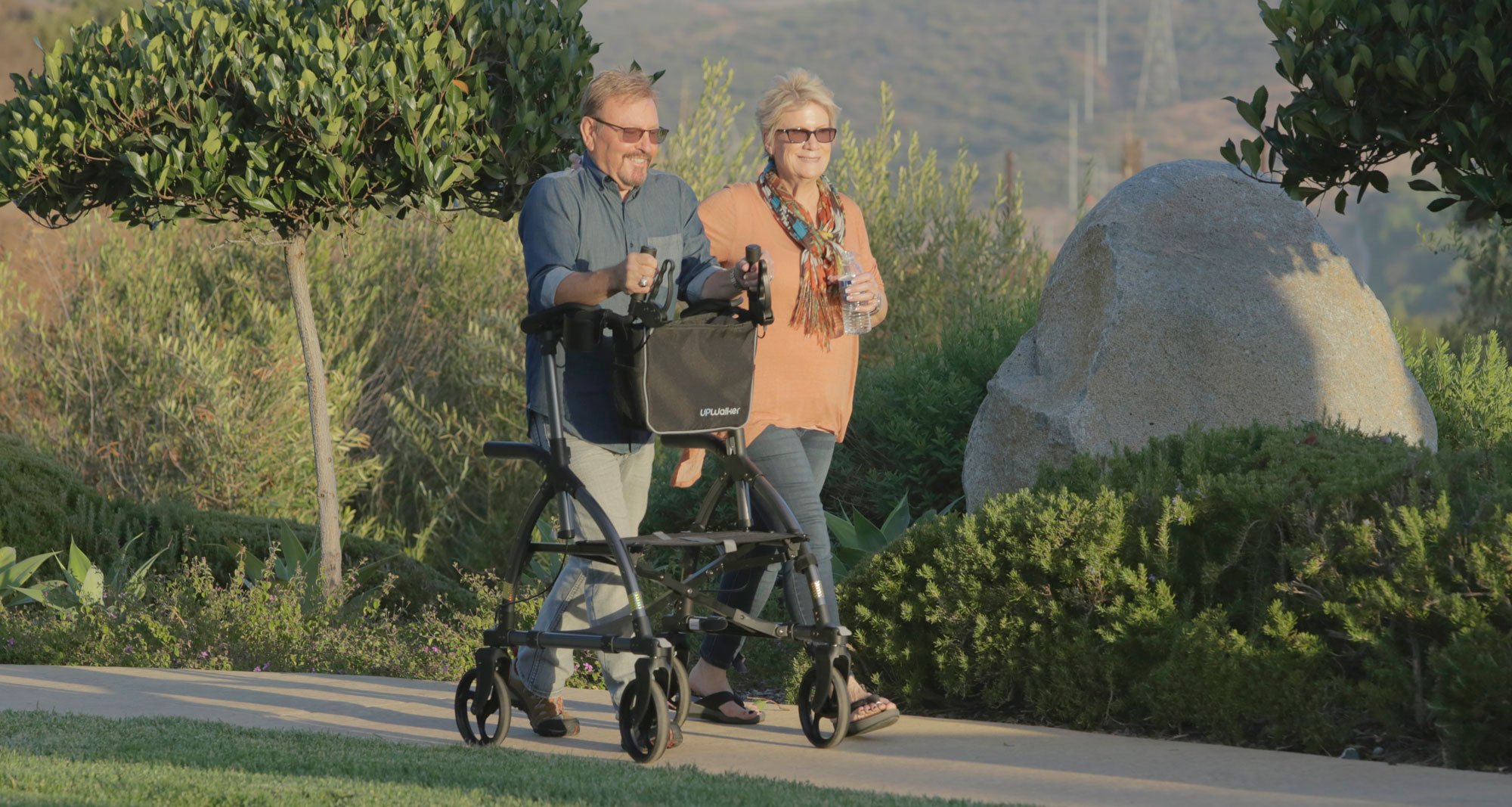 Who Should Use an Upright Walker
Users who experience discomfort, fatigue, joint or muscle pain while using traditional rollators or walkers may benefit from the upright design. Stand up walkers with seats can help users dealing with minor to moderate immobility. With properly positioned armrests and handgrips that include brakes, stand up walkers can help a wide range of users correct their posture while benefitting from mobility support. Additionally, users who experience fear of falling may benefit from the added stability and security that upright walkers provide.
Upright vs Conventional Walkers
Upright walkers for adults allow users to walk in an upright position in a more secure manner than with conventional walkers. This upright position gives the user more freedom and independence to move as they wish and walk for extended periods of time without experiencing the back pain and fatigue associated with traditional rollators. Upright walkers have armrests that connect to sturdy handgrips. This design helps reduce back, wrist, and lower limb pain by keeping the user in a secure, natural, and stable position. With an adjustable height, upright walkers for seniors can provide the exact fit and positioning for healthy walking. By design, conventional walkers position the user toward the ground with an arched back and unnecessary pressure on the wrists. Stand up walkers for seniors allow users to face the world by providing a natural walking position.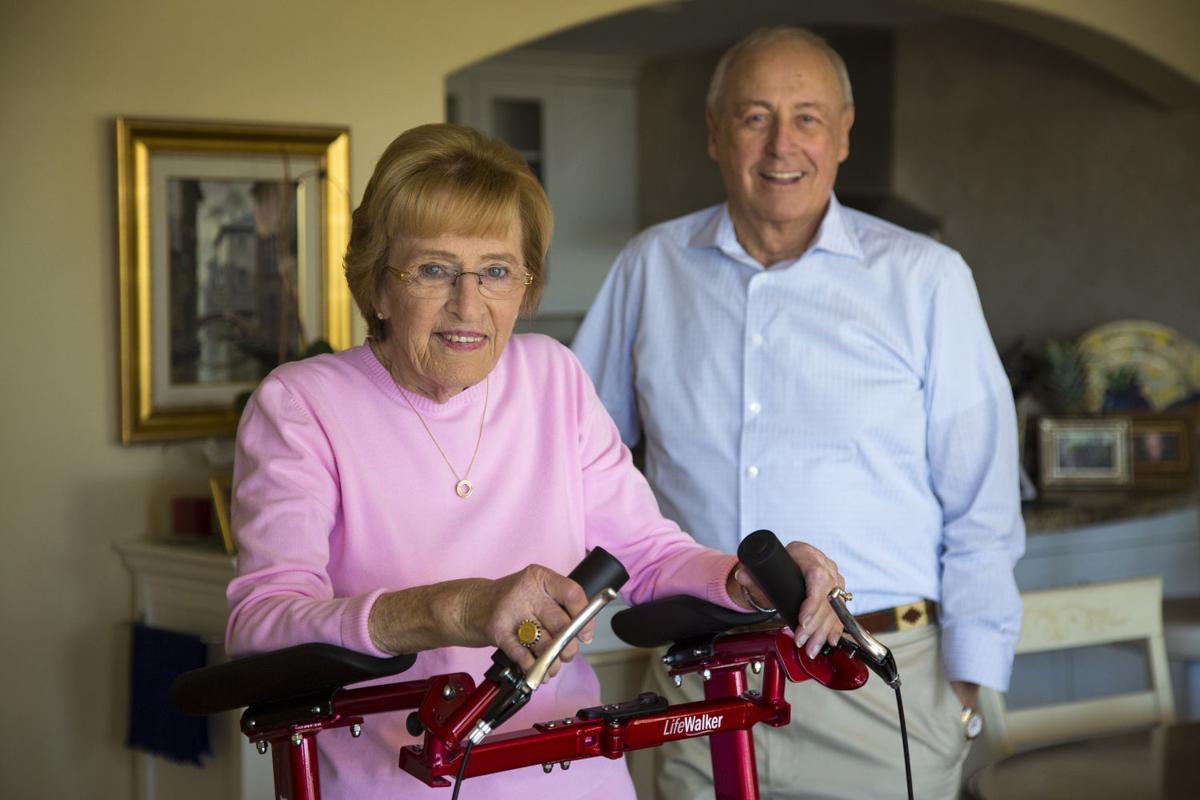 Frequently Asked Questions (FAQ)
Q: Are upright walkers safe?

A: If the instructions of the upright walker are followed, these mobility aids are safe. Upright walkers should not be used by individuals with extreme immobility.
Q: What are the benefits of an upright walker?

A: Upright walkers are designed to keep users in an upright position while providing support that reduces the wrist and lower back pain associated with traditional rollators.
Q: Are upright walkers more difficult to use than standard walkers?

A: Stand up walkers are made to provide more support while simplifying the walking process. It is more important to follow directions with upright walkers due to the importance of positioning. However, once the walker is adjusted to the proper position, these walkers are a breeze to use!
Q: How are upright walkers used?

A: Upright walkers have an adjustable height to ensure exact positioning depending on the user. The user rests his or her forearms on the armrests and grabs the handgrips to achieve stability. In an upright position, the user can then walk while the four wheels take care of the rest. The handgrips include brakes to provide additional safety and autonomy to the user.
Q: Where should the arms be positioned when using an upright walker?

A: The user's arms should rest on the armrests at a 90-degree angle. This position helps maintain an upright posture and gives the user the necessary stability for safe walking.
Other Walker Options
Upright walkers may not be the best option for everyone. The traditional rollator design is a better option for users who can maintain balance on their own but prefer to rest from time to time. Some individuals may be better suited for a gait trainer, which is a type of mobility aid that assists people who needs to learn or relearn how to walk safely and efficiently.
You might be interested in...