Updated: January 5, 2022
What Makes the UPWalker Stand Out from the Crowd?
For decades, those with limited mobility have had only one general design option when it came to walkers; an option that forces them to lean and hunch. The issues people with limited mobility face when using everyday walkers, such as poor posture, instability, fear of falling, lack of confidence, reduced independence, and back and wrist aches and pains, hit close to home for UPWalker creator Dave Purcell as he watched his aging wife wrestle with the difficulties presented by those old-fashioned devices. Both the UPWalker and UPWalker Lite are industry game changers because they were the first walkers to allow their users to walk like everyone else: completely upright. By standing erectly, many owners of these stand-up walkers have reported that they not only feel better physically when using an upright rollator walker, but that they also feel safer, more secure, and more confident in their ability to walk. Many have even found they can walk longer distances and for longer durations of time with less effort. As one satisfied customer said, "We have that freedom back. It has given us our life back."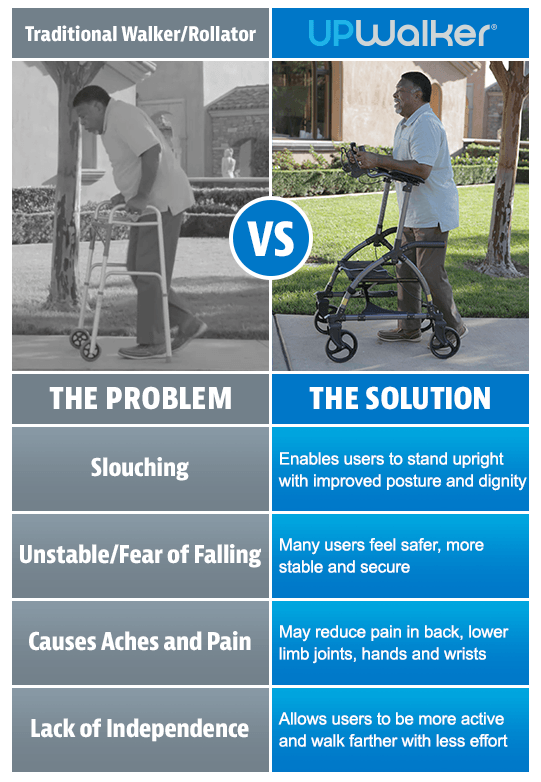 Winner of the 2017 Spine Technology Award
Every year, RRY Publications and Orthopedics this Week give the Spine Technology Award to spinal technology innovators "based on originality, clinical relevance, and likelihood that (the) technology can improve standards of care." The panel of judges includes both venture capitalists who have experience with spinal care devices and leading surgeons from diverse fields that include specializations in everything from robotics research to minimally invasive spine care. In 2017, this panel of experts presented the UPWalker with this distinguished award at the Annual Meeting of the North American Spine Society.
The Top 5 Benefits of the UPWalker Upright Walker
1. Finally, a Walker that Communicates Dignity
Owners of the UPWalker (as seen on TV) and UPWalker Lite have an experience unlike any with any other walker or rollator. With other walking aids, patients have to bend and move forward awkwardly and unnaturally and it can be difficult to pay attention to their surrounding environment. Poor posture in any situation can often communicate unwanted messages to those nearby. With UPWalkers, instead of slouching over their walker, people can stand tall and look friends, family, and passersby in the eye. They won't miss a smile or greeting as they commute from one destination to another. The upright stances of the owners of these walkers can create countless positive social outcomes and benefits. For example, grandparents may be able to easily watch their grandchildren play at the park as they stand upright and young people can more easily play with their friends and siblings. These walkers can even help some dads with limited mobility due to degenerative diseases or other factors walk their child down the aisle on their wedding day.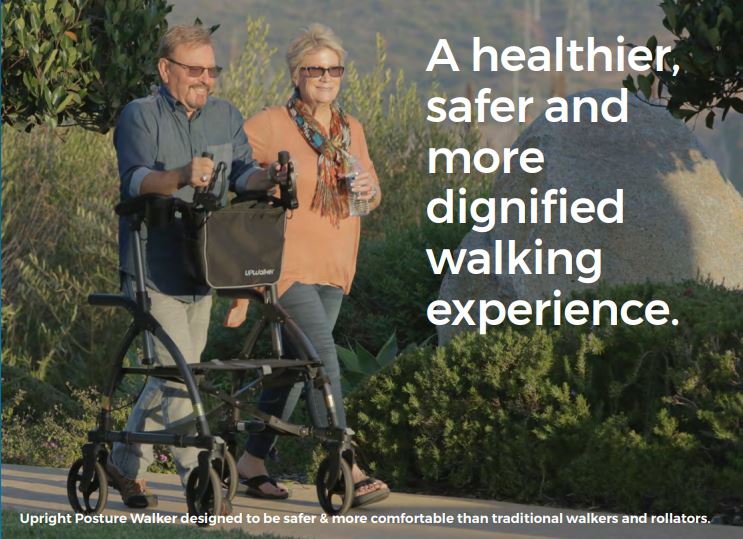 2. Structured Sensibly for Stability and Safety
The UPWalker's patented design includes an extra-wide, durable aluminum alloy base that was carefully engineered for weight balance and ultimate stability. Attached are four wheels that can slide over a variety of terrain types, even in outdoor areas. These walkers are even quality, consistency, and safety certified for both indoor and outdoor use by the ISO (International Organization for Standardization). In addition to its reliable foundation, this walking aid includes elbow-high armrests and comfortable to grasp handgrips with attached breaks that allow its user to comfortably rest their arms for increased stability, balance, and comfort. These armrests contour to the forearms and are adjustable to reach perfect elbow height for almost any user. Many owners have said these upright walkers for seniors and people with disabilities felt more durable and safer to use than other walking aid devices they had used in the past.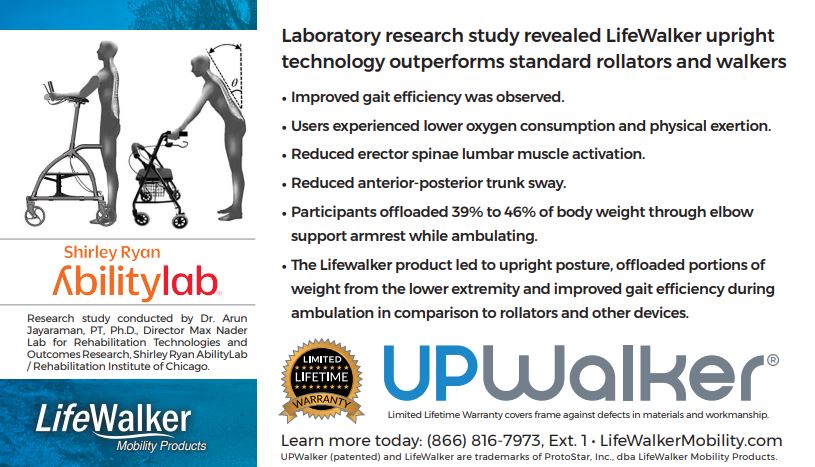 In addition to these key safety features, UPWalker includes an integrated 18 x 10-inch seat. If the owner feels exhausted or even woozy or unbalanced after exercise, a long day of shopping with the spouse, or any other tiring activity, they can sit for as long as needed for a well-deserved rest. Wheel brakes and a backrest supply stability so the person can truly relax until they feel completely recharged and ready to go. Finally, this upright walker with seat also includes sit-to-stand handles to promote safety as the person comes back into a standing position.

3. Optimal Support May Reduce Pain and Discomfort
Hunching puts undue stress in all the wrong places in the body. It shortens muscles in the front shoulder and chest areas and overstretches and weakens the back shoulder muscles. Poor alignment and muscle tension in the neck, shoulders, back, and chest can cause back and neck pain, headaches, poor balance, and trouble breathing. In some cases, bone misalignment can even put pressure on internal organs, which can cause unexpected issues, such as acid reflux, heartburn, impeded digestion, and even stress incontinence. Long term, poor posture can lead to kyphosis (also known as a "hunchback") and scoliosis (a sideways curvature of the spine).
While most walkers are seemingly fashioned to encourage poor posture, the UPWalker series of walkers help people stand and walk tall. In one clinical study supported by the Shirley Ryan AbilityLab, this proved to put less stress on the leg joints and low backs of UPWalker users, which translated to less back pain for some participants. Participants were also found to exert less energy and even consume less oxygen as they walked. Some users of these walking aids have said they can walk at their normal pace instead of being slowed down by their usual walker or rollator.
In addition to the gift of upright postural support, the forearm supports attached to these walkers allow their users to distribute pressure across the forearms instead of solely in the hands and wrists, another area that commonly becomes pained due to the use of everyday walkers. One happy customer said, "I've tried other walkers, but this one keeps me more erect and it takes a lot of the pressure off my back and my knees and my ankles. There's a lot less pain so it makes me want to get out."
For all of these reasons, these walking aids have become a revolutionary tool for clinical rehabilitation. It has been used to help those with diagnoses like cerebral palsy, multiple sclerosis, strokes, spinal cord injuries, and traumatic brain injuries get back on their feet with the help of clinicians. One clinician reported that their patients have better posture, decreased pain levels, increased feelings of security and safety, and an ability to walk further as they relearn how to walk.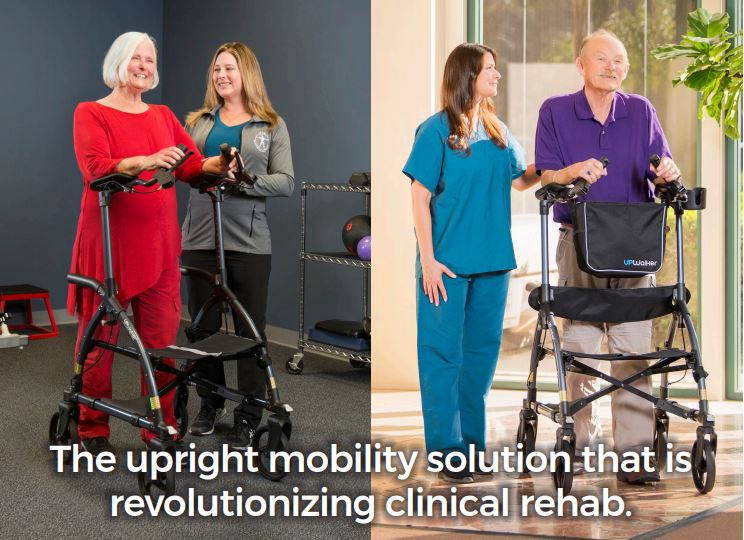 4. Encourages a More Active and Independent Lifestyle
Often when an activity causes pain, discomfort, or anxiety, the person experiencing these stressors quite understandably doesn't want anything to do with it. Some walker users have lamented that the experience of discomfort or fear of instability and potential falls have led them at times to throw in the towel and just stay home. So much of life, including time with friends and family, social events, exercise, and time outdoors with sunshine and in nature (all of which make important contributions to both physical and mental health) might be missed under such circumstances.
UPWalker reviews and testimonials say it all. One woman named Mary says the UPWalker "reduces (her) fear of falling." Her husband, Ron complemented her statement when he remarked, "I had a fear of her falling, she had a fear of falling. So with the UPWalker, we've reduced that fear. It's brought Mary's smile back again…and when she smiles, I smile."
Another satisfied customer, Arlin, said he felt trapped in his own home after being diagnosed with Parkinson's disease, but after using these walkers he stated, "I no longer feel trapped. I have my life back again...the UPWalker gives me the freedom to do what I want to do."
UPWalker user JoAnne says, "What I love about my UPWalker is the freedom that it gives me. I'm no longer trapped in my house. I feel alive again. What a blessing it is to spend more time again with my grandchildren."
Finally, a young man with limited mobility named Todd emphasized that "It's so nice not to be hunched over, I feel more stable." He continued, "The UPWalker has allowed me to be more independent when we go out, compared to a wheelchair, which means both me and my wife get to enjoy ourselves more!"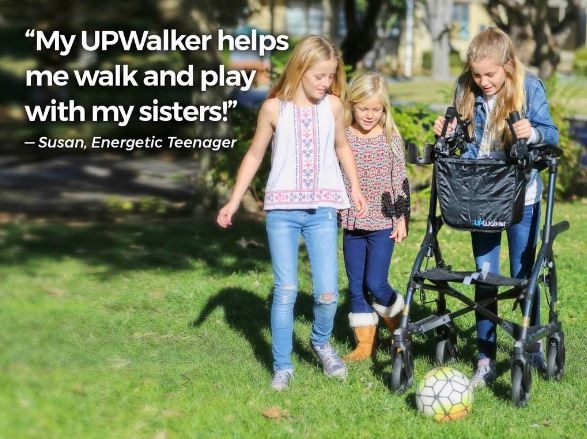 5. Designed for a Perfect Fit
The original UPWalker comes in three sizes so buyers can find the perfect fit for their unique body size. The small size has a frame width of 21.5 inches, the standard 23.5 inches, and the large 25.5 inches. These weigh 21.5, 23.5, and 25.5 pounds, respectively. Though they all weigh less than 26 pounds, all three can hold up to 350 pounds in weight. Another option is the UPWalker Lite, an even lighter-weight version of the original UPWalker. This item is described in detail below under the "UPWalker vs. UPWalker Lite" header. Armrests on every version of this device are adjustable so its owner can find the most comfortable and stabilizing forearm position for their personal needs.
In addition to these essential features, the UPWalker includes three free accessories and can be personalized with numerous other Optional Accessories. Free accessories include a backrest, a personal drink holder, and an attachable bag for storage and safekeeping of personal possessions. Owners can easily prepare for day outings with these bonus items. In addition to these items, owners can customize their walker experience with an umbrella and cane holder, a smartphone holster, a flashlight, and several other types of bag types including high-capacity shopping bags and an oversized luxury personal item bag.

For more information on upright walkers, visit our blog article, Top 5 Reasons to Buy an Upright Walker.
UPWalker vs. UPWalker Lite
The UPWalker Lite shares most features of the original UPWalker, but with a few key differences. Future owners will want to weigh the pros and cons of each in light of their individual wants and needs before making their purchase. Whereas the original UPWalker weighs more (between 21 and 25.5 pounds, depending on the size) so it can provide extra weighted stability for its users, the UPWalker Lite is about 34% lighter. It weighs just 15.5 pounds. It also has smaller, six-inch back wheels that make it easier to turn. These factors combined increase maneuverability. This means that while those who are at a higher risk of fall accidents will want to stick with the original version, those who are frail may have an easier time with the UPWalker Lite.
These design differences also make each option better suited for use in specific contexts. While both can be used both indoors and outdoors, the original version is best used primarily for outdoor and out and about use because it is so well weighed down and has larger wheels for maneuvering over less than smooth terrain. The Lite version, on the other hand, may prove a favorite for indoor use because it is lightweight and has smaller wheels for navigating around corners and tight spaces.
The UPWalker Lite also has fewer of the premium features the UPWalker. It does not include a bar for adjustment of arm position and the armrests do not include an extra-padded cushion. In addition, the handgrips do not have full rotational capability but instead sit at a ten-degree angle and the seat is a fixed seat instead of a sliding seat. While the UPWalker comes in three sizes, its 'Lite' cousin comes in just one standard size that measures 24.8 inches in width and that has a 300-pound weight capacity (as opposed to the standard version's 350-pound capacity). Due to its minimalist, lightweight design, the UPWalker Lite price is less than that of its standard counterpart.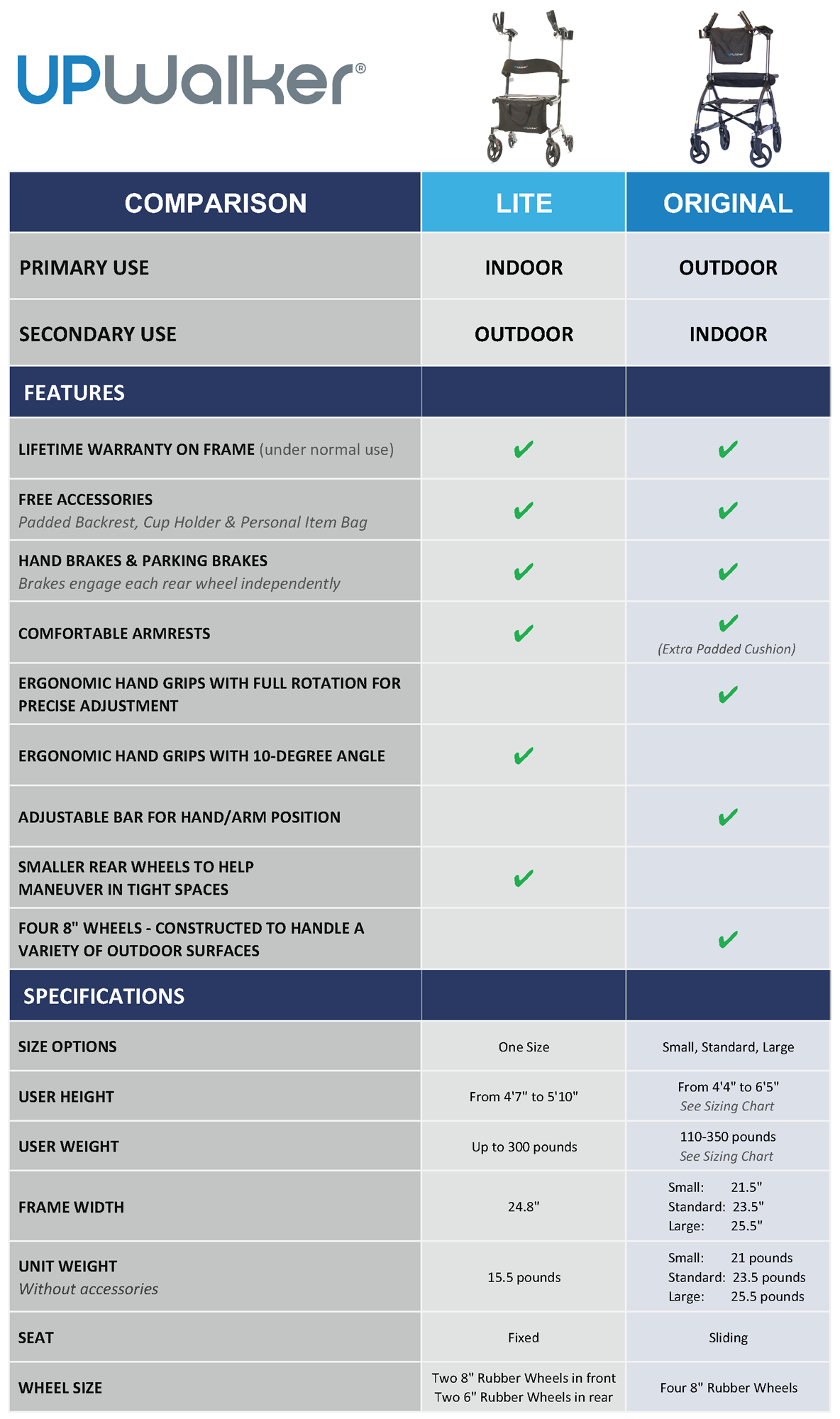 Frequently Asked Questions
Does the UPWalker have a seat?
Yes, this item comes with a fabric seat designed for comfortable rests.
What material are these walkers made of?
The main frames are made from aluminum alloy. Other materials include high-grade polyurethane and composite plastic.
What accessories are included?
Accessories include a backrest, a bag to hold and transport personal items, and a drink holder.
What are the minimum and maximum handle heights?
The original UPWalker comes in three sizes. The small version has a height range of 4'4" - 5'5", the standard has a range of 4'7" - 5'5", and the large has a range of 5'0" - 6'4". The UPWalker Lite has a height range of 4'7" - 5'10".
Is the UPWalker covered by Medicare or private insurance?
This product is not covered upfront by Medicare or private insurance, however, it may be reimbursable. Contact the insurance provider to find out.
What are the return and refund policies for this item?
The manufacturer grants buyers a 30-day satisfaction guarantee period. If an undamaged product is returned within this period, a refund will be granted, but the customer will be held responsible for a $65 restocking fee and shipping costs (this will be subtracted from the refund). The customer will need to contact UPWalker at [email protected] and confirm that the product is not damaged along with the reason for the return before proceeding with the return. In the email, the customer will need to state the reason for the return and The walker must be returned in its original packaging.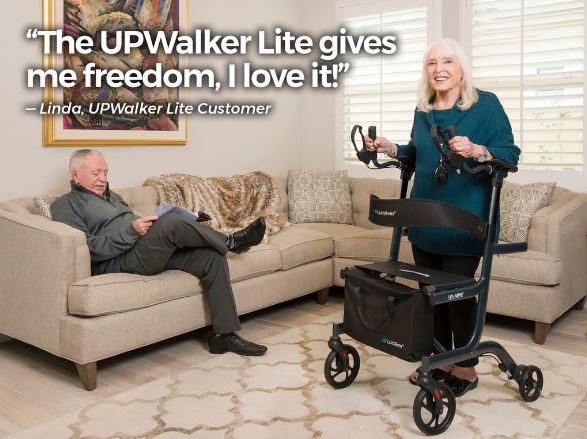 UPWalker Videos
UPWalker Product Intro - 4 Minute Video (4:17 minutes)
Sources