Swipe to the right
Top Ten Best Adult Overnight Diapers
Date: November 16, 2020
By Burt Cancaster

Incontinence imposes a tremendous economic and social burden on society and poses a significant health concern. It affects one out of five seniors. Fear of detection by others is a significant incontinence issue. This fear includes multiple coping strategies by the incontinent to prevent sight, smell, and the occurrence of leaks. Being caught with incontinence while in public is such an enormous burden for many that they begin to avoid public situations. Many seniors find themselves regressing further and further into social isolation to avoid embarrassing moments. It increases the amount of personal care and the cost of supplies to combat public detection. 1
Absorbent products that collect and contain urine and fecal elimination due to bladder and bowel dysfunction constitute a first-line defense. These products form a daily management option for those subject to incontinence. Absorbent products mitigate potential incontinence complications, such as skin irritation, breakdown, and wound formation in the perineal area. High-performance products are vital in supporting individuals dealing with the very stressful psycho-social implications of incontinence. These products are particularly useful in helping people who cannot benefit from other treatments or interventions and therefore remain incontinent. These people include the disabled, elderly, or the very ill. Incontinence product design to meet individual specific needs and lifestyles includes numerous product styles and shapes, different absorption and containment materials, several absorptions levels, and varied product use options. Often incontinence products are combined to meet individual needs. Incontinence products form a continuum of care to treat active and independent users, home care users, and immobile and dependent patients in care facilities. 2
The growth of adult incontinence is alarming. Adult diaper sales now exceed baby diaper sales by more than double. 3 As the population trend continues to move towards an aged census, the use of incontinence products will explode. One of these new trends is the sale of nighttime incontinence products. This article will examine the top-selling products for overnight incontinence, product ranking, features, and advantages they bring to the market.
What are the best overnight adult diapers?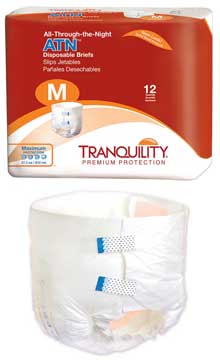 The Tranquility ATN briefs are extraordinary for absorbency. The briefs can contain up to 34 fluid ounces of urine. Most manufacturers of overnight incontinence products do not disclose the absorbency capacity in ounces. Tranquility does! That means these adult diapers can stand up to 6 to 8 hours of wear time. An acquisition layer wicks moisture away from the skin and transfers it to the core. The core retains the liquid, keeping it away from the skin. The user stays dry and comfortable throughout the night.
Advantages
Less garment changing
Inner leg cuffs channel liquid to the core and reduce leaks around the legs
Core prevents bacterial growth
pH neutralization
Wetness indicator notifies caregivers when a change is required
Odor management
Disposable
The Wings briefs are the only quilted garment in the top ten. The quilt design makes these garments strong and resilient. The cloth-like backsheet is ultrasonically bonded to form a quilted look and feel. The design is quieter and more discreet. The soft quilt is gentle to skin. These briefs are easy to slip on and off in public restrooms without having to remove shoes and trousers.
Advantages
Woven briefs that are noticeably softer than competitor brands
Offers heavy absorption
High density core locks in fluid
Neutralizes odors
Provides airflow technology to keep skin dry
Cloth-like outer layer
Resealable tabs
Leg gatherers
Unisex garment
Disposable
These hypoallergenic designed overnight briefs are highly absorbent to get you through the night or a long day. They are compatible with heavy urinary and fecal incontinence. The garment has a 3-layer core that is pH balanced and skin-friendly. A soft textile-like backsheet is comfortable and discreet. Four recloseable tape taps are adjustable to get a snug fit.
Advantages
Wetness indicator equipped
Offers heavy absorbency for extended day or night use
Dermatologically tested
Hypoallergenic
Dual tape closures on each side
Readjustable tabs
Unisex
Disposable
These heavy-duty briefs offer a high absorbency capacity of up to 34-ounces. The side panels stretch to allow for flexible movement and greater comfort. The side panels are also breathable to allow heat and moisture vapor to escape. Inner leg cuffs channel fluids to the core to prevent leaks. The cloth-like outer layer is discreet, eliminating rustling noise while walking.
Advantages
Neutralizes urine pH
Manages odor
Inhibits bacterial growth
Protects from 6 to 8-hours
Micro-hook closure tabs that grip anywhere on the outer layer
Allows for multiple re-openings or repositioning
Accommodates large sizes of 64 to 94 inches
Unisex garment
Disposable
The TENA Supers offer maximum absorbency for overnight protection. The dual-core is a polymer material with elastic leg closures around each leg to direct fluid to the core. Four tab closures are made with micro-hooks and are adjustable to get the perfect fit. The outer layer is cloth-like and soft to the touch. These briefs fit both men and women to provide exceptional absorbency.
Advantages
Wetness indicator
The acquisition layer removes moisture from the skin and sends it to the core
Body contouring
Discreet fit
Curved elastics to prevent leaks
Stretch sides offer additional comfort
Micro-hook fasteners
Breathable outer layer
Odor managing
Unisex
Extended wear time
Rustle free
Disposable
The design of the Stretch Ultras is to provide a secure fit for added confidence throughout the day or night. A moisture-proof lining locks fluid and odor inside the garment to keep it from being noticed. Breathable fabric keeps your skin dry and comfortable for many hours. Absorbent microbeads trap liquids in the core, away from your skin. Hook fasteners are convenient and refasten multiple times.
Advantages
Discreet design
Stretchable comfort
Secure fit
Breathable fabric
Microbead technology
Refastenable hook tabs
Locks in odors
Moisture-proof lining
Dual-core
Body contouring
Unisex
Disposable
These adult incontinence garments are the only ones in the top ten that are not tabbed briefs but are disposable protective underwear. Unisex designed for heavy absorption, these underwear offer pull-on ease-of-use with tear-away seams for simple removal. Elastic leg gathers prevent leaks around the leg openings. These adult pull-ups provide eight hours of odor protection. What are the best overnight pull-ups on the market? Attends Premier Premium Overnight Underwear!
Advantages
High rise briefs for leak security
Full-fit protection
Elastic leg cuffs
Breathable back and waistband
Odor safeguard
Night protection
8-hour service
Unisex
Disposable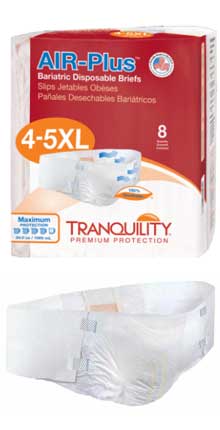 The Air Plus Briefs have microscopic pores that let air circulate to remove heat and moisture vapor. A cloth-like material forms the outer layer for the appearance of regular underwear. The peach-core material has an absorbency capacity of over 32-ounces and keeps liquid locked-in, away from the skin. This design supports large volume urge episodes as well as bowel incontinence. The leg cuffs channel fluid away from the leg openings towards the core. The core also neutralizes urine pH to help protect the skin. These briefs help to lock-in odor and also inhibit bacterial growth.
Advantages
100% breathable
Cloth-like outer layer
Prevents bacterial growth
Neutralizes pH
Leg cuffs channel fluids
High absorbency capacity
Micro-hook tab design
Unisex design
Soft material
Bariatric design for heavy-duty use
Disposable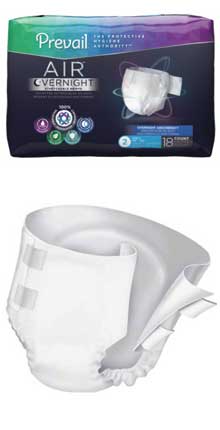 The Prevail Air Briefs provide heavy absorbency with a unisex garment. Tab closure grips and holds anywhere on the outer-layer and unfastens and refastens easily. Stretchable fabric offers a snug fit and better leak protection. The outer-fabric also allows better movement without pinching the skin. A dual-core offers fast absorption and longer wear time.
The breathable outer liner is soft and comfortable
Skin smart fabric
Contains Aloe to soothe skin
Also contains Vitamin E and Chamomile to keep your skin healthy
Offers heavy absorbency
Extended use design
Promotes airflow
Ventilated panels
Contains Dri-Fit cotton
Reduces friction and shearing
Less noise
Maximum comfort
Unisex design
Disposable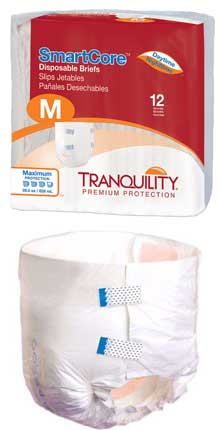 The SmartCore provides innovative technology to absorb more fluid and lock away waste to keep it away from the skin and prevent leaks. It offers a user-friendly waistband and elastic leg cuffs. The garment has a wetness indicator to let caregivers know when it is time to change. The core absorption capacity holds 22 ounces to a full quart of fluid. An integrated wetness indicator allows caregivers a visual of when a change is necessary.
Advantages
Effective for urine and fecal incontinence
Breathable garment helps protect skin
Large absorption capacity
Comfortable leg cuffs
Offers extra protection night and day
Odor protection
Cloth-like exterior
Soft material
Unique core construction traps fluids even under pressure
Nonwoven backing material
Wetness indicator turns color
Unisex design
Disposable
FAQ's
What are the most important features of an overnite brief?
The graphic below displays the most common and important features of an overnight incontinence product.
Top Features

What are the best women's overnight diapers?
The best night time diapers for women are the Wings Super Quilted Briefs. These night diapers provide a host of features that women love. A high-density core with protection in all the right places. A soft, cloth-like backsheet with bonding for a quilted look and feel. This design is quieter and more discreet. It provides better airflow to keep skin cool and dry while minimizing heat build-up. Unpleasant odors stay neutralized in the absorbent core to prevent embarrassing moments. Refastenable tabs allow adjustments throughout the day or night.
What are the best men's overnight diapers?
The best nighttime diapers for men are the Tranquility overnight diapers. Named the All-Thru-the-Night or ATN Briefs, these protective diapers last up to 8 hours. Their design supports an interruption-free night of sleep. Equipped with leg cuffs, these briefs direct fluid to a highly absorbent core with a capacity up to 34-ounces. The briefs neutralize urine pH and inhibit the growth of bacteria to keep skin healthy.
Product Videos
Tranquility SmartCore Review Video (1:49 minutes)
Tena Stretch Overnight Diapers Review Video (1:53 minutes)
Attends Premium Adult BriefsReview Video (2:25 minutes)
Wings Super Quilted Review Video (2:10 minutes)
Footnotes
Medical Studies
Vitality Medical
7910 South 3500 East, Suite C
Salt Lake City, UT 84121
(801) 733-4449
[email protected]
VitalityMedical