Updated: February 7, 2023

Best Toilet Seat Risers Comparison Side-by-Side
Raised toilet seats go by many names, including toilet booster seats, elevated toilet seats, or raised toilets. They look a bit odd to most people. Some might think that they are looking at a pregnant commode. These medical toilet seats support users who have a disability affecting their lower limbs. Their mobility impairment may only be temporary, such as someone recovering from an injury or surgery. The disability may be more long-term, such as aging or arthritis. Sometimes it may be more severe like Buerger's disease, claudication, spastic paraplegia, posterior tibial tendon dysfunction, lumbar spinal stenosis, or a host of other illnesses that affect mobility. They are also often used by wheelchair users as a long-term solution to safely transition from their wheelchair onto the stool and back again.
Toilet seat risers reduce the stress associated with sitting down and getting back up when toileting. The devices fit on a standard toilet, allowing for selftoileting. Increasing the height of the commode can mean the difference between someone requiring caregiver assistance or remaining independent. A study of caregivers that assist aging seniors found that assisting with toileting was a difficult and frequent event.1 A high toilet seat makes the transition on and off the toilet much more manageable and allows user more independence and less dependence upon caregivers. These raised toilets not only make things easier for the user, but they also make transitions safer.
At some point in our lives, we will likely need one of these devices to assist us. How does someone know which one to select? Nine factors are helpful in choosing the right toilet riser--a list of these factors display below.
Product Selection Criteria
Duration – How long will the device be essential for mobility?
Stability – How much support and safety does the device provide?
Discreet – How noticeable is the altered toilet to guests?
Height - How much height is necessary?
Armrest Support – Will using the upper body (arms and hands) be necessary to support transitions to and from the toilet?
Installation – How long does installation take, and what is the difficulty level?
Portability – Will the device need to be portable or frequently removed to allow others to use the toilet?
Maintenance – How easy will it be to clean and maintain the device?
Weight Capacity – How much weight can the device support?
Top Toilet Seat Riser Brands
Carex
Nova
Medline
Essential Medical
Kohler
Lumex
Aquasense
HealthSmart
ProBasics
Rubbermaid
An excellent place to start in the selection process is to examine the best-selling models. Below is a summary of the best toilet risers for sale. They are each a little different than the others. Some attach to the toilet only for temporary use, while others are a permanent installation for long-term service. Each summary below includes the device's pros and cons to help the reader determine the best solution for them. A rank order list of the toilet risers displays below with a comparison chart near the bottom.
#1 Toilevator - (TV300, TVG350)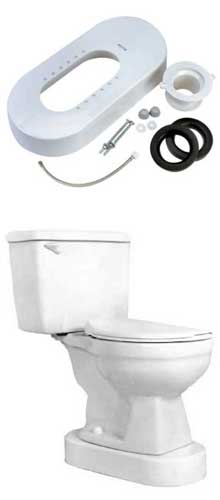 The best elevated toilet seat and the best selling is the Toilevator. This device rasies the entire toilet system from the floor for the most sturdy and safe option available without having to purchase a lift. It increases the toilet height at the base, not the seat. Users can continue to enjoy the use of their standard seat and lid. Guests are not likely to notice the difference in the toilet like they can with the other options. This device comes with all the parts and hardware to raise your toilet to a comfortable and safe height. There is also a Toilevator Grande model for larger base toilets.
Pros
Very sturdy base type device
One of the safest options available
Offers a long-term care solution
Boosts the toilet height by 3.5 inches
If needed, additional height is possible by adding a seat riser
More sanitary solution
Offers better hygienics
Better blending with the bathroom décor than the other options
Less noticeable to guests
Users sit on their actual toilet seat that they customarily sit upon
Compatible for wheelchair users
Fits both round and elongated models
Capacity of 500 pounds
1-year warranty
Cons
Lengthy installation time
Requires heavy lifting to install
Not a portable option
#2 Carex Raised Toilet Seat - (B302-C0)
The best raised toilet seat is the Carex B302-CO. This model is the low price leader. It offers a contoured seat that rests on top of the bowl. The rounded shape is wide to provide greater comfort for the user. The seat adds 5-inches in height above the bowl. Rubber pads fixed to the underside are slip-resistant to help provide stability. The device is lightweight and is easy to lift to clean. This best-selling Carex product supports up to 300 pounds and is an excellent choice for temporary service.
Pros
Lightweight
Durable
Slip-resistant padding
Highly portable
300-pound capacity
Easy to clean
Low price
Cons
Not very stable for some users
Less safe than many other models that lock, latch, or bolt-on
Temporary service
#3 Drive Toilet Seat Riser with Removable Arms - (12402, 12403)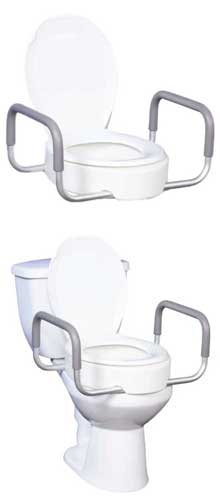 This lightweight device attaches to any bathroom in the house. Its construction utilizes sturdy molded plastic with tubular aluminum armrests that also serve as grab bars. The system bolts onto existing toilets. The armrests come with padded arms for a comfortable experience and attach and detach without tools. Just snap them into place. The manufacturer, Drive Medical, offers a limited lifetime warranty for this device.
Pros
Offers semi-permanent solution
Offers 3.5-inches of height
Lightweight and portable
Includes detachable, padded armrests
Bolts onto existing toilet
Uses existing seat and lid
Comes in two options—standard or elongated
Durable construction
Capacity of 300 pounds
Limited lifetime warranty
Cons
Not as stable or safe as the base devices
Not considered portable
Does not blend well with existing bathroom decor
#4 Medline Raised Toilet Seat - (G30250H)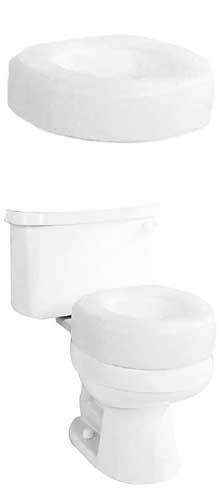 This economy model is easy to install and does not require any tools. It employs nonslip pads inside the lip of the plastic mold for stability on the bowl. It quickly lifts off of the bowl for cleaning and fits most standard toilets. This device supports up to 250 pounds.
Pros
Lightweight and portable
Easy setup and removal
Easy to clean
Offers good temporary service
Provides 5-inches of height
Weighs only 4-pounds
Cons
Not a discreet design
No grab handles or armrests
Not very stable
#5 Carex EZ Lock Raised Toilet Seat - (B30400)
The EZ Lock is a locking toilet seat that fixes to the bowl. It is lightweight and easy to unlock to transfer to another toilet. It adds five inches in height and supports up to 300 pounds. The molded plastic seat is durable and smooth and contours for user comfort. The EZ Lock /ez-lock-raised-toilet-seat.html is also available with adjustable arms. The addition of the armrests provides more stability to the user when lowering or rising from the seat. The padded armrests offer a soft and comfortable grip.
Pros
Smooth, contoured seat
Attached hand grips
Padded armrests for comfort
Lightweight
Adds 5-inches of height
Easy installation
Locking feature adds stability
Offers good medium-term service
Cons
Difficult to clean
Less portable
#6 Medway Easy Toilet Riser – (TRK14.2, TRK19.4, TRK14.4, TRK19.4)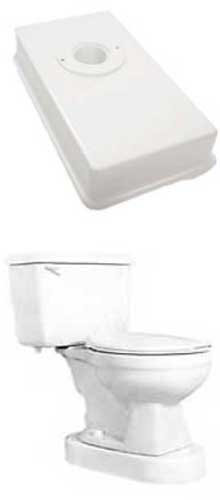 The Medway Easy is a raised base system. It uses the existing toilet system but elevates it at the base instead of at the top of the bowl. It is a discreet design that blends effortlessly with the existing bathroom décor. It provides 2 to 4-inches of rise to reduce the stress of sitting down or getting up. This device supports up to 800-pounds, the highest of the top eleven products. The Medway Easy is available in standard or XL sizes to accommodate larger-based toilets.
Pros
Unobtrusive design
Two height options
Two size options
Safer anchored system
Easier to maintain
More discreet
Reduces sway
More stable
Comes in neutral white and can be painted
Install and forget
Supports user independence
Weight capacity of 800 pounds
Cons
Longer installation time
Requires heavy lifting to install
Not a portable option
#7 Carex Toilet Seat Elevator - (B30600, B30700)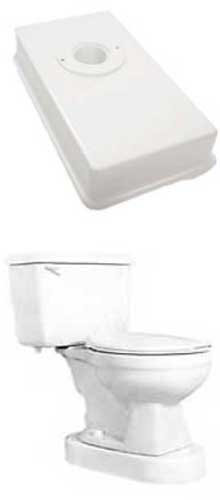 The Elevator from Carex is an elevated toilet seat that comes in two versions—standard and elongated. There is also an option for an Elevator with Handles. It bolts onto an existing bowl to offer 3.5 inches of additional height. Its durable construction is with molded polyethylene plastic that sits on top of the bowl. The Carex Elevator installs with a screwdriver and accommodates the original seat. Its lightweight design supports up to 300 pounds.
Pros
Lightweight, less than 3 pounds
Durable
Bolt-on stability
Capacity up to 300 pounds
Uses existing seat and lid
Medium-term product
Cons
Installation requires tools and time
Difficult to clean
#8 Maddak Extra-Wide Tall-Ette - (F725881000, F725882000, F725891000)
The Tall-Ette is a support frame with an attached toilet seat. Similar to a bedside commode without the pail, this support frame is durable and strong. It comes in three options—no support legs, steel support legs, and aluminum legs. Users can select from a temporary option up to a permanent bolt-on version. The Tall-Ette version with steel legs can support up to 600 pounds making it suitable for bariatric use.
Pros
Freestanding
Available in 3-options—steel legs, aluminum legs, or no legs
Durable
Offers stable support
Adjustable height
Extra-wide
Adaptable to individual needs
Rubberized feet to protect the floor and prevent slipping
Capacity of 400 pounds (aluminum legs) or 600 pounds (steel legs)
Supports bariatric users
Armrest support
Foam covered arms offer soft gripping support
Lightweight at 10 pounds
Adapts to temporary or permanent installation with bracket
Comes with bolt-down Lok-In-El Bracket for extra sturdiness
Easy to remove and relocate
Cons
Bracket attachment option takes more installation time but adds more stability
Challenging to clean when attached to the bowl.
#9 Medline Elevated Toilet Seat - (MDS803318RH)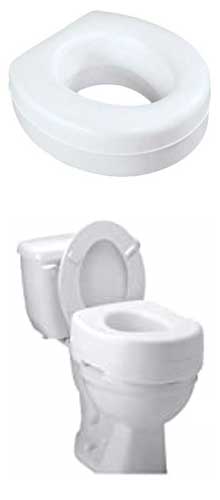 This booster seat attaches quickly to raise the sitting surface by 4.5 inches. It is durable with plastic molded construction that is latex-free. It places on top of the original seat and does not require removing the original seat or lid. This bathroom safety device supports up to 300 pounds and is an excellent option for those who need temporary aid while recovering from surgery or an injury. The Medline Elevator comes with a lifetime warranty.
Pros
Lightweight
Portable
Durable construction
Quick installation
Easy removal
Low cost
Cons
Not as stable as many of the other devices in this comparison
Temporary solution only
#10 Carex Safe Lock Raised Toilet Seat - (B31300)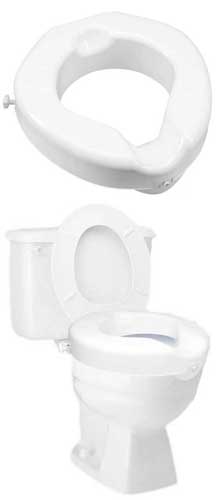 The Safe Lock adds 4.25 inches of height to a toilet. It comes with an attached locking device for a secure setup. It locks and unlocks in only seconds to allow the speedy portability of this device between toilets. The wide opening to the bowl and the contoured seating surface provides additional comfort. It fits most standard toilets and offers easy cleaning.
Pros
Safe Lock system provides stability and safety
Extra-wide seat adds comfort
Locks in place with a Phillips screwdriver
Lightweight and portable
Supports up to 500 pounds
Cons
Not discreet
Requires a tool for installation and removal
#11 EZ-Access Tilt Toilet Incline Lift Seat - (TILT SMDCES, TILT SMDCSS, TILT SMES, TILT SMSS)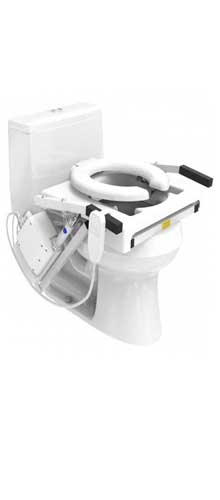 The EZ-Access system supports users with significant mobility loss. This premier bathroom product offers superior service and better support than the other models in the top 11. It is more sturdy and safe. The EZ-Access is a powered lift that gently lowers the user from a standing position to a sitting position. When done, the user activates a power button to gently rise back to an upright position. It serves users with less mobility than the other devices mentioned in this comparison. Users with acute diseases like amyotrophic lateral sclerosis, inflammatory muscle disease, or severe arthritis that make them unable to use any other device often find that this lift system meets their needs. The EZ-Access Tilt offers a 2-year warranty.
Pros
The most sturdy and safe option
Available in standard or elongated
Battery or AC power options
Restores user independence
The safest option of the top 11
Lifts the user to a standing position
Gradually takes the user from standing to sitting
Provides the least stress to the user
Supports natural body movement
Strong and dependable lift
Touch button hand pendant
Desk-style arm support available
Removable plastic shield for cleaning
Installs in as little as 15-minutes
2-year warranty
Cons
Requires clearance on both sides of the bowl
Requires more effort to install
Most expensive option
AC power models subject to power blackouts
Batter power models only support 20-lifts between re-charges
Some steps outlined below may be helpful to narrow down the selection to two or three options. Then, check the comparison chart below to match your needs to the best product that meets your needs.
Determine if the need is temporary or long-term.
Determine if adjusting the height will be sufficient to solve the mobility problem.
Determine if you can install the device yourself or will help be necessary.
Determine if others will need to use the same toilet and if the device will need removal frequently.
Determine how much height is necessary. If more than 5 inches, a combination of two devices may be necessary (base and seat risers).
Top Raised Toilet Seat Riser Comparison Chart
| | | | | | | | | | | |
| --- | --- | --- | --- | --- | --- | --- | --- | --- | --- | --- |
| Rank | Devices | Duration | Stability | Discreet | Height (inch) | Armrest Support | Installation | Portable | Maintenance | Weight Capacity (pounds) |
| #1 | Toilevator | Permanent | Very High | Yes | 3.5 | None | Base | No | None to Easy | 500 |
| #2 | Carex Raised Seat | Temporary | Low | No | 5 | None | Topper | Yes | Easy | 300 |
| #3 | Drive Seat Riser | Semi-Permanent | Good | No | 3.5 | Removable | Bolt-on | Semi | Difficult | 300 |
| #4 | Medline Economy Seat | Temporary | Low | No | 5 | None | Topper | Yes | Easy | 250 |
| #5 | Carex EZ Lock | Semi-Permanent | Good | No | 5 | Optional | Easy | Semi | Difficult | 300 |
| #6 | Medway Easy Riser | Permanent | Very High | Yes | 2 or 4 | None | Base | No | None to Easy | 800 |
| #7 | Carex Elevator Seat | Semi-Permanent | Good | No | 3.5 | Optional | Bolt-on | Semi | Difficult | 300 |
| #8 | Maddak Tall-Ette | Temp or Permanent | High | No | Adjustable | Yes | Freestanding | Yes | Easy | 600 |
| #9 | Medline Elevated Seat | Temporary | Low | No | 4.5 | None | Topper | Yes | Easy | 300 |
| #10 | Carex Safe Lock | Semi-Permanent | Good | No | 4.25 | None | Locking | Semi | Difficult | 500 |
| #11 | EZ Access Lift | Semi-Permanent | Very High | No | Adjustable | Handles | Bolt-on | Semi | Difficult | 325 |
As shown in the toilet seat riser comparison chart above, two models offer permanent solutions—Toilevator and the Medway Easy Riser. These two models are very stable but take the most time and difficulty to install. Four models provide a semi-permanent remedy in that they attach to the bowl to provide increased stability. Two devices offer adjustable height. The first is the Maddak Tall-Ette, a freestanding solution that offers easy cleaning and portability. The other is the EZ Access Lift, the only powered option that provides the most support and stability for users transitioning between standing to sitting and vice-a-versa. The best bariatric toilet seat riser is the Medway, offering 800 pounds of capacity.
There are several good elevated toilet seat choices available to meet individual needs, whether temporary or permanent. For better stability, the tradeoff is less portable. For the best discreet options, the tradeoff is the problematic installation and decreased portability. The discreet options, however, also offer the lowest maintenance and easiest cleaning.
Product Videos
Carex Hinged Raised Toilet Seating Video

(0:35 minutes)

Medway Easy Toilet Riser Video (3:18 minutes)
EZ-Access Lift Overview Video

(3:14 minutes)
EZ-Access Toilet Lift Installation Video

(4:19 minutes)
Footnotes