Drive Medical Premium Seat Riser with Removable Arms - 12402, 12403
TOP Features:
Arms include grips and are removable
Made of heavy-duty aluminum and molded plastic
Arms are removable for flexibility and convenience
Brass push buttons arm removal and addition easy
Both standard and elongated versions available
Installation does not require tools
Fast Delivery

Easy Returns
MPN :
Grouped product items
Item#
Description
Size
Price

12402

Standard Seat w/Removable Arms

Each

List Price:

$60.01

Price:

You Save:

$7.80 (13%)

12403

Elongated Seat w/Removable Arms

Each

List Price:

$68.90

Price:

You Save:

$8.96 (13%)
Description
Who buys this:
People with problems sitting or standing due to weakness in the knees and hips, and post-surgery patients who don't have the strength to sit or stand easily.
Why they love it:
The riser provides enough extra height to make both sitting and standing easier. It's also easy to keep clean.
A raised toilet seat is often a necessity for those who have mobility needs. The Drive Medical Premium Seat Riser with Removable Arms (Drive Medical 12402) takes it further by adding safety handles that are fastened to the side of the seat. The handles and Raised Toilet Seat will make the toilet more accessible for those who have difficulty sitting down and getting up.
This mobility aid is made of sturdy, tubular aluminum and rigid plastic. The arms have a cushiony grip to prevent any slipping. Drive Medical Seat Riser with Removable Arms can be taken off without the use of tools. They are held by a simple, yet strong mechanism that involves a brass push button that allows the arms to slide on and off. The button will pop through the positioning hole when the arms are locked and ready for use.
The toilet seat is constructed of molded, heavy-duty plastic that keeps the product light as well as durable and easy to clean. The construction is so sound that, for the user's peace of mind, Drive gives the product a limited lifetime warranty.
Product Features and Benefits
Removable Arms
Padded Arms for Better Grip
Two Sizes: Standard and Elongated
Arm Holds for Further Assistance
Made of Durable Materials
Holds Up to Wear and Tear
Easy to Clean
Easy to Install without Tools
Users Can Use their Old Toilet Seat
Who Would Find this Product Useful?
Raised toilet seats eliminate some of the distance that must be made to sit down on a toilet. This gives users less room for error and can reduce the chance of a slip and fall. Because this seat also includes optional arm rails with grips, it can provide further support for those who need it. Users with the following conditions often have a higher fall risk and may find this product useful:
Age-Related Reduced Mobility
Amputation
Antalgia
Arthritis
Blood Pressure Irregularities
Cerebellar Dysfunction
Cognitive Impairment
Medication Side Effects
Multiple Sclerosis
Muscle Spasticity or Rigidity
Muscular Dystrophy
Musculoskeletal Issues
Parkinson's Disease
Sensory Deficits
Stroke Recovery
Vision Impairment
Complementary Products
FabSafe Bedside Fall Mat: A bedside mat that cushions at risk users in the case that they fall out of bed. This product is made from high quality foam and comes in both standard and antimicrobial versions.
Posey Fall Management Socks: Soft terry cloth socks with non-slip bottoms. These socks' anti-skid pads create traction to help prevent slips and falls. This product is washable and latex-free.
Posey Cotton Patterned Gait Belt: These patient transfer belts come in 54 and 72 inch sizes and a wide variety of patterns and colors. When used properly, gait belts may reduce the risk of patient falls and injuries.
Frequently Asked Questions
Will this fit an elongate toilet seat?
Yes, an elongated version is available. Simply select this version at checkout.
Does this product come with a toilet seat or a lid?
No, this product does not come with a lid or seat; it is a seat riser. However, it can be used with the toilet seat already on your toilet.
Can his product easily be put on and taken back off again for a visitor?
Yes, this product can be easily removed and replaced. No tools are required for its installation.
How does this product attach to the toilet?
This product sits underneath a regular toilet seat. Both are bolted from the top to the toilet's bolt holes for securement.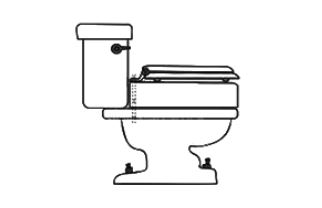 What is the distance between the two handle bars?
There is 19.75 inches between the two handles?
How tall is this seat riser?
This item is 3.5 inches tall.
Can you use a bidet with a raised toilet seat?
These two items typically are not designed to be used together and therefor it is not recommended, but this may depend on the bidet's design.
Product Videos
Drive Medical - Premium Seat Rizer with Removable Arms (1:26 minutes)
Product Specifications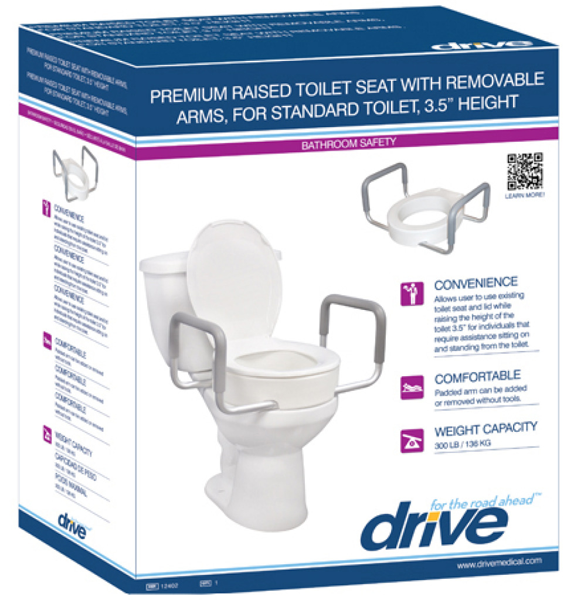 Manufacturer Numbers: 12402 and 12403 (for Elongated Toilets)
Width of Arms: 19.75 Inch
Weight: 3.5 lbs
Weight Limit: 300 lbs
Seat Dimensions (Standard - Drive Medical 12402):
Width 13.75 Inch
Depth 17 Inch
Height 3.5 Inch
Seat Dimensions (Elongated Toilet- Drive Medical 12403):
Width 13.75 Inch
Depth 19.25 Inch
Height 3.5 Inch H
Warranty Information
This product includes a lifetime limited warranty
Manuals and Documents
Sources
Additional Information
More Information

| | |
| --- | --- |
| Manufacturer | Drive Medical |