Toilet Seat Risers & Base Elevators
Overview: How Do Toilet Risers Work?
Toilet Seat Risers are toilet safety aids installed onto an existing toilet to increase the sitting height. It is an excellent way to ease the burden of getting on and off the commode. Toilet seat risers reduce the sitting angle minimizing risk to those who have delicate hips and joints. Also known as a toilet seat extender, this higher toilet platform enhances safety for individuals with limited mobility.
This bathroom assist device lessens the strain on the body making it easier to sit down and get up from the toilet. For increased stability, choose from the selection of raised toilet seats with arms to offer grab handles when user is at greater risk of falling. A toilet seat with handles not only increases safety and stability when getting up and down, but it also increases the user's confidence and promotes independence.
Who Can Benefit from a Toilet Riser?
Delicate Hips and Knee Joints
Arthritus
Individuals with Limited Mobility
Arthritis
Severe trunk flexion
Amyotrophic Lateral Sclerosis (ALS)
Inflammatory Muscle Disease (IMD)
Knee Joint Pain
Hip Joint Pain
Weakened Leg Muscles
Injury or Surgery Recovery
Options: How to Make a Toilet Seat Higher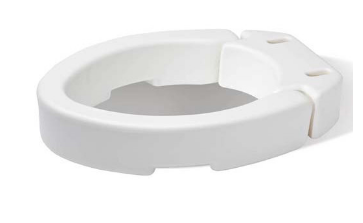 Toilet Seat Riser takes the place of the original toilet seat to boost the height 2 to 6 inches. Elevated toilet seats offer tool-free assembly and are removable for portability when traveling.

Toilet Riser is permanently installed to the toilet base to create a fixed and immobile toilet riser. It is very discreet and blends in with the bathroom decor. The original toilet seat is maintained, therefore it is more sanitary than a seat riser that is bulky and has a larger surface area to clean.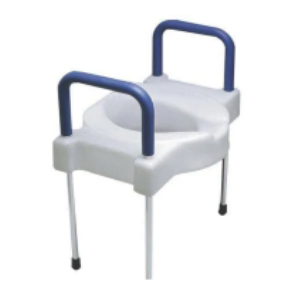 Elevated Toilet Seat Chair eliminates making changes to the existing toilet. Simply place this toilet seat chair directly over the toilet bowl. It's also lightweight to move around as needed.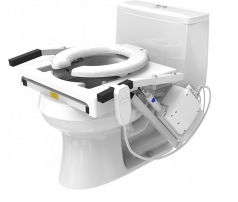 Mechanical Toilet Seat Lift is battery-powered to gently raise and lower the seat to the desired angle. Since it mimics natural body movement, the user is gently lifted without straining the joints.
Measuring To Get The Right Fit
Toilet Seat Riser: Measure inside the toilet bowl from back to the front. Elongated toilet bowls are greater than 18 inches and have an oval shape. Standard bowls are round and will be less than 18 inches.
Toilet Riser: Measure the bolts at the base to determine the riser size. The riser kit is anchored and comes with a kit containing wax ring, bolts, nuts, and washers.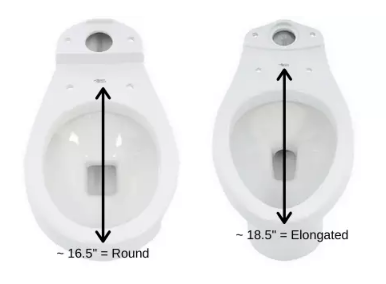 Frequently Asked Questions (FAQs)
How high are raised toilet seats?
Height options range from 2 to 6 inches to accommodate a variety of sittng heights and toilet heights.
Are toilet seat risers needed after hip surgery?
A riser is recommended to help with recovery following hip replacement because it prevents the knees from being higher than the hips when sitting.
What shape is the toilet bowl - round or elongated?
To determine which shape is is, measure inside the bowl from the front to the back. Round bowls are typically 16-1/2 inches or less. Elongated bowls are deeper at 18-1/2 inches.
Inspired by your history...