Toilet Lift Seats
Toilet Lift Seats, also known as Commode Lifts, Toilet Lift Chairs, and Toilet Seat Lifters, are mobility products for home bathrooms. These devices support patients while transitioning from a standing position to a seating position or from a seating position to a standing position. These mobility solutions mimic the natural movement of standing up from a seated posture. Below are quick links to important sections of this webpage.

Anatomy of a Toilet Lifting Device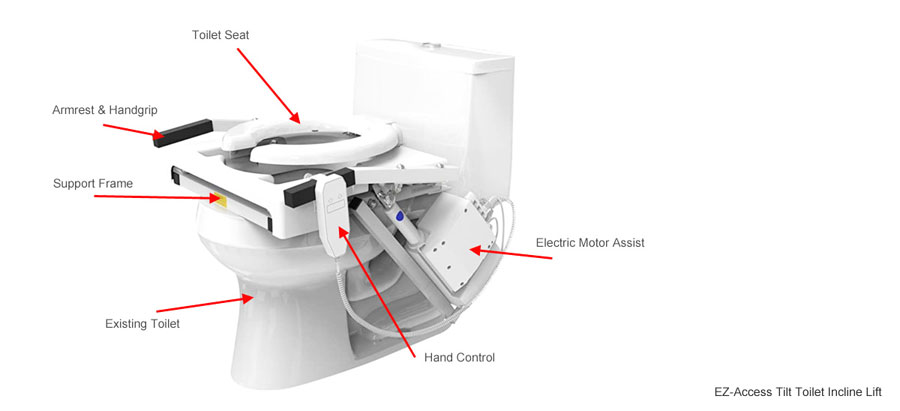 Toilet Lift Chairs attach to your existing toilet or commode. The purpose of the lift is to support the user to sit down on the toilet and then stand back up when done. The added safety assists users in helping them maintain their dignity and independence.
Toilet Seat Lift for Elderly
As people age, the transition from sitting to standing becomes more difficult. These bathroom mobility devices make these everyday transitions easier and safer. Several respected medical product manufacturers make toilet lifts for the elderly.
Types of Toilet Lifts
Automatic Toilet Seat Lifter
Power Lift Toilet Seat
Toilet Seat Lift Assist
Toilet with Lift Pumps
Electric Toilet Seat Lifts
Toilet Seat with Lifter Handles
Advantages of an Electric Toilet Seat Lift
Toilet lifts for disabled users
Supports the elderly
Provides safer transitions
Offers more user independence
Assist users in helping themselves
Commode Seat Lifter Gallery

Features to Look For When Buying an Automatic Toilet Seat Lifter
Easy installation
Easy clean surfaces
Durability
Battery or electric-powered or both
Control to stop in any position
Compactly fits the existing toilet
Easy operation
Handheld control
Hand grips
Arm support
Accessible to and from mobility devices
Works with slide board transfers
The lowered position supports other household members who may not have any disability problems
Compatibility with user's height and weight
Compatibility with user's existing toilet
Electromagnetic interference
Top Selling Power Lift Toilet Seats FOR SALE
LiftSeat
Neptune Toilet Lift
Solo Toilet Lift
EZ-Access Tilt Toilet Incline Lift
FAQ's
Do toilet hoist devices fix to the floor?
Yes, some do. For users that tend to lean to one side, fixing the toilet lift to the floor is a good idea to maintain stability. Users that are unsteady on their feet may also benefit from the added security.
Does an electric toilet seat riser have to return to its lowest position?
No, many models allow the user to stop the lift whenever required. This level of control is particularly beneficial to a user that experiences discomfort or pain when attempting to mount or dismount in the lowest position. Being able to adjust the lift to the needs of the individual user is critical.
What are the maintenance requirements for power-assisted commode seats?
It is a good idea for safety reasons to have your toilet lift-assist inspected annually by a trained technician. The technician will check for any loose fittings, mechanical damage, base area security, and proper operation.
How many lifts does a fully charged battery provide?
The answer is highly dependent upon the brand that you purchase, the weight of the user, and the size of the battery. As the battery ages, it will provide less service between recharges. Many powered toilet lifts offer 60 to 100 lifts between charges.
How long does it take to charge the battery?
Most batteries will charge up within 3 to 6 hours. Many of the chargers installed on power-assisted commode lifts utilize a trickle charge that automatically shuts off when fully charged so that the lift is always ready for service.
How should I clean my commode hoist?
To disinfect, use a soft cloth or sanitizing wipe down with an antibacterial cleaning agent. Use the same concentration level as you would for other domestic surfaces, such as washbasins, countertops, and baths. Lifts should not be cleaned with sprays, solvents, autoclave, Cidex, or Turbex. Clean by hand only.
Will an electric commode riser interfere with a heart pacemaker?
Before purchasing, ensure that the product meets EN55011-1:1998, +A1:1999, +A2:2002, and EN60601-1-2:2001 Group 1 Class B standards for electromagnetic compatibility.
You might be interested in...