Date: January 3, 2022

Top Best Ostomy Pouch Systems
It can be tricky and even intimidating to purchase ostomy products. Figuring out the best pouching system may be simple, or it may take some trial and error. There are factors to consider when choosing a one-piece or two-piece bag system, - such as the peristomal skin condition and the stoma output. Each stoma is unique, and a one-size-fits-all approach will not work. This article examines the different types of ostomy bags and some of the top-selling ostomy pouches by category.
One-Piece or Two-Piece Pouch System
A one-piece system is typical when the stoma has low or predictable output. Since it's an all-inclusive bag with a wafer, it's applied and removed in one piece. Low stoma output means fewer appliance changes, which reduces trauma to fragile skin. This complete construction simplifies application while creating a lower profile of the body to be discreet as possible. It also allows for freedom of movement to work well during exercise.
If the ostomy user compromises their peristomal skin, a two-piece system is often the best choice. The separate flange stays in place so that the stoma site doesn't get irritated or cause skin problems. Using a two-piece may reduce the cost of ostomy care because it reduces the amount of ostomy paste, ointments, and creams needed.
Closed-End or Drainable Pouch
Additionally, there are two pouch options to explore: closed-end and drainable. It may add to the number of selections, but it is easy to determine which bag is best suited. A closed-end pouch is just that -- it is closed and disposed of after use, whereas a drainable pouch is emptied and reusable. A drainable version also affords less frequent pouch changes but is only suitable when the stoma output is liquid consistency to accommodate easy drainage.
What Are the Best 1-Piece Ostomy Bags?
Below is a list of the Top 3 One-Piece Ostomy Systems with closed-end and drainable options that are arranged in rank order. These ostomy bag products are the most sought-after within the category. An included summary for these top sellers provides top features and useful links to make the selection as easy as possible.
Top-Selling One-Piece Closed Bags
This closed-end pouch system is available in opaque as well as transparent for when the user needs to view content level. The Securi-T USA brand by Hollister is a top-seller for two reasons -- the customized wafer and the pouch's discreet features. The cut-to-fit wafer template helps shape around irregular stomas and stomas that are still healing. The filters prevent uncomfortable situations, such as unpleasant odors or pouch ballooning. The internal filter controls gas buildup to keep the pouch as flat as possible. Since it's disposed of, it's nice to know it's an environmentally safe material. The bag is also light, skin-friendly, and comfortable against the skin.
Top Features
Controls Gas Buildup To Keep Pouch Flat
Filter Cover Controls Odor
Transparent or Opaque Pouch Colors
Cut-To-Fit To Customize to the Stoma
8-Inch Pouch Size
Environmentally Safe Disposable Material
Quiet Material
---
This ostomy pouch is available in beige and transparent with a specialized wafer. The SoftFlex barrier makes changes as gentle as possible to the peristomal skin. Additional care is placed on its ComfortWear outer panels so that it's gentle on the skin. The beige pouch has two-sided comfort panels and the transparent pouch has only the skin side to not impede the view into the bag. Both color options have rustle-free film material to not draw attention to it during movement. Its odor barrier adds another level of discretion as it slowly deodorizes gas./p>
Top Features
AF300 Deodorization Filter Slowly Releases Gas
Velvety ComfortWear Pouch Panels
Pre-Sized and Cut-To-Fit Barrier Options
Latex-Free, Skin-Friendly Material
SoftFlex Barrier Construction Creates Gentle Removal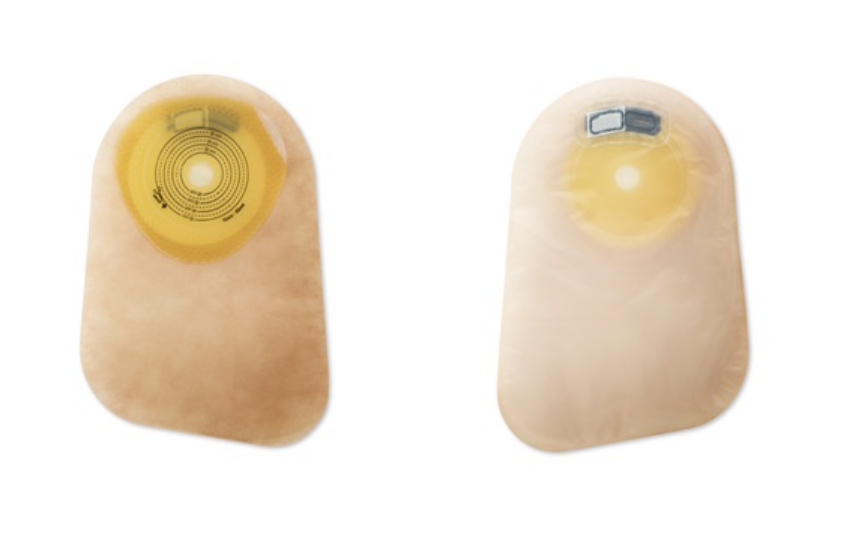 ---
This one-piece ostomy appliance supports the user's movement with a comfort wear panel and rustle-free film, making wearing the pouch more discreet and secure with a belt. The wafer barrier features pre-cut and cut-to-fit openings to accommodate a variety of stoma shapes and sizes.
Top Features
Convexity With Skin Barrier
Comfort Wear Panel Makes Movement Quiet
Barrier Controls Odor
Pre-Cut and Cut-to-Fit Barrier Options
---
Top-Selling One-Piece Drainable Bags
This drainable system is appropriately named ActiveLife to work with individuals who are on the move. It combines the ease of a one-piece with a cut-to-fit barrier to accommodate a range of stoma sizes. The drainable end is confidently clamped with a tail closure to make the access and draining a snap. The 12-inch pouch size helps with high output and its transparency keeps contents at a glance. Another highlight is its Stomahesive Skin Barrier with a tape collar that adheres to dry and moist skin.
Top Features
Stomahesive Skin Barrier
Transparent Bag
Tail Clamp Bag Closure
Comfort Panel
Large, 12-Inch Pouch Size
Customized Cut-To-Fit Barrier
---
The EasiClose extra-wide outlet makes this drainable pouch easy to empty. The bottom outlet is folded and secured with a hook-and-loop closure system. SenSura comes with two barrier options: a flat barrier or a Convex Light barrier to work with abnormal stoma shapes. Its backing contains a double-layer adhesive that keeps skin healthy by absorbing excess moisture to prevent skin breakdown and irritation.
Top Features
Transparent and Opaque Colors
EasiClose Wide Outlet for Easier Draining
Hook-and-Loop Closure
Comfort Panel
Maxi Pouch Size
Pre-Cut and Cut-To-Fit Barrier
Double-Layer of Adhesive Absorbs Moisture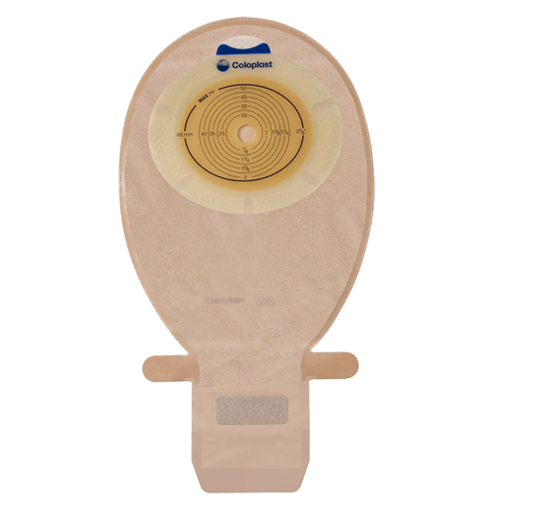 ---
This 12-inch drainable option from Hollister includes a curved tail closure. The bag is transparent with cut-to-fit or pre-cut stoma openings. The popular pre-cut barrier option features a convex extended- wear barrier that gives the appliance longer wear-time.
Top Features
Transparent Pouch Aids Viewing
Cruved Tail Closure
Extended Wear Barrier Options
Maxi 12-Inch Pouch Size
Pre-Cut and Cut-To-Fit Barrier
Flat and Convex Barrier Options
Builtin Belt Tabs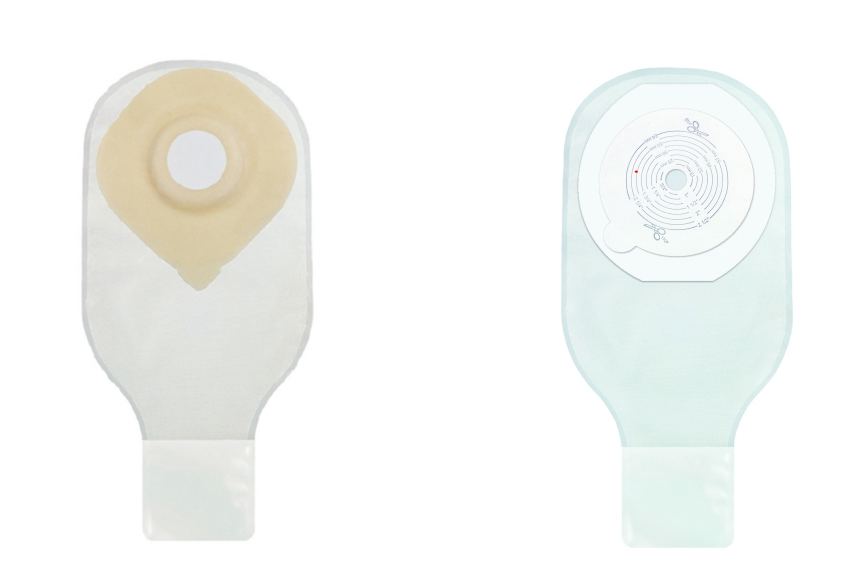 ---
What Are the Best 2-Piece Ostomy Bags?
Below is a complete list of top-selling two-piece ostomy bags for closed-end and drainable options. The two-piece bag requires a compatible barrier to complete the system. Find the detailed summary below to choose the ostomy system that works best.
Top-Selling Two-Piece Closed Bags
This two-piece anatomically shaped pouch supports comfortable placement on the abdomen. It features cloth-like QuietWear material that is soft and minimizes noise during movement. The bag's opening size corresponds with a color-match flange that makes selection easy. The AF300 filter technology adds another layer of discreet wearing. It effectively deodorizes and releases gas to prevent ballooning. A bonus is it comes with built-in belt tabs that help keep the bag in place.
Top Features
Filtration System Deodorizes and Slowly Releases Gas Tto Keep Pouch Flat
Beige, Anatomical-Shaped Pouch
Easy Color Match System To Select Flange
9-Inch Pouch Size
Discreet QuietWear Material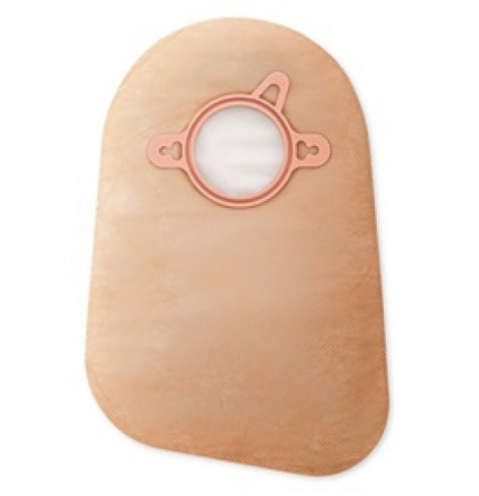 ---
This pouch by Coloplast features a newly designed click coupling that presents an audible click when the flange locks into place. This sound adds confidence that both pieces are confidently connected. Coloplast uses a color system guide to select the corresponding barrier options to complete the two-piece system.
Top Features
Audible Click When Barrier Is Connected Properly
Soft Textile Pouch
Midi or Maxi Pouch Sizes
Opaque Bag With Inspection Window
Long-Lasting Filter Controls Gas
Color-Coded System To Select Barrier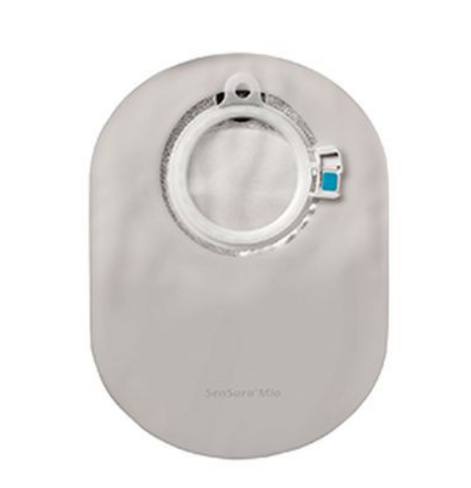 ---
The Securi-T USA flange has adhesive staying power and can remain in place for up to four days. The three flange sizes use a corresponding number that matches with the pouch, with a choice of having a filter. The filtered ostomy pouch includes an additional filter for odor containment.
Top Features
Opaque Bag With Filter Options
Bag Connects With Three Flange Options
Bag Changes Are Quick and Easy
Its Corresponding Numbered Flange Has Staying Power To Protect Skin
Mid-Size 8-Inch Pouch Length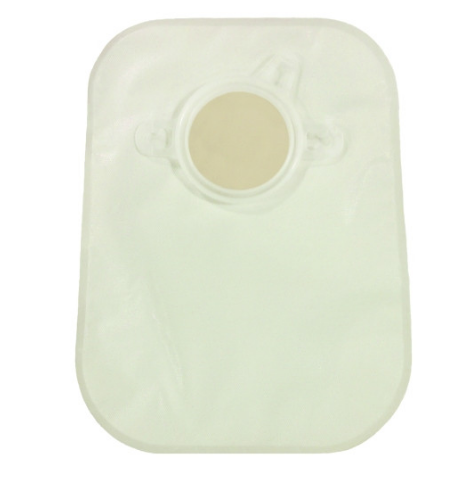 ---
Top-Selling Two-Piece Drainable Bags
When using a drainable pouch, ostomy users want to have confidence in its closure. This Rock 'n Roll microseal closure is an interlocking fastening system that does just that. Other features include ComfortWear panels on both sides of the pouch. The Hollister filtration system keeps odors at bay and ensures the bag stays flat.
Top Features
Opaque Beige and Transparent Bag Colors
Secure Rock 'n Roll Microseal Closure
AF300 Slow Release Filtration System
Belt Tabs
12-Inch Pouch
Two-Piece Works With New Image Barriers
---
The EasiClose extra-wide outlet makes this drainable end wider than the standard drainable pouch. The bottom outlet is folded and secured with a hook- and- loop closure system. The drainable pouch has pre-cut or cut-to-fit barriers with click technology to validate the connection. Choose from standard flat barriers or the Convex Light barrier if the stoma isn't uniform in shape. The backing's double-layer adhesive absorbs excess moisture to keep the skin healthy.
Top Features
Opaque Bag With Color-Coded System To Match Coupling
EasiClose Outlet With Hook-and-Loop Securement
Audible Click Signifies Barrier Is Secure
Pouch Contains a Three-Layer Filter
Filter Keeps Bag Discreet by Preventing Bulging
Barrier's Backing Absorbs Moisture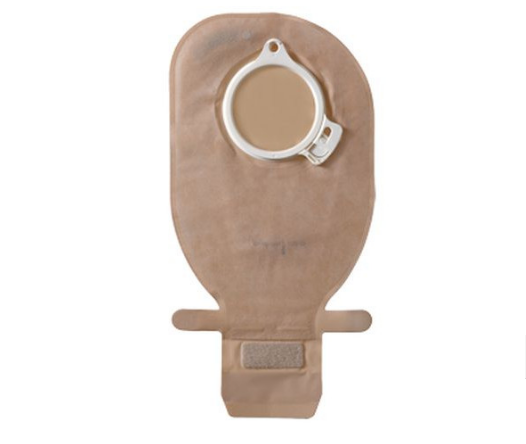 Unlike the other options with an open drain collar, this New Image drainable bag features a soft tap drain to support higher output. The drain is made with soft material to ensure it is comfortable and won't dig into the abdomen. Additional softness is on the backing. The ComfortWear Panel keeps the bag from rubbing and causing skin irritation.
Top Features
Transparent Pouch Aids Viewing
Designed for High Output
Soft Drain Spout for Easy Draining
Body-Side ComfortWear Panel
Maxi 12-Inch Pouch Size
Ultra-Clear Film Provides Exceptional Odor-Barrier
Color Match System Coordinates Barrier
Belt Tabs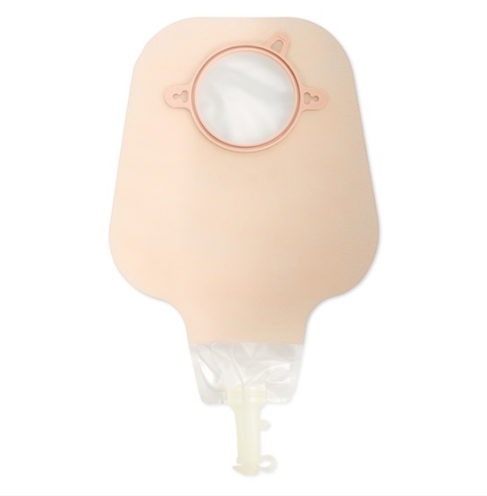 ---
In Conclusion
The variety of ostomy appliances on the market are to lessen the burden placed on ostomy patients, but sifting through the products may be challenging. These one-piece and two-piece ostomy bags showcase the features that make them a top-seller so that you or a loved one can manage everyday life with confidence.