Updated: December 15, 2021
What Are Coronavirus Test Kits?
Coronavirus test kits help diagnose and prevent viral infections. The Centers for Disease Control recommends testing for anyone exhibiting symptoms, regardless of vaccination or previous infection. You and your healthcare provider might also consider either an at-home collection kit or an at-home test if you have signs and symptoms of COVID-19 and if you [can not] get tested by a healthcare provider or public health official.1
What Types of COVID-19 Tests Are Available?
There are two types of tests. One is a viral test that identifies if there is a current infection. These test types include nucleic acid amplification tests (NAATs) and antigen tests. The other type is an antibody test that detects if there was a past infection. Antibody tests involve serology for diagnosis.2
The use of widespread antibody and serological testing to diagnose and treat COVID-19 is essential to avoid illness and death. Within days of releasing the virus genome information, medical companies developed test kits to diagnose the disease. Many countries successfully controlled the transmission of the virus by large-scale testing and quarantine policies. Isolating patients that contract the virus occurs only after detection.3
Detection kits using the polymerase chain reaction or qPCR assays can detect minute amounts of viral RNA. Upon detection, isolation and treatment can begin to avert further dispersion to the public. Studies conducted of frequent testing of at-risk patients and healthcare practitioners in nursing homes show that testing is an effective means to prevent the virus from circulating.4
This molecular antigen testing is highly reliable. Companies like Nurx, Everlywell, and Carbon Health began marketing test kits directly to consumers as early as March 2020. Now, many more COVID test suppliers offer at-home kits with FDA Emergency Use Authorization (EUA), including Color Health, GetMy DNA, Hims, 1Health.io, LetsGetChecked, myLab, Phosphorus, LabCorp, Stat, and Vault Health.5
FDA COVID-19 Emergency Use Authorization - provides information on EUA and lists products and companies granted authorization status.
COVID-19 Virus Testing Video (1:01 minutes)
Bulk COVID Tests for Organizations and Businesses
Bulk testing for COVID-19 helps ensure that employees, students, staff, athletes, and event workers stay safe. The organization collects samples and overnight ships them to a testing facility. Some high-risk companies may need to test all employees weekly. Others may choose to test on a selective basis determined upon the exposure vulnerability of its employees. Bulk testing is scalable and tailors to the needs of the organization.
Organizations with significant public contact can regularly test to ensure their members are not at risk. Testing is gentle and non-invasive. Complete RT-PCR sample analysis by a certified lab confirms and reports the presence of infection. Businesses that are aware of infectious conditions can take measures to guard against further contamination. Buy COVID 19 test in bulk from online sources to meet organizational needs and circumstances.
Benefits of Organizational Testing for COVID
Protects the Health of Employees or Members
Protects the Health of the Public that Patronizes the Business
Protects the Health of the Consumers that Buy Their Products
Reduces Quarantine Durations
Helps Business Stay in Operation
Keeps the Workplace Safe for Employees
Offers a COVID-19 Bulk Testing Solution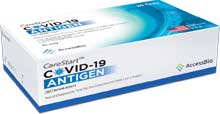 Do-It-Yourself (DIY) COVID Test Kits
At-home COVID 19 tests or DIY tests help determine user infection with the SARS-CoV-2 virus that causes COVID-19. The most common test uses a swab to collect saliva or nasal mucus. The user then mails the swab to a testing lab. Step-by-step instructions within the kit help make sampling easy and convenient.
Many sampling kits come with free overnight shipping for a quick turnaround. Results transmit to the user within 24- to 48-hours. The test kits include free consultations with a licensed physician for any users that have positive results. FDA authorization under Emergency Use Authorization (EUA) for these products helps ensure efficacy.
Benefits of COVID Home Testing
Expands Testing Access to More People
Reduces the Risk of Exposure to Others Already Infected
Reduces the Risk of Infection Exposure to Healthcare Workers
Increases Equitable Access for More Diverse Populations
Makes Testing Available to People in Remote Locations
COVID-19 Testing Kit Videos
Self-Administration of the Coronavirus Test Video (5:03 minutes)
Saliva Test for COVID-19 Video (1:14 minutes)
Links to Coronavirus PPE and Supplies - COVID Test Suppliers
FAQ's
How accurate is at-home testing?
The manufacturing of the test kits meets stringent ISO 13485 requirements. The labs that conduct the tests on samples have CPA approval and ISO accreditation.
Does the FDA authorize home coronavirus tests?
Yes, the FDA authorizes the use of these kits under the Emergency Use Authorization. More information from the FDA about in-home testing is in the links below.
What does the CDC say about in-home COVID-19 testing?
If a healthcare provider cannot test you, you may want to consider an at-home collection kit or an at-home test if you exhibit signs or symptoms of the coronavirus.
Things to Check Before Using a Test Kit
Check the date on the box and do not use any expired test or test components.
Do not use the kit if it is damaged or discolored.
Disinfect the countertop or surface where you will conduct the test.
Do not open the test kit until you are ready to complete the test.
Do not reuse any of the test devices or components.
Read and record test results within the time specified in the instructions or mail in for test resultes as found in the instructions.
How can I know if my at-home COVID-19 test kit is FDA authorized?
The FDA provides a list of all COVID-19 test kits that it authorizes. The list includes links to the most recent letter of authorization, date of EUA original issue, links to the authorization documents, and testing attributes. You can see this list at FDA Authorized DIY COVID Test Kits.
Can organizations have test kits sent directly to the home of their members or employees?
Yes, some products accommodate shipping the test kit directly to the employee. The employee follows the testing instructions and then mails the test to the lab in an overnight package.
Footnotes