Exam Table Paper Rolls
Medical Exam Table Paper protects medical furniture from bacteria, germs and contagions that can be transferred between patients. As patients come into direct contact with medical furniture, they may transfer harmful contaminants. Subsequent patients are then at risk of exposure to the pathogens that may have been left behind. The products found on this webpage protect medical tables and chairs from cross-contamination between patients.
What Is Medical Exam Table Paper?
What Is It Made Of?
Where To Buy Exam Table Paper
What Are the Different Types of Paper?
How To Select the Best Product
What is Medical Exam Table Paper?
Table paper covers treatment chairs, massage tables, chiropractic chairs, tables, and other medical equipment or furniture that comes into contact with patients. Exam table paper offers a protective barrier between the patient and the treatment table. The paper offers a protective barrier against harmful micro-organisms that can be easily transferred from patient to patient through contact with a common surface. It offers an excellent barrier against cross contamination.
The paper is usually placed on a roll for easy storage and dispensing. When needed, the paper is simply rolled-off to the length required to cover the table or chair. In this manner, the paper forms a protective barrier between the patient and the table. Only one patient comes into contact with the paper. Upon conclusion of the check up or medical procedure, the disposable paper is thrown-away.

What is Exam Paper Made Of?
Exam room table paper is strong and highly absorbent. It is constructed with wood pulp fibers or recycled pulp. Because the paper is strong and durable, it is often difficult to tear. For this reason, many tables and chairs have a paper dispenser built into the chair that has an attached cutter. When the proper length of paper has been extracted from the roll, the paper is pulled at an angle against the cutter to easily cut the paper and separate it from the roll. Often, caregivers leave the paper attached to the roll until the examination is completed and the patient has left the room. Leaving the paper attached to the roll during the check up provides additional stability to keep the paper in place. Some paper rolls are also available with perforations to allow easy tearing at intervals.
Doctor's office paper rolls are usually available in a white, but off-white and bright white are also common options.
Where to Buy Exam Table Paper
This product can be purchased at most large office supply stores, retail department stores and large drug store chains. Lower prices can be found online.This product is common to all medical related clinics or hospital treatment rooms. Numerous options of this product are available at Vitality Medical on this very web page.
What are the Different Types of Exam Table Paper?
Medical bed paper is made with two texture options—smooth or crepe. Both options offer protection against the transference of harmful contaminants. Price differences between smooth or crepe is negligible; therefore, preference is the biggest factor in selection between the two types.
Smooth Table Paper
Smooth paper rolls are machine-glazed to provide a finish that resists moisture penetration.
Advantages
Resists tearing
Resists moisture penetration
Professional appearance
Crepe Table Paper
Crepe paper rolls are textured for a paper-towel type appearance. They are opaque and offer a softer feel. The textured characteristic of the paper minimizes slipping and is more comfortable for the patient. This paper is also less noisy when patients roll or scoot across the table.
Advantages
More absorbent
Quite, less scratch paper noise
Soft
Resists slipping
Comfortable
Paper Weights
This product comes in different thicknesses. Often the thickness is measured as a paperweight numerical figure, a ply figure, or a "standard" or "deluxe" designation. The greater the weight--the greater the thickness and the strength. Below is a summary of the different weight classifications.
Weight: 10 lb, 14 lb, 18 lb, etc.
Ply: 2-ply, 4-ply, 6-ply, etc.
Designation: Standard or Deluxe
Paper Roll Dimensions
Table Paper is available in widths to cover most massage tables, exam chairs, and physical therapy tables. The most common width measurement is in inches. Eighteen and twenty-one inches of width are the most common. Length is most often measured in feet. The most popular length is 225 feet.
Print
Some medical offices prefer to have a print on their table paper to raise the level of elegance to the room. Doctors who serve children prefer a pediatric table paper that has a print related to children such as animals, Dr. Seuss, and cartoon characters.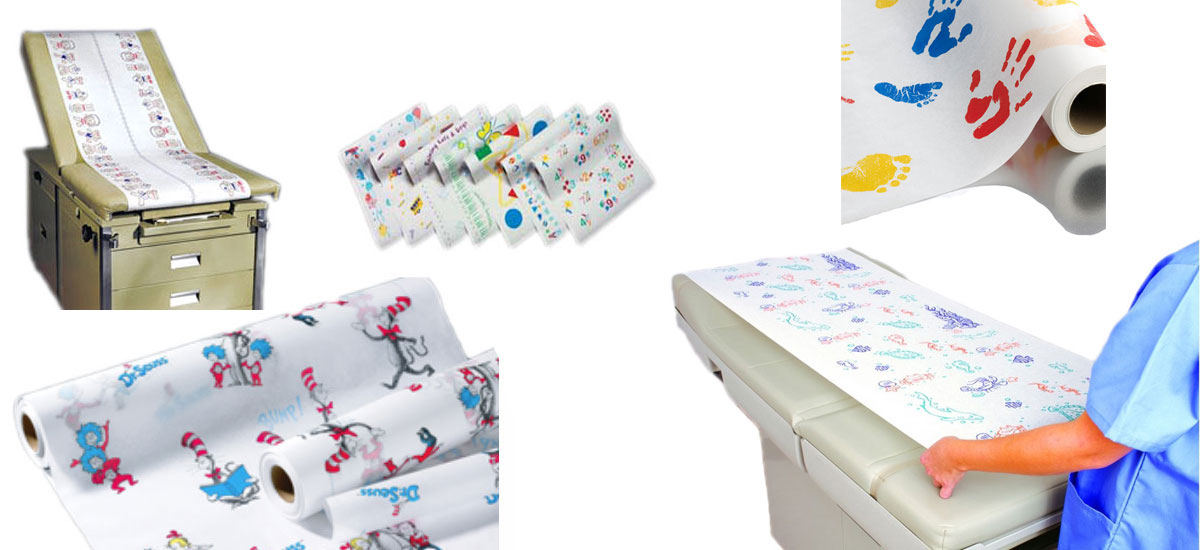 Perforations
Another important consideration is perforations. Paper rolls with incremental perforations allow for easier tearing. The perforations are in a straight line to enable better a better appearance at the break. Many physicians consider perforated paper as presenting a more professional appearance.
Antimicrobial
Preventing infections in an important outcome for using paper protection. A new variation of paper rolls incorporates an antimicrobial agent coating added to the paper. This coating protects against harmful microorganisms. It creates a non-migrating surface that is effective against fungi, mold, mildew, and bacteria. It reduces odor that is caused by bacteria. Most importantly, antimicrobial agents help prevent cross-contamination.
How To Select the Best Product?
Selecting the Best Treatment Chair Paper can be a daunting task. The information above should help you narrow down your selection significantly. Below displays graphically the selection process. The lowest priced paper is on the left and consists of a lower weight paper. Selecting between crepe and smooth paper has very little effect on price. The advantages of each are listed above. However, as you consider heavier weight paper which offers greater strength, absorbency, and protection, the price increases.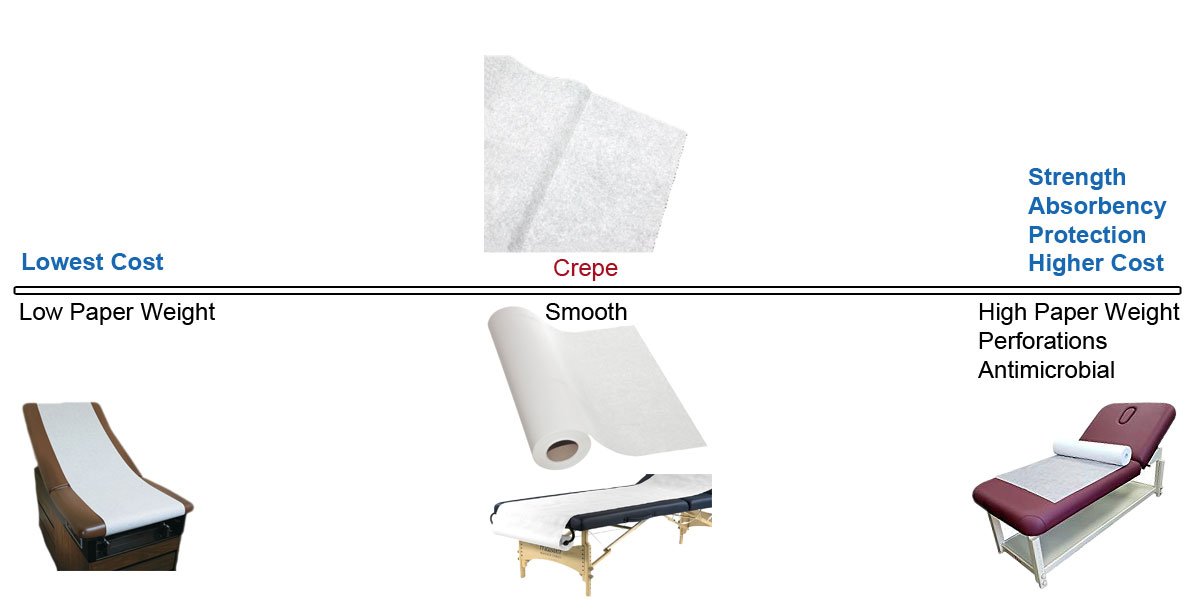 Medical Studies
Inspired by your history...