Heavy Duty Bariatric Tub Transfer Benches
Bariatric transfer benches are a great way to enhance safety and security in the bathroom. Sometimes entering and exiting the bathtub can be difficult. With a bariatric transfer bench, the bathing experience is improved. This bariatric tub bench can be used to enter, exit, and sit in the bathtub. The highly durable transfer benches have a wider seat and higher overall weight capacity to suit larger patients. These bathroom safety products are available in multiple styles!
Types of Heavy-Duty Benches
Standard Transfer Bench
These have four to six legs that support a secure seat that helps individuals enter and exit tubs. These bariatric shower transfer bench seats sometimes have backrests and can accommodate a wide range of needs in the bathroom and elsewhere. Many of these standard models have a slot in the seat that allows the shower curtain through when two of the legs are stationed outside of the tub. Patients take a seated position on the bench and lift their legs up and over the edge of the tub for a safe entry or exit. They can then remain seated and bath on the waterproof bench.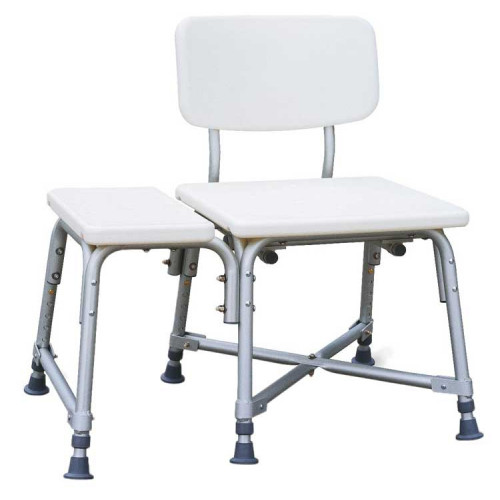 Tub-Mount Swivel Bench
Another great option is the tub-mount swivel bench. This style tends to have two to four legs on one side and a mount on the other side. The mount can be securely installed to the outer edge of the bathtub. The swivel design allows the individual to enter and exit the tub on a moving seat. This style tends to have a seatbelt that secures the patient to the bench while the transfer is taking place. Additionally, tub-mount swivel seats often have a bar for the patient to hold on to for added security. A great tub-mount option is Eagle Health's Tub-Mount Bath Transfer Bench.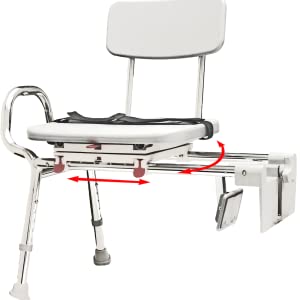 Sliding Transfer Bench
Sliding models, like HealthSmart's DMI Heavy-Duty Sliding Transfer Bench, are great for patient safety. The sliding transfer bench style may be incorporated into a tub-mount or a standard bariatric transfer bench. Like the swivel benches, these transfer benches also use a safety belt and a hand rail to secure the patient while the transfer is taking place. This style uses a sliding bench that moves into and out of the tub while the patient is seated. These are a great option for users with reduced mobility. The sliding design makes maneuvering easier. These often include backrests to ensure maximal support and safety.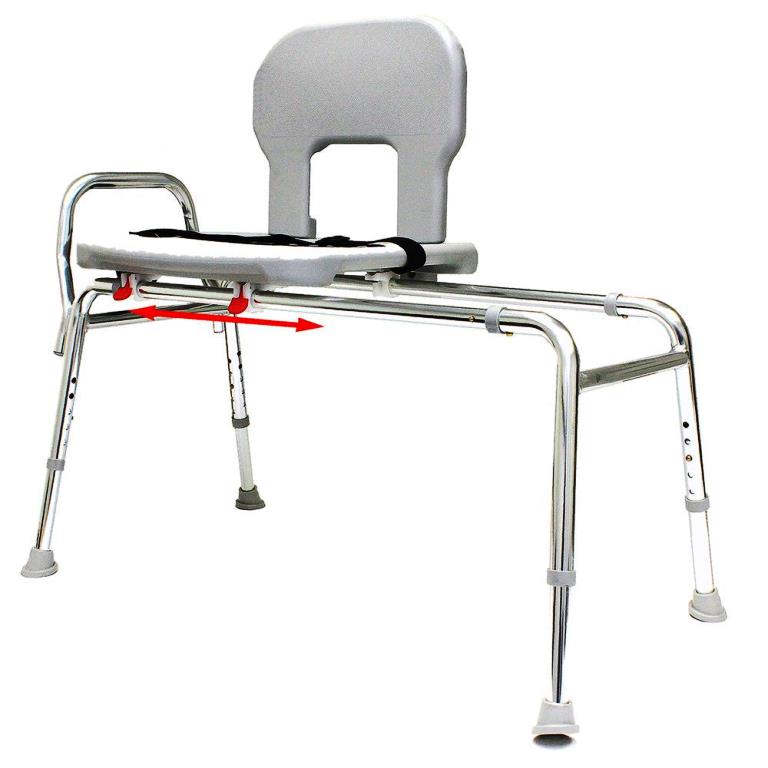 Bariatric Benches Key Benefits
Wider, More Comfortable Fit
Heavy duty transfer benches have a wider seat surface for an easier transfer experience for bariatric patients. The wider seat makes the experience much more comfortable during transfer and bathing.
Heavy-Duty Components
Many manufacturer models use stronger materials and components than are typical of a non bariatric version. The base of these products are designed specifically to resist slipping when being used with heavier weights.
Solid and Built for Stability
With an extra-wide seat and sturdy components, they are designed with a solid structure and built for stability. These are made to withstand extended and frequent use.
Frequently Asked Questions (FAQ)
Q: How does a transfer bench work?
A: Models are available in a variety of styles. Generally, transfer benches have four legs and a sturdy seat. Two of the legs rest outside of the tub while the other two are secured inside. The individual sits on the outside of the transfer bench and scoots to the inside, lifting their feet over the edge of the tub as they do so. This is designed to avoid slipping or other hazards while entering and exiting the bathtub.
Q: What makes a product bariatric?
A: Bariatric products are equipment and supplies that are specifically designed for larger or obese patients and individuals. These products tend to have wider surfaces for ease-of-access and higher overall weight capacities. Many of these products are made with stronger materials to provide a sturdier experience without sacrificing comfort. Many of our products have a standard and a bariatric option, such as the ShowerBuddy Roll-In Shower Chair.
Q: Which is the best transfer bench style?
A: Each transfer bench style is great for different circumstances. The standard bariatric tub transfer bench may be ideal for a wide range of individuals, while the tub-swivel sliding style might be best suited for patients who exhibit severely reduced mobility. The sliding transfer bench is another great option for individuals with reduced mobility. The benefit of the standard model is their ability to be moved into and out of the tub whenever the user sees fit. The swivel and sliding transfer benches often attach to the tub's edge for a secure hold, requiring the individual to uninstall it when it is not being used.
Heavy-Duty Bench Videos
How to Use a Bath Transfer Bench (3:33 minutes)
Bath Transfer Bench Step-by-Step (3:14 minutes)
You might be interested in...