Compression Socks & Support Hoses
Compression socks & stockings, also referred to as compression support hoses or support stockings, are used on the legs to provide intervention against pain and achiness, to treat venous insufficiency, embolism, and lymphedema, to manage acute venous illnesses, or to prevent these illnesses, including deep vein thrombosis (DVT). The intervention consists of a support hose, zippered socks or circulation socks that fit over the limb to provide pressure. This pressure constricts the veins, bringing the vein walls and valves closer together, resulting in an increase of blood and lymph flow. The flow increase improves the removal of waste and the flow of nutrients and oxygen to the limbs. Swelling and pain diminish, and the patient feels much better. Medical compression socks for men and compression socks for women are the same in most respects.
What Are Compression Socks Used For?
The chart below depicts the venous flow of a healthy vein (left), a thrombosis vein (center) and an embolus vein (right). Compressing the veins in the limbs allows the valves in the veins to function to reduce the effects of gravity on the flow of fluid. As the veins dilate, the valves do not operate properly. When the veins constrict, fluid velocity increases and blood flows back to the heart and lungs more normally.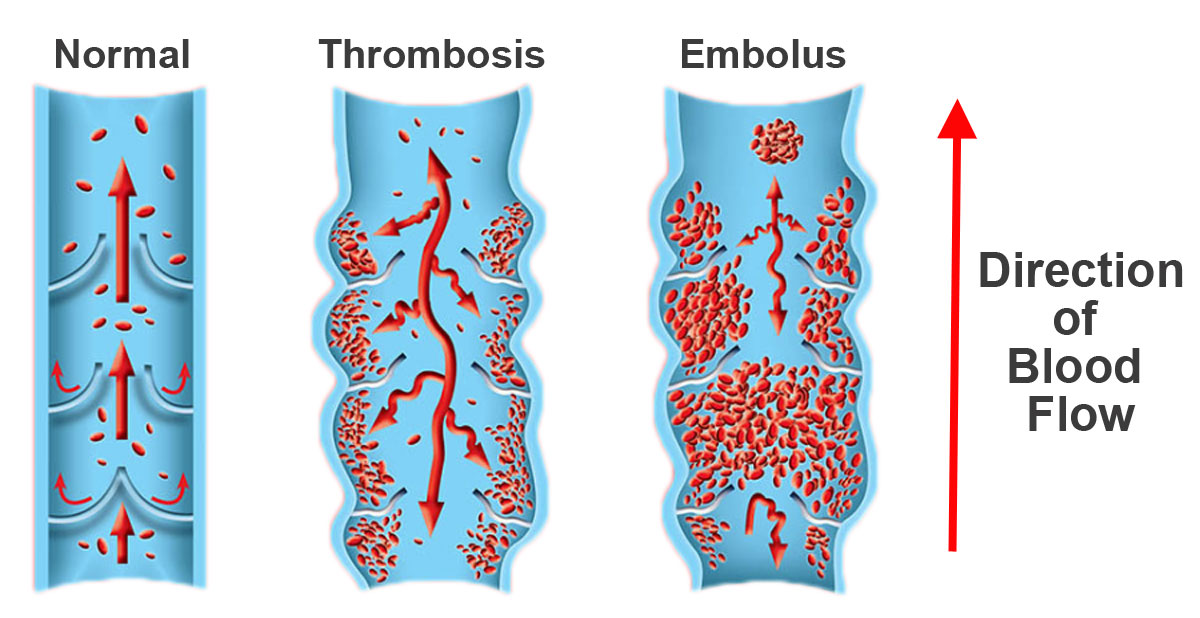 Selecting the Right Product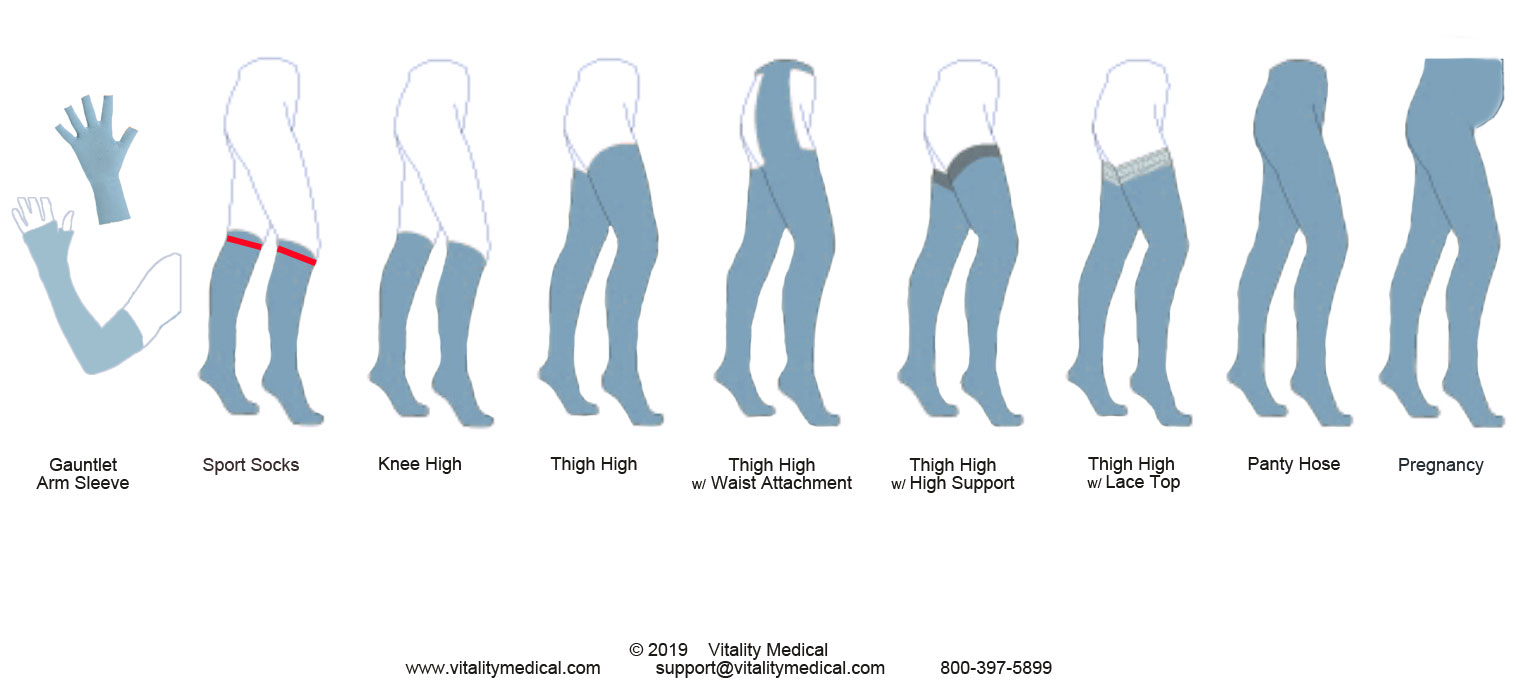 The criteria for choosing the best stocking may be broken down into three categories--basic, advanced, and intervention. The first criteria, basic selection criteria, includes essential considerations displayed in the continuum below.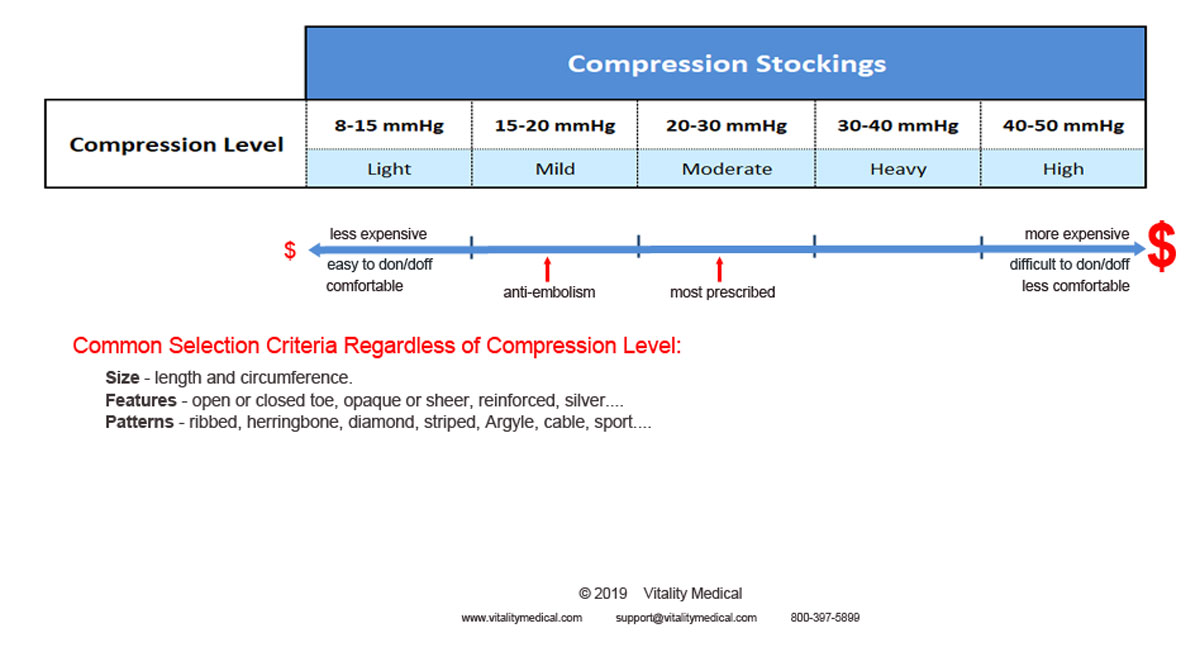 1. Basic Selection Criteria
List of Basic Selection Criteria
pressure level
ease to don/doff
comfort level
size - length and circumference
stocking features
patterns
Compression Level
Compression level, measured on the mercury scale, depicts the amount of pressure needed to provide relief, treat, or manage symptoms. For instance, typically anti-embolism stockings provide pressure within the 15 to 20 mmHg range. The most prescribed range by doctors is moderate compression at 20 to 30 mmHg. This range is the beginning of what is known as medical class stockings. The lower ranges of pressure are found to be the least expensive stockings. The higher the pressure level, the more expensive the stockings.

Comfort Level
Another important factor to obtain patient compliance is the level of patient comfort. As the amount of pressure increases, patients complain more about discomfort in wearing socks. Many doctors will prescribe a lower level of pressure stocking to keep patients wearing them. It may be a good practice to wear low-compression stockings early as a preventive measure to keep patients from developing illnesses that will require treatment and management with much higher pressures for acute and chronic conditions.
Sizing
Stockings are available in a wide variety of sizes to meet the needs of individual patients. There are knee-high socks, thigh-high stockings, thigh-high with waist attachment, thigh high with support, pantyhose, and pregnancy hosiery to select. Consult your physician for the best options for you. Length and circumference are the measurements required for proper fitting. Getting the right size contributes to patient comfort and effective intervention. Improper size leads to patient non-compliance. Below are sizing charts displaying important measurements to find the right stocking.
Remember that a better fit is better therapy. Choose a stocking that is as close as possible to your actual measurements. The more precise the fit, the more accurate the pressure will be, and as a result--better therapy! Graduated compression is based off of circumference measurements, not shoe size, nor height, nor weight. Any pressure based off of these other mentioned measurements are not considered proper therapy for correcting damaged veins.
Stocking Features
Stocking features provide additional patient comfort, increased durability, infection control, or fashion. Stockings may offer open or closed toe, no foot, sleeve with a gauntlet, opaque or sheer, silver additives, padding, reinforced heels or toes, retaining bands, or fashion prints. Each feature provides an additional function or capability to make the stocking more appealing or pleasurable.

2. Advanced Selection Criteria
List of Advance Selection Critiera
Compression Type
Stocking Construction
Moisture Wicking
Certifications
Compression Type
Products are available in two different types of pressure. The first and most common is uniform compression. Uniform provides roughly the same amount of pressure throughout the garment. There may be slight variations of pressure due to the curvature of the arm or leg. The other type of pressure is graduated. Graduated pressure offers high pressure at one end of the sleeve and less at the other. The higher pressure is at the stocking end farthest from the patient's heart. The lowest pressure is closest to the heart. Graduated compression promotes better circulation by making it easier for fluid to transition up the limb.
Graduated Compression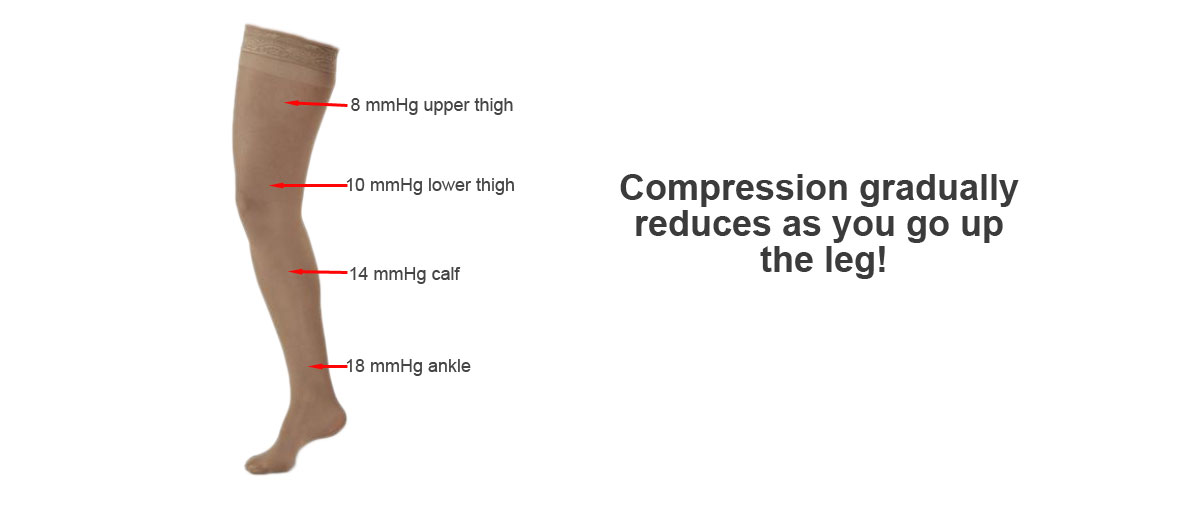 Stocking Construction
Stocking fabric construction follows two basic patterns—circular knit or flat knit. The circular or round knit design has a life span of 4 to 6 weeks while the flat knit design should last for 6 to 8 weeks. Circular knit is seamless, which is beneficial to diabetes patients or for gauntlets. Flat knit stockings often have a seam, but new technology used by some manufacturers offer a seamless flat knit. Flat knit can provide higher compression levels up to 50 mmHg.

Because seams in socks may cause irritation, especially in individuals with sensitive skin or diabetes. Some brands use a low-profile seam with flat knit to help prevent irritation. These are Jobst and Sigvaris.
Moisture Wicking
In order to help control odor, bacteria, fungus and overall comfort, these stockings need more than the basics. Moisture wicking socks and stockings release trapped moisture that could make them uncomfortable. Mediven offers moisture wicking technology in all styles, Sigvaris offers moisture wicking in their athletic lines only. Jobst offers moisture wicking in their Activewear and Sensifoot lines.
Clima Comfort Technology is a unique technology to Mediven products, The skin on the human body is the largest organ and protects us against environmental factors, as well as regulates temperature and water balance. The moisture on the skin caused by perspiration must evaporate quickly, particularly in the summer time when it is hot; rapid evaporation is key to the skin staying fresh. During the winter time, we need textile fabrics that absorb the moisture and transport it away from the skin surface to ensure the skin doesn't freeze and stays dry and comfortable. Clima Comfort ensures a reliable climate exchange between the skin and the garment all year round. It accomplishes this through a specific knitting technology that absorbs moisture immediately and then transports it quickly to the outer surface of the garment.
In a study conducted to demonstrate this technology, Medi's stockings were compared to competitors to measure water evaporation through the fabric while simulating the sweat secreted by the skin during physical exercise. The results showed that due to Clima Comfort, Medi has the best climate exchange between the skin and garments. Comfy foot technology in some products that allow easier donning and doffing.
Government and 3rd Party Certifications
A number of regulations are in place for pressure products. Medi, Jobst and Sigvaris brands have certifications.
FDA registered
ISO certification 13485:2003 standard
ISO certification 13485:2003 standard specifies requirements for a quality management system where an organization needs to demonstrate its ability to provide medical devices and related services that consistently meet customer requirements and regulatory applicable to medical devices and related services.
Accurate pressure levels tested and proven by a non-biased 3rd party resource is another important selection consideration. Some manufacturers have more accurate pressure ratings than others. Mediven and Medi branded products are certified by a 3rd party to guarantee results. North Carolina State University's College of Textiles randomly tests Medi's garments to ensure the compression levels are tested and accurate. No other stocking company has this tested, proven information on their products from a 3rd party. Brands that test and certify their medical socks provide you with more accurate pressure. Learn more about Mediven's accuracy standards!
3. Intervention Selection Criteria
Compression therapy intervention is available to support four separate interventions--Comfort and Performance, Prevention, Treatment, and Management. Different levels of pressure provide intervention for various illnesses. The more serious the problem, the more likely a higher pressure level will match the condition. Below are several charts that display pressure levels and their matching interventions.
Comfort or Performance
This intervention uses lower levels of pressure. It includes daily wear applications as well as patient comfort. Patients who spend a long time sitting, such as when traveling, significantly benefit from mild compression. Patients participating in sports also use a mild compression stocking to support circulation. After strenuous activity, some patients use a firm compression level to enhance sports recovery.

Prevention
Preventing venous insufficiency goes a long way to deter illness and chronic conditions. Low levels of pressure can prevent varicose veins and spider veins. It can reduce pain and swelling. Higher levels of pressure can prevent DVT and orthostatic hypotension.
Treatment
When illness occurs from poor circulation, compression can treat many illness associated with poor circulation. Pressure treats lymphedema, diabetes, edema, swelling, phlebitis, and superficial thrombophlebitis. The full range of stocking pressures from 8 to 50 mmHg offer treatments for numerous illnesses.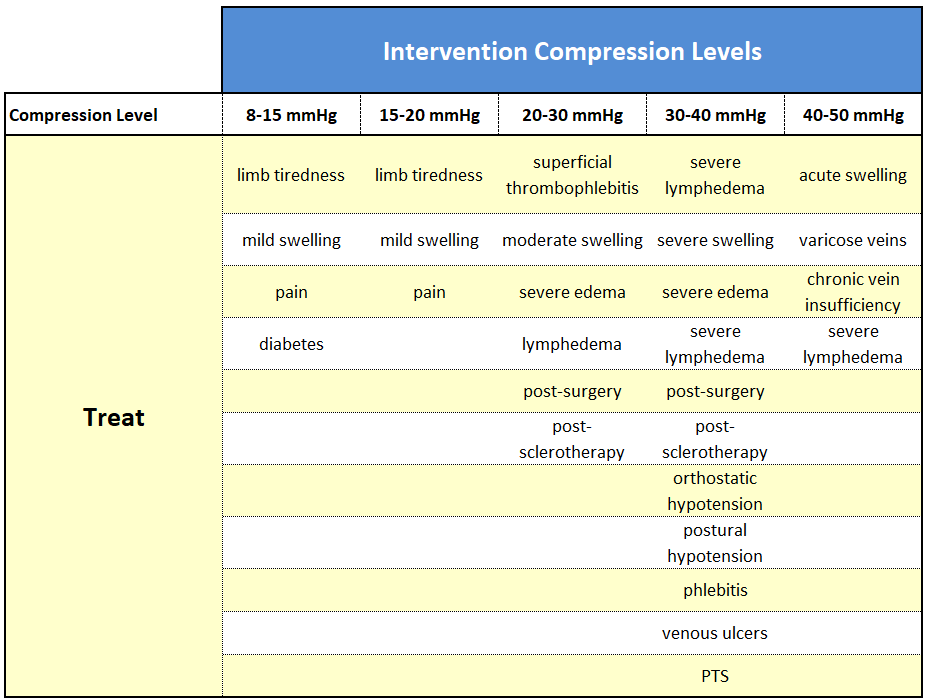 Management
Illnesses that reach the chronic stage are no longer curable; however, these socks may manage the disease to relieve pain and symptoms. These illnesses include post-thrombotic syndrome (PTS), venous ulcers, and chronic venous insufficiency.
Frequently Asked Questions
Q: Why do people wear compression garments?
A: There are various reasons why someone might wear pressure socks but a there is a common reason. Over 30 million Americans suffer from what is called, chronic venous insufficiency (also known as "CVI"). Other reasons might include conditions like lymphedema.
Q: What is "CVI" and what are its symptoms?
A: CVI is defined at the inability to pump blood in the veins back to the heart. Vein walls can become stretched, allowing blood to pool in the surrounding leg tissue. There are various reasons why someone might have CVI, but below is a quick list of some of the symptoms:
Tired, heavy-feeling legs
Leg pain from prolonged sitting or standing
Swollen ankles at night
Varicose or spider veins
Tingling, numbness, burning, or cramping in legs and feet
Discoloration in the skin
Open sores or ulcers in the lower leg
History of vein problems in the family
If you or someone you know has one or more of these symptoms, there is a good chance CVI is the reason.
Q: What is graduated compression and how is it different than TED Hose (or anti-embolism stockings)?
A: White Anti-Embolism stockings (often called TED's) are designed for patients who are lying down the majority of the time. They provide a slight amount of pressure that is consistent in force along the leg, but are not considered "graduated". Graduated pressure is tighter at the ankle (where blood typically pools to when veins are stretched), and then gets less and less tight as it goes up the leg towards the heart. This helps support the weakened vein walls and help perform the "pumping" action in the calf muscle to help push blood back towards the heart.
Q: What are Mediven graduated compression stockings, and what makes them different than other stockings?
A: Mediven graduated stockings are made by a company called Medi. Medi has been manufacturing graduated pressure garments since 1960. They are a worldwide leader in compression innovation and technology.
Articles and Helpful Resources
You might be interested in...