The Best Silver Dressings for Infectious Wounds in 2021
There are many different types of silver dressings for sale from wound care manufacturers. Silver ions added to dressing pads are very common applications, followed by nitrate gels, sulfadiazine (SSD) creams, and sodium zirconium phosphate dressings. Each of these types target bacteria in wound infections. Silver ions provide a slow release of silver dependent upon the flow of exudate from the wound. Silver nitrates added to gels help to cleanse wounds. Silver Sulfadiazine added to creams helps to treat burns and infections. It is spread on the skin or wound surface to clean and remove dead tissue. Silver sodium zirconium phosphate (SPF) is a sheet-like crystal additive to wound dressings used in the early stages of wound management to kill bacteria. "The SPF dressing was associated with significantly improved measures of wound healing...."1
Types of Silver Dressings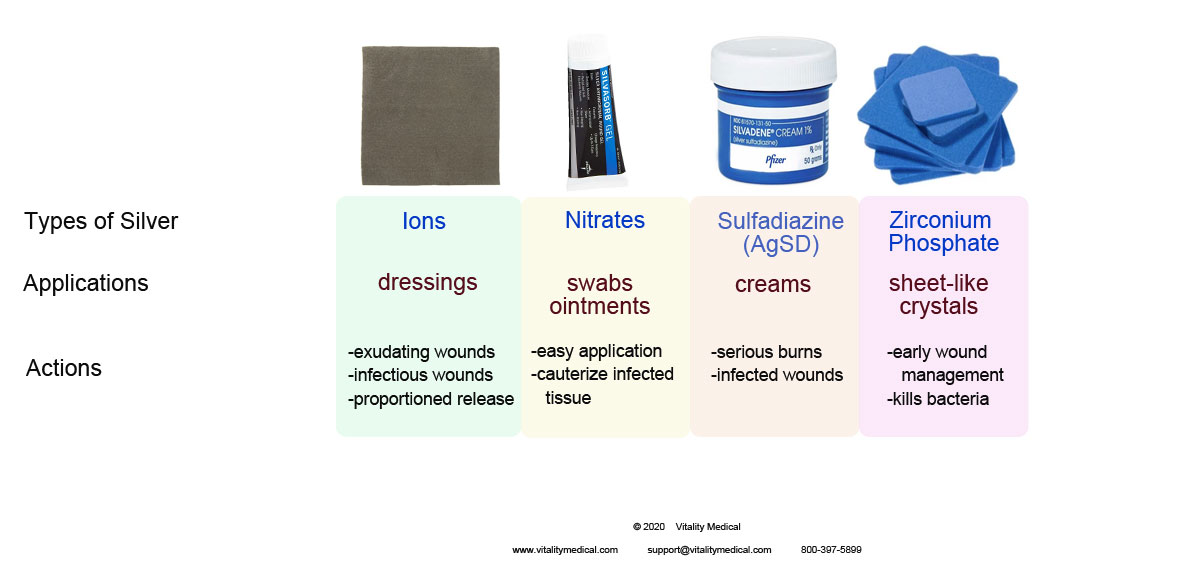 Wound care manufacturers also add additional functions and benefits to Silver Dressings. These additional functions include easy application, sustained silver dispersal, less frequent dressing changes, exudate absorption, maintenance of a moist wound environment, and autolytic debridement. Manufacturers also add additional benefits to silver dressings by compounding with other elements like alginate, calcium, carboxymethylcellulose, charcoal, collagen, hydrocolloid, hydrogel, or sulfate to bring additional properties like more absorption, odor control, re-epithelialization, granulation, and pain reduction.
Below is a list of elements commonly added to silver dressings to form a compound dressing to append additional benefits to wound healing. This list identifies what the added element is and the benefits it provides.
Table of Silver Compound Dressings
Alginate
Calcium
Carboxymethyl
(CMC)
Charcoal
Collagen
Hydrocolloid
Hydrogel
Sulfate
natural fibers derived from seaweed
ionized calcium salts
water-soluble cellulose
activated charcoal layer
derived from bovine, equine, porcine or avian
inner layer of absorption particles and outer layer of film/foam forms a seal
water in a gel base
ion salt with detergent and absorption characteristics
re-epithelialialization
central regulator
moist environment
odor management
cell migration
moist environment
monitors fluid exchange
accelerates wound healing
grandulation
modulates keratinocytes
extracellular matrix formation
absorbs bacteria
stimulates fibroblasts
insulates
debridement
stimulates keratinocytes
triggers immune response
re-epithelialialization
localizes toxins
stimulates keratinocytes
infection protection
moist environment
keratinocyte migration
faster healing
water-soluble cellulose
pain reduction
debridement
wound protection
infection protection
stimulates fibroblasts
epidermal cell migration
high absorption
promotes healing
surfactant
promotes cell regeneration
tissue growth

How to Select the Best Silver Dressing
The actual needs of the patient are the most important selection criteria for choosing a silver dressing. There are numerous medical studies about silver dressing selection. Below are some noteworthy quotes from some of these studies.
When selecting a dressing containing silver, wound care goals are much the same as when not using a silver dressing: obtain and maintain a clean wound bed, absorb excess exudate, and provide moisture if the wound is dry, while also filling, covering, and protecting the wound. The silver difference is bioburden management.2
Silver remains a reasonable addition to the armamentarium against infection and has relatively few side effects. However, one should weigh the benefits of silver-containing products against the known side effects and the other options available for the intended purpose when selecting the most appropriate therapy.3
As wounds heal, the ideal dressing type may change, depending on the amount of exudate and depth of the wound; thus success in wound dressing selection hinges on recognition of the changing healing environment.... 4 [R]egular wound assessment combined with knowledge of basic wound dressing categories will provide guidance on product selection for different clinical situations and wound types.5
When selecting a dressing containing silver, wound care goals are much the same as when not using a silver dressing: obtain and maintain a clean wound bed, absorb excess exudate, and provide moisture if the wound is dry, while also filling, covering, and protecting the wound. The silver difference is bioburden management.6
Top Ten Silver Dressings Review for 2021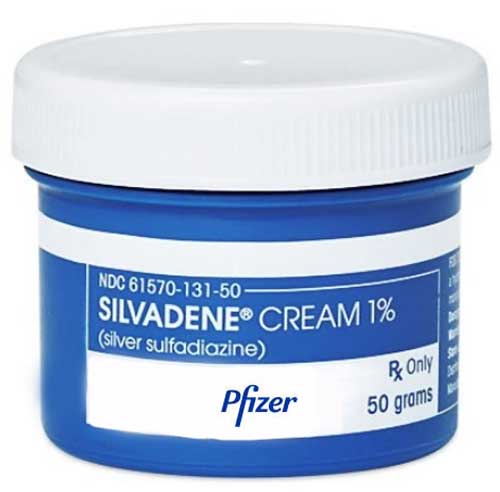 #1
Silvadene is made with silver sulfadiazine to halt bacteria growth. It is manufactured as a cream that is applied to the skin. This product is a topical antimicrobial for the prevention is wound sepsis and is the top silver product by far. Silvadene is a Pfizer product available in tubes or jars.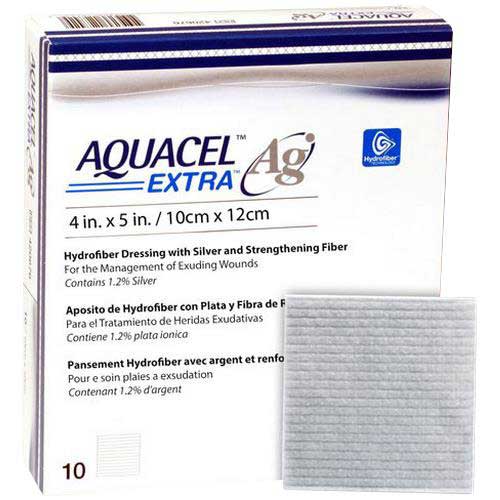 #2
Aquacel Ag is available in many different options from Hydrofiber ribbons to rectangular dressing pads to border dressings. These dressings use ionic silver to reduce bacteria growth and promote faster wound healing by providing a moist wound environment. The top layer of the Aquagel Ag Foam Dressing is waterproof, allowing the user to shower and bathe.
#3
Algicell Ag from Derma Sciences uses 1.4% silver in a sterile dressing applied directly to the wound. It offers high gelling of exudate and eliminates traces of residue on the wound. Algicell Ag Silver Calcium Alginate Dressing is a non-adhesive product.
#4
Silvasorb Gel is an antimicrobial wound gel form Medline. It comes in a 3-ounce tube with ionic silver that is wound friendly. The formula is non-stinging. Made by Medline, Silvasor Gel helps maintain a moist wound environment for healing.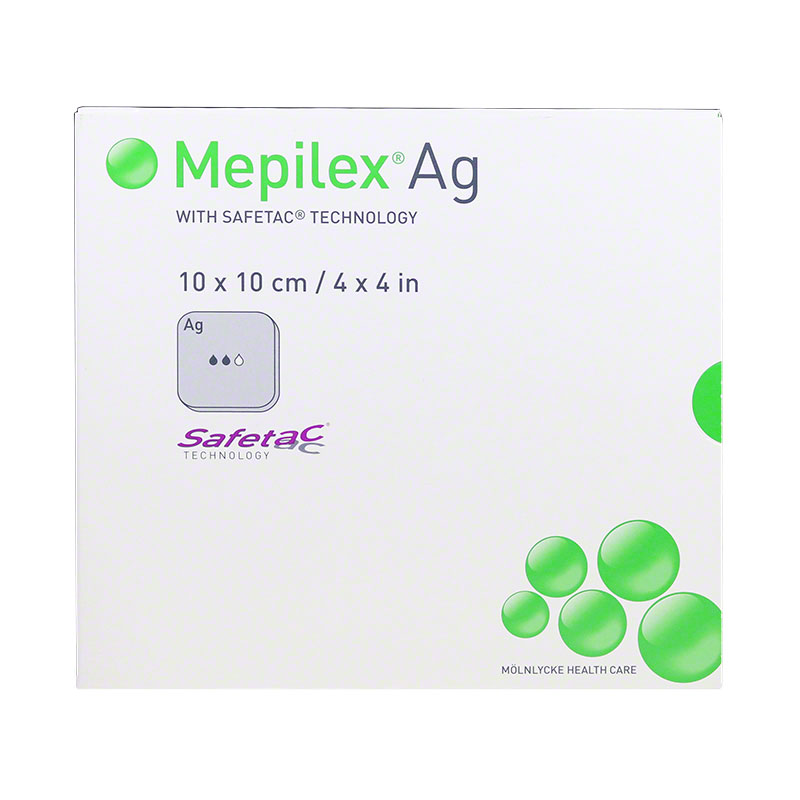 #5
Mepilex Ag is a Molnlycke product that is a foam absorption pad. It absorbs exudate and maintains a moist wound. The dressing contains a layer that seals the wound edges to keep exudate for leaking to the surrounding skin. It has a sustained antimicrobial activity for up to seven days. Mepilex Ag may be cut to fit the wound size. It works well for medium exuding burns and wounds.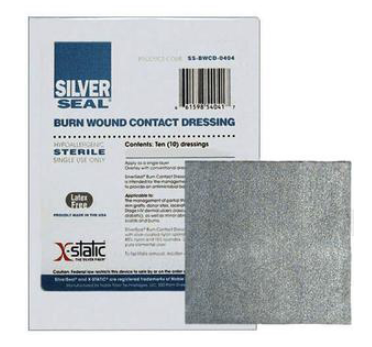 #6
Silverseal is a Derma Sciences product that is a contact layer dressing made with high-density polyester. It offers a topical antimicrobial barrier against bacteria with a sustained release of silver ions. It is non-absorbent and will not stain the surrounding tissue or skin. Silverseal is a versatile wound care product for use in most dressing applications.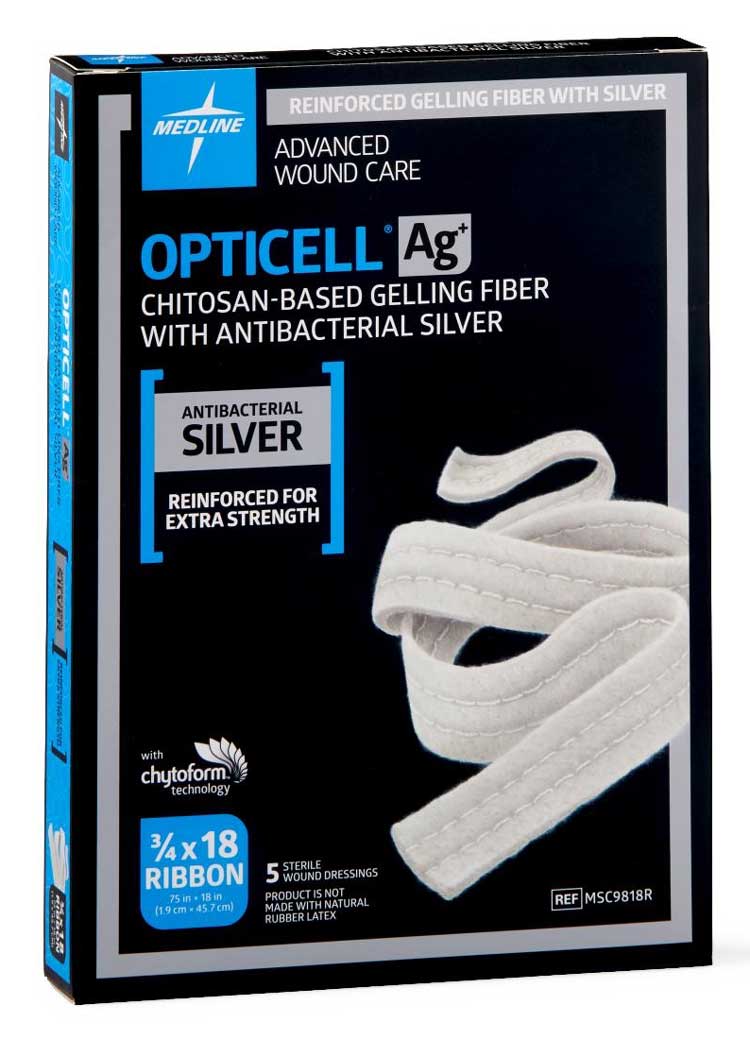 #8
Opticell Ag is an absorbent silver dressing with Chytoform technology to wick away exudate from the wound. It gently removes dead and damaged tissue and has a seven day wear time. Manufactured by Medline, Opticell Ag is a primary dressing.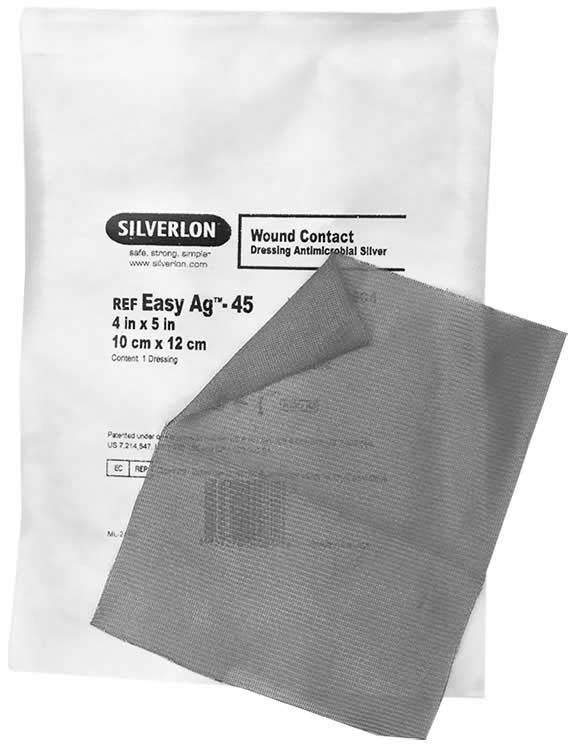 #9
Silverlon, manufactured by Argentum Medical, offers a wound contact dressings made with nylon fibers that are woven together and coated with a thin layer of silver. The dressing fabric is flexible to adapt to the curves of the wound area. These dressings can stay in place for up to 7 days. Silverlon is a primary dressing that requires a second dressing or bandage wrap to keep it in place.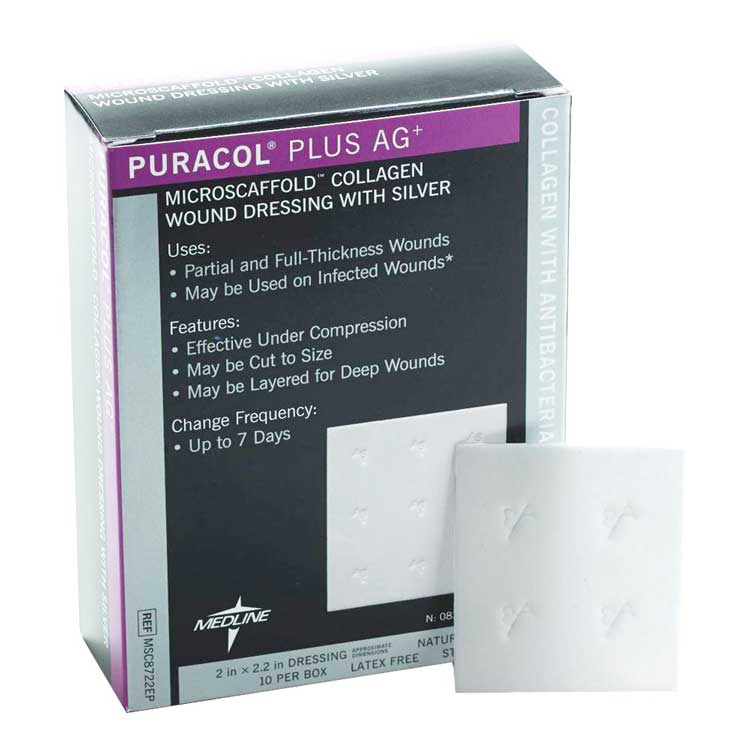 #10
Puracol Ag by Medline offers antimicrobial action through ionic silver that is non-staining. This dressing has technology that breaks down necrotic tissue and promotes healing. It is a primary dressing with 100% native collagen. This wound care product may be worn for up to 7 days. Purcol Ag is available in several versions.
Other noteworthy products that have medical studies but do not rank in the top ten include Acticoat 7 and PolyMem. "Acticoat is one of the best sheet like silver dressings, which when moistened with sterile water, releases silver ions onto the wound surface, destroying within 30 minutes both Gram positive and negative bacteria as well as Vancomycin resistant enterococci and Methicillin resistant S. aureus. 'If re-moistened, Acticoat produces a controlled release of clusters of silver cations onto the wound, for up to 3 days (if using Acticoat™) or 7 days (if using Acticoat 7)'.7

Acticoat has been shown to shorten in-patient stay compared to patients treated with SSD. The resulting decrease in bedtime and subsequently nursing time in this study means that Acticoat has been demonstrated to lower overall treatment costs compared to silver sulfadiazine in the high cost burns arena.8

PolyMem Silver QuadraFoam dressings have been used to 1) help jump-start stalled wounds, 2) manage wounds in patients prone to infection, 3) and help manage infected wounds, 4) when the underlying cause of the infection was being addressed. QuadraFoam dressings contain and attract moisture by design so they can be used on dry wounds without the need to add moisture.9

Footnotes
1 Kelleher, Maureen E., et al. "Use of silver sodium zirconium phosphate polyurethane foam wound dressing on wounds of the distal forelimb." Proceedings of the 59th Annual Convention of the American Association of Equine Practitioners, Nashville, Tennessee, USA, 7-11 December 2013. American Association of Equine Practitioners (AAEP), 2013. page 1.
2 Hermans, Michel. "What you need to know about silver dressings." Ostomy Wound Manage 54.6, 2008. page 10.
3 Politano, Amani D., et al. "Use of silver in the prevention and treatment of infections: silver review." Surgical infections 14.1 (2013): 8-20.
4 Broussard, Karen C., and Jennifer Gloeckner Powers. "Wound dressings: selecting the most appropriate type." American journal of clinical dermatology 14.6 (2013): 449-459.
5 Vowden, Kathryn, and Peter Vowden. "Wound dressings: principles and practice." Surgery (Oxford) 35.9 (2017): 489-494.
6 Hermans, page 10.
7 Munteanu, A., I. P. Florescu, and C. Nitescu. "A modern method of treatment: The role of silver dressings in promoting healing and preventing pathological scarring in patients with burn wounds." Journal of medicine and life 9.3, 2016. page 312.
8 Munteanu, page 313.
9 Hermans, page 10.
Medical Studies and Reports

Burt Cancaster, Author
Vitality Medical
7910 South 3500 East, Suite C
Salt Lake City, UT 84121
(801) 733-4449
[email protected]
VitalityMedical
You might be interested in...