Brondell Horizon HEPA-Type Air Purifier - White
Product Highlight
Four-stage HEPA filter
Intelligent ion technology adds extra protection
Reduces household allergens
Portable and compact design
Ideal for rooms up to 280 square feet
Easy-to-use control panel
Fast Delivery

Easy Returns
MPN :
12 W x 21.2" H x 6.5" D" - Each - #P200-W
List Price:
$160.91
You Save:
$20.92 (13%)
Description
Who Uses the Brondell Horizon HEPA-Type Air Purifier? Anyone who wants cleaner air in a medium-sized room, such as a dorm room, in-law unit, office, or RV.
Why They Love It: This HEPA-type air purifier removes airborne bacteria, pet dander, dust, pollen, mold, and smoke. It also catches large particles and reduces odors and gases, improving air quality in the room.
Brondell Horizon True HEPA-Type Air Purifier Overview
The Brondell Horizon Air Purifier uses a five-stage filtration system to clean small to medium-sized rooms up to 560 square feet, removing 98.45% of airborne allergens and irritants. In addition to the 4-in-1 filter, it has an optional ionization feature that adds even more protection, targeting and removing airborne particles like dust and bacteria. This air purifier features an intuitive control panel; three fan speeds, sleep and timer settings, and a low-light, low-noise sleep mode.
Vitality Medical offers a variety of respiratory therapy products.
Features and Benefits
Portable, Compact, and Lightweight
Removes Airborne Contaminants and Particles 0.3 Microns or Larger
Intelligent Ion Technology Targets and Neutralizes Airborne Irritants
Easy-To-Use LED Touch Control Panel
Ideal for Spaces Up to 280 Square Feet
Five-Stage Filtration System
Removes Odors, Gas, and Smoke
Sleep Mode Minimizes Noise and Light Disruptions
Convenient Filter Change Indicator
California Clean Air Resources Board Certification for Low Ozone Emission
Intuitive Touch Control Panel
Sleep and Timer Settings
ETL-Listed and Conforms to UL STD 867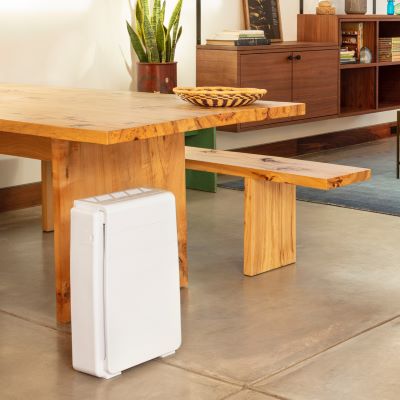 Intelligent Ion Technology
After pushing the ion button, the unit emits negatively charged ions into the air. The negatively charged ions attach and remove positively charged irritants like bacteria, allergens, and dust that may not be removed during a regular air purification session. This optional setting provides even more protection on top of the four-stage filter.
Brondell Horizon 4-in-1 HEPA-Type Air Purifier Filtration Layers
This air purifier uses a four-stage HEPA-type filter to remove large and small particles from the air, including bacteria, allergens, mold, and pollen. Each of the four layers is responsible for eliminating different types of contaminants:
Pre-Filter. This layer of the filter system catches large particles such as lint, hair, and dust.
Woven HEPA-Type Filter. This woven filter's core catches 98.45% of particles that are 0.3 microns in size or larger.
Granulated Carbon Filter. This honeycomb structure contains 1.4 pounds of carbon that traps harmful gases, odors, and VOCs, and it breaks up formaldehyde.
Cold Catalyst Filter. The final stage of the filtration system reduces lingering gases that pass through the other filters, like ammonia, benzene, xylene, formaldehyde, and more.
Compact and Portable Design
The Brondell Horizon Portable Air Purifier weighs only 11 pounds, making it lightweight and easy to carry between rooms. Its space-saving design makes it ideal for offices, bedrooms, and any space up to 280 square feet. The thin design helps the device easily fit against walls, table legs, bookshelves, and more.
Frequently Asked Questions (FAQ)
How often does the 4-in-1 filter need to be replaced?
Every four to six months.
What is the typical lifespan of each filter?
A lifespan is approximately 3,500 hours, but filter life varies based on use and environment.
When does the cold catalyst filter need to be cleaned?
Every four to six months.
What is the largest room size this purifier can clean?
The maximum effective coverage area is 560 square feet, with one air exchange per hour. However, it is most effective for rooms measuring 280 square feet or less.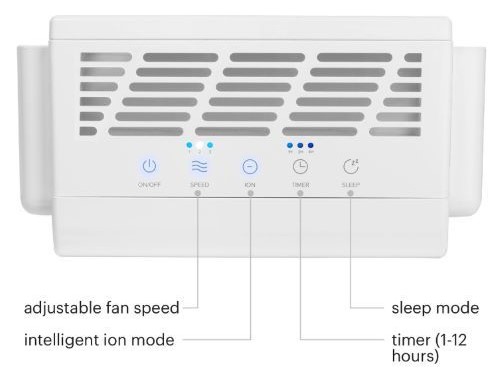 Product Specifications
Manufacturer: Brondell
Product Number: P200-W
Power Consumption: 55 Watts
Clean Air Delivery Rate (CADR): 218
HEPA Filter: No
Filter: Pre-Filter, Woven HEPA-Type Filter, Granulated Carbon Filter, and Cold Catalyst Filter
Removes Particle: 98.45% of Particulates Sized 0.3 Microns
Max Room Size: 560 Square Feet
Dimensions:

Length: 21.2 Inches
Width: 12 Inches
Depth: 6.5 Inches

Weight: 11 Pounds
Coverage Area:

140 Square Feet at 4 Air Exchanges per Hour
280 Square Feet at 2 Air Exchanges per Hour
560 Square Feet at 1 Air Exchange per Hour

Warranty: 2 Years
Application: Air Purifier
Manuals and Documents

Owners Manual has safety information, overviews of the filter and controls, cleaning directions, and more.
Additional Information
More Information

| | |
| --- | --- |
| Manufacturer | Brondell |