Swipe to the right
Securi-T Ostomy Care Products
Date: May 26, 2020

By Burt Cancaster
What is an Ostomy?
An ostomy is an involuntary opening in the body surgically placed to evacuate urine or feces from the digestive system. This opening allows waste from the inside of an organ to pass to the outside of the body. An ostomy surgically forms when an ending of the bowel reroutes to the surface of the abdomen; thereby, bypassing the remainder of the bowel. At the skin surface, the edges of the intestine turn back to the skin to form a stoma. Stomas may be temporary, but in most cases, are permanent. This procedure bypasses a damaged or diseased bowel.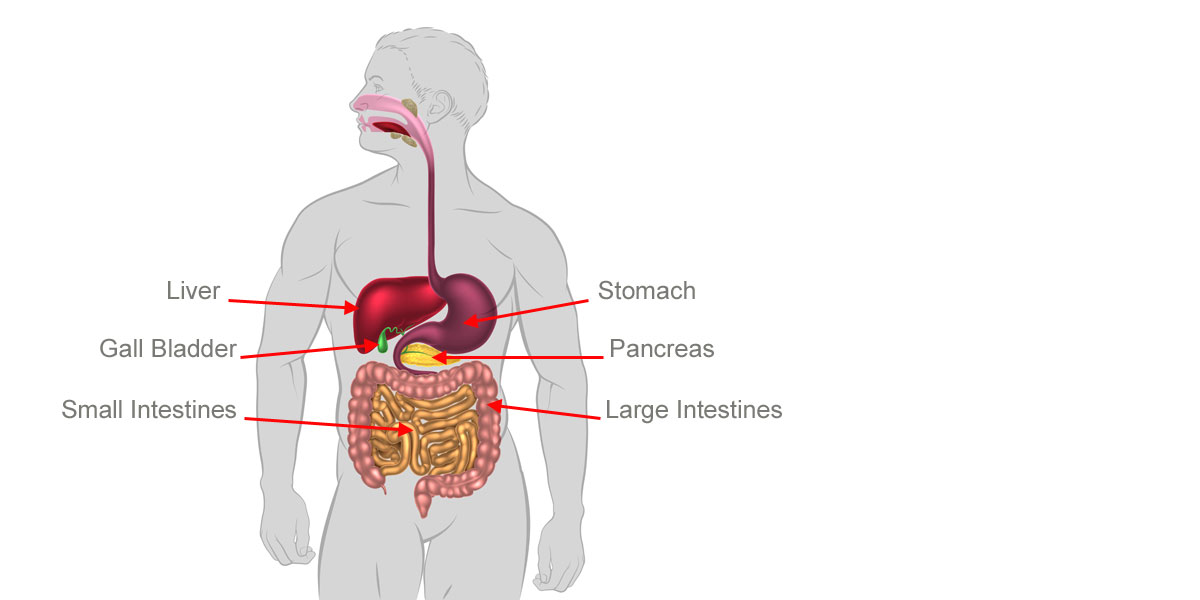 Intestinal stomata can be created using either the small or the large bowel. More than 75% of all stomata are placed as part of the treatment of colorectal cancer. The incidence of stoma-related complications is reported to be 10–70%. Skin irritation, erosion, and ulceration are the most common early complications, with a combined incidence of 25–34%, while stoma prolapse is the most common late complication, with an incidence of 8–75%. Most early complications can be managed conservatively, while most late complications require surgical revision. In 19% of cases, an ostomy that was initially planned to be temporary becomes permanent. Inappropriate stoma location and inadequate ostomy care are the most common causes of early complications. Both surgical and patient-related factors influence late complications. 1
Reducing the risk of complications and skin irritation is critical for patient compliance and adaptation. The wrong size appliance, difficulty removing adhesive, leaks, odor, and a host of other issues can combine to make life with a stoma more difficult. Correct sizing and proper stoma care can make all the difference. Appliances include ostomy bags or ostomy pouches that attach to the stoma to collect waste. These bags may have accompanying connections or accessories such as wafers, seals, sealing pastes, barrier strips, no-sting wipes, adhesive remover wipes, drainage, and straps to keep the pouch in place. These appliances and accessories are necessary to make adaptation to a stoma "liveable" for the patient.
Types of Ostomies or Stomas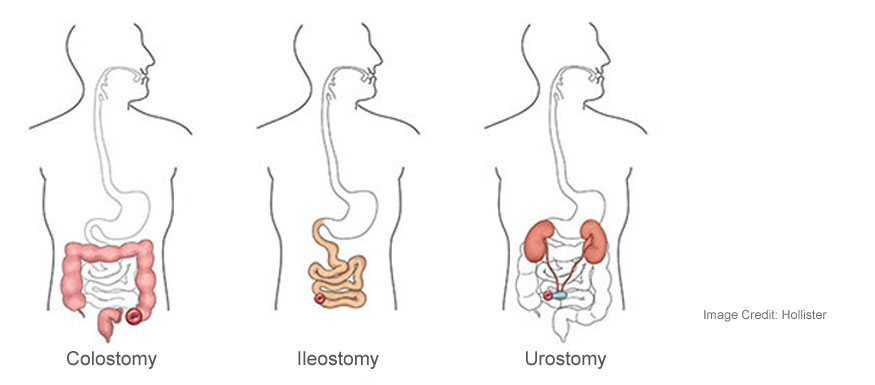 There are three principal types of ostomies—colostomy, ileostomy, and urostomy. A colostomy bypasses a portion of the large intestines, an ileostomy detours the large intestines completely, and a urostomy avoids the bladder. The stoma is an artificial opening on the abdomen to allow urine or feces to bypass the bladder or the remainder of the intestines. An ostomy bag or ostomy pouch connects with the stoma to collect waste products.
Colostomy
A colostomy diverts waste to pass out of the body from the colon through an opening in the abdomen. A piece of the large intestine journeys out of the abdominal wall to provide an opening to eject fecal matter. The fecal contents collect in an ostomy bag for later disposal. This procedure results from cancer, diverticulitis, Hirschsprung's disease, imperforated anus, trauma, and other causes.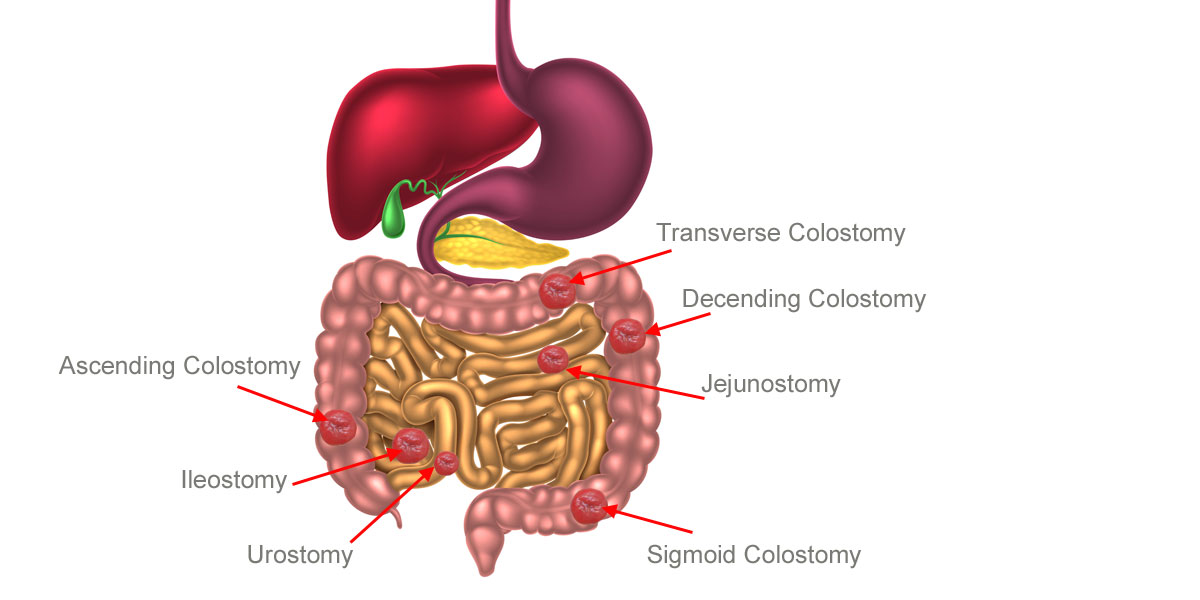 There are four common colostomy sites along the colon named after their location—ascending (right side), transverse (upper crossing), descending (left side), and sigmoid (lower left side). The sigmoid colostomy is the most common and is a few inches lower than a descending stoma. The sigmoid is also the farthest point down the digestive tract for an ostomy location. 2
What is a Colostomy? (2:02 minutes)
Ileostomy
An ileostomy is similar to a colostomy but instead transfers waste from the ileum of the small intestines rather than from the large intestines. The transfer takes place from the abdomen through a stoma to an ostomy pouch. Ileostomy procedures bypass an area of the digestive system compromised by bowel cancer, Crohn's disease, ulcerative colitis, or rectum surgery. There are two key types of ileostomies—end and loop. "In an end ostomy the supplying end of the divided intestine is brought out to the body surface, while in a loop ostomy the anterior wall of the intestine is opened to create the outlet." 3
What is an Ileostomy? (4:14 minutes)
Urostomy
A urostomy drains urine and bypasses a diseased or damaged bladder. This type of ostomy is nearly always permanent and is the least common of the three primary ostomies. A drainable urostomy bag attaches to the stoma to collect urine for later emptying. Most patients empty their urostomy pouch four to six times daily. "A urostomy is usually situated in the right iliac fossa and is similar in appearance as an ileostomy. The urostomy is warm, red, and moist with a 2.5 cm spout and is about 30 mm in diameter." 3 "A urostomy or ileal conduit is created using a short segment of the ileum to aid in eliminating urine. The ureters are connected to the conduit for urine to flow out of the body via the stoma into an ostomy pouch."4
What is a Urostomy? (2:15 minutes)
Indications for Colostomy
Colon-Rectal Cancer
Cystic Fibrosis
Diverticular Disease
Ehlers Danlos
Gastrointestinal Trauma
Inflammatory Bowel Disease
Intestinal Obstruction
Interstitial Cystitis
Intussusception
Irradiation Damage
Ischaemic Bowel
Meconium Ileus
Magarectum
Necrotising Enterocolitis
Necrotising Faciitis
Neurogenic Bladder
Obstruction
Perforated Bowel
Refractory Radiation Cystitis
Solitary Rectal Ulcer
Spina Bifida
Spinal Cord Injury
Trauma
Vesceral Myopathy
Vovulus5
Indications for Ileostomy
Bowel Obstruction
Colorectal Cancer
Crohn's Disease
Distal Anastomosis
Distal Ileal
Perianal Fistulas
Proximal Colonic
Ulcerative Colitis
Familial Adenomatous Polyposis6
Indications for Urostomy
Bladder Cancer
Chronic Pelvic Pain Syndromes
Congenital Malformations or Abnormalities
Gynecological Cancers
Gynaecological Tumor
Interstitial Cystitis
Intractable Incontinence
Neurogenic Bladder
Refractory Radiation Cystitis
Vesical Exstrophy
Vesicovaginal Fistulas7
Life Adjustments to a Stoma
Adjusting to life with an ostomy is challenging for most patients. Medical studies find that stoma acceptance, interpersonal relationships, and the stoma location are primary concerns. Gender is not a factor in adjusting to living with a stoma; both parties find it a struggle. 8
One study found that many of the complications associated with an ostomy related to the patient's own stoma care. "A baseplate opening that is too large is a predisposing factor for cutaneous irritation or even ulceration. The danger of cutaneous complications is greatest for ileostomy. While irritation can be managed out of [the] hospital by means of baseplate correction and intensive skin care, ulceration requires expert consultation. A baseplate opening that is too small leads to mucosal erosion and possibly hemorrhage." 9
"Self-efficacy, one's expectations regarding the ability to perform some specific task" was the focus of another study that found five important life domains significantly impact a patient's adaptation to a stoma: "vocational environment, domestic environment, sexual relationship, social environment, and psychological distress…. By strengthening patients' self-efficacy, this adaptation process may be accelerated, and the psychological and social burden can be lightened." 10
Ostomy Appliances and Accessories
Selecting the right appliances and accessories is important to get the right fit and protect the skin surrounding the stoma. Each person has unique characteristics that require different adaptations to meet their personal needs. Accessories clean and protect your skin. They prevent leaks and odor. These ostomy supplies help you to maintain an active lifestyle and achieve normal functioning.
Ostomy Pouch Options
There are many ostomy appliances and accessories to select from to help ostomy patients adapt to their new lives with a stoma. Ostomy bags are available in several different options. They can be closed-end (not drainable and disposable) or open-end (drainable and reusable). They can be transparent to allow caregivers to assist the patient with changing or draining the pouch, or they can be opaque to be more discreet for active users. These bags can be a one-piece design to unobtrusively hide under clothing or two-piece to accommodate less trauma to the skin surrounding the stoma during bag changes. These pouches can also be pre-cut to the stoma size or cut-to-fit for a more custom fitting. You can select between filtered to reduce odors and support swimming, or a less expensive option of no filter for use at home. You may also choose between multi-chambered ostomy bags to be less noisy and support sports and athletic activities or a less expensive option that does not have this feature.
Colostomy bags often employ a closed-end bag that allows the user to simply discard the pouch and its fecal contents and not have to mess with draining. The disposable close-ended bags help prevent odor from escaping. Most ileostomy pouches and urostomy pouches use a drainable bag design, which allows the user to empty the contents of the pouch when full.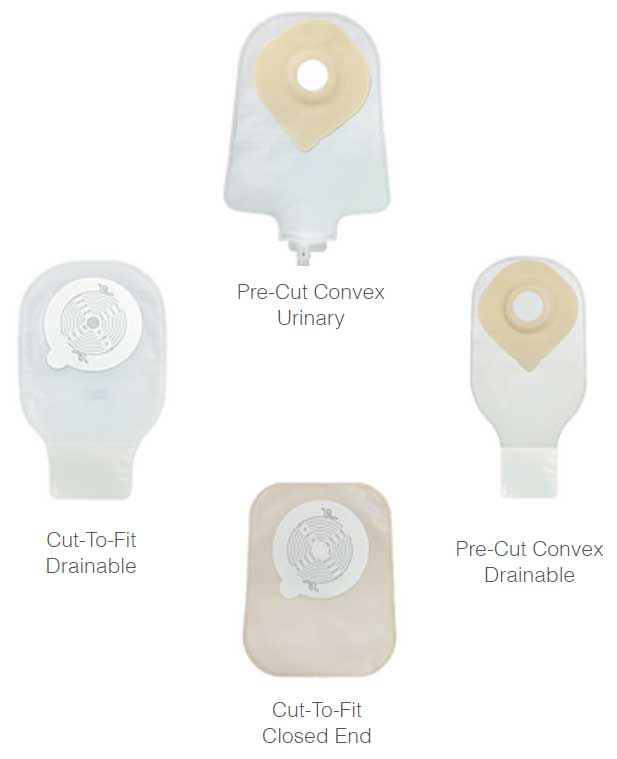 1-Piece Pouch Systems
One-piece pouch systems provide for more discreet wear. With this type of ostomy appliance, you only have one-piece to apply. It offers easy application, particularly for those with dexterity or some other impairment for self-application. They offer more flexibility since there is not a separate flange attachment. This type has a lower profile and hides well under clothing. Active users benefit the most from a one-piece system, allowing more freedom of movement and less cumbersome deployment. To the left is an image of various Securi-T Ostomy 1-piece appliances. Below is a list of typical 1-piece ostomy bags along with links to product pages.
2-Piece Pouch Systems
Two-piece pouch systems use an ostomy wafer or flange device that stays attached to the stoma. 2-piece bags allow multiple changes of the pouch without disturbing the stoma and surrounding skin. It is easy to switch from a closed pouch for activities to a drainable pouch for more convenience at the office or around home. Less frequent changes of the flange reduce the risk of skin problems and the need for ointments and creams to combat dermal irritations. It also means that the user will require less ostomy paste to help seal the pouch to the stoma since there will be fewer changes. To the left is an image of Genairex Ostomy 2-piece appliances with a matching wafer. Below is a list of typical 2-piece ostomy bags along with links to product pages.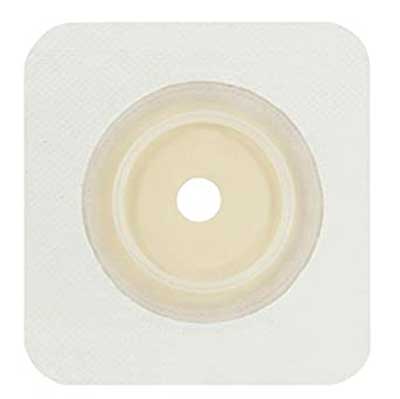 Wafers
Wafers or flanges are the second piece of a 2-piece ostomy pouch. Wafers come in extended wear, standard wear, cut-to-fit, pre-cut, hydrocolloid, convex, and assorted size options. Extended Wear Wafers have a barrier material that allows for longer use periods. A convex wafer has a built-in outward curve which helps to obtain a better seal around the stoma for some. Use a convex wafer for stomas that are flush with the skin or inset. The flange size should match exactly with the pouch size for a proper fit.
---
Skin Protection Accessories
Ostomy bags and wafers attach to the skin around the stoma. Adhesives provide a secure way to achieve this attachment. Removing the adhesive residue from your skin without damaging your skin can be challenging. Adhesive Remover wipes are skin-friendly and have added ingredients that soothe your skin. Other additives like aloe and vitamin E also promote good skin health. The formulas include anti-irriating ingredients. They help maintain a functioning skin barrier and provide moisturization.
Product Number: 203050
Dimension: 1-1/4 x 3 Inch
Volume: 50 Wipes Per Box
Packaging: Individual Packets
Application: Adhesive Remover
Liquid Dries to a Slightly Wet Tack
HCPCS Code: A4456
Barrier wipes are fast-drying to help prevent skin maceration. The wipes are formulated with non-irritating ingredients that protect your skin from body fluids. They provide less adhesive trauma and help tape and film adhesives stick. These barrier wipes provide a threshold between your skin and adhesives.
Product Number: 202400
Dimension: 1-1/4 x 3 Inch
Volume: 50 Wipes Per Box
Packaging: Individual Packets
Application: Adhesive Preparation and Barrier Protective Dressing
No Sting Formula
Liquid Dries to a Sticky Tack
HCPCS Code: A5120
No Sting Spray Barrier Protective Dressing
Barrier protective spray offers easy application to reduce adhesive trauma. Just spray onto cleansed skin. The spray protects your skin from bodily fluids and are non-irritating. The formula is fast-drying and offers protection from skin maceration.
Product Number: 202402
Volume: 2 Fluid Ounces (59 mL)
Packaging: Spray Bottle
Application: Spray Adhesive Preparation and Barrier Protective Dressing
No Sting Formula
Liquid Dries to a Sticky Tack
HCPCS Code: A4369
Ostomy powder absorbs moisture and helps to protect your skin. Use to dry a raw, weepy area of the skin around your stoma. Ostomy powder protects against itching and broken skin. It relieves irritated skin and promotes comfort.
Product Number: 201001
Volume: 1 Ounce (28.3 grams)
Packaging: Plastic Bottle
Application: Ostomy Powder
Protects Against Itchy Skin
HCPCS Code: A4371
These stretch-to-fit, conformable seals provide skin protection by covering inconsistent areas of skin around the stoma. The seals help prevent leaks, protect skin, and repress moisture penetration. The stretchy material easily conforms around a variety of stomas.
Product Number: 7900222, 7900444
Stoma Diameter Sizes: 2 or 4 Inch
Packaging: 5-pack
Application: Ostomy Seal
Moldable
Stretchable
HCPCS Code: A4385
Hydrocolloid Skin Barrier Strips
These skin barrier strips offer additional security to protect skin. Place the strip under the pouch to assist with adhesion and to protect skin. These strips aid individuals with adhesive allergies or irritable skin. They adapt to any brand of ostomy appliance and are pre-cut and pre-shaped for easy application. These barrier strips are easy to remove and gentle to the skin.
Product Number: 7200344
Packaging: 30-pack
Application: Barrier Strip
Skin-friendly
Tape Alternative
HCPCS Code: A4362
Skin barriers protect the skin and enhance ostomy appliance adhesion. The barrier goes underneath the appliance and against your skin. Barriers may be cut-to-fit as needed and fill uneven skin around the stoma to prevent leaks.
Product Number: 7200444
Packaging: 10-pack
Application: Skin Barrier
Skin-friendly
Tape Alternative
Applies Easier with Water
HCPCS Code: A4362
Stoma Paste is a protective skin barrier that is pectin-based. It comes in a squeeze tube that is easy to apply. The paste fills and chalks uneven areas around the stoma to reduce leaks around the stoma appliance.
Product Number: 200000
Volume: 2 Ounce
Packaging: Tube with Screw Cap
Application: Skin Barrier
Protects Skin
Prevents Leaks
Alcohol Free
HCPCS Code: A4406
Ostomy Deodorant protects the user from odor. This product is long-lasting and works by neutralizing odors. It does not attempt to mask odors with a fragrance. Instead, it defeats odor with a counteracting formula.
Product Number: 108000
Volume: 8 Ounce
Packaging: Bottle with Flip Top Cap
Application: Odor Neutralizer
HCPCS Code: A4394
This ostomy deodorant offers lubrication and a deodorizer in one. It has a gel-base formula that offers long-lasting protection. Odors are neutralized and not masked by a fragrance.
Product Number: 108008
Volume: 8 Ounce
Packaging: Bottle with Screw Cap
Application: Odor Neutralizer
HCPCS Code: A4394
---
Other Accessories
The Ostomy Belt attaches to an ostomy appliance to keep it secure for active users. The belt is adjustable to meet individual needs. It keeps ostomy bags securely in place while participating in activities. The belt attaches to tabs on the ostomy appilance
Product Number: 7126049
Size: 26 to 43 Inch Waist ( 66 to 109 cm)
Packaging: Each
Application: Ostomy Pouch Belt
Latex
HCPCS Code: A4367
The Curved Tail Ostomy Closure is a plastic device used on drainable pouches to keep them closed. It has a simple latch device that keeps the ostomy bag closed and keeps the latch in place. This clamp device is reusable and provides a secure seal at the end of the drainable pouch.
Product Number: 7135005
Packaging: 5-Pack
Application: Ostomy Pouch Closure
Material: Plastic
Reusable
HCPCS Code: A4363
The Night Drain Adapter has a universal connection for attaching to an ostomy pouch to provide night urine drainage. It is for use with urostomy bags to drain to a bedside bag or container. It is easy to setup and use, offering convenience during the night to allow the user to sleep undistrubed.
Product Number: 7153005
Packaging: 5-Pack
Application: Drain Adapter
Material: Plastic
Reusable
HCPCS Code: A4421
---
Securi-T USA
The examples, product images, and links used in this blog article are from the Securi-T USA brand line, formerly known as Genairex. Securi-T is an ostomy product brand from Hollister. This brand offers a complete line of ostomy products, ranging from urostomy pouches, wafers, ostomy power, stoma paste, adhesive remover, no-sting wipes, to drain closures and adapters. These branded products are user-friendly, and American made. Request FREE Ostomy Samples from Securi-T by calling toll-free to 800-323-4060 between 8 am and 5 pm Central Time.
Footnotes
1 Ambe, Peter C., et al. "

Intestinal ostomy: classification, indications, ostomy care and complication management

." Deutsches Ärzteblatt International 115.11 (2018): 182-187. (Last Accessed May-21-2020)
2 Pontieri-Lewis, Vittoria.

Medsurg Nursing

; Pitman Vol. 15, Iss. 4, (Aug 2006), page 199. (Last Accessed May-20-2020)
3 Ambe, pages 182-187.
4 Burch, Jennie, ed.

Stoma care

. John Wiley & Sons, 2008, page 6. (Last Accessed May-20-2020)
5 Pontieri-Lewis, page 199.
6 Hooper, J and Gutman, N. Colostomy Guide. United Ostomy Associations of America. 2004, pages 4-6. (Last Accessed May-22-2020); Engida, Abebe, et al. "

Types and indications of colostomy and determinants of outcomes of patients after surgery

." Ethiopian journal of health sciences 26.2 (2016): 117-122. (Last Accessed May-22-2020)
7 Rajaretnam, Niroshini, and Bettina Lieske. "

Ileostomy

." StatPearls [Internet]. StatPearls Publishing, 2019. (Last Accessed May-22-2020)
8 Costa, J. "

Urinary Diversion and Neobladders

." Medscape. February, 2019. (Last Accessed May-22-2020); Benchekroun, A., et al. "Continent urostomy with hydraulic ileal valve in 136 patients: 13 years of experience." The Journal of urology 142.1 (1989): 46-51. (Last Accessed May-22-2020)
9 Simmons, Kingsley L., et al. "Adjustment to colostomy: stoma acceptance, stoma care self‐efficacy and interpersonal relationships." Journal of advanced nursing 60.6 (2007): page 231. (Last Accessed May-22-2020); Krouse, Robert S., et al. "Coping and acceptance: the greatest challenge for veterans with intestinal stomas." Journal of psychosomatic research 66.3 (2009): page 231. (Last Accessed May-22-2020); Nugent, Karen P., et al. "

Quality of life in stoma patients

." Diseases of the colon & rectum 42.12 (1999): 1569-1574. (Last Accessed May-22-2020)
10 Ambe, page 186. (Last Accessed May-21-2020)
11 Bekkers, M. J. T. M., et al. "

Prospective evaluation of psychosocial adaption to stoma surgery: the role of self-efficacy

." Psychosomatic Medicine 58.2 (1996): page 190. (Last Accessed May-22-2020)
Medical Studies
Vitality Medical
7910 South 3500 East, Suite C
Salt Lake City, UT 84121
(801) 733-4449
[email protected]
VitalityMedical