Date: December 14, 2015
By Burt Cancaster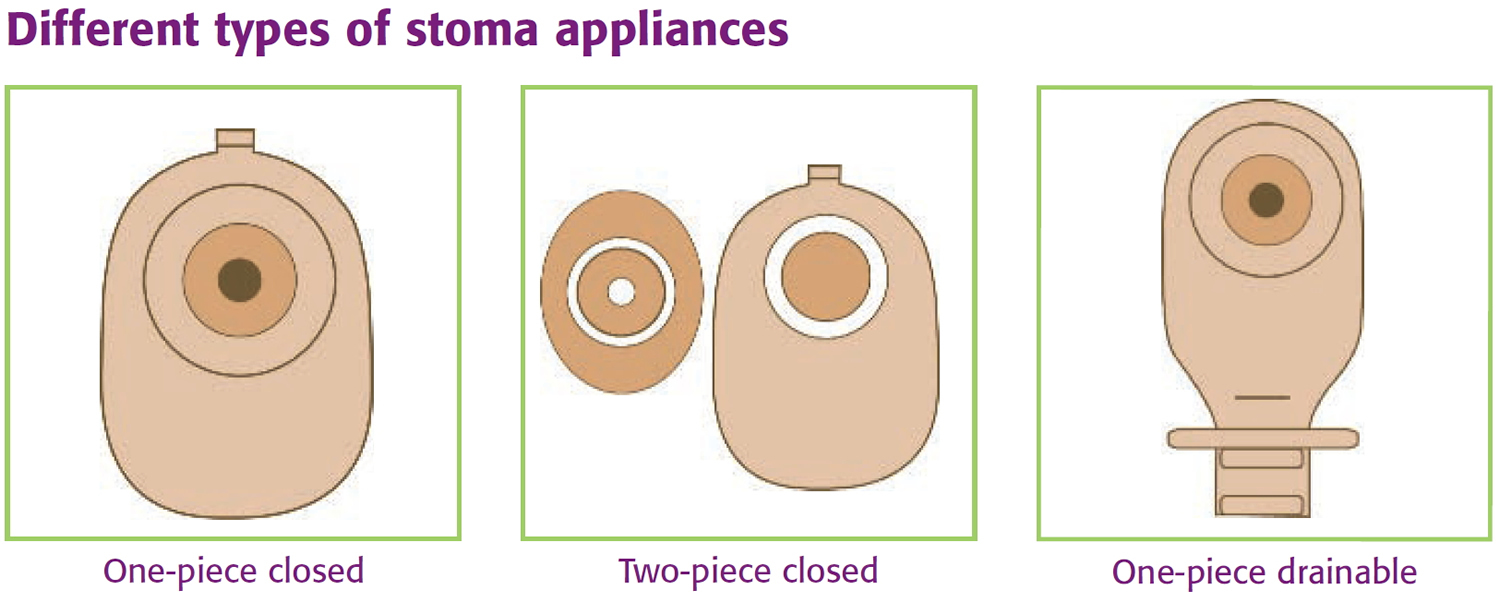 Ostomy Bags
are also known as ostomy pouches or ostomy appliances. They come in three different types and with numerous options. The three types of ostomy bags are colostomy bags, ileostomy bags, and urostomy bags. A colostomy is a surgically created opening into the colon through the abdomen. It allows waste to bypass a diseased or damaged part of the colon. An ileostomy is a surgically created opening into the last part of the small intestine through the abdominal wall. An ileostomy allows liquid and soft feces to bypass the lower intestines. A urostomy is a surgically created opening also on the abdomen that bypasses the bladder which stores urine. After the bladder has surgically been removed, urostomies allow urine to flow out of the body.
This article will examine the criteria used for selecting an ostomy product to meet the most common needs of ostomy patients. When you narrow down the options to a few best choices, check out the FREE Ostomy Bag Samples available from several different manufacturers at the bottom of this article to test the products that best meet your needs!
Selecting the right ostomy appliance is not always quick and easy. New innovations and technology combine to provide many new options that are confusing to many patients. Choosing the right ostomy bag will depend heavily upon several different factors. Some of these factors include the type of ostomy, patient lifestyle, daily activities, personal preferences, skin condition, and budget. Below are some quick links to sections of this article that may be of immediate interest to you.
Types of Ostomy Bags
Manufacturers design ostomy bags for a specific stoma. Colostomy bags work with a colostomy stoma while ileostomy bags work for an ileostomy stoma. A colostomy bag's construction is to collect fecal waste. This collection device is easy to drain and irrigate for reuse. An ileostomy bag collects stool and digestive enzymes. Urostomy bags collect urine. Some ostomy bags come with flat skin barriers, convex wafers, or moldable skin barriers for special fitting requirements. There are multi-chambered ostomy bags and mini pouches that are more discreet and useful for sports and active lifestyles. Filtered ostomy bags are handy for bathing or swimming. Ostomy bags equipped with belt tabs provide for attaching to an ostomy belt to help support the weight of the pouch. Numerous options are available to help meet your specific needs.
One Piece, vs. Two-Piece Ostomy Bags
There are several deviations between a one-piece ostomy bag and a two-piece ostomy bag. The infographic below displays some of the critical differences in these two types of ostomy bags. To wisely discern which bag is best for you, take a few moments to consider some of the advantages that accompany these two different types of ostomy bags.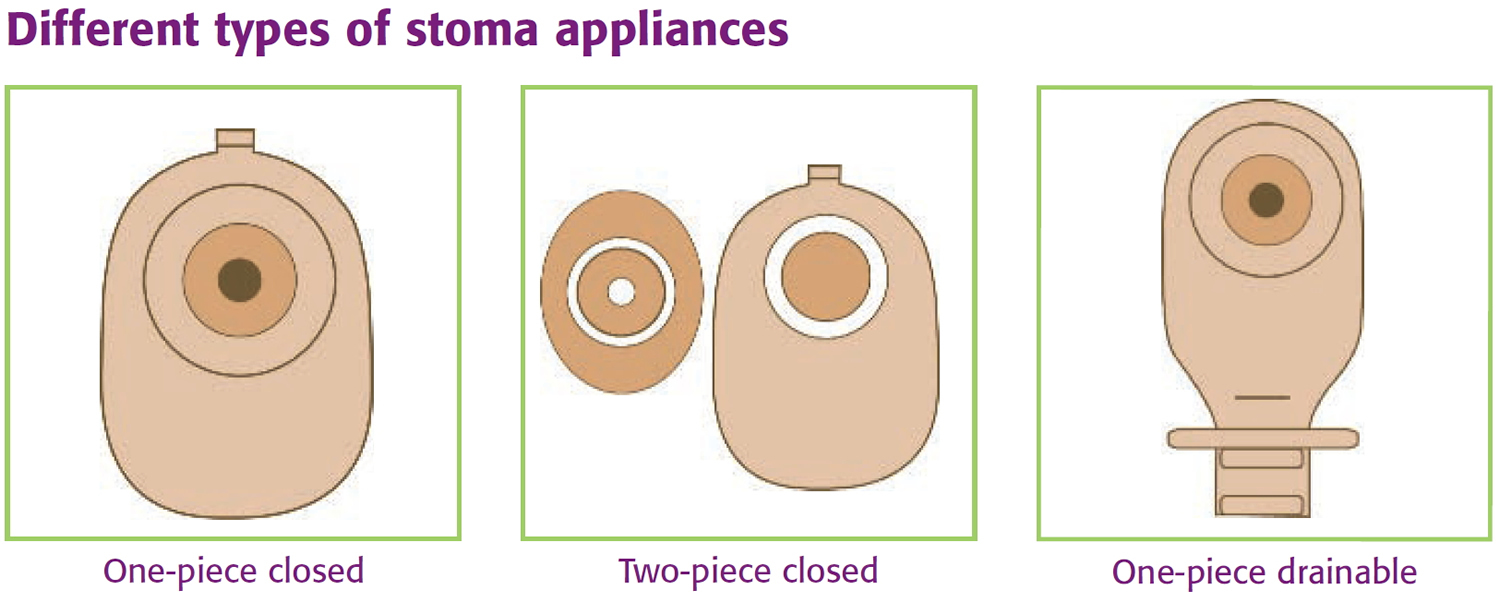 A one-piece ostomy pouch provides a more discreet profile than a two-piece pouch. One-piece ostomy bags are often nearly invisible beneath clothing. For people who wear form-fitting clothes or who participate in sports, a one-piece ostomy pouch might be the ideal choice. In a one-piece system, the flange cannot separate from the ostomy bag, resulting in a more secure user experience. However, a one-piece ostomy bag requires that the ostomy wafer and bag combination be changed at every bag change. Frequent changes of ostomy appliances have the potential to cause skin irritation for some users.
Furthermore, when you change the bag on a one-piece system, everything must be positioned around the stoma just right to prevent leaks. This positioning can be somewhat time-consuming. With a one-piece unit, you are likely to use more skin barrier pastes, tapes, and adhesive removers than you would with a two-piece. The frequent use and exchange of these materials can add additional expenses to your budget. The ActiveLife One-Piece Drainable Cut-to-Fit Pouch with Stomadhesive Skin Barrier is an excellent example of a one-piece ostomy system.
There are several advantages to investing in a two-piece ostomy system. With a two-piece ostomy bag, the skin barrier, often referred to as a flange or wafer, can remain in place for two to four days. Less frequent skin barrier changes are gentler on the skin. Frequent replacement required by the one-piece system is often too much for sensitive skin. With a two-piece system, you can easily change the size of the bag you are using without removing the skin barrier. You can conveniently switch to a smaller bag for intimate moments or for swimming and effortlessly slip on a regular-sized bag for everyday activities. At night, a larger bag for an extended collection period may be necessary. Ostomy bag changes with a two-piece system are much quicker and easier than a one-piece system. This system is more adaptable to the needs of people who lead an active and engaging lifestyle. Some of the disadvantages of using a two-piece system include bulkier size, more prone to leaking, and slightly more expensive than one-piece systems. Although 2-piece systems may appear more expensive, they may actually be less costly in the long run. When factoring the additional costs of tape, adhesive removers, and barrier pastes required for skincare and stoma sealing that are common with the one-piece ostomy bag, the cost difference is negligible. An example of a standard two-piece ostomy bag is the Click MIDI Opaque Drainable Pouch.
Choose the ostomy bag that you not only feel comfortable with but adapts well to your everyday lifestyle. Many people find that it is convenient to have both types of ostomy bags on hand to suit different types of situations and activities. This strategy offers the most flexibility and adaptability.

Ostomy Bag

Advantages

Disadvantages

1-Piece


simplicity
ease of use
flexible
less bulky
lower profile
less obtrusive
easier to secure
quicker application
more adaptable to uneven skin
less accommodating to special needs
frequent changing = sore skin
greater frequency of stoma positioning

2-Piece


more skin friendly
better accommodations for special needs
subject to leaks
flange difficult to keep clean
more rigid and unflexible
bulky
Drainable pouches are available in both one-piece and two-piece. A drainable bag allows users to empty the contents of the pouch and then reuse. Primarily, people with ileostomies or whose stool is semi-formed, drainable pouches are a better choice. This is because they require fewer changes than closed-end bags. They are more accessible to empty and ideal for people with liquid or semi-solid waste output.
Closed-end Pouches, which are also available in one-piece or two-piece systems, are not reusable. Closed-end pouches are thrown away once the pouch is full. Closed-end ostomy bags are ideal for formed, solid waste output. Many manufacturers make flushable pouch liners, which are suitable for people who lead a busy lifestyle and who do not have time to empty and clean a pouch. Sealed designs are standard for colostomy bag users. A colostomy bag attaches to either an upper or lower area of the colon. Depending on the location, the consistency of the output will be different. Solid waste collection prefers the use of a closed colostomy bag. That means there is no need to clean the colostomy bag, and it can simply be detached and thrown away.

Ostomy Bag

Advantages

Disadvantages

Drainable



extends wear time
less changing required
easy removal of heavy liquids
fewer bag expenditures
easy to empty bag for disposal
best for colostomy or ileostomy


difficulty draining with thicker consistencies
time consuming and painstaking flange cleaning
fastening bags are often uncomfortable

Closed


flushable options for easy disposal
accommodates active lifestyles
best for colostomy
supports swimming, exercise, intimacy
replacement bag must always be on-hand
not practical for high liquid output
more difficult disposal when in public
difficulties when draining bag
requires replacing 1 to 3 times daily
not recommended for urostomy
Fitting the skin barrier snugly around the stoma minimizes leaks and the risk of damaging skin. The more secure the ostomy pouch, the lower the risk of leaks. A pre-sized barrier is an opening in the flange that is already cut to the size of the stoma. Printed on each ostomy pre-cut pouch is the stoma size to easily match-up with the correct size barrier. For stomas with an evenly round shape, a Pre-cut Ostomy Bag is the best choice. A cut-to-fit version is ideal if the stoma is still changing sizes or if the shape of the stoma is not round. A cut-to-fit barrier requires cutting the skin barrier before it is applied to the body. Some cut-to-fit ostomy bags have a small starter hole in the center of the skin barrier where scissors can be placed to start cutting to get the right size. Below is a chart displaying the key advantages and disadvantages of Pre-Cut vs. Cut-to-fit Ostomy Bags.

Ostomy Bag

Advantages

Disadvantages

Pre-Cut



easier to apply
fewer time requirements

may not fit adequately
less adaptable to odd stoma sizes/shapes

Cut-to-Fit





adaptable to patient needs
increased flexibility




more cumbersome application
more time consuming
Opaque ostomy pouches are more user-friendly, offering more discreetness than transparent bags. Usually, they are beige in color to more closely match skin color. The purpose of opaque bags is to conceal the contents of the pouch. A transparent ostomy pouch allows you to see into the bag to inspect its contents and fill level. Clear bags are caregiver friendly and simple to check. Patients that spend a lot of time in wheelchairs or hospital beds and depend upon caregiver assistance favor this type of ostomy appliance. The translucent "window" offers less patient intrusion by the caregiver. Below is a brief comparison chart of these two types of ostomy bags.

Ostomy Bag

Advantages

Disadvantages

Transparent


helpful for caregivers
less patient intrusion
easier to check
less discreet

Opaque


discreet
difficult to check
The majority of ostomy pouch flanges are flat, but many ostomy patients prefer or require a curved flange. Flat Ostomy Bags have a flat adhesive backing, allowing the bag to be in a fixed position with little protrusion. Flat appliances offer more discreetness. Convex Ostomy Bags have a back which protrudes out giving the flange a stepped side-profile appearance. Convex ostomy bags are available in both two-pieces and one-piece products.
Convex bags come in fixed and non-fixed options. The design of a fixed curved pouch is a stair-step molding shape which provides additional strength. Fixed arched flanges are less flexible than traditional flat seals. The non-fixed range of convexity products are usually based around plastic rings which clip into existing traditional flat/non-convex product ranges to give them a shallow convex step. Non-fixed contoured products are considered more gentle, softer, and flexible, allowing more flex with your body. There are also three different levels of curvature for convex bags--shallow, moderate and deep. The combination of these options gives ostomy patients more choices, and flexibility, over which beveled product would be best. Convex pouches offer added security and skin protection for recessed, retracted and flush stomas. Below is a chart comparing the advantages of curved and flat ostomy bags.

Ostomy Bag

Advantages

Disadvantages

Convex




accommodates flush stoma
integrates with a retracted stoma
accommodates less than 1/2 inch protruding stoma
adapts to skin wrinkles
accommodates creases
adapts to surgical scars
accommodates telescoping stoma
pre-cut or moldable options
longer-lasting seal


increased profile
less discreet
more expensive

Flat



discreet
fits stomas that protrude more than 1/2 inch


requires a protruding stoma of at least 1/2 inch
Ostomy bags with filters allow the bag to vent while filtering the gas to remove any odor. Gas and odor are often associated with stomas. An ostomy filter is usually made of charcoal with microscopic holes and membranes. Ostomy bags that incorporate an integrated filter allow patients to bathe, swim, or participate in athletics with a much lower risk of leaks. Performance of these filters varies from manufacturer to manufacturer so you may want to try several different manufacturers to see which one works best for you.

Ostomy Bag

Advantages

Disadvantages

Filtered




reduces or removes odors
provides for bathing
supports swimming
supports water sports



increased expense
Multi-chambered ostomy bags reduce the amount of sloshing within the pouch to reduce noise and provide more discreet wear. These chambered ostomy pouches are a favorite for ostomy patients that are very active and participate in sports and athletic events.

Ostomy Bag

Advantages

Disadvantages

Multi-Chambered


decreases sloshing
less noise
higher expense
Mini ostomy bags have a limited capacity but offer more discreetness. Their smaller size is less detectable and more comfortable to wear. Smaller also means less weight, but also less volume.

Ostomy Bag

Advantages

Disadvantages

Mini


smaller size
less intrusive
more discreet
supports active lifestyles
less capacity
Ostomy bags with moldable flanges are an innovation of Convatec. A moldable skin barrier not only allows a snug fit around an irregularly shaped stoma but also helps reduce the risk of leaks. Below is a video from Convatec that demonstrates the advantages of a moldable ostomy appliance. Following the video is a chart that summarizes the advantages and disadvantages of a moldable ostomy pouch.
ConvaTec Moldable Ostomy Video (2:00 minutes)


Ostomy Bag

Advantages

Disadvantages

Moldable
\




accommodates any stoma size/shape
personalized fit
mo cutting with scissors



higher cost
An ostomy belt is designed to support the weight of the pouch and to fix ostomy appliances in place. They also help to conceal the ostomy appliance and protect it from being jarred loose from incidental contact with the world around you. Ostomy belts keep your pouch in place to prevent leaks.

Ostomy Appliances

Advantages

Disadvantages

Ostomy Belts



supports the weight of the bag
supports the waste weight
helps keep ostomy pouches in place
conceals ostomy appliance


belt may dislodge
possible pinching
possible ulceration



Vitality Medical provides a list of manufacturers that offer specific ostomy bag options that may be of importance to you. This Ostomy Bag Options List displays alternatives like multi-chambered ostomy bags, filtered ostomy bags, and moldable skin barrier bags along-side the manufacturers that make them. The Best Ostomy Bags listed by highest sales volume can also be examined.
For new ostomy patients, it can be a challenge to find an ostomy appliance that has the unique feature that you are looking for. Below is a chart of special ostomy features matched to manufactures and brands to help you begin your search.
What is the Best Ostomy Bag?
Ostomy bags are continually changing and improving with new technology and new designs. Construction materials and features for ostomy appliances are always improving. To determine which ostomy appliances are the best, we examined consumer voting. Consumers vote by their purchases. Consumers tend to purchase the best product that offers the most value for their money. The chart below displays the best-selling ostomy appliances by category.

Ostomy Bag Type

Top Selling Ostomy Bags
One-Piece Ostomy Bags

Coloplast Assura
ConvaTec ActiveLife
Hollister Premier

Two-Piece Ostomy Bags

Hollister New Image
Coloplast Assura Maxi
Hollister CenterPointLock Urostomy

Drainable Bags

ConvaTec ActiveLife
Coloplast SenSura
Hollister Karaya
ConvaTec Sur-Fit

Closed Bags

Hollister New Image
Hollister Premier
ConvaTec Sur-Fit

Moldable Skin Barrier

ConvaTec Sur-Fit Natura Durahesive
ConvaTec Esteem Synergy

Ostomy Belts and Belt Tabs

Hollister Premier Pouch with Belt Tabs
Hollister Karaya 5 with Belt Tabs
Hollister Ostomy Belt
Tytex StomaSafe Ostomy Belt
Coloplast Brava Ostomy Belt

Filtered Bags

Coloplast SenSura
ConvaTec Sur-Fit
Hollister New Image

Convex Ostomy Bags

Coloplast Assura
Hollister New Image

Nybæk, H., Knudsen, D. B., Laursen, T. N., Karlsmark, T. and Jemec, G. B. E. Skin Problems in Ostomy Patients: A Case-control Study of Risk Factors. Acta Dermato Benereologica, Acta Derm Venereol 2009; 89: 64–67.
Lyon CC, Smith AJ, editors. Abdominal stomas and their skin disorders. An atlas of diagnosis and management. London: Martin Dunitz Ltd, 2001: p. 161.
Ratliff CR, Scarano KA, Donovan AM, Colwell JC. Descriptive study of peristomal complications. J Wound Ostomy Continence Nurs 2005; 32: 33–37.
Hellman J, Lago CP. Dermatologic complications in colostomy and ileostomy patients. Int J Dermatol 1990; 29: 129–133.
Arumugam PJ, Bevan L, Macdonald L, Watkins AJ, Morgan AR, Beynon J, et al. A prospective audit of stomas-analysis of risk factors and complications and their management. Colorect Dis 2003; 5: 49–52.
McNamara RJ, Farber ME, Roland SI. Dermatologic changes in the circumileosyomy skin. Calif Med 1959; 91: 16–20.
Burt-McAliley D, Dberhardt D, Rijswijk LV. Clinical study: peristomal skin irritation in colostomy patients. Ostomy Wound Manage 1994; 40: 28–30.
Rolstad BS, Erwin-Toth PL. Peristomal skin complications: prevention and management. Ostomy Wound Manage 2004; 50: 68–77.
Cottam J, Richards K, Hasted A, Blackman AJ. Results of a nationwide prospective audit of stoma complications within 3 weeks of surgery. Colorectal Dis 2007; 9: 834–838.
Herlufsen P, Olsen AG, Carlsen B, Nybaek H, Karlsmark T, Laursen TN, et al. Study of peristomal skin disorders in patients with permanent stomas. Br J Nurs 2006: 15: 854–862.
Robertson I, Leung E, Hughes D, Spiers M, Donnelly L, Mackenzie I, et al. Prospective analysis of stoma-related complications. Colorect Dis 2005; 7: 279–285.
Martin JA, Hughes TM, Stone NM. Peristomal allergic contact dermatitis – case report and review of the literature. Contact Derm 2005; 52: 273–275.
Borglund E, Nordstrom G, Nyman CR. Classification of peristomal skin changes in patients with urostomy. J Am Acad Dermatol 1988; 19: 623–628.