Cast Shoes
Overview: Purpose of a Walking Cast Shoes
Cast Shoes replace the patient's regular shoes following foot, ankle, or toe surgery. The medical shoe ensures the foot is comfortable and protected during rehabilitation. Walking with an unprotected foot can be painful and leave the foot vulnerable if bumped.
Protecting the foot post-op encourages ambulation. Walking improves blood circulation to oxygenate the tissues for faster healing. Walking also prevents bone loss.1
Patients with a hard plaster cast wear this Post Op Cast Shoe to match the height of the opposing foot in a regular shoe. The rocker sole maintains a natural walking gait to prevent strain to other joints from overcompensation. It also keeps the cast clean when walking outdoors.
Commonly referred to as cast sandals, the lightweight shoe features an open toe-box design with hook and loop straps. An open-toe is necessary for patients recovering from bunion or hammertoe surgery, removing any pressure on sensitive toes. The straps make donning and doffing simple. Although some post-op shoes are lace-up, the majority secure with hook-and-loop closures. The adjustable straps allow the foot to position into the shoe from the top without putting pressure on the toes or ankle joint.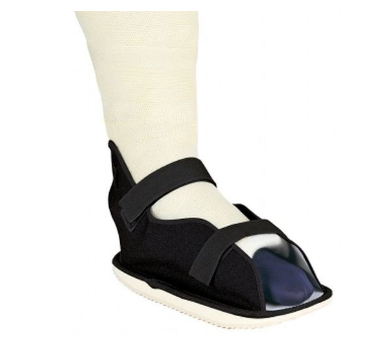 Features and Benefits
Unisex Sizing
Promotes Walking for Increased Blood Flow
Walking With Cast Prevents Bone Loss
Hook-and-Loop Straps for Easy Donning and Doffing
Cushioned Sole
Open Toe Box
Shoe Width Accommodates for Swelling
Adjustable Straps
Nonslip Bottom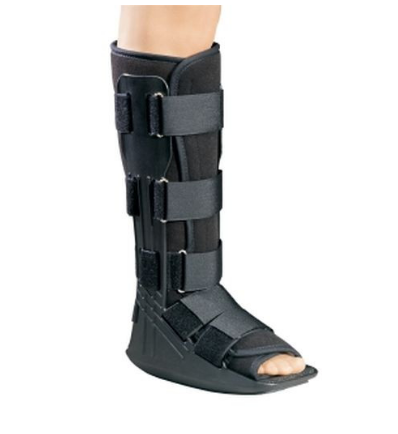 Shoe vs. Walking Boot
The look of cast shoes for adults is noticeably different than a walking boot in its minimalist design that doesn't extend past the ankle.
A walking boot, such as the ProSTEP Ankle Walker Boot is more substantial and supportive. The higher profile, up to the knee, reinforces the foot and ankle to be more supportive than a cast shoe. Depending on the injury, broken bone, or fracture, a boot may be an alternative to a plaster cast during recovery. A walking boot is a natural transition for patients to wear following cast removal.
Suggested Products
Footnote
You might be interested in...