Abdominal Binders
Abdominal Binders referred to as belly binders, perform many supportive functions, primarily postoperative abdominal support. There are many different styles and lengths when needing full abdominal support, rib compression, or lower sacral reinforcement. In addition to post-op support, Vitality Medical provides a one-stop-shop when looking for a stomach binder for weight loss to cinch the waist or a postpartum belly binder, also called a c-section binder, adding supportive compression after delivery. Pregnant women opt for a belly binder as gravity from the pregnant belly begins to strain the lower back and abdominals requiring a lift to reduce pain in the last trimester. This Maternity Support Belt wraps around the growing belly and can be worn over or underneath clothing.
What post-op procedures are abdominal binders used?
Abdominal Surgery
Cesarean Section
Tummy Tuck
Hysterectomy
Spinal Surgery
Bariatric Weight Loss Surgery
Benefits of Wearing an Abdominal Binder
Protects and Supports Surgical Incision
Provides Compression to Control Inflammation
Supports Weaker Muscles After Surgical Procedure
Suport Provides Reduces Pain
Helps Muscles Regain Strength Faster by Encouraging Movement
Types of Abdominal Binders
Full Abdominal Binders - creates a full-length belly binder wrap. The majority of manufacturers use elastic material like this one by OTC to add comfortable compression and support while allowing movement. Compression holds in the surgical site and oxygenates the muscles to improve healing time making it the ideal tummy tuck binder. It is also commonly used for post-op procedures such as bariatric surgery, cesarean section, hysterectomy, and spinal surgery.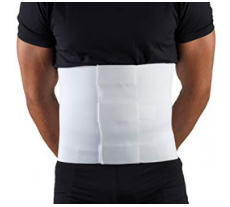 Rib Binders - localizes the support at the ribs. This Rib Belt wraps around the ribcage when the patient has a broken rib or sternum. It secures with a hook and loop for easy tightening and removal. Compression and support help relieve pain and reduce inflammation during recovery.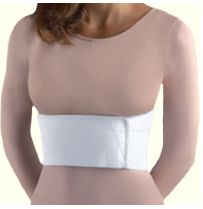 Sacral Binders - reinforce the pelvis, sacral, and lower abdominal region. It's also referred to as a trochator belt. It is applied to reduce pain and inflammation from injury or spinal surgery. This Trochanter Belt positions easily using a hook and loop fastener and allows for quick adjustments as compression is increased or decreased during the healing process.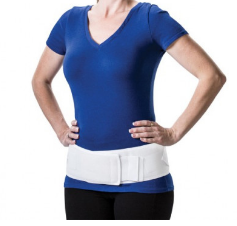 Frequently Asked Questions FAQs
How long is an abdominal binder worn?
This binder is worn for several post-operative procedures. How long it will be worn will depend on the doctor's recommendations. It also depends on how quickly the body is healing. Typically, it is worn for six weeks, but in the case of a C section, it is worn up to a week.
Is it safe to sleep with the binder on?
This will also depend on the surgery performed. As long as it is not applied too tight, it can be worn all day and night. Some procedures will require the binder to only be worn half the day and to take a break while sleeping. Always, check with the physician.
How long should a binder be worn each day?
Major abdominal surgeries may require the binder to be worn day and night. Other minor surgeries, like a tummy tuck, require the binder for 11 hours and is recommended to achieve the best results.
Is a binder machine washable?
Yes, due to the elastic material, hand wash it with mild detergent and rinse. Air dry only to maintain the elasticity and hook and loop closure.
Is an abdominal binder the same thing as a waist trainer?
Although a binder can support and hold in the abdomen, a waist trainer is significantly tighter like a corset.
You might be interested in...