Cam Walker Boots
These medical or orthopedic boots are known as a CAM Walker Boot, a Controlled Ankle Motion Boot to limit the ankle and foot's range of motion. The term Walking Boot is also essential since weight-bearing movement is allowed while the foot or ankle heals. Ambulation is strongly encouraged during recovery as it keeps the blood circulating in the foot to get blood and oxygen to the injured tissues for faster repair and recovery.
Overview
Some Controlled Ankle Movement Boots are made with a slight curve on the sole, creating rolling action from the heel to the toe. The CAM Walker Boots rigid structure protects the foot, redistributes weight, and stabilizes the tendons and ligaments with its adjustable Velcro straps. As swelling is controlled, the straps are tightened to keep the foot snug to restrict movement.
These characteristics make the CAM Walking Boot ideal to treat mild to severe injuries from mild strains to broken bones. A Controlled Ankle Motion Boot may be used to transition a patient from a rigid cast or it may be prescribed post-surgery. It differs from a Cast Shoe with its longer surface area and stabilizing features. A cast shoe doesn't limit ankle movement and only protects an injured foot or fractured toe.
Indications for CAM Walking Boots
Stress fracture in the foot or ankle
Foot break or fracture in the foot or ankle
Fibula fracture
Achilles injuries
Calf muscle tear
Shin splints
Benefits of Wearing a CAM Boot
Encourages Walking During the Healing Process
Limits Ankle Movement
Unlike a Rigid Plaster Cast, It Removes for Showering
Adjustable Straps Keep Boot Tight for Ongoing Stabilization
Types of CAM Walker Boots
There are standard and short walking boots to accommodate the patient's height. A short boot may not offer adequate support to a patient taller than 6 feet. A standard or tall boot is ideal for calf muscle tears and provides more support for tibia or fibula fractures. Additionally, there are Regular and Pneumatic designs depending on the amount of cushion needed.
Regular Walking Boots have a lightweight frame with support and adjustable straps.
Pneumatic Walking Boots have an additional insert with a pump to add air for shock absorption and cushion to protect the soft tissue.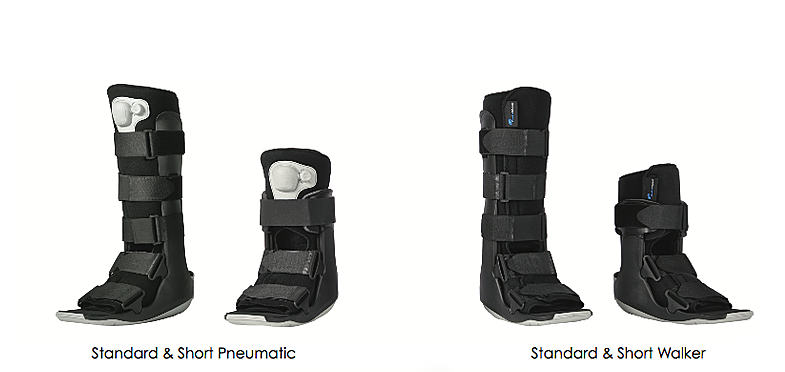 Frequently Asked Questions FAQs
Can a walking boot be worn all day?
Yes, some users will wear it all day if the doctor recommends all-day protection, even when sleeping or showering. In these cases, a Leg Cast Protector made of polyvinyl protects the boot. These cases are the minority and most users will remove the boot for showering or sleeping.
Do Cam boots come in left or right?
No, the boot is wide and will fit either a right or left foot.
Should a walking boot be worn tight?
The Velcro straps should be fastened snug but not too tight.
How does the user walk when wearing the boot?
The user should continue walking heel to toe. The key is to keep the toes facing forward and not turn outward.
How long is a Cam Walker Boot worn?
It can be prescribed for up to six weeks. It is dependant on the injury.
Are crutches needed when wearing a walking boot?
No, the boot is designed for weight-bearing and will redistribute weight in vulnerable areas as the user walks.
You might be interested in...