Venous, Heart Beat & Fetal Dopplers
Are you looking for a doppler for sale? Vitality Medical has a wide variety dopplers from reputable brands. Doppler ultrasound (DU) devices are a noninvasive diagnostic scan that measures blood flow. These machines work by producing high-frequency sound waves or ultrasound waves. Sound waves transmit from a transducer and reflect from red blood cells. A receiver captures the reflected soundwaves to provide diagnostic data. These devices test for organ and tissue vascularization. They help clinicians determine vascular pathologies that can be easier to correct when diagnosed early. This data is presented in audio, numeric displays, graphs, or color images. Below are links to jump to additional information.
Doppler Shift Frequency Formula, The Doppler Effect, Types of Exams, DU vs. Sonogram Ultrasound, Diagnostic Types, Diagnostic Test Sites, Diagnostic Distruptions, Safety and Bioeffects.
These devices detect a shift in frequency when the transmitted ultrasound reflects from moving blood cells in the body. This frequency shift is known as the Doppler effect. This effect calculates from the following formula:
The Doppler Shift Frequency
fd = ft – fr
ft = transmitted frequency
fr = recieved frequency
fd = Doppler shift
Doppler Effect

In the graphic above, the ambulance's sound waves are wider apart (low frequency) as the ambulance moves away from the woman. The sound waves are close together (high frequency) as the ambulance rushes towards the man. Technicians determine blood flow direction by listening for a low frequency (moving away from the signal emitter) or a high frequency (moving toward the signal emitter).
DU vs. Sonogram Ultrasound

(SU)

A DU is different from a sonogram ultrasound that uses sound waves to produce images. The machines used for diagnostics employ a frequency range of 20KHz to 10GHz. SU imaging uses 1MHz to 10MHz frequency. The sonogram type is unable to show blood flow but displays tissue and organs. The primary role of DU exams is to probe for vascular disorders. Below is a list of different types of Doppler exams: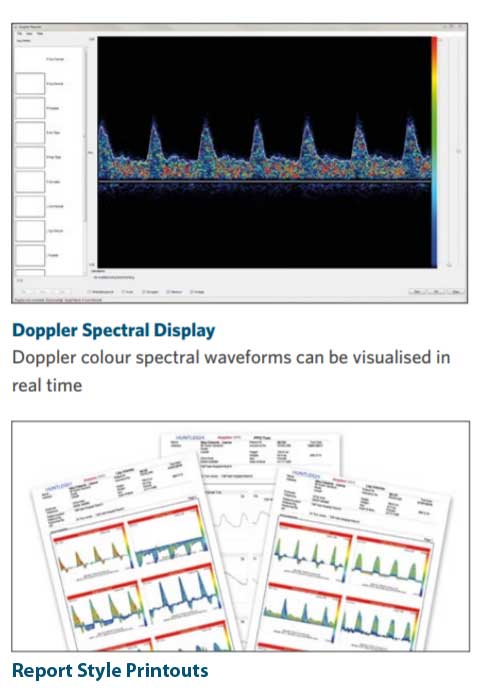 Aorta and inferior vena cava
Carotid and vertebral arteries
Hemodynamics and blood flow
Imaging of the penis
Imaging of the scrotum
Imaging of the female pelvis
Kidney
Liver
Peripheral arteries
Peripheral veins
Prostate
Obstetrics
Transplantation
A DU can help diagnose poor health conditions, including the ones listed below:
Blood clots that may cause an embolism
Blocked arteries or arterial occlusion
Aneurysms or bulging arteries
Mal-functioning leg vein valves, which can cause blood or other fluids to pool in the legs to cause venous insufficiency
Heart valve defects and congenital heart disease
Peripheral artery disease or decreased blood circulation within the legs
Carotid artery stenosis or narrowing of the arteries
An exam helps diagnose blood flow speed by measuring the rate of change in its pitch or frequency. During a scan, a trained technician presses the hand-held transducer against the skin over the area under examination. The transducer is slowly moved from one location to another to form an adequate scan.
Diagnostic Types
There are seven types of Doppler diagnostics. These different tests display below:
Continuous wave (CW) provides an uninterrupted transmission and reception of ultrasound waves. This type offers the advantage of measuring high velocities associated with heart function.
Pulsed wave (PW) emits short bursts of sound to allow accurate blood velocity measurements in a precise location. PW can measure diastolic functional right ventricular function, abdominal aortic velocities, carotid artery imaging, renal artery resistance, and pulsatility
AUX continuous wave (AUX CW) utilizes piezoelectric elements to send and receive ultrasound waves. One element continuously sends waves while the other receives the reflected waves.
Duplex (DD) uses two modes for examinations—Doppler and B-mode. The B-mode produces an image of the vessel under interrogation, while the PW and CW evaluate the velocity and direction of blood flow.

Color Doppler imaging (CDI)

displays velocity imaging as a pulse wave where the frequency shift maps color into a 2-dimensional image. It helps to detect deep vein thrombosis.

Power Doppler (PD)

imaging is an advanced CDI used to display the signal's amplitude or strength for difficult assessments of vessels inside of organs.

Spectral Doppler (SD)

shows blood flow graphically as flow velocities over time. It provides imaging for cardiac valves, vascular, and pathological lesions through Fast Fourier analysis. In contrast to CDI, spectral data quantifies and calculates blood volumes, pressure gradients, valve areas, and intracardiac pressures.
Clinical Applications
| | | |
| --- | --- | --- |
| Clinical Use | Imaging Modes | Application |
| Cardiology Exams | CW, AUX CW, PW, and CDI | Noninvasive heart function diagnostics |
| Vascular Exams | PW and CDI | Blood flow detection and evaluation |
Doppler spectrograms occur by selecting the appropriate beam direction and sample volume location to create the image and then switching to the PW or CW mode to determine blood velocity and direction.  "Doppler images typically contain about 64 genuine lines of information and 128 consecutive sample volumes along each line. The frame rate varies from 5 to 40 frames a second, depending on the depth of penetration and the width of the field of view." 1
"The PW image is of the blood pool. The power mode does not measure velocity or direction, and therefore, the image shows little angle dependence, neither does it suffer from aliasing; however, it presents less information about blood flow. The advantage of power [wave] images is that they suffer less from noise than velocity images. PW mode is less prone to noise and hence more sensitive to detect small vessels. PW imaging is fairly easy to use and often provides a more complete image of the vasculature than velocity imaging. It is commonly used initially to locate regions of interest prior to an investigation by color Doppler or duplex methods."2
Test Sites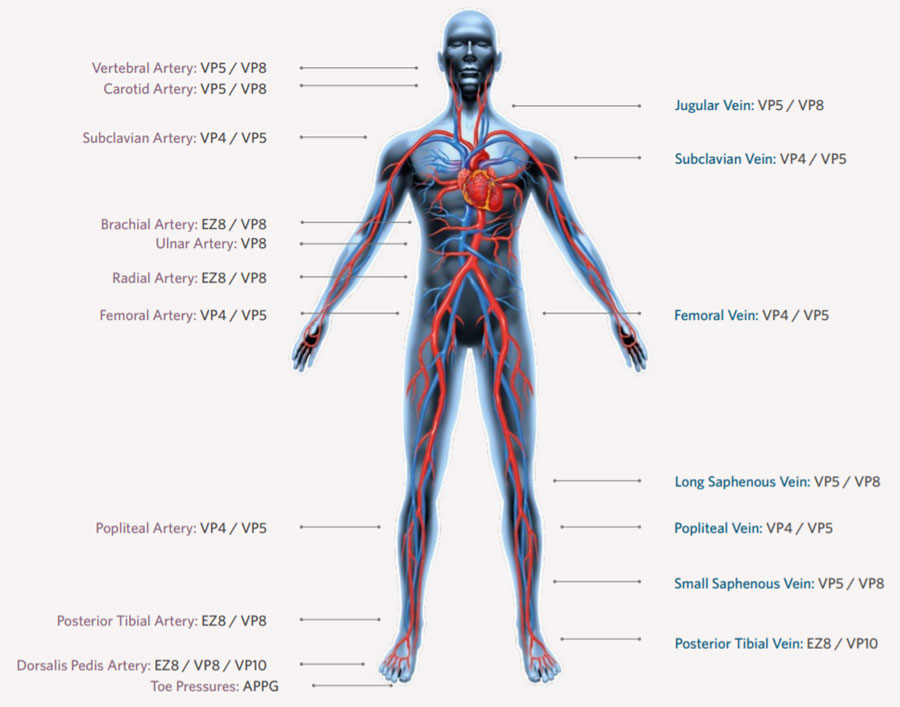 Top Diagnostic Disruptions
There are four common interferences with Doppler exams. These four include artifacts, attenuation, refraction, and shadowing. Below is a summary of each followed by a list of other distractions that can occur.
Artifacts occur frequently and are not of significance. The origin of the artifact is the leveling agent when they arise.
Attenuation is a reduction in the echo signal due to the beam degradation in tissue.
Refraction occurs when a beam deviates as it crosses at an angle between two tissues in which the speed of sound is different. The direction of the transducer axis may not, therefore, coincide with the actual beam path.3
Shadowing is when attenuation becomes so large that blood flow is not detectable.
Other Disruptions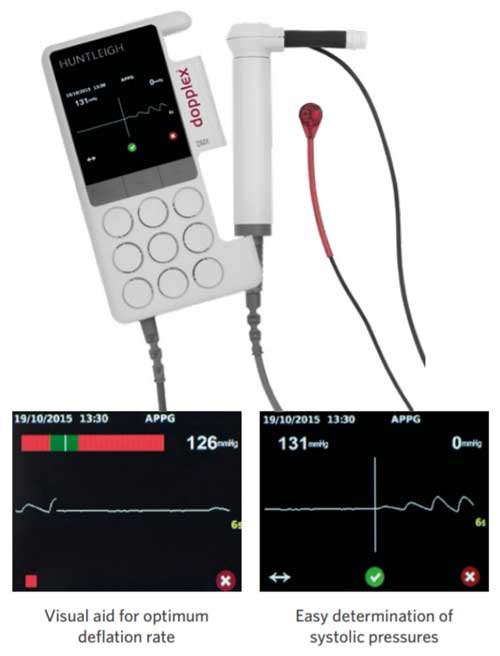 Spectral Broadening
Speckle Display
Erroneous Direction Sensing
Compression of the spectral display
Electrical pick-up
Inadequate coupling
Filtering need information
Harmonic generation by massive signal distortion
Too high or low sensitivity
Aliasing
Effect of beam angle to flow direction
Effect of the velocity scale
Unexpected machine artifacts
Interference from neighboring vessels
Patient or vessel movement
Flash artifact
Aliasing4
Safety and Bioeffects
Ultrasound devices transmit energy into tissues. The possibility of heating or cavitation of microbubbles in tissue is possible. The most sensitive tissues subject to heating or cavitation is a developing fetus, the brain, eye, lung, and bone-tissue interfaces. Strategies to avoid scanning bioeffects include the following listed below:
Using the lowest transmission power setting that will still provide a diagnostic result.
Use the minimum scan time possible.
Use higher receiver gain and lower output power.
Ensure the transducer ceases to transmit when imaging mode is frozen.
Use additional care when applying a fixed beam PW mode near sensitive tissues.
Compare user manual setting recommendations with the intensity, power, and pressure amplitudes actually in use.
Numerous medical studies find that these ultrasound exams are beneficial to diagnose diseases that require treatment. These devices help clinicians review patient hemodynamics, high-risk pregnancies, intrauterine growth retardation, neonatal blood flow, and first-trimester pregnancies. They help diagnose many diseases, including gastrointestinal, carotid disease, deep vein thrombosis, aorta disease, and femoral disease.5
Other studies find these devices useful to detect cancer tumored vessels.6 Another study in the Journal of Neurosurgery found a use for noninvasive evaluation of cerebral vasospasm.7 The same journal published another study in which cerebral vasospasm detection occurs along with cerebral circulation in occlusive disease of the carotid and vertebral arteries.8
Hand-held Dopplers, Heart-beat Dopplers, Venous Dopplers, Fetal Dopplers, and Baby Dopplers are useful diagnostic tools that are non-invasive ways to detect developing illnesses and prevent potential complications and disease. Other accessories include Doppler probes from Huntleigh and DigiDop Vascular and Obstetrical Probes. Vitality Medical provides affordable Doppler Systems and other Medical Diagnostic Equipment at wholesale prices to medical facilities and home care.
Manuals and Documents
Product Videos
Dopplex Video (2:00 minutes)
Dopplex Ability Automatic ABI System Video (8:00 minutes)
Footnotes
1 Allan, Paul LP. Clinical Doppler Ultrasound. Elsevier Health Sciences, 2006. Page 6. (Last Accessed October-12-2020)
2 Allan, Page 8. (Last Accessed October-12-2020)
3 Allan, Page 16. (Last Accessed October-12-2020)
4 Allan, Pages 17-19. (Last Accessed October-12-2020)
5 Taylor, Kenneth JW, Peter N. Burns, and P. N. T. Well. "Clinical applications of Doppler ultrasound." (1987). (Last Accessed October-12-2020)
6 Adler, Dorit D., et al. "Doppler ultrasound color flow imaging in the study of breast cancer: preliminary findings." Ultrasound in medicine & biology 16.6 (1990): 553-559. (Last Accessed October-12-2020)
7 Aaslid, Rune, Peter Huber, and Helge Nornes. "Evaluation of cerebrovascular spasm with transcranial Doppler ultrasound." Journal of neurosurgery 60.1 (1984): 37-41. (Last Accessed October-12-2020)
8 Aaslid, Rune, Thomas-Marc Markwalder, and Helge Nornes. "Noninvasive transcranial Doppler ultrasound recording of flow velocity in basal cerebral arteries." Journal of neurosurgery 57.6 (1982): 769-774. (Last Accessed October-12-2020)
Inspired by your history...