High Blood Pressure Monitors - Home or Office
Blood pressure monitors allow self-monitoring for hypertension. These tracking devices are easy to use and portable. They are useful at home, work, or on the go. Hypertension or high blood pressure (BP) is a major cause of early deaths worldwide. It affects nearly 25% of the adult population and is a "silent killer." Most people with hypertension are not aware of the disease because it most often has no symptoms or warning signs.1 Measuring BP is an important procedure to practice regularly before and after diagnosis. BP detection can save your life!
Indications for BP Surveilance
Diagnosed hypertension
Diagnosed prehypertension
An elderly person in whom both BP variability and the "white-coat effect" during doctor visits is manifest
Diagnosed diabetes
Pregnant women, children, and patients with kidney disease
Assessing suitability for strenuous sports
Diagnosed cardiovascular risk
A home BP assessment allows patients to check their BP frequently. Obtaining a history of BP measurements over a specified period can provide your doctor with a better estimate of your true BP level. The best way to determine if you have high BP is to measure it several times a day for several months. Medical studies have shown that home measurements of BP are more reliable than in-office measurements. One study made the following observation:
The advantages of electronic checking have begun to be appreciated by epidemiologists, who have always been greatly concerned about the accuracy of clinical BP measurement and have paid much attention to the problems of observer error, digit preference, and the other causes of inaccuracy described. It has been argued that the ease of use of the electronic devices and the relative insensitivity to who is actually taking the reading can outweigh any inherent inaccuracy compared with the traditional sphygmomanometer method.1
Advantages of Home BP Monitoring
Improved compliance with doctor-recommended therapy
Improved BP control by the patient
Improved patient coping with a hypertension diagnosis
Cheaper than ambulatory BP assessments
Easier than ambulatory BP analysis
More frequent measurements at home provide more accurate detection than a single in-office measurement2
Hypertension Prevention and Self-Interventions
Weight loss
Heart-healthy diet

Sodium reduction (<1500 mg/d)
Potassium supplementation ( 3500-5000 mg/d)

Increased physical activity (aerobic, dynamic resistance, isometric resistance)
Moderation in alcohol intake (no more than two drinks for men and one for women per day)
Types of Monitors

There are several different types of BP diagnostic tools, but there are two main types that are in heavy use: manual and digital.
Manual Devices
Manual or aneroid sphygmomanometer has three parts—gauge, inflatable cuff, and a stethoscope. The cuff inflates around the upper arm to cut off blood flow to the lower arm. While observing the gauge and slowly letting the air out of the cuff, note at what point on the gauge the blood flow begins to return to the lower arm by listening with the stethoscope (systolic pressure). Continue listening and note on the gauge when the blood flows smoothly (diastolic pressure).
Advantages
Used by doctors and clinics
Considered accurate
Disadvantages
Not useful for those with impaired hearing to listen to your heartbeat through the stethoscope.
Not usable by patients with arthritis in their hands or with loss of dexterity to operate the inflatable cuff.
Not useful by patients with poor vision
Subject to human errors
Digital Devices
There are two types of digital monitors--semi-automatic and fully-automatic. The less expensive semi-automatic versions use a manually inflatable cuff while the more expensive fully-automatic devices employ an automatic-cuff that inflates at the press of a button. The systolic and diastolic readings display on a screen.
Many medical facilities are switching over to digital because of their ease of use and accuracy. For home use, digital measurements dominate.
Advantages
Portable and compact
Easy operation
Minimizes the risk of human errors
Provides accurate readings
Disadvantages
Expensive
Fragile
Not always 100% efficient
Should be checked annually for accuracy
Must have correct cuff size for accurate readings
Additional Features
Data storage
Data transmission
Printout
Irregular heartbeat detection
Accuracy of BP Devices
Manual devices provide accurate measurements for BP. The automatic device also provide accurate readings when used with the correct size cuffs. In-home assessment offers accurate BP readings and in many cases, are more accurate than office measurements by professional staff3.
How to Select the Best Blood Pressure Monitor FOR SALE
There are lots of home blood pressure monitors on sale. Many cost less than $100. These assessment devices do not require a prescription to purchase. Below is a breakout of the different types of BP devices and where they fit on a product selection continuum.
BP Cuffs
The size of the BP cuffs are essential. Cuffs that are too small can provide false high BP readings. Cuffs that are too large may falsely provide low BP results. The correct cuff size depends on arm circumference.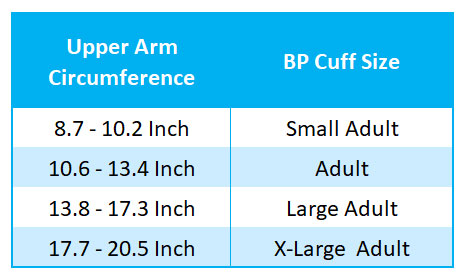 FAQ's
What is the function of a blood pressure checker?
BP results from your heart pumping blood throughout your body. As the heart pumps out, the pressure rises. As your heart muscles relax, the pressures lowers. The high-pressure cycle is the systolic measurement, and the low pressure is the diastolic measurement.
What is high blood pressure vs. hypertension?
High BP and hypertension are the same things. It means that the patient's systolic pressure is above 140 and/or diastolic pressure is above 90. Hypertension is the medical term for high BP.
What blood pressure indicates hypertension?
A BP measurement above 140/90 indicates hypertension. The chart below displays BP measurements and their corresponding medical diagnosis.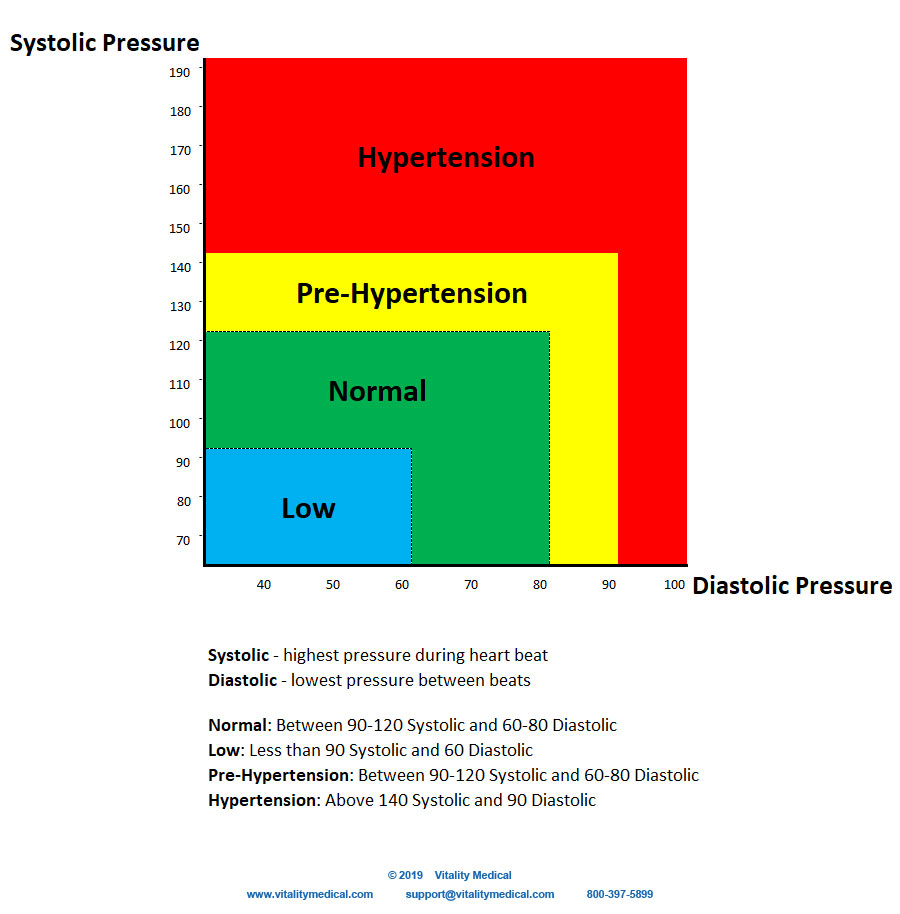 Which is worst, hypotension (low BP) or hypertension (high BP)?
According to the American Heart Association, doctors consider low BP to be dangerous if it causes symptoms. These symptoms include dizziness, fainting, dehydration, or shallow breathing. High BP, however, is a major risk factor for coronary heart disease and stroke. The American Heart Association indicates that 33% of adults have hypertension, contributing to nearly 7% of deaths annually.4
Which states have the highest and lowest hypertension rates?
West Virginia has the highest hypertension rate at 43.5%, and Utah has the lowest rate at 24.5%.5
Map of United States with the Highest and Lowest Hypertension Rates
What is the best high BP testing device for the home?
Omron is by far the market leader in digital BP monitors followed by Lifesource. Currently, the Omron 10 Series monitors are the best selling BP monitors. The Omron 7 Series Wrist BP Monitors are also popular.
Ranking the Top Ten BP Monitors
Omron 10 Series
LifeSource UA 767 - 30 readings data storage, averages readings, detects irregular heartbeat, auto inflates, 3 cuff sizes
Omron 7 Series
Omron BP786N - wireless bluetooth, cuff wrap indicator, dual sensor calibration check, expandable cuff, two user mode, auto 3-consecutive readings, detects irregular hearbeat, 200 readings data storage
Omron BP652 - wrist monitor, 2-user mode, Advanced Averaging, 200 readings data storage with time stamp
Omron BP785N
Omron Evolv BP7000
ReliOn BP-200
Welch Allyn ProBP 2400
A&D Medical UA767F
  
Footnotes
1Hypertension, World Health Organization, May 16, 2019: https://www.who.int/news-room/fact-sheets/detail/hypertension. Accessed August 13, 2019.
2Pickering, Thomas G., et al. "Recommendations for blood pressure measurement in humans and experimental animals: part 1: blood pressure measurement in humans: a statement for professionals from the Subcommittee of Professional and Public Education of the American Heart Association Council on High Blood Pressure Research." Circulation 111.5 (2005): 697-716.
3Pickering, p. 707.
5Pickering, p. 697.
5Statistical Fact Sheet, American Heart Association, 2013 Update, p. 1.
6Hypertension in the United States, The State of Obesity, https://www.stateofobesity.org/hypertension/, Accessed August 12, 2019.
Medical Studies
Inspired by your history...