Wrist Blood Pressure Monitors
Wrist Blood Pressure Monitors are designed to help individuals regularly monitor their blood pressure. These devices provide patients with a way to keep track of their blood pressure when a regular arm cuff is not available. They are compact and lightweight, which allows them to be portable for convenient use wherever you go.
Why Daily Blood Pressure Measuring is Important
Using a Wrist BP Monitor at home not only gives patients a thorough insight into their health but can also be beneficial for preventative reasons. Even a seemingly healthy individual can find insight into a variety of health issues, such as:
Hypertension
Using a wristwatch blood pressure monitor can help diagnose hypertension and navigate symptoms that mimic hypertension. Peak blood pressure hours are between 6 and 8 a.m. and 5 and 8 p.m., which are usually outside the average hours that doctors allow for appointments. Self-testing gives patients the opportunity to monitor their blood pressure during these peak hours and help identify early-onset hypertension.
Although a true diagnosis can only be made with adequate information in order to rule out external factors that may be the cause of high blood pressure and mood swings, in-home testing may help rule out extraneous factors and provide information to provide an accurate diagnosis.
White Coat Hypertension
A blood pressure wrist band can help individuals who experience stress within a doctor's office while having their blood pressure measured with standard medical blood pressure equipment. This allows them to take accurate readings in the comfort of their own home. Self-testing can help eliminate the prospect of hypertension associated with high blood pressure situations, known as "white coat hypertension." As much as 20% of patients diagnosed with hypertension are merely experiencing a temporary reaction. A blood pressure wrist band allows you to track your condition in a non-stressful situation.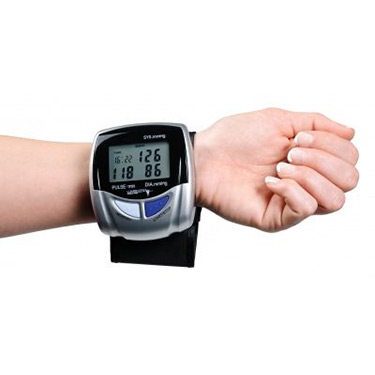 Monitoring Treatment Outcomes
There are many symptoms associated with high blood pressure; however, regular in-home monitoring can help create a baseline to track symptoms and provide valuable information regarding treatment outcomes. This allows doctors to adjust medication when needed.
Observing Complications and Administering Emergency Treatment
When you use a wrist monitor at home you can detect complications associated with high blood pressure, including heart disease, hyperthyroidism, diabetes, hyperlipidemia, and kidney disease.
How to Uuse a Wrist Blood Pressure Monitor
Situate yourself in a comfortable sitting position and rest for five minutes before you start your reading. Sit in a chair that supports your back and place both feet flat on the floor. Do not cross your legs or chew gum.
Adjust any fabric (shirt sleeves) away from the wrist to allow the device to make full contact with bare skin.
Put the cuff on the wrist snugly with the display facing the inside of your wrist. Wrap the cuff around your wrist and attach with the Velcro. It should be on tight enough to fit a single finger underneath the cuff.
For an accurate reading, rest your wrist at heart level by resting it on a pillow or cradling it in the opposite hand. An average reading takes around one to two minutes.
Additional Information
American Journal of Hypertension, Volume 11, Issue 12, December 1998, Pages 1469–1474 Accuracy of a New Wrist Cuff Oscillometric Blood Pressure Device: Comparisons with Intraarterial and Mercury Manometer Measurements S. Watson R.R. Wenzel C. di Matteo B. Meier T.F. Lüscher
American Journal of Hypertension, Volume 15, Issue 9, September 2002, Pages 787–792 Evaluation of the Performance of a Wrist Blood Pressure Measuring Device With a Position Sensor Compared to Ambulatory 24-Hour Blood Pressure Measurements Sakir Uen Burkard Weisser Paul Wieneke Hans Vetter Thomas Mengden
Journal Hypertension August 2000 - Volume 18 - Issue 8 Comparison of wrist blood pressure measurement with conventional sphygmomanometry at a cardiology outpatient clinic Zweiker, Robert1, Schumacher, Martin, Fruhwald, Friedrich, Watzinger, Norbert Klein, Werner
You might be interested in...