Post Mastectomy Products
Manufacturers of post mastectomy products design women's apparel and prosthetic breast forms for breast cancer survivors who desire to restore femininity after surgery. From lacey bras to stylish swimwear, elegance and a flirty female silhouette are renewed.
Vitality Medical offers mastectomy supplies from leading manufacturers Amoena and Nearly Me Technologies to help women confidently find the pieces that will revitalize femininity during the healing process. These fabricators use the latest technology to make prosthetic breast forms that move like natural breast tissue. The forms are available in different shapes and sizes to fill in uneven tissue from a lumpectomy or add volume after a mastectomy. Choose from a variety of options that can be applied directly to the chest wall or within the built-in pocket of the mastectomy bra.
Post-Mastectomy Product Options
What sets a mastectomy bra apart from a regular fashion bra is it that it has a wider underband and the fabric choice is extra gentle to be mindful of scars and healing tissue. There are also built-in pockets to hold a breast form of choice. The pockets add airflow for comfortable wearing and prevent bouncing. Active women can purchase sports bras with pockets to transition to activewear.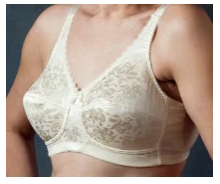 Prosthetic Breast Forms & Bra Inserts
The silicone breast forms add symmetry to the breast with partial and full breast form options. The silicone is flexible and lightweight to move like natural breast tissue. Amoena's Swim Breast Form inserts into swimwear for confident wearing while swimming or at the beach.
Wearing stylish swimwear with breast forms is important to women. Having confidence that the breast form will stay in place is equally important. This specialized swimwear opens up opportunities to feel and look feminine with the assurance that the built-in pockets will keep the form looking natural and secure while participating in summer activities.
You might be interested in...