Post Surgery Mastectomy Bras
Women living with breast cancer or who are breast cancer survivors desire to look and feel feminine and wear intimate apparel for their new or evolving breast shape. Post-Mastectomy Bras reintroduce elegance with features to increase comfort at the surgical site and deliver a natural silhouette and symmetry.
Vitality Medical offers a variety of options and styles to support healing with a feminine touch. Whether looking for padded mastectomy bras or mastectomy bras with built-in forms, there are selections by leading manufacturers Amoena and Nearly Me to make a confident choice. Mastectomy bras and forms, also known as prosthetic bra inserts are secured within mastectomy bras with pockets. The built-in pockets confidently hold the breast form, giving support and, most importantly, a natural look.
Benefits of Wearing a Post-Mastectomy Bra vs. a Traditional Fashion Bra
Pockets for Breast Forms Add Confident Symmetry
Pockets Prevent Forms From Bouncing
Extra Soft Material Won't Irritate Surgical Site
Cotton Pockets Keep Breast Form Cool
Wider Underarm Coverage for Support
Firmer and Wider Elastic Underband Instead of Underwire
Seamless Design to Prevent Chafing Against Sensitive Breast Tissue
How to Find the Right Bra Size After Mastectomy
(A) The Bands Size - measure around the chest directly underneath the breast where the bra band sits. Make sure the measuring tape stays at the same height in the front and back.
(B) The Cup Size - measure the middle of the chest over the fullest part of the remaining breast. Double this number to get the overbust measurement.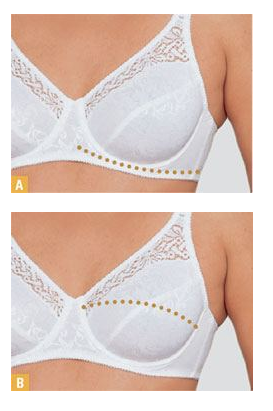 Post-Mastectomy Bra Options
Mastectomy Bra With Built-In Pockets
Examples:
Marlena Soft Bra, 52167, is made out of soft moisture-wicking microfiber material and proprietary Naturexx fabric at the cup and pockets to keep forms cool against the breast.
Jacquard Soft Cup Bra, 640, incorporates soft material with lace and satin detailing. The cotton pockets confidently hold the silicone breast forms.
Mastectomy Sports Bra With Pockets
Example:
Dedra Mastectomy Sports Bra, 5606, is designed for active women who want to wear a specialized bra with breast forms. It provides full coverage and support while exercising.
Post-Surgical Compression Bra
Example:
Dale Post-Surgical Compression Bra, 702, is the first bra worn following a mastectomy surgery. It adds compression against the post-op dressings and promotes healing. The hook and loop closure in the front makes it easy to fasten when changing out dressings.
Frequently Asked Questions (FAQs)
How long is a compression bra worn after a mastectomy?
It is recommended to wear a post-mastectomy compression bra for up to six weeks. It will vary based on the procedure and the surgeon's recommendations.
What kind of bra should be worn after a mastectomy or lumpectomy?
A post-mastectomy bra is recommended because it is made seamless or with soft seams and a wide underband to be sensitive to delicate and sensitive skin and breast tissue following surgery.
Product Videos
Amoena Mastectomy Bra Design Features Video (0:42 minutes)
You might be interested in...