Attends Healthcare Products
Attends Healthcare Products is also known as Attends Healthcare Products Inc or Attends Healthcare Group. This manufacture is well known for adult incontinence products; and in fact, created the adult incontinence category of products during the late 1970's. Based in Greenville, North Carolina, Attends offers disposable incontinence products with four different levels of absorbency—light, moderate, heavy, and severe—to meet individual needs. The innovations Attends has included in their product designs goes beyond merely patient needs to also include the needs of caregivers. These disposable incontinent products are manufactured with a cloth-like material to be soft and very absorbent. The Attends company has over 35 years of experience and innovation with incontinence products and uses technology to make their diapers and briefs breathable to keep incontinent patients drier and cooler. Attends products have a worldwide presence and are found in hospitals, nursing homes, long-term care facilities, and homecare settings. Some of the best selling Attends incontinence products include Breathable Briefs, DermaDry Bariatric Briefs and Attends Protective Underwear.
Attends has expanded their incontinence products to include products for newborns, babies and youth. New products include wipes, washcloths, mesh pants, barrier sprays and tissue. New Attends brands include DermaDry, Tuckables, Securely Yours, Dri-Sorb, Cairpad, Confidence Wingfold, DriNite, EZ-Sorb, Comfees, Guards for Men, SuperSorb, Air Dri as well as a line of budget briefs called Value.
Absorbency Guide

Attends Product Brands
Diapers
Comfees – 12-hour protection diapers for newborns and infants with soft outer cover and elastic gathers. These contoured baby diapers have a stretchable fastener for a secure fit.
Briefs
Care Briefs - Designed with breathable side panels and cloth-like outer for greater discreetness. Triple tier moisture locking system wicks away fluid from you skin and keeps you skin drier.
Classic Briefs - Come with refastenable tabs, cloth-like inner and outer and odor control. Moisture is locked into the core to keep you drier. Classic briefs have heavy absorbency.
DermaDry Briefs - Designed with superior softness and breathable fabric. Tear-away sides for easy removal. Available in four options--Bariatric (heavy duty large size), Stretch (stretchy side panels for better fit), Advance (contoured briefs for greater comfort, and Complete (dual core with Supersorb dryness layer).
Breathable - Constructed with breathable side panels and cloth-like inner and outer. Soft and flexible for greater comfort. These incontinence briefs offer extra heavy absorbency.
Poly Briefs - Equipped with poly backing material, resealable tabs, and triple-tier moisture locking system. Provides heavy absorbency.
Waistband Briefs -
Value Briefs - Adult value priced briefs offer soft, cloth-like inner for gentle touch against your skin. Fluid locks in the core. Equipped with four tape tabs. Provides heavy absorbency.
Underwear
Protective Underwear – Offers incontinence patients breathable protective underwear that provides air flow. Cloth-like material provides discreet wearing. Three absorbency levels—Super, Heavy and Moderate.
Overnight – Extended wear protection that employs a triple-tier moisture locking system of cellulose fibers, micro porous acquisition layer, and a super absorbent polymer for absorbency and to promote skin health.
Care Underwear - An everyday unisex protective underwear with permeable, air-flow construction for dry and healthy skin.
Pants
DriNite – Junior youth pants offering heavy absorbency. Shaped pants that offers a snug fit. Provides all-night protection. Designed with leak barriers.
Comfees Training Pants – Pull-up style potty training diapers for youth. Provides 12-hours of protection. Soft, stretchable sides that are easy to tear-away.
Mesh Pants – Washable and reusable mesh pants that stretch with movement. These seamless mesh pants are breathable and work with all disposable pads.
Underpads
Undergarments
Belted Undergarments – Offer contoured shape and cloth-like inner liner. Wide belts keep your skin from being pinched. Leg gathers keep fluid from escaping.
Pads
Cleansers
Dry Wipes – Unscented wipes designed for incontinence are highly absorbent with a cloth-like feel. These dry wipes are gentle of the skin and reduce irritation.
Washcloths – Offer pH-balanced cleaning with pure glacial artesian aquifer water. These hypoallergenic washcloths come in Scented and Unscented options and are 8 x 12-1/2 inches.
Sizing Guide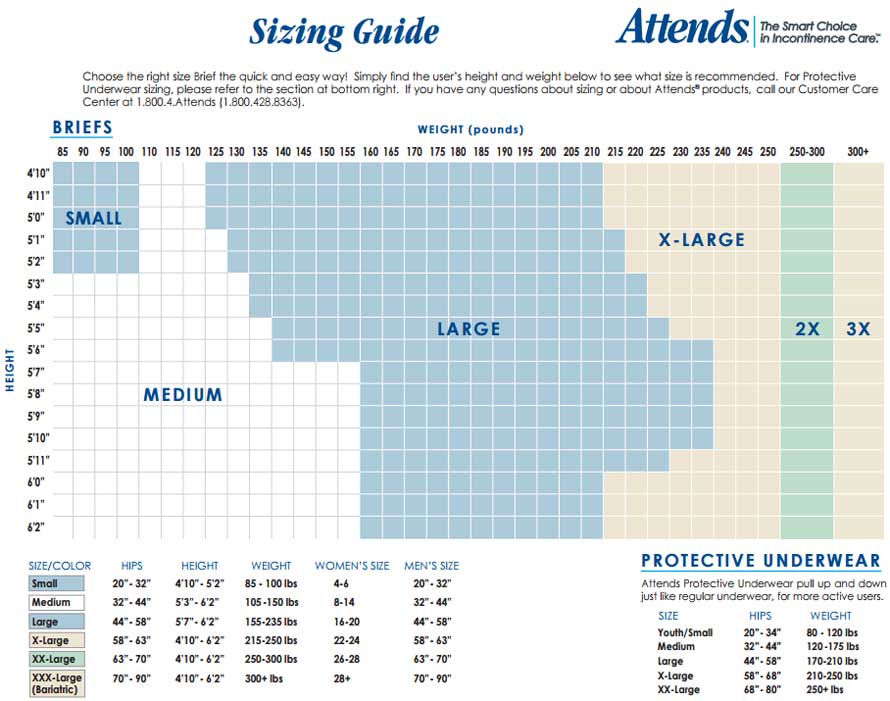 How to Measure/Sizing
Most people use the Sizing Guide to find the proper size based on height and weight. However, if you prefer to find your exact waist size or the size of someone you care for, follow these simple steps.
For someone standing:
Use a tape to measure the hips or waist, whichever is largest. Place the tape measure snugly, but not tightly, around the largest area.
For someone sitting or lying down:
Place the tape measure from hip bone to hip bone, multiply by 2, and add 2 inches. For example, someone who measures 18 inches from hip bone to hip bone would have a 38-inch waist: 18″ x 2 = 36″ + 2″ = 38″.
Take the "Would You Wear It" Test
If you're measuring as a caretaker, take a look at the product once it's being worn and answer the following questions. Then decide whether this is the right size:
How does it fit in the legs?
How much overlap is there on each side?
Does it look like a pair of underwear?
Is it too loose?
Is it too tight?
Does it shift or bunch up?
Remember that bigger is not always better. When it comes to adult incontinence products, better fit = better containment and better comfort.
You might be interested in...