Patient Hospital Gowns
Patient Hospital Gowns come in a variety of sizes and colors. Our medical gowns come from top brands such as Salk, Medline and more, which are trusted names in designer hospital gowns. Another popular product is our Alba Care Steps Soft Sole Footwear. These socks are soft, comfortable, and come with treading on the bottom to reduce the likelihood of slipping.
Types of Patient Gowns

Standard Hospital Gowns
Standard patient gowns can be made of various protective materials and typically have an open-back design that allows quick hospital access while providing comfortable coverage for the patient. These gowns are available with a string tie design or a button mechanism. Additionally, there is a 3/4 open design that provides coverage and breathability, such as the Core Products 3.4 Patient Gown.
Disposable Patient Gowns
Some clinics and hospital environments require rapid donning and doffing. Disposable patient gowns can be a great option for this situation and many others. These are used in many hospitals when prepping patients for surgical and other procedures. Medline's Disposable Patient Gowns are available in multiple color options.
Other Patient Attire
Patient protective attire is an essential part of the medical process. Aside from standard and disposable gowns, we carry a wide range of patient attire, including disposable exam capes and patient exam shorts.
Medical Gown Protection Levels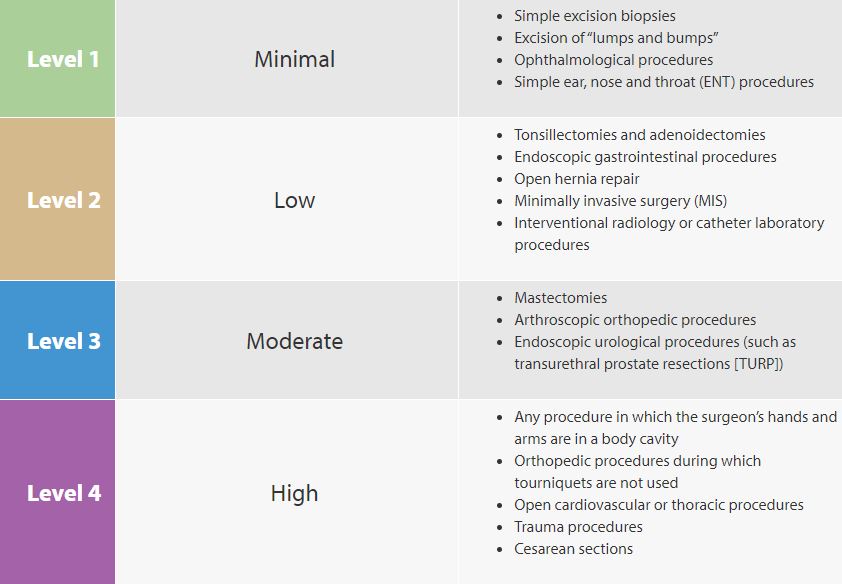 Hospital Gown Key Benefits
Meets Regulatory Requirements
Whether it be in a clinic, hospital, or home care environment, patient gowns provide protection from fluids and other potential infectants. They are a standard protective barrier in clinics and hospitals across the world. Staying stocked on patient gowns is an essential step in maintaining a professional environment.
Improved Patient Satisfaction
Patient hospital gowns are designed to provide comfortable coverage. Helping to avoid exposure of the body is essential to patient satisfaction. Especially during patient transfer, it can be key to maintain patient coverage and comfortability. The hospital or clinical process can be uncomfortable for some, which is why choosing the right gown is important.
One-Size-Fits-Most Design
One major benefit of hospital gowns and patient gowns is the ability to fit a wide range of patients. Whether it be a string-tie or button design, hospital and clinical gowns provide enough room for patient comfort and professional convenience. This practical approach helps with clinical consistency and dependability.

Frequently Asked Questions (FAQ)
Q: What is the purpose of a hospital gown?
A: Patient gowns make it easy for the hospital staff to access the body part that is being treated. Additionally, hospital gowns are made of materials that protect the patient from fluids and materials. These gowns are designed to undergo repeated laundering without falling apart.
Q: Why do medical gowns open in the back?
A: Hospital gowns are designed specifically for the convenience of doctors and nurses. This open-back design allows the medical personnel to easily access certain regions in the case of an emergency. Common procedures are made easy with the hosptial gown's design.
Q: Which type of hospital gown should be used?
A: Patient gowns for sale are available in various styles and levels of protection. Some clinics may benefit most from disposable hospital gowns while others may prefer to stay stocked on reusable hospital gowns that can be laundered and donned again. Refer to the medical gown protection levels chart above for situation-specific gowns.

Informational Videos
Tips for Wearing a Hospital Gown (3:14 minutes)
Donning and Doffing Isolation Gowns (3:45 minutes)
Inspired by your history...